Crosslist allows you to cross list your inventory between marketplaces using three different approaches. Each approach aims at solving a specific use-case. In this article, you will find a detailed description of each approach, along with the use-case it strives to solve.
The three approaches are as follows:
Direct cross listing
Import in bulk
Import one by one
Before we continue, please note that in order to import or cross list listings, you must use the Chrome browser on your computer with our extension installed. As of right now, it is not possible to import listings using mobile devices. Mobile devices can only be used to create or manage listings. There is one exception to this rule: for Ebay, listings can be imported into Crosslist using a mobile device, but they cannot be posted to other marketplaces without your computer.
Direct cross listing
Direct cross listing allows you to cross list a listing between marketplaces with just one mouse click. This is especially useful for when you want to copy your listings to other marketplaces without making any modifications to your listings.
To direct cross list, simply navigate to a product listing on any of the supported marketplaces and click the Crosslist extension icon in the top right of your browser as shown in the image below. If you do not see the icon, please refer to this article for instructions on how to pin to your Chrome toolbar.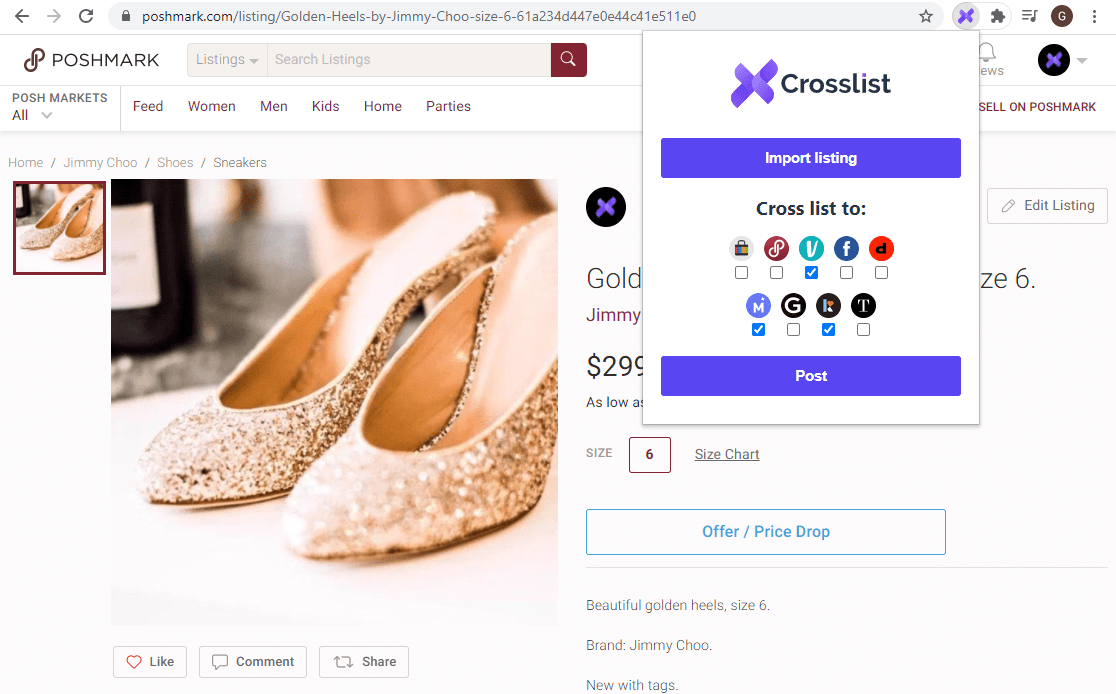 After selecting the marketplaces to which you want to cross list your listing, click the Post button. Crosslist will now open new tabs. The amount of opened tabs is equal to the amount of marketplaces you have selected as each tab represents a specific marketplace. Crosslist will automatically start completing the listing forms in the background. After the form filling is complete, you can now carefully review each form for errors or additional fields that you wish to complete. When you're ready, hit the native Post/List button on each marketplace to post your listing.
In the future, we are planning on adding the ability to autopost listings rather than having to manually confirm them. Do note that this will not always be possible, because some marketplaces will require mandatory fields that are not present in the marketplace you're cross listing from. As a result, these fields will always be blank, and a manual action will be required.
For example, if you are cross listing from Facebook Marketplace to Grailed, you may not have a color attribute set on your Facebook listing (as Facebook does not always offer you the ability to select a color). Upon cross listing from Facebook to Grailed, the color field will naturally not be completed in Grailed's listing form. However, Grailed requires that you select a color before you can post. As a result, a manual user interference is necessary and automatic posting will never be possible.
Second, we'll also be adding the ability to select multiple listings from your listing overview rather than from a specific product listing. This should help you to direct cross list your listings even faster.
Lastly, it is important to note is that every listing that has been cross listed directly will also show up in your listing overview in our web application. This is because it is imported in the background. As a result, your listing overview will always reflect your inventory accordingly!
Import in bulk
The second way to start cross listing your inventory is by first importing your listings into Crosslist. This can be useful if you want to make some modifications to your listings before cross listing them.
For example, you may want to alter the description or add some extra images to your listing before cross listing it to other marketplaces. In that case, it's faster to first import the listing into Crosslist, add additional pictures, and then cross list them to the other marketplaces rather than first cross listing to the other marketplaces and having to add the additional pictures to each listing form separately.
Alternatively, you may also want to use our image editing tool to beautify your images before listing them on any other marketplace.
To import listings in bulk, start by clicking the Import Listings button in the listing overview near the top right of your screen: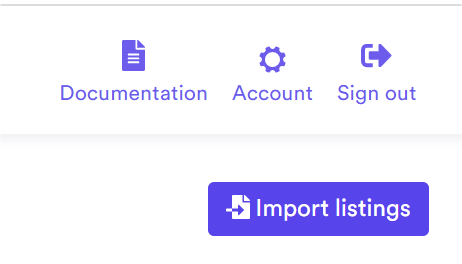 You will then be redirected to the following page: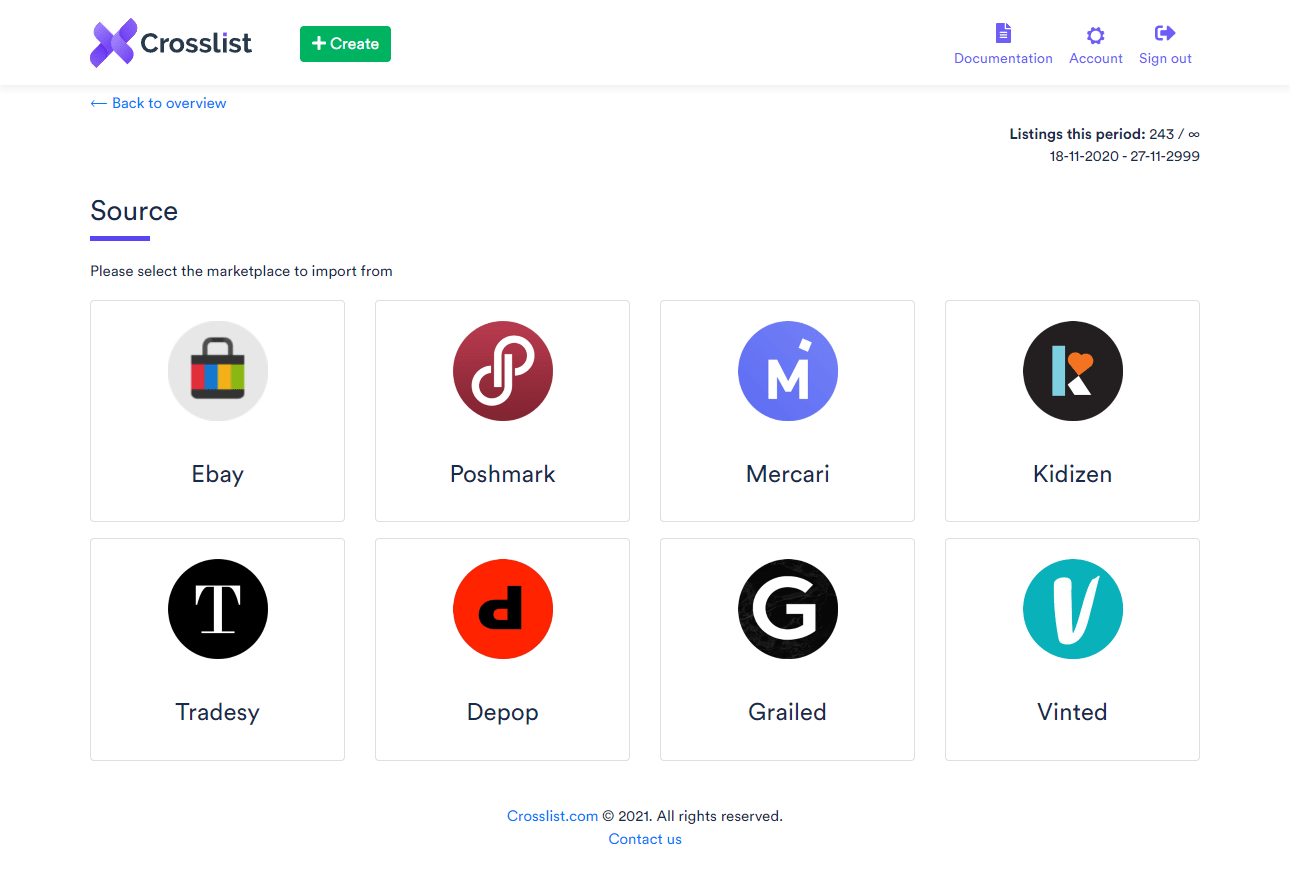 First, you must select the marketplace where the items you wish to import are listed on. As of right now, Crosslist supports import in bulk from eight marketplaces. They are:
Ebay
Poshmark
Vinted
Depop
Mercari
Grailed
Kidizen
Tradesy
Currently, we do not support importing in bulk from Facebook. However, we do support importing one by one for Facebook (see below) as well as direct cross listing.
After selecting the marketplace from which you want to import your listings, you will be redirected to a page which will automatically fetch all currently published listings that you previously posted on that marketplace.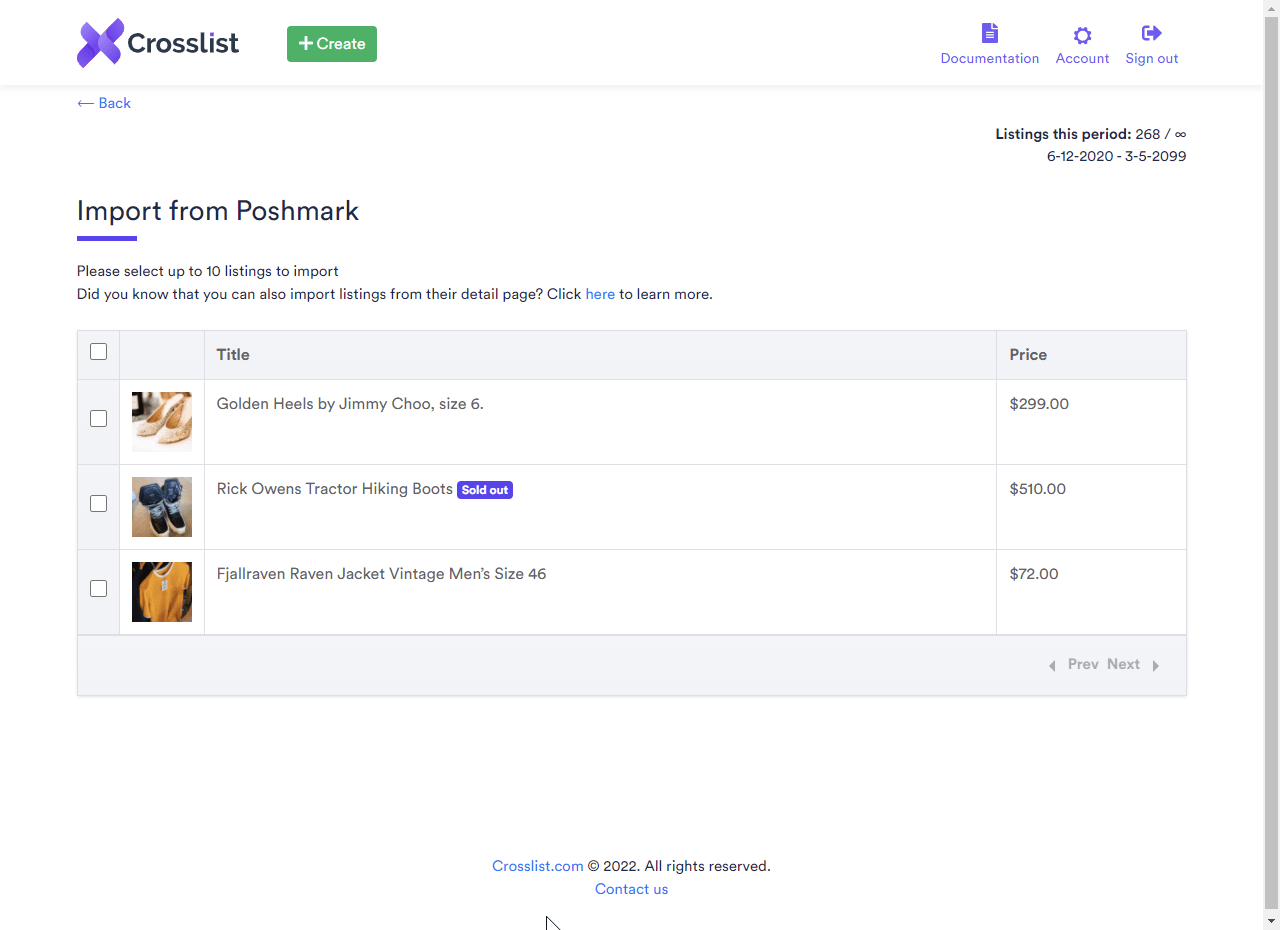 Here, you can select up to 10 listings to import at the same time. Crosslist will automatically sort the listings by date, however, you can navigate through your listings using the Next and Prev buttons at the bottom right of the page. This also means that you can select and import listings across pages, but with a maximum of ten at a time.
For Ebay, the limit has been increased to 20.
After selecting the listings you want to import, you are now ready to begin the importing process. Simply click the Import Listings button to start the process. Please note that the process is dependent on your internet speed and could take up to a few minutes.
When the process has completed, a pop-up will appear which confirms that your listings are now imported to Crosslist. You can now go back to the listings overview and modify your imported listings or cross list them to other marketplaces.
One by one
Crosslist also allows you to to import listings one by one. This is useful in case you have a very large inventory and only wish to make modifications to a few listings before cross listing them. In that case, it may be easier to navigate to the product detail page directly rather than searching for your listing in our bulk import tool.
To import a listing one by one, the mechanism is similar as when direct cross listing. Simply click the extension icon in the top right. This will open a prompt which will allow you to either direct cross list the listing, or import it into Crosslist. Notice the Import Listing button in the image below: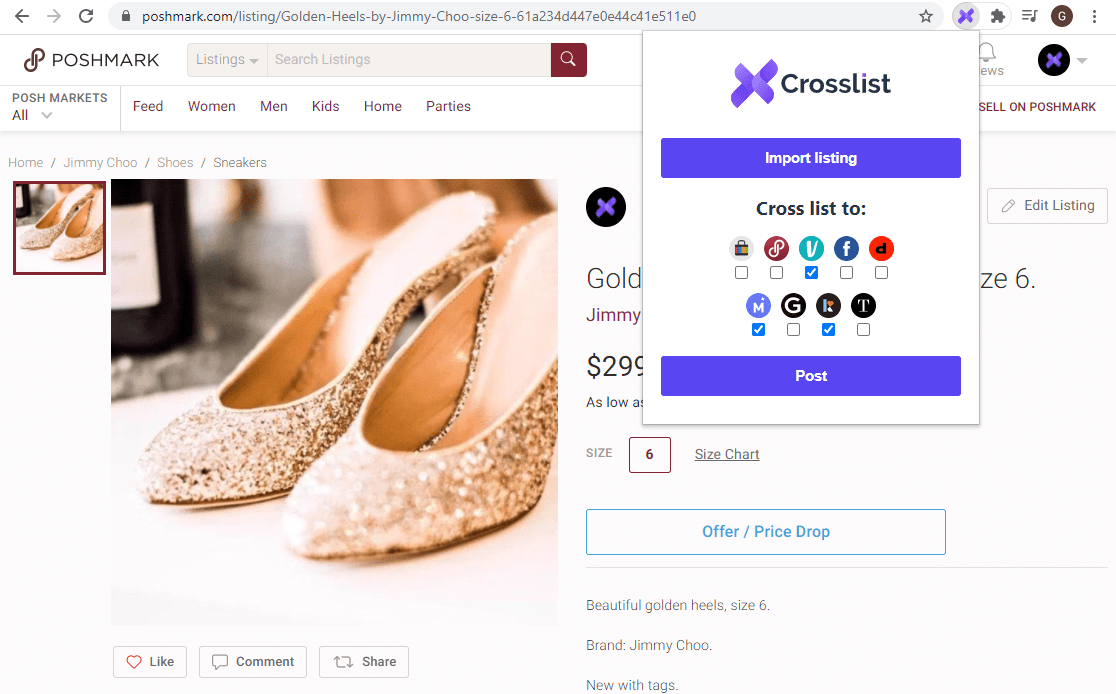 After clicking the button in the extension, a new browser tab will open which will import the listing to Crosslist and redirect you immediately to the imported listing. From there, you can immediately make the necessary modifications to cross list the listing to other supported marketplaces.
Do note that currently we only support one by one importing for Facebook.