Crosslist also allows you to import listings from other marketplaces. This is especially useful because it allows sellers to easily crosspost existing inventory to new marketplaces, thus increasing the chance of selling the items.
Please note that in order to import listings you must use Google Chrome on your computer with our extension installed. As of right now, it is not possible to import listings using mobile devices. Mobile devices can only be used to create listings.
There are two ways to import listings into Crosslist:
In bulk
One by one
Import in bulk
Importing in bulk is especially useful if you want to import a large part of your inventory into Crosslist so you can crosspost it to other marketplaces. Currently, we allow up to ten listings to be imported simultaneously; this limit may be increased in the future.
To import listings in bulk, start by clicking the Import Listings button near the top right of your screen.
You will then be redirected to the following page:
First, you must select the marketplace where the items you wish to import are listed on. As of right now, Crosslist supports importing from six marketplaces. They are:
Poshmark
Mercari
Grailed
Depop
Heroine
Kidizen
Currently, we do not support importing from Facebook and Ebay, but this may change in the future.
After selecting the marketplace from which you want to import your listings, you will be redirected to a page which will automatically fetch all currently published listings that you previously posted on that marketplace.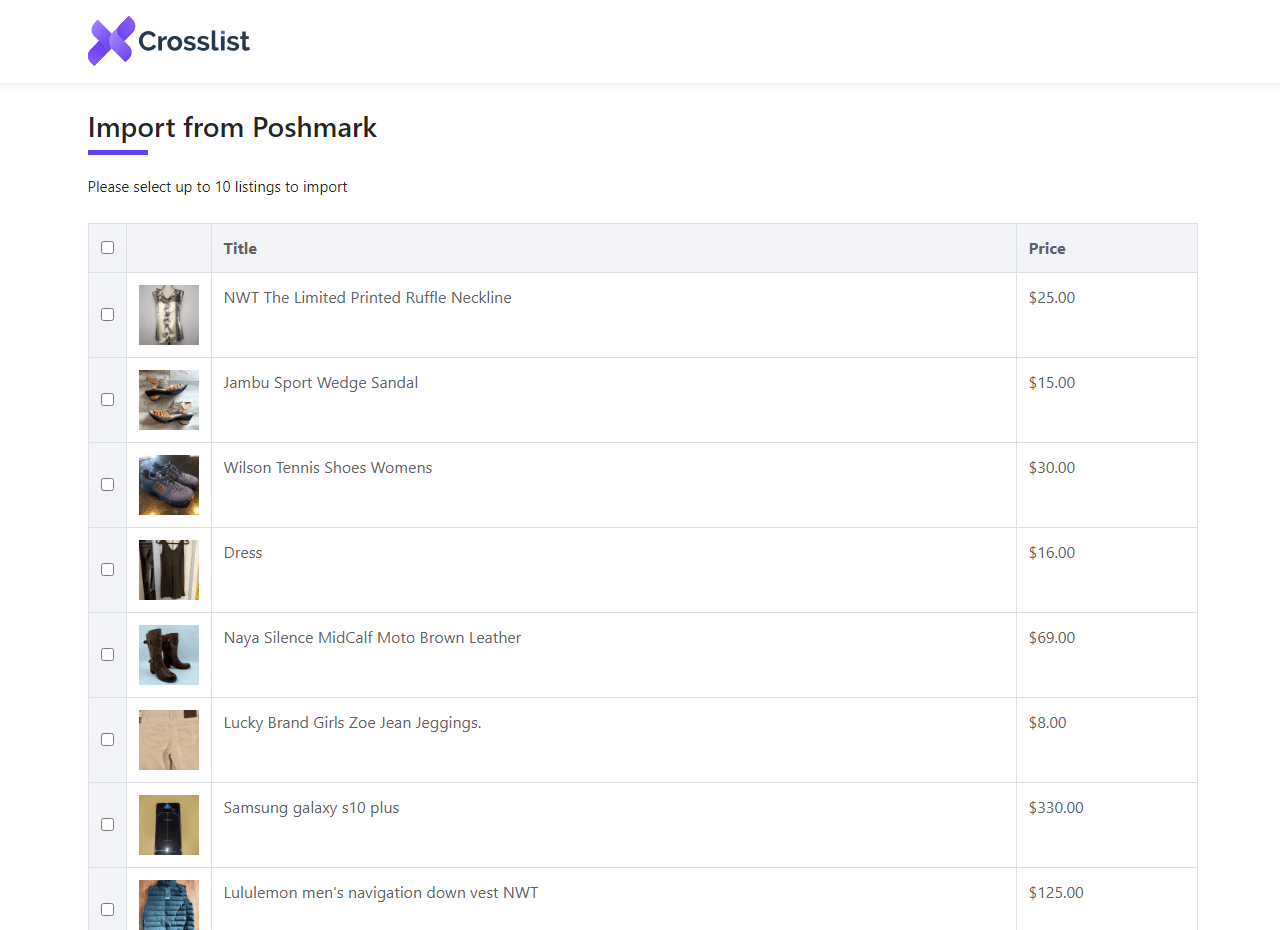 Here, you can select up to 10 listings to import at a time. Crosslist will automatically sort the listings by date, however, you can navigate through your listings using the Next and Prev buttons at the bottom right of the page. This also means that you can select listings across pages, but with a maximum of ten at a time.
After selecting the listings you want to import, you're now ready to begin the importing process. Simply click the Import Listings button to start the process. Please note that the process is dependent on your internet speed and could take up to a few minutes.
When the process has completed, a pop-up will appear which confirms that your listings are now imported to Crosslist. You can now go back to the listings overview and crosspost your imported listings to other marketplaces!
One by one
Crosslist also allows you to to import listings one by one.
With this tool, a user can simply navigate to a product detail page and import the specific listing by clicking on our extension in the top right of the browser. Please find an example for Mercari below:
Please note that just as with the Import in bulk tool, the Import one-by-one tool requires you to be logged in to the marketplace you wish to import a listing from.
After clicking the button, a new tab will open which will import the listing to Crosslist and redirect you immediately to the imported listing. From here, you can save the listing or crosspost directly to other marketplaces.