How To Cancel A Poshmark Order

---
Picture this: it's the weekend and you're scrolling through Poshmark when a dress catches your eye.
You happily click on Buy Now, only to realize a few minutes later that you selected the wrong size or accidentally purchased an entirely different dress than the one you had your eye on.
Or, maybe you're a seller on Poshmark who has just realized that you can't ship an order because the last piece you had is damaged.
In both scenarios, you have no choice but to cancel the order. Read on to know how!
How to cancel a Poshmark order as a buyer
As a buyer, there may be several reasons for you to cancel a Poshmark order: an accidental purchase, a delayed order, or the fact that you simply changed your mind (don't underestimate the power of buyer's remorse, people).
Alternatively, a little one could have gotten ahold of your phone and made a large purchase for you as a surprise.
Luckily, Poshmark does allow you to cancel your order, but only within 3 hours of placing said order, provided the seller hasn't already shipped your item.
Here's a step-by-step guide on how.
Canceling within 3 hours of purchase
Step 1: Head over to Poshmark (or open the app if you're on mobile) and sign in.
Step 2: Click on your profile picture at the top right corner. You'll be met with a drop-down menu. Scroll down and select My Purchases.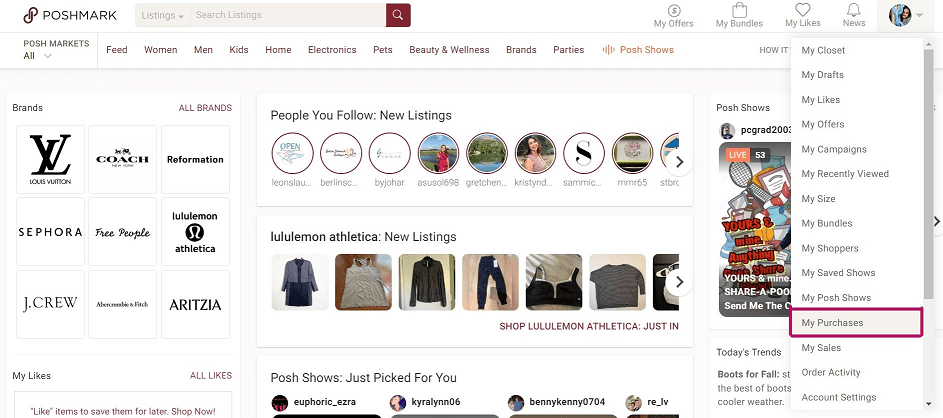 If you're using the app, you'll see the My Profile section in the bottom right corner, marked by the white line in the picture below: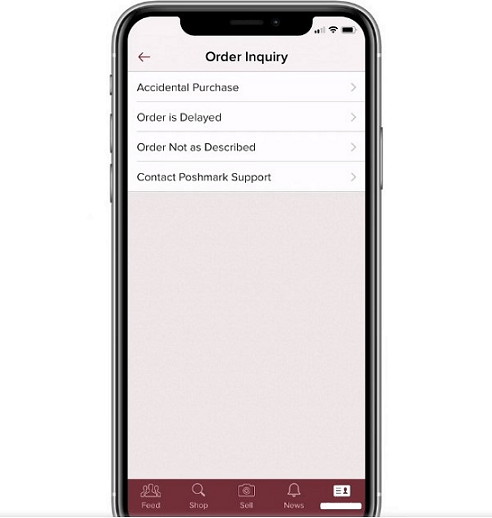 Step 3: Your purchase history will appear on the screen. Click on the purchase you want to cancel. Presumably, it would be the most recent thing because of.. you know.. the 3-hour window.
Step 4: Now, click on Problems/ Order Inquiry and select Cancel Order.
Step 5: Poshmark will now prompt you to select the reason for your cancellation. You'll see 4 options:
Accidental Purchase: for when you buy something accidentally.
Order is Delayed: for when the seller hasn't shipped your item(s) after 7 days of purchase. (more on this below)
Order Not as Described: for when you receive the item, but it doesn't match the description on the listing by the seller.
Contact Poshmark Support: if you want to report something about the order.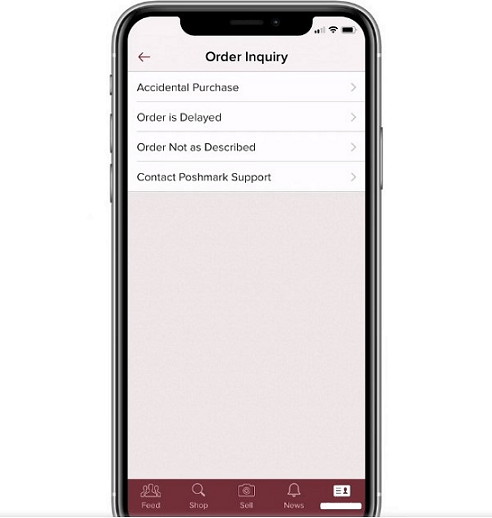 Step 6: Choose option 1 and confirm that you want to cancel the order. Once you click on Submit, your order will be canceled and your money will be automatically refunded via the payment method you used!
For example, if you used PayPal, the money will be refunded to your PayPal account. If you used Poshmark credits, you'll be refunded via credits.
Tip: Always use an active email account with your Poshmark account so that you won't miss an email about any accidental purchases.
Canceling an order after 3 hours of purchase
Unfortunately, after the 3-hour mark, all purchases are considered final and you won't be able to cancel your order. Your only option here is to contact the seller and request them to cancel your order.
Canceling a delayed order
Let's say you place an order (a non-accidental one this time). But it's been 7 days and the seller hasn't shipped it yet.
In such cases, Poshmark allows you to cancel the order from the 8th day onwards. You may also choose to contact the seller and ask them what the delay is before canceling the order (maybe they're on vacation, or forgot to check their notifications).
To cancel a delayed order, follow the same steps as above. But in Step 5, instead of choosing option 1, select option 2: Order is Delayed. Poshmark will cancel the order and refund your money within 2 days.
But what if your order is delayed, but neither you nor the seller have canceled it? Poshmark will wait for 21 days and automatically cancel the order after that.
Canceling a purchase made via an offer
Poshmark allows you to negotiate the price of an item by making an offer to the seller.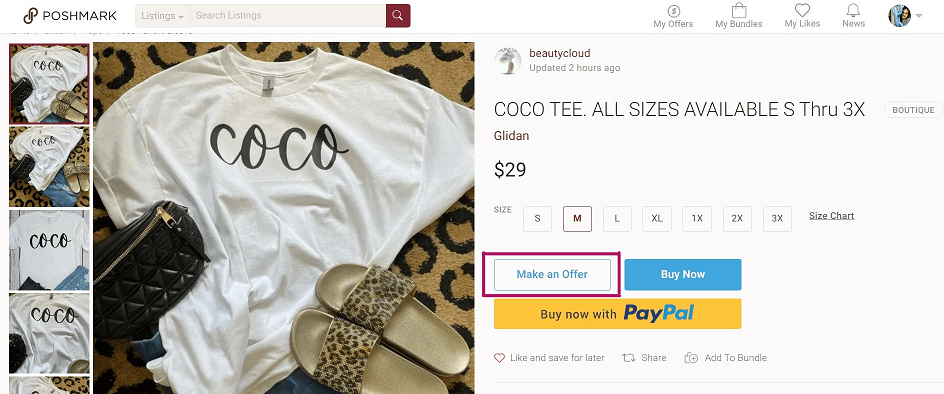 Let's say you want to buy the Coco Tee, but you think $29 is a bit expensive for it. So, you make an offer to the seller to buy the tee at 5% off. The seller accepts, the payment goes through, and your purchase is complete.
10 minutes later, you feel buyer's remorse creeping in. Or – gasp! – you find a better offer somewhere else. Not ideal, but hey! It hasn't been 3 hours yet, so you can just cancel the order, right?
Wrong. Purchases made via an offer are final and can't be canceled by the buyer, not even within 3 hours. The only thing you can do here is contact the seller directly and ask them to cancel it for you.
Now that we've gone through how to cancel a Poshmark order as a buyer, it's time to learn how to do the same from a seller's perspective.
How to cancel a Poshmark order as a seller
No seller wants to cancel a purchase if they can help it. But sometimes, there's no other choice. Maybe you ran out of stock and didn't realize it, or found out that the last item you had was damaged, or that your listing had an inaccurate description (such as the wrong size or color).
Or you could simply have changed your mind and decided you don't want to part with that particular product, after all.
The buyer could also want to buy additional items from you, in which case it makes sense to ship everything at once.
In such instances, the best-case scenario is to cancel the sale. The good news is that, unlike buyers, sellers don't have any time restrictions when it comes to canceling orders. You can cancel someone's purchase at any time till you ship it. Here's how:
Step 1: Go to Poshmark and log in to your account.
Step 2: Click on your profile picture at the top right corner and select My Sales in the drop-down menu.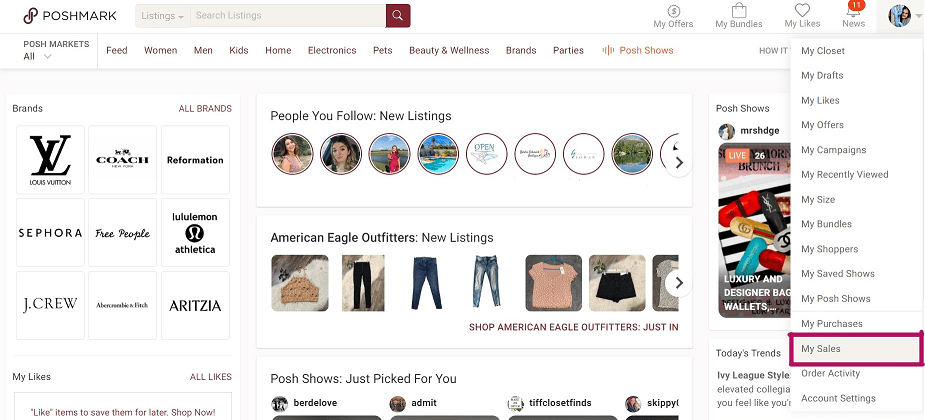 If you're using the Poshmark app, click on the profile picture icon at the bottom on the extreme right and then select My Sales.
Step 3: You'll see a list of all the sales you have made. Choose the sale you want to cancel.
Step 4: Click on Problems/ Order Inquiry and select Cancel Order.
Step 5: Poshmark will prompt you to choose the reason for your cancellation. You'll see 5 options:
Don't have item.
Item got damaged.
Changed my mind.
Will bundle with another order.
Other (if you accidentally listed the wrong size, price, or color for the item)
Step 6: Choose the option that applies best to you and confirm that you want to cancel the sale. The sale will be canceled and the buyer will be refunded.
Contact the buyer and let them know why you canceled so that they aren't left wondering. This also helps maintain good customer relationships!
If a buyer contacts you and asks you to cancel an item before you have shipped it, we recommend accepting their request because – again – it's good for customer relations.
And, hey, wouldn't you rather your item go to someone who really wants it? Canceled orders are an inescapable part of the online shopping world, and it's best to accept that!
Note:
You cannot cancel an order after you have already shipped it.
If the item you sold isn't as described in the listing, the buyer may raise an issue with Poshmark. In this case, Poshmark will return the item back to you and refund the buyer.
Tip: Since buyers have a 3-hour window within which they can cancel an order, always wait for at least 3 hours after making a sale to go to the post office and ship the item. This will save you a lot of hassle.
Questions or just say hello!
Well, congratulations to you for making it this far! Here's a reward in the form of a 10% discount code on your first month of Crosslist (add during check-out). Sign up now with a 3-day money-back guarantee!
You can learn more about how Crosslist works here.
If you have further questions, feedback, bug reports, or want to know a bit more about us, why not swing by for a chat and say G'day! You can have a chat with us through Messenger.