How To Cross List From eBay To Poshmark And Vice Versa

---
Welcome to the Crosslist Explainer series! This is part of an explainer series that covers all aspects of Crosslist, a productivity tool designed for multichannel retailers and resellers.
In this article, we'll give you a detailed use case on how to grow your business by cross listing your eBay inventory on Poshmark and vice versa. We previously covered how to cross list from Poshmark to Mercari, which you can find here.
eBay is a multinational e-commerce platform with its headquarters in San Jose, California. It is well known for being one of the best platforms for consumer-to-consumer sales as well as a great platform to hold auctions on.
Sellers with a focus on vintage clothing, antiques, discontinued items, and collectibles tend to do very well selling on eBay as they can command pretty high prices for their goods! As a result, eBay is the go-to marketplace for collectors who cannot find what they are looking for locally.
In 2021, 159 million active users were searching for items to buy on eBay. The platform grossed over $85 billion in 2021 so it's fair to say, eBay remains a very active and lucrative marketplace for sellers.
Poshmark is an American social marketplace for the sale of secondhand clothing, shoes, accessories, homeware, and electronics. With over 80 million registered users on the platform, it is a popular marketplace to pick up branded items for a steal while promoting sustainable consumption.
Interested in learning how to sell on Poshmark? Then check out:
17 Poshmark Tips To Make a Six-Figure Income
Sounds good, how do I start?
First, you'll need to sign up for Crosslist if you haven't done so already. Even though we know you'll love using Crosslist, there's a 3-day money-back guarantee available. You can sign up here.
Second, to cross list from eBay to Poshmark, the first thing you'll need to do is determine the approach you want to take.
Crosslist offers three approaches to cross list a listing from one marketplace to another:
Direct cross listing
Import in bulk
Import one by one
Direct cross listing lets you cross list from eBay to Poshmark with just one click. Simply navigate to the listing details page or your listing overview in Poshmark and you'll be able to direct Crosslist listings to other marketplaces.
This approach is particularly suited to users wanting to cross list a limited number of listings quickly and efficiently, without having to make any changes to the listing information.
The second way to start cross listing your inventory is by first importing your listings into Crosslist. This can be useful if you want to make some changes to your listing information before cross listing them, e.g., changing the tags or adding some extra pictures before posting on other marketplaces.
Here's what it looks like: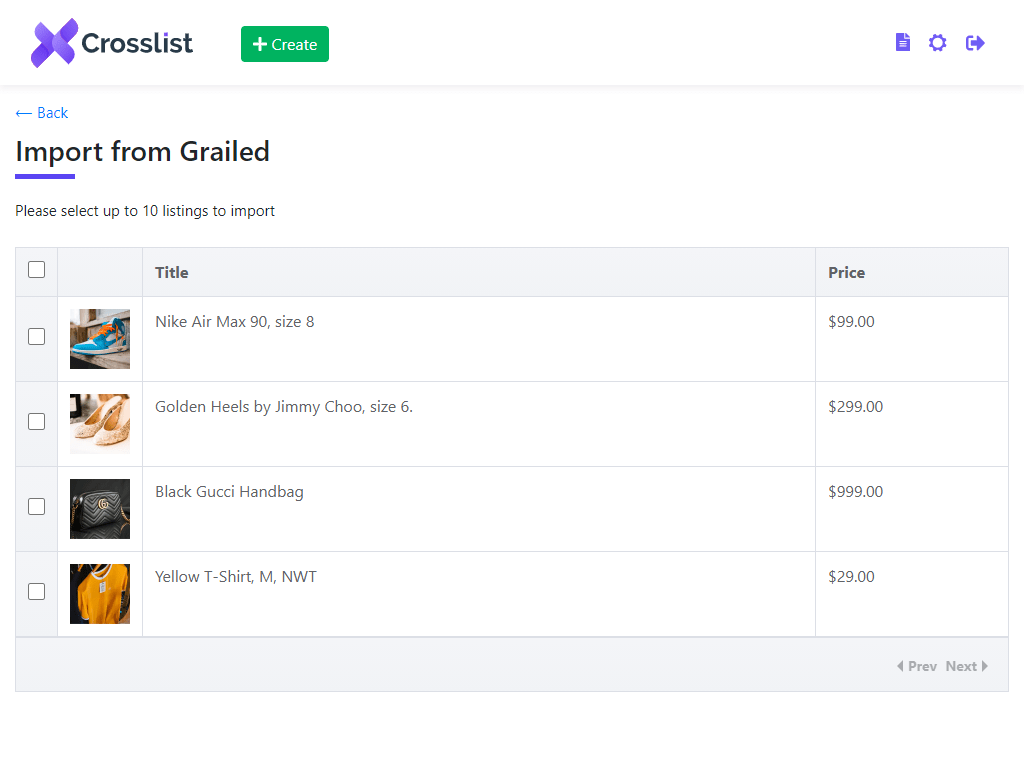 The last approach is to import listings one by one. This is useful if you have a large inventory that is difficult to navigate and you only want to cross list a few listings. In that case, it may be easier to navigate to the detail page directly rather than try and search for the item using our bulk import tool.
If you still need to make modifications to your listing, you may want to opt for this approach rather than using direct cross listing. The direct cross listing approach doesn't let you make changes to your listing in Crosslist itself, which means you'll have to make all the modifications afterwards when posting.
Now that we understand the different cross listing approaches, let's begin. In this tutorial, we're going to import our listings using the bulk import tool. To do so, open up the Crosslist application and click on the Import listings button at the top right of your screen. Now, select the marketplace from which you want to import listings. In our case, this is eBay.
After a few seconds, Crosslist will display an overview of your active listings. To scroll through your active listings, use the pagination arrows at the bottom right of the screen. You can import up to 20 listings at once. These listings can be spread over multiple pages, so it is not necessary to limit selections to one page at a time.
Note that due to the limitations imposed on the eBay API, it is currently not possible to search through your inventory.
After choosing your listings, click the Import listings button to import the selected listings into Crosslist. This only takes a few seconds, after which a pop-up will notify you that the import process was a success. Voila! You have successfully imported your listings into Crosslist.
Here's a short, animated GIF showcasing the entire process (for Poshmark, but the same principle applies for eBay):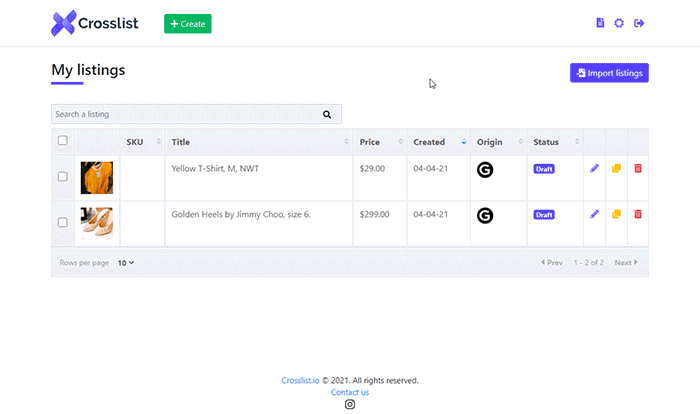 We have performed this import using the bulk upload tool for the purpose of this tutorial. If you would prefer to learn how to import listings one at a time, you can take a look at our guide here. We've even included a narrated video to guide you through the entire process!
Optimizing your imported listing
Once your listings have been successfully imported, you're going to select Poshmark on the left-hand side of your screen. This lets Crosslist know you're wanting to post the listings on Poshmark.
This is an important step because not all marketplaces share the same listing fields and information. Depending on the marketplaces you select, Crosslist dynamically generates the product information required by these marketplaces.
For the sake of our example, Crosslist is only going to display the fields that Poshmark requires. You will not be confused by seeing fields that exist exclusively on other marketplaces, for example, on Mercari. Pretty neat, huh?
It is therefore always a good idea to check through your listings to see whether you can add in some Poshmark-specific information. This can help get your listings in front of potential buyers and attract their interest.
For example, you can add the original price to the listing to convince buyers they're getting a great deal. If a pair of sneakers cost $500 and you're selling for $300, that's a pretty big discount!
Do keep in mind that if your listing price is too close to the original price or much higher than the original price, you may be chasing potential buyers away who feel they aren't getting a good deal.
If you can't remember the original price or don't want to disclose what you paid for it, you can set the original price to 0. Poshmark requires you to enter a value into this field and won't allow for it to be empty.
Second, you will need to select the product's availability. Your options are:
For sale
Not for sale
Drops
When an item is for sale, it is available for buyers to purchase. Because this is the most common option, Crosslist defaults to 'for sale' when populating product availability.
Not for sale generally means the item is reserved for a buyer and is on hold until the sale goes through.
Drops allow you to list an item on Poshmark before it's available. If you select Drops you will need to fill in the date you intend to ship the item to buyers. Drops work well for resellers who have a drop shipping business model.
Poshmark also has an optional field that allows you to disclose whether the items still have the original price tags on them. Items like this will fetch a higher price because they're unused so it's worth checking this box if it applies to your items.
Lastly, style tags can help with your shop's SEO and help buyers find your listings. For example, you can add tags like cruelty-free, minimalist, and vintage to describe your listings to potential buyers. So, a buyer searching for cruelty-free mascara may find your listing if you add this tag.
After reviewing the fields, it's time to post your imported listing on Poshmark. This can be done by clicking the Post button at the bottom-right of your screen.
Crosslist will then automatically open a new tab, which will stay inactive until you open it. After opening the tab, the listing should start populating. The process is indicated by a spinner accompanied by the Crosslist logo.
This should only take a few seconds, depending on your internet speed. When the listing form has been populated, the spinner will automatically disappear. You can then check your listing one last time before hitting the List button on Poshmark.
There you have it! You have now successfully performed a cross list from eBay to Poshmark using Crosslist. Not too hard, right? Now, try it with your own listings and watch your sales soar!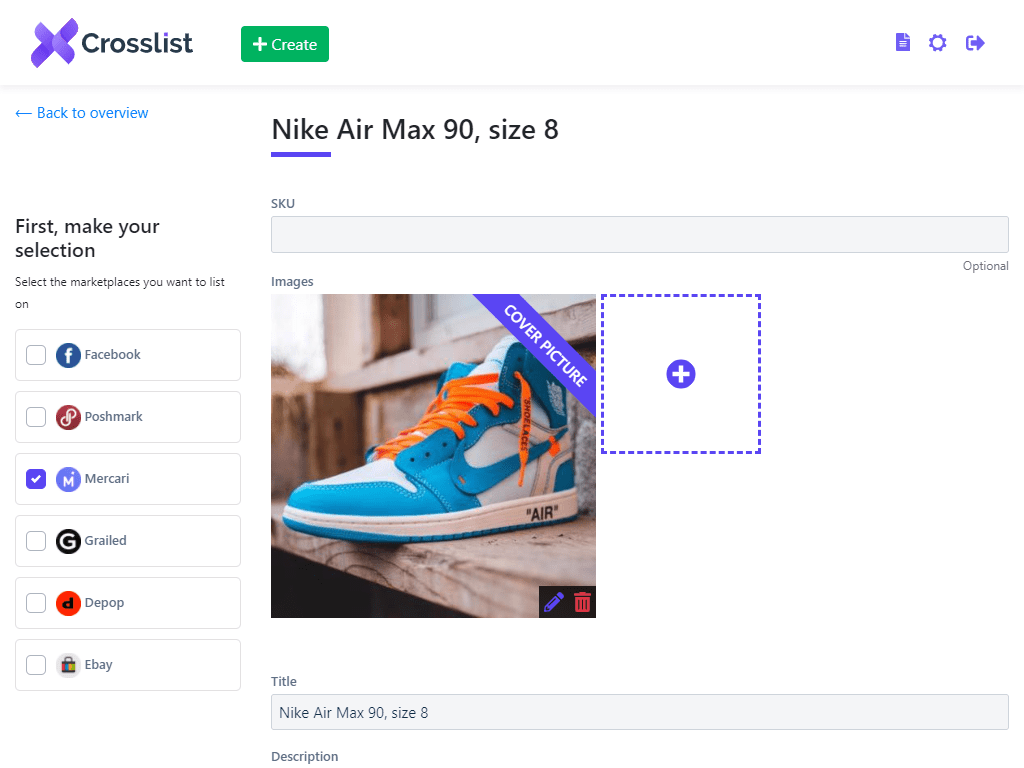 But what if I want to cross list from Poshmark to eBay?
No problem! The importing and cross listing process in the opposite direction is the same process described above.
The only difference lies in some specific fields that eBay requires you to complete (and that Poshmark doesn't). In particular, they are:
Auction price
Fixed-price
Special attributes
Age level (where applicable)
Genre (where applicable)
Type
Style
Lining Material (where applicable)
eBay includes quite a lot of additional fields and information you can add to your item. The more information you add, the more searchable your product will be. You can add information related to the item style, type, lining material, genre, age level, and special attributes, for example, depending on the item you are selling. The genre would apply to DVDs and books while age level would apply to toys.
Next, check your price information. You can select to list your item at a fixed price or auction price, depending on the item for sale. eBay also has a handy feature called easy pricing, which automatically lowers your listing price over time if it's not selling to help get it sold. This helps you avoid the hassle of manually changing prices.
If you are auctioning off items, be sure your reserve price is included in your listings.
Then follow the same steps we outlined with the eBay to Poshmark example. Now you know how to cross list from eBay to Poshmark and vice versa!
More, more!
That's it for now. If you're interested in the nitty-gritty details of Crosslist, please have a look at our full documentation here.
Questions or just say hello!
Well, congratulations to you for making it this far! Here's a reward in the form of a 10% discount code on your first month of Crosslist (add during check-out). Sign up now with a 3-day money-back guarantee!
You can learn more about how Crosslist works here.
If you have further questions, feedback, bug reports, or want to know a bit more about us, why not swing by for a chat and say G'day! You can have a chat with us through Messenger.