How To Cross List From Poshmark To Mercari And Vice Versa

---
Welcome to the Crosslist Explainer series! This is part of an explainer series that covers all aspects of Crosslist, a productivity tool designed for multichannel retailers and resellers.
In this first article, we'll give you a detailed use case on how to grow your business by cross listing your Poshmark inventory on Mercari.
If you're not familiar with Mercari, Mercari is a Japanese e-commerce platform that expanded its operations to the United States in 2014. Unlike Poshmark, it is not a social marketplace and it does not focus on used clothing, shoes, or accessories. In that regard, it shares more similarities with eBay.
However, that does not mean that there is no opportunity for a reseller of used clothing! A bit of research will quickly teach you that top-selling categories on Mercari are Women's handbags, shoes, and clothing.
So despite not being a pure clothing marketplace, there's a strong community present of used clothing resellers. Not surprising, given the monthly active users have increased to 3.4 million in 2020.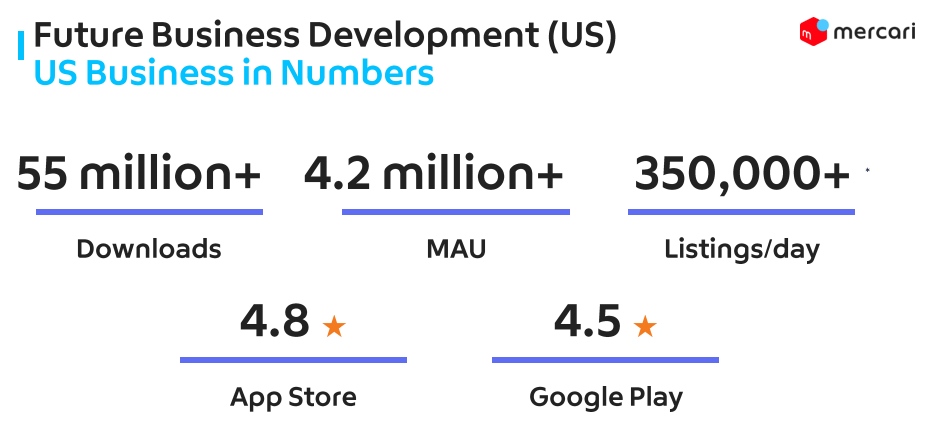 Sounds good, how do I start?
First, you're going to need to sign up for Crosslist if you haven't done so yet. Luckily, there's a 3-day money-back guarantee available. You can sign up here.
Secondly, in order to crosslist a listing from Poshmark to Mercari, the first thing you'll need to determine the approach you want to take.
Crosslist offers three approaches to cross list a listing from one marketplace to another:
Direct cross listing
Import in bulk
Import one by one
Direct cross listing lets you cross list a listing from Poshmark to Mercari with just one mouse click. Simply navigate to a listing detail page or to your listing overview in Poshmark and you'll be able to direct cross list listings to other marketplaces.
This approach is especially suitable for users looking to cross list a limited amount of listings in a quick and efficient way, without making any changes to the listing information.
The second way to start cross listing your inventory is by first importing your listings into Crosslist. This can be useful if you want to make some modifications to your listing before cross listing them, e.g. changing the description or adding some extra pictures before posting on other marketplaces.
Here's what it looks like: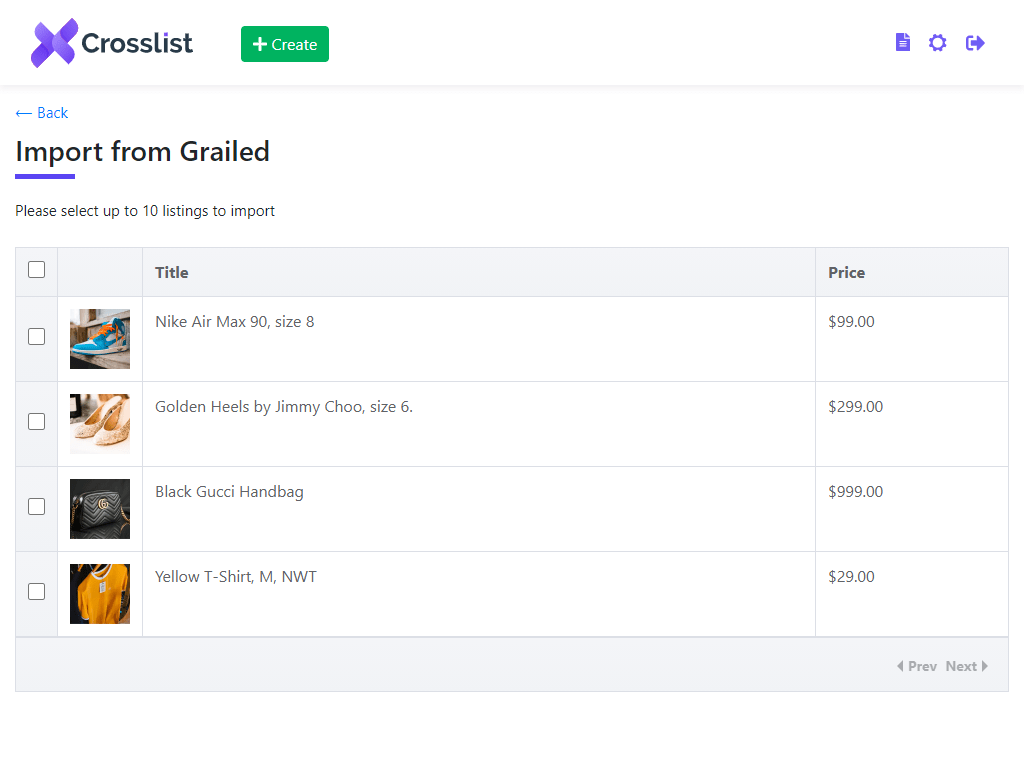 The last approach is to import listings one by one. This is useful if you have a very large inventory that is difficult to navigate through and you only want to cross list a few listings. In that case, it may be easier to navigate to the detail page directly rather than try and search for the item using our bulk import tool.
Especially when you still need to make changes to your listing, you may want to opt for this approach rather than use direct cross listing, which doesn't let you modify your listing in Crosslist.
Now that we know the different approaches, let's get started. In this guide, we're going to import our listing using the bulk import tool. To do so, navigate to the Crosslist application and click on the Import listings button at the top right of your screen. Now, select the marketplace from which you want to import listings. In our case, this is Poshmark.
After a few seconds, Crosslist will show you an overview of your active listings. To navigate through your active listings, use the pagination arrows at the bottom right. You can import up to 10 listings simultaneously. Note that these listings can be spread over multiple pages!
After selecting your listings, click the Import listings button to import the selected listings. This will only take a few seconds after which a pop-up will notify you that the import process has succeeded. Tada! You have now imported your listings into Crosslist.
Here's a short, animated GIF showcasing the entire process: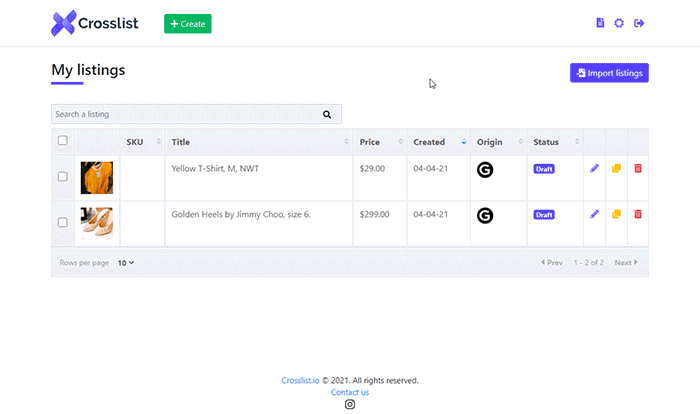 Note that we have opted to import our listing via the bulk import tool in this guide. Alternatively, if you want to learn how you can import listings one by one, you can have a look at our documentation here. It also comes with a narrated video guiding you through the entire process. Highly recommended!
Enhancing your imported listing
After importing your listing, you're going to want to start by selecting Mercari on the left-hand side. This tells Crosslist you're intending to post this listing on Mercari. Why is this important?
Because not all marketplaces share the same settings and product information. Depending on which marketplaces you select, Crosslist will dynamically generate the product information that these marketplaces require.
So in our example, Crosslist is going to show you all fields that exist on Mercari without showing you fields that exist exclusively on e.g. Depop. Quite nifty, right?
As a result, you may want to glance over the product information again to see if you can complete some additional Mercari-specific fields or options. This will enhance your listing and make it more interesting to potential buyers.
An interesting field to complete is the #tags field. This field serves as a way to set keywords for your product. This is quite important, as it makes it much easier for your listing to found when buyers use Mercari's built-in search engine.
Another useful setting is to activate smart pricing. If you're not familiar with smart pricing, it lets you set a floor price for your product in addition to your listing price.
This means that if your product is not selling, Mercari will automatically drop the selling price gradually until it hits your floor price using a smart algorithm. As a consequence, you don't have to deal with manually changing your prices when a product isn't quite selling as expected.
After reviewing the fields, it's time to post your imported listing on Mercari. For users already familiar with Crosslist, this can be done by hitting the Post button at the bottom right of your screen.
Crosslist will then automatically open a new tab which will remain dormant until you navigate to it. After clicking on the tab, the filling process should begin. This is indicated by a spinner accompanied by the Crosslist logo.
Based on your internet speed, the filling process should only take a few seconds. When the listing form has been completed, the spinner will automatically disappear. You can then review your listing once again before hitting the List button on Mercari.
That's it! You have now successfully cross-listed a listing from Poshmark to Mercari using Crosslist. Quite easy, right? Now, try for yourself and watch your sales explode!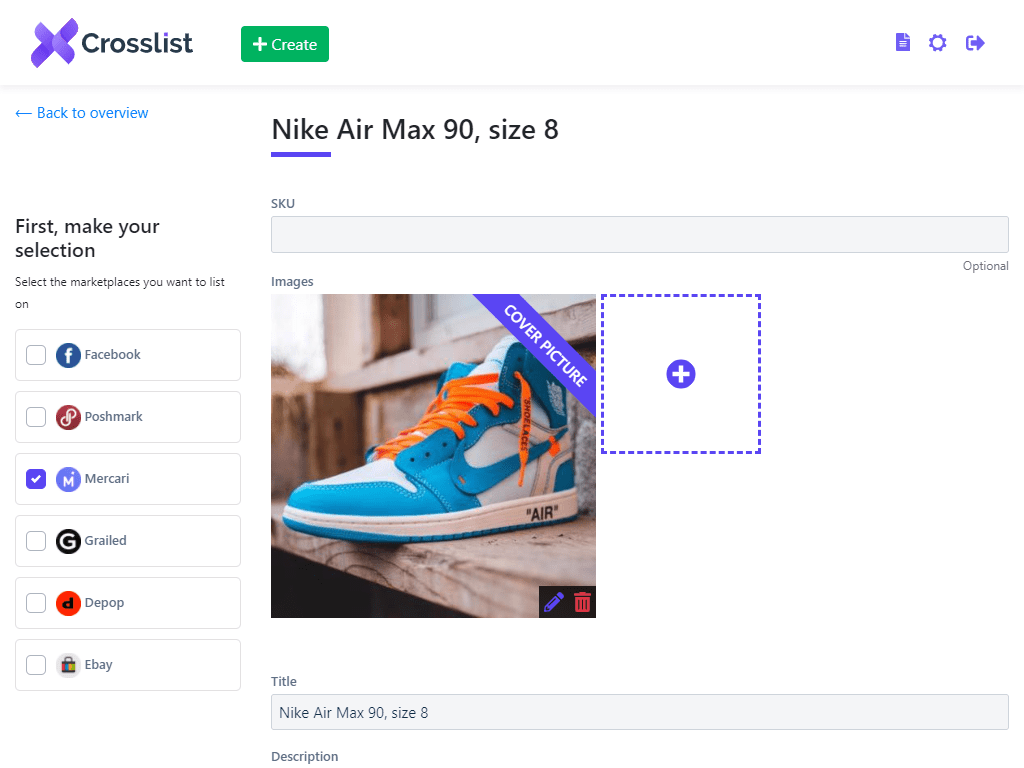 But what if I want to crosspost from Mercari to Poshmark?
In that case, we have some good news for you! The importing and cross listing process in the opposite direction is entirely the same as the process described above.
The only difference lies in some specific fields that Poshmark requires you to complete (and that Mercari doesn't). In particular, they are:
Original price
Availability
The original price refers to the retail price of the product. Mentioning the original price is a bit of a double-edged sword. On the one hand, it can justify a higher listing price, as it immediately shows your buyers the price at which the product was originally sold.
On the other hand, if your listing price is too close to the original price – or even higher with shipping costs included – it may turn off potential buyers who feel that they are getting the short end of the deal.
If you're not willing to provide that information, you can always set the original price to 0. Do note that you have to set something, as Poshmark does not allow for an empty original price.
Secondly is the availability of a product. Poshmark allows for three options for this field:
For sale
Not for sale
Drops + a date
When an item is for sale, it is available for buyers to be bought. This is the most common option and Crosslist sets this field to for sale by default. Not for sale typically means the item is reserved; while it has not been sold yet, it has been reserved for a buyer and is thus not available.
Lastly, there's the option to set the availability to Drops. This allows sellers to list items on Poshmark before they are available. After selecting Drops, sellers have to fill in a date, which is the date that the item will be available to ship to buyers.
This mechanism is interesting from a perspective of time management but is also useful for resellers who want to keep their stock levels down by being able to instantly ship recently received goods.
More, more!
That's it for the first part of the Explainer series. If you're interested in the nitty-gritty details of Crosslist, please have a look at our full documentation here.
Questions or just say hello!
Well, congratulations to you for making it this far! Here's a reward in the form of a 10% discount code on your first month of Crosslist (add during check-out). Sign up now with a 3-day money-back guarantee!
You can learn more about how Crosslist works here.
If you have further questions, feedback, bug reports, or want to know a bit more about us, why not swing by for a chat and say G'day! You can have a chat with us through Messenger.