How To See Sold Items On eBay: A Step-By-Step Guide

---
Pricing your inventory can be tricky, and this goes for both new and veteran eBay sellers.
On the one hand, you want to price your items appropriately so that you get paid for your labor and time and turn a profit.
But, on the other hand, you also want to clear your stock and not scare away customers with very high prices.
Striking this delicate balance can seem like a daunting task, especially when you take inflation into account. But there's one thing that can help you: looking at sold listings on eBay.
Benefits of seeing sold items on eBay
The "sold listings" section of eBay is a veritable treasure trove. Not only does it allow you to look at your sold items, you can take a look at the sold items of your competitors as well (along with the price they sold it for).
Looking at eBay sold listings of your competitors allows you to:
Price your own similar products accurately
See which items are more likely to sell
Compare several competitors to see how much people are willing to pay for similar products
Scope out your competitors
Find out which keywords will put your listings at the top of the search results
Looking at your own sold items, on the other hand, can help you adjust your prices according to inflation. In short, sold listings help you with your pricing strategy and maximize your selling potential.
How to see sold items on eBay (computer)
While eBay doesn't have a dedicated button that you can click to view sold listings, the process is still pretty simple.
You can use the normal search bar on your dashboard by typing in the keywords of the items you want to search, scrolling down, and selecting "sold items only" on the left side of your screen. However, this isn't as accurate as the advanced search method outlined below.
Step 1: sign in to your eBay account
Head to eBay, click the button on the top left corner and sign in (or register for a new account if you're just getting started).
Step 2: click the advanced search button
On the top right corner, just beside Search, you'll see a button named Advanced. Click on it:

Step 3: fill in the details
You will be met with a dialogue box where you'll be prompted to fill in the keywords and the category of the items you're looking for.
For example, if you're selling coffee mugs and want to see how much your competitors are pricing it for, enter "coffee mugs" under the keywords tab and the category it belongs to.
You also have the option to exclude particular keywords. Let's say you want to look at all types of coffee mugs except plastic ones. In that case, you can enter "plastic" under the Exclude keywords from your search tab.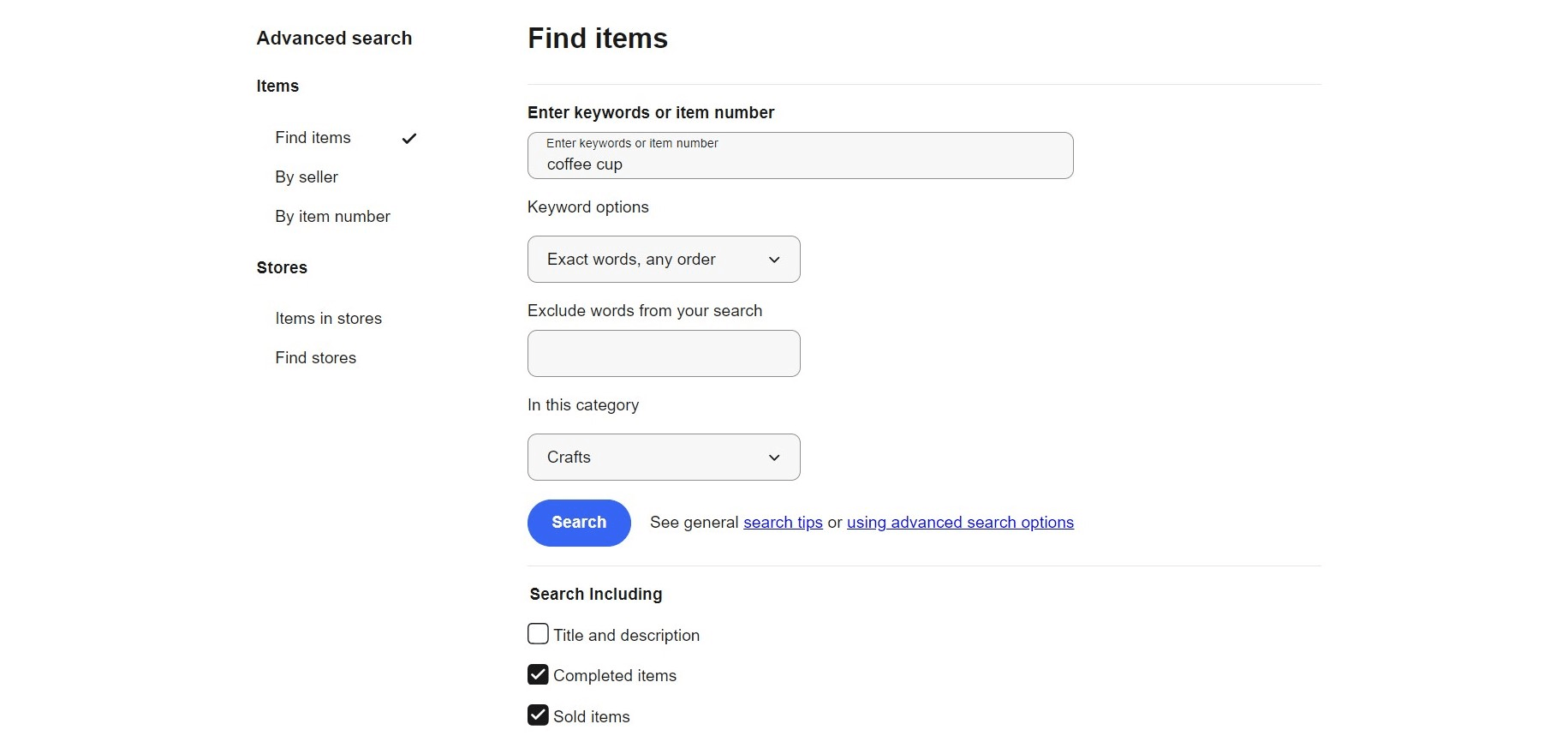 Once you're done filling in the details, scroll down slightly to the Search including tab and select sold items. Click on Search and voila! You'll get a list of all coffee cups that have been previously sold by others.
Step 4: customize your search
Sometimes, the search function can return wildly irrelevant results. For instance, you may be searching for coffee mugs, but getting results for coffee mug stickers and decals in return. In such cases, customizing your search to fit exactly what you want can save you a lot of time.
If you scroll down further on the advanced search page, you'll see several options such as minimum and maximum price, condition, buying format, location, and so on. You can use these to filter your results.
The Shipping options and Location tabs are particularly useful for scoping out your competitors from different regions and comparing how buyers' habits for the same products differ from place to place.

You also have the option of including or excluding particular sellers, which is pretty neat as far as competitor analysis goes. You can save certain sellers to your list and see sold listings only from them.
Now you can go ahead and complete your search, and you'll be met with a page with prices listed in green, which means they have been sold.
Bonus: view similar active items
Once you add all the filters and click on search, you'll get a list of all the sold items that match your filters. Under each item, you'll see two options called View similar active items and Sell one like this.
You can use the first button to conduct further research. The latter lets you add your own similar product listing easily with several of the important details already filled in.

How to see sold items on eBay (mobile)
You can't always have a desktop handy when researching sold items. What if you're sourcing raw materials and suddenly decide to get some research done?
In such cases, you're at the mercy of your phone. So, here's a step-by-step guide on how to see sold items on eBay via mobile.
Open the eBay app, click on the Search tab, and enter the details of the products you want to search.
Once the eBay app displays the search results, click on the Filter button at the top right corner:
Click on Show more and select Sold Items. You can also add other filters to tailor your search.
Aaaand that's it! Easy peasy!
Note: By using these above methods, you can only view items sold within the last 90 days. If you want to go even further back, you'll have to use tools such as the Terapeak product research tool (free) or WorthPoint (paid).
How to see sold items on eBay from your own selling account
Looking at your rivals' sold listings on eBay is always great for research. But there are times when you need to look at your own sold items, too.
For example, you might be selling seasonal products, or relisting similar products after a long gap. Here's how you can take a peek at your own selling history.
Step 1: head to the My eBay section
Once you log in to your account, you'll see the "My eBay" section at the top right corner. Select the "Selling" tab under it.

Step 2: using the Seller Hub
You'll be redirected to the Seller Hub, which is where all the information about your items is stored. Now, head to the Listings tab and select Sold. You can change the time frame and view all your sold items from as far back as 2 years ago.
If you're on mobile, you can access this information by heading to the Selling section at the bottom and selecting Sold listings.
How to use sold listings on eBay for market research
You have researched all of your competitors' sold items on eBay. Great. But now what?
If you're confused as to how, exactly, you can use this information, here are some expert tips:
Price using a range, not a particular amount. Understand that your research will only give you a price range of similar items and not a particular value. Ultimately, you have to set your own prices, but having a range helps immensely in letting you know what people are willing to spend.
Variation in prices over time. Compare the prices of the same items for different months. This will help you know if there are any seasonal changes.
Unsold listings. Under the advanced search button, if you click on Completed listings without selecting Sold listings, you'll be able to view items that were listed but weren't sold. Here, you'll see the prices listed in either black or red. These items were probably not sold due to lower demand or a very high cost. This information will help you decide whether you want to list similar items at a lower price or leave them out completely.
Best offer. Sometimes, you might see a seller's price crossed out with the words Best offer underneath. This means the seller listed a price but ended up accepting a lower price instead. This probably means there weren't any takers for the listed price, which is a good thing to keep in mind when pricing your own inventory.
Keywords and photos. Using relevant photos and keywords in your title and description can push your listings to the top of the search results, which means people see your products first. So, the better optimized your page is, the more items you sell. In addition to doing your own independent research, analyze the keywords and photos that your competitors are using. Are they including terms that you haven't thought of? Are they using higher-quality photos? This can help you improve your own listings and drive more traffic to your page.
Auction bids. If you're looking at an item that was put on auction before selling, take a look at how many bids it got. This can help you understand product demand.
Listing durations. Check out how long other sellers listed their products before they sold out. This can help you understand demand and also lets you know the optimal listing duration for your products.
In addition to helping your pricing strategy, scoping out your competitors, and understanding the market, looking at sold items on eBay also helps you discover untapped niches that have a lot of demand.
Simply put, it plays an important role in maximizing your sales.
Questions or just say hello!
Well, congratulations to you for making it this far! Here's a reward in the form of a 10% discount code on your first month of Crosslist (add during check-out). Sign up now with a 3-day money-back guarantee!
You can learn more about how Crosslist works here.
If you have further questions, feedback, bug reports, or want to know a bit more about us, why not swing by for a chat and say G'day! You can have a chat with us through Messenger.