How To Sell Printables On Etsy

---
Ok, hands up… who's here because you saw a clickbait Facebook ad about making six figures selling printables on Etsy? That's what we thought.
There's been a lot of chatter about how easy it is to sell printables on Etsy for a get-rich-quick scheme. We're here to set the record straight and tell you what the real secret to success with selling printables is all about.
If it were that easy to make millions selling printables and working one hour a day, everyone would be a millionaire, too!
Of course, we're not here to burst your bubble. There ARE thousands of incredible success stories to be inspired by. But it's also essential to do a reality check and get behind exactly why those sellers found success.
So, let's dive into the nitty gritty and unpack exactly what it takes to sell printables on Etsy successfully!
Why printables?

Etsy has become a household name for unique, custom, and artsy products. Selling printables there? Genius move!
Think about it: low overhead costs, the ability to sell the same design over and over without restocking, and tapping into a market of eager buyers looking for that perfect planner, art print, or quirky checklist.
Plus, in this digital age, instant downloads are all the rage. No shipping hassles, no inventory woes. Just pure, streamlined passive income potential.
But, and it's a big but, before you envision those dollar signs, remember it's not just about slapping any design online – your products need to be high-quality, unique, and meet the needs of your target market.
How to sell printables on Etsy?
Right, enough chit-chat! Let's get into the juicy secrets of selling printables on Etsy.
1. Find a profitable niche
This is probably the most important consideration as you start your Etsy selling journey! When you think of printables, you probably immediately think about printable invitations or party décor.
But there are plenty more digital product categories for you to consider! Here are a bunch of popular niches that fall under printables:
Party printables
Digital planners and checklists
SVG files
Printable posters and wall art
Classroom décor and teacher resources
Digital stickers and labels
Digital pregnancy announcement templates
Printable milestone cards
Greetings and holiday cards
Digital embroidery designs
Crochet, knitting, and sewing patterns
Digital papers and scrapbooking elements
Printable coloring and activity pages
Digital clip art
Mockups
Fonts
Custom portraits
Logo & branding kits
Website templates
Social media templates
Lightroom presets
Wedding stationery
Printable photo booth props
And the list goes on! It's important to choose a niche that resonates with you and that you're personally interested in.
For example, if you're a qualified teacher, you have inside knowledge of what teachers are looking for when it comes to classroom posters, signs, planners, and worksheets.
Are you a whizz on the sewing machine? Create user-friendly sewing patterns with clear instructions beginners can follow.
Are you getting the idea? With so many areas to branch out to in the world of digital products, you're guaranteed to find a niche that you could add value to.
2. Design your printables
Alright, now for the creative nitty-gritty! You're sold on the idea of printables, but now you're wondering, "How the heck do I create these money-makers?"
First things first, it's not about being a world-class designer but more about understanding what your audience wants and delivering it with a touch of flair.
Now, for the tools. Adobe Illustrator and Photoshop are the big players in the game, giving you that professional edge. But, if you're not ready to invest your life savings into the Adobe pool just yet, there are other fabulous and more beginner-friendly options.
Tools like Canva and PicMonkey can be your best pals with their drag-and-drop interfaces and tons of premium elements to use. Remember, the key isn't necessarily in the tool itself but in your vision and execution.
So whether you're sketching out a design on paper and digitizing it later or crafting it from scratch on a digital platform like Canva, make sure it's authentic, high-quality, and resonates with your audience.
But wait, there's more! Bear with us while we dive into a bit of tech talk. Tools like Templett, Corjl, or the Adobe PDF editor can be game-changers for those serious about finding success with customizable printables.
Why, you ask? Because they empower your customers to add their personal flair and demo the products before purchasing. Here's what the Templett dashboard looks like: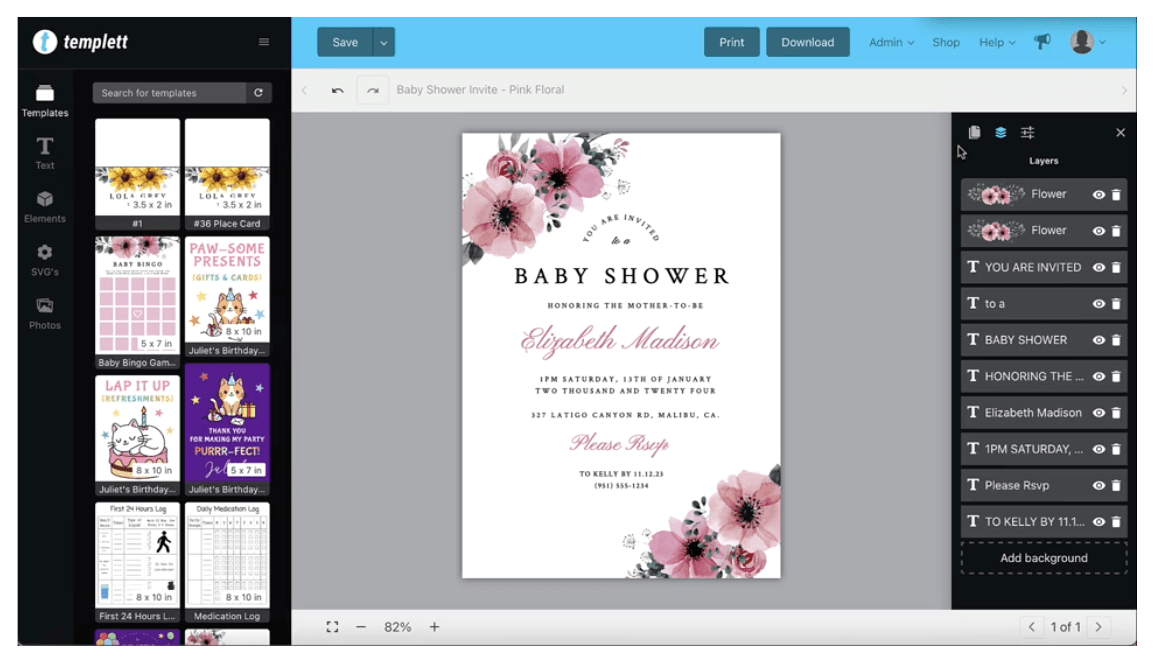 Imagine selling an invitation template: with these platforms, buyers can tweak text, colors, or even layout elements to match their unique vibe.
No more back-and-forth emails or custom design fees. It's all about giving control to the user, ensuring they get a product that's just right for them, and freeing up more of your time to work on new products.
3. Take product photos or create realistic mockups
Presentation truly is key to standing out in a sea of digital products. Put time and effort into your listing images by either designing high-quality mockups or going the extra step of printing them out and staging them.
A seller who does a fantastic job with this is Sunshine Parties, a shop that has been successfully selling kids' party printables since 2014. They go the extra mile by doing amazing party setups that show parents exactly how to use each themed set to create a Pinterest-worthy party.
Another thing the shop owner, Louise, believes kept them going? "There will always be new trends and technology. You've got to continually innovate and not be afraid of changing how you've always done things."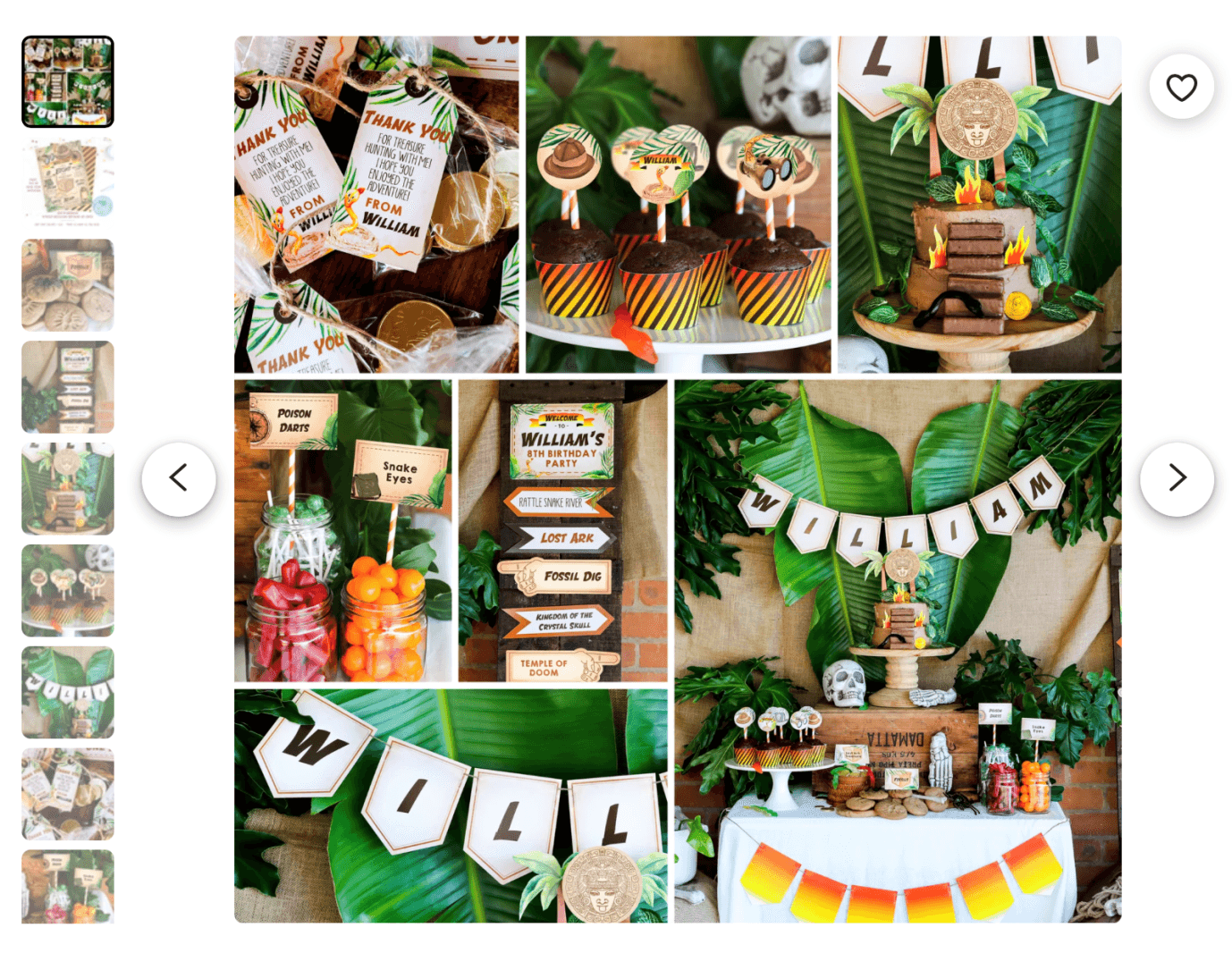 4. Create and optimize your listings
Let's chat listings. Crafting the perfect Etsy listing for your digital product is almost as crucial as the product itself.
First, categories – this is super important. Etsy shoppers often browse by category, so ensuring your printable is in the right spot is essential. Think about it: If you've got a gorgeous printable calendar, it's not doing you any favors listed under "home decor."
Now, onto tags. These bad boys are like gold in the Etsy world. They help shoppers find your product amidst the sea of listings. The trick? Think like a buyer.
Use phrases they'd type into search. And here's a pro tip: Use all 13 tag slots Etsy gives you. Why leave any on the table? Also, sprinkle in both broad (like "printable") and specific tags (like "boho baby shower invite").
Here's how you can see what tags sellers have used to make their items more searchable.

And let's not forget the description. Make it clear, and catchy, and, most importantly, highlight that it's a digital download. No one likes unpleasant surprises.
There you have it! A listing ready to lure in those eager buyers and get those sales rolling.
5. Design an enjoyable customer experience
Selling a digital product isn't just about the design itself but also the journey you take your customers on from the moment they hit 'buy now'.
First and foremost, clarity is king. Include a comprehensive PDF with every purchase that breaks down the download process step-by-step. A confused customer isn't a happy one, and you want your buyer dancing with delight, not scratching their head and leaving a scathing review.
Printing instructions are absolutely vital. Remember, not everyone's a tech wizard, so guiding them on the best print settings and paper types can make all the difference.
If your printable has customizable aspects or can be used in multiple ways, throw in some tips and tricks. The more value you provide, the more your customers will appreciate and trust you.
A thank-you note, a surprise bonus printable, or even a discount for their next purchase can elevate the experience from 'meh' to 'marvelous.'
At the end of the day, it's all about ensuring your customers feel supported, valued, and equipped to enjoy their new digital treasure to the fullest. Keep the experience smooth, and you'll have repeat buyers in no time!
6. Market your listings
You've got your printables looking all snazzy on Etsy, but how do you get those eyeballs on them?
First stop: social media. Platforms like Instagram and Pinterest are absolute goldmines for visual products – people are using them as unofficial search engines nowadays. Create engaging, high-quality posts & pins showcasing your printables in action.
Got a beautiful planner design? Show it filled out and used in someone's daily routine. And don't forget Stories or Reels for real-time promotions or behind-the-scenes peeks.
Consider guest posting on popular blogs in your niche, or start your own! Share articles on how to make the most of printables, organizational tips, or design inspirations. This not only boosts your credibility but also drives organic traffic to your listings.
And, the cherry on top of the marketing pie? Email marketing. Grow a subscriber list and keep them in the loop with newsletters, exclusive deals, and sneak peeks of upcoming releases. Remember, email is a direct line to your audience, so make it count!
7. Prioritize customer service
Just because you're operating in the digital realm doesn't mean you can skimp on the human touch. In fact, impeccable customer service can set you apart and earn you the coveted "Star Seller" badge.
Response times
Digital buyers expect quick turnarounds. Got a question in your inbox? Aim to answer it pronto. If there's a time difference or you can't respond immediately, you can set up auto-responses with FAQ and reply personally later. It shows you're engaged and value your customers.
Clarity
Whether it's in your product descriptions, download instructions, or FAQ sections, being crystal clear minimizes confusion and reduces potential hiccups.
But hey, issues might still pop up. Maybe someone's struggling with a download or isn't sure how to customize their printable. Be patient, be understanding, and walk them through with grace.
Be open to feedback
Whether it's praise or constructive criticism, feedback is a chance for growth. Remember, in the digital world, reviews are everything. So, aim to leave each customer not just satisfied, but genuinely delighted. After all, happy customers lead to repeat business and glowing recommendations. Win-win!
Conclusion
Selling printables on Etsy might sound like a breezy side hustle, but if you're aiming for real success, you've got to treat it with the same dedication and commitment as a full-time job.
Yep, we said it! Just because it's digital and somewhat "passive," doesn't mean it's hands-off.
Each step of the selling journey demands attention, creativity, and time. If you're dreaming of those cha-ching notifications filling your inbox, be prepared to clock in those hours each week.
Dig deep, stay passionate, and remember that in the world of Etsy printables, consistency, innovation, and a touch of grit can turn dreams into reality.
It's also good practice to work smart by implementing tools that can help you streamline your business.
Whether it's hiring a designer to get you started, consulting a marketing guru to help get you traffic, or using a cross listing tool like Crosslist to automate cross posting your inventory across platforms, investing in your dream is always worthwhile.
Questions or just say hello!
Well, congratulations to you for making it this far! Here's a reward in the form of a 10% discount code on your first month of Crosslist (add during check-out). Sign up now with a 3-day money-back guarantee!
You can learn more about how Crosslist works here.
If you have further questions, feedback, bug reports, or want to know a bit more about us, why not swing by for a chat and say G'day! You can have a chat with us through Messenger.