Release Notes – April 12, 2021

---
Hi Crosslisters! We're thrilled to let you know that we've made some awesome changes to Crosslist. In particular, we want to highlight our new Image Editing tool and its benefits. In addition to that, we'll also talk about Heroine, which is the latest marketplace we've added.
Before we start, please note that all the changes listed below will be available to everyone participating in the Public Beta.
What's New?
Image limit increased to 12: Upon popular request, we have increased the number of images you can upload to Crosslist to 12 instead of 7! This change is available for all Public Beta testers.
Image editing tool: Crosslist now comes with a built-in image editing tool that allows you to edit your pictures before listing them. There are a few use-cases for this:

Hide your face with a sticker so you can pose with your apparel without revealing yourself.
Apply a nice filter to your picture to make the product look better.
Add custom text to the picture with additional information.
Highlight certain aspects of your product using an arrow or a circle.
Crop certain parts of your picture.
…
Pretty cool right? In order to start editing your picture, you can simply click the purple pencil which is present on each image: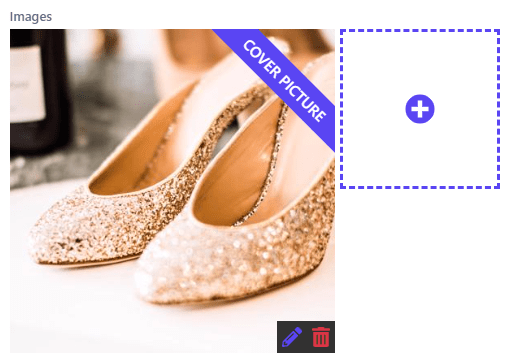 You'll then be taken to the image editing screen:
Note that you can edit your pictures on any device (including mobile and tablet).
Added support for Heroine: Heroine describes itself as a community-driven marketplace for women's fashion and streetwear. The website is owned by the same company that owns Grailed. In a way, they can be seen as brother and sister, as Grailed focuses on men's fashion and streetwear.

Although we feel that both marketplaces are lesser-known among our users, we highly recommend you check them out as you can often find a lot of interesting, vintage stuff you won't find elsewhere.
Improved mobile layout: Lastly, we've improved the mobile layout so that the item cards take less space. This should help with navigating your inventory!
Bugfixes
Too many pop-ups! We've removed a bunch of those annoying pop-ups that were flooding you with information upon signing in and registering! We'll try and collect our feedback in a more subtle way from now on 🙂
Size ordering: Oops! We noticed that apparently the sizes weren't ordered anymore due to previous updates. We've now fixed this.
What's Next?
Want to read more? Check out our latest State of Crosslist article where we go over the things we're currently implementing. Sneak peek: Kidizen is coming soon! 🎉
Questions or just say hello!
If you have further questions, feedback, bug reports or want to know a bit more about us, why not swing by for a chat and say G'day! You can view our website or have a chat with us through Instagram. Finally, we're also available on Twitter.