Poshmark Selling Fees 101: How Much Does Poshmark Take?

---
E-commerce platforms like Poshmark are a godsend for buyers and sellers alike. Sellers get to showcase and sell their products to a wider customer base without the hassle of setting up a physical shop, and consumers get to shop right from the comfort of their homes.
But all of this comes at a price. Literally. Here's the down low on all the different types of Poshmark selling fees so that you know exactly how much money you'll make.
Poshmark listing and selling fee
You don't need to pay a fee for listing your products on Poshmark. The selling fee comes into play only after a sale is made. There is no fee to create a listing, like on eBay.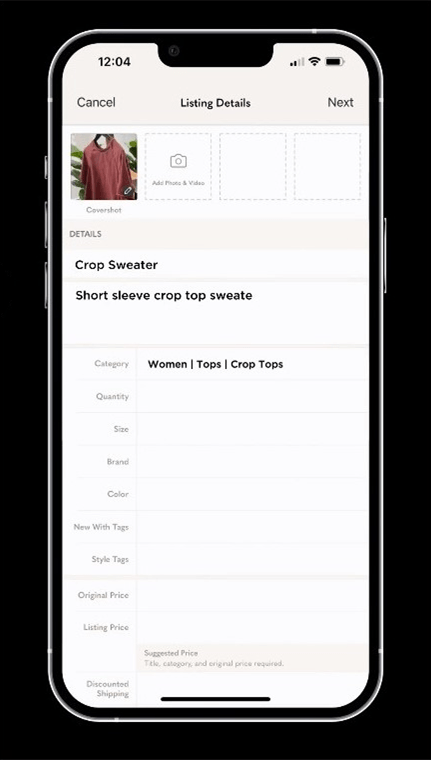 In the U.S., Poshmark deducts a flat fee of $2.95 from the final order price for all sales under $15. Yes, this includes items that are sold for as low as $3.
For sales above $15, the selling fee is 20%, which means you get to keep 80%.
For instance, let's say you sell a vintage coat for $100. Poshmark will take $20, and the remaining $80 will be your earnings, which seems reasonable. But for any items you sell under $15, the flat fee ends up becoming too high.
Take this, for example, you just sold an item worth $5. Here, the $2.95 fee ends up being a whopping 59% of the order amount, which means the fee is higher than your earnings. And if you sell an item for $3? The fee makes up more than 98% of the order price!
Because of this, selling items worth less than $15 doesn't really give you a profit, especially if you factor in the cost price. So, instead of selling them individually, we recommend that you include them in bundles (more on this later).
In Australia and Canada, the selling fees are slightly different. Poshmark charges a flat fee of $3.95 for all sales under $20 and a fee of 20% for all sales above $20.
Use our Poshmark Fee Calculator to know your exact estimated earnings and profit margin.
In addition to letting you sell your products on the platform, does Poshmark give you any additional benefits in return for the selling fee?
Yes, it does! Here's what you get:
Free prepaid and pre-addressed USPS shipping label all ready for you to print it out and stick it on your delivery package.
Free credit card processing.
Customer support.
Poshmark seller protection. As long as you use the label provided by Poshmark and use USPS to ship your products, Poshmark will cover the loss if your package gets lost in transit.
Sales tax is calculated, collected, and remitted to the state on your behalf (more on this later).
Poshmark selling fee on Bundles
Poshmark allows the buying and selling of a few items (that weigh up to 5 lbs) from a seller's closet together as a bundle. Bundles have the same seller's fee: $2.95 on sales below $15 and 20% on all sales above $15.
However, selling things via bundles does save you some money. Let's say a buyer wants to buy 5 items from your closet. The entire bundle of 5 items will be considered as a single transaction. This means you only have to pay the selling fee once instead of 5 times! Moreover, the buyer also gets to save on shipping costs, so it's a win-win for both.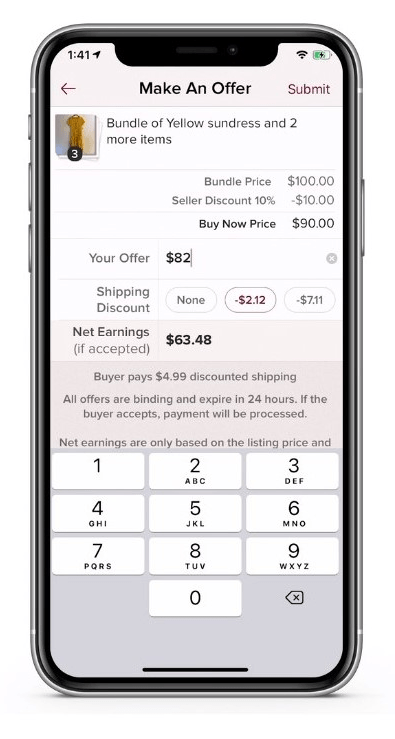 Poshmark selling fee on Posh Shows
The standard selling fee applies even if you're selling something via live shows on Poshmark i.e. $2.95 on sales below $15 and 20% on all sales above $15.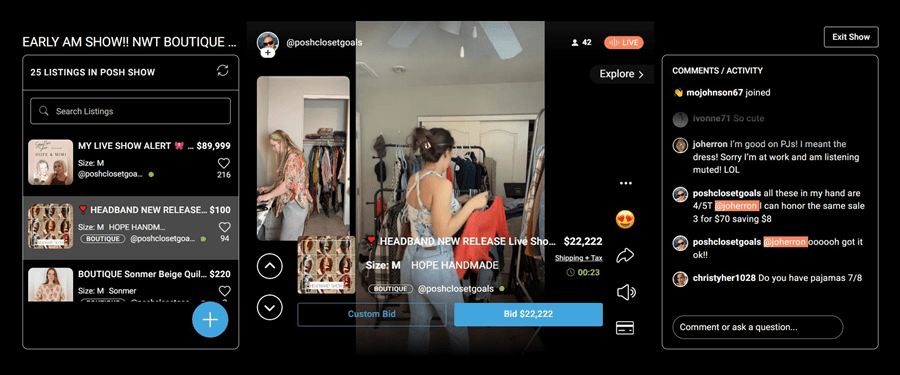 Posh Shows are a great way to earn more than what you were expecting. However, it can also go south very quickly if you start off the auction at a very low price and there aren't any buyers to raise it.
So, again, we recommend sticking to bundles when selling items for less than $15. And, hey, good news! Poshmark now allows you to create bundles for live sales.
Poshmark fee for Posh Authenticate
Poshmark has this neat little optional feature called Posh Authenticate where they offer item authentication for all luxury goods that are worth more than $500.
The best part? Posh Authenticate is entirely free and the buyer gets free shipping, too! Well, sometimes.

Poshmark shipping fee
Shipping things from one place to another costs money. At Poshmark, the shipping fee is calculated based on the weight of the delivery package and is incurred by the buyer. But there are some caveats.
For packages that weigh up to 5 pounds, the buyer pays a flat-rate shipping fee of $7.97.
However, if the package weighs more than 5 lbs, then you, as the seller, will need to generate a new and upgraded label. Poshmark charges an overweight fee for this which will be incurred by the seller.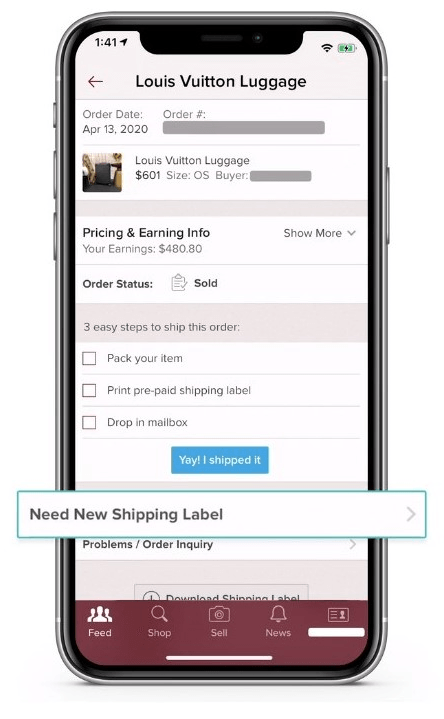 Here's a breakdown of overweight fees for sellers:
| Package weight | Overweight fees for sellers |
| --- | --- |
| Up to 5 lbs. | $0 |
| 6 lbs. | $4.5 |
| 7 lbs. | $9 |
| 8 lbs. | $13.5 |
| 9 lbs. | $18 |
| 10 lbs. | $22.5 |
So, if you want to avoid the overweight costs, make sure that your package weight doesn't exceed 5 lbs.
In Canada, the shipping fee is C$13.49 for orders that don't exceed 2.5 kgs. Again, any overweight costs fall on the seller.
So sellers don't need to pay a shipping fee for orders that weigh less than 5 lbs or 2.5 kgs. Great. But what if you offered a shipping discount or free shipping? In that case, the seller pays the shipping discount.
For example, if you give the buyer a shipping discount of $2.02, they'll only have to pay a shipping fee of $5.95 instead of $7.97. Here, the difference of $2.02 will come out of your pocket.
Here's a helpful illustration comparing your earnings with and without a discount: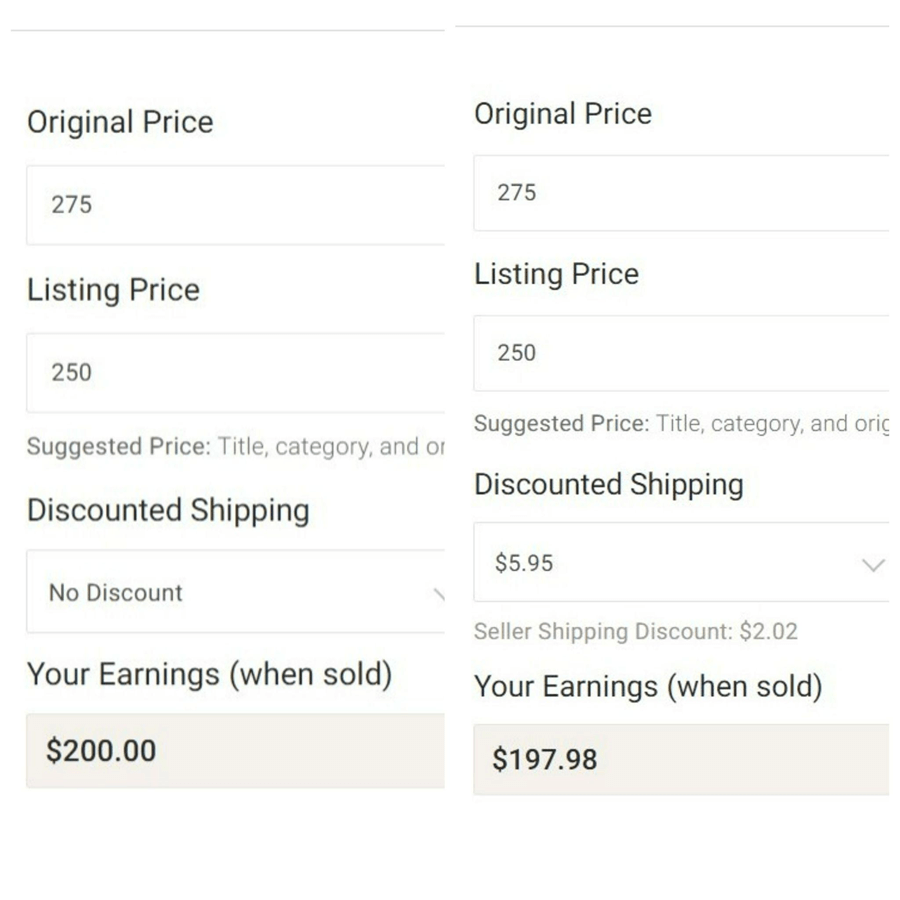 Sales tax for Poshmark orders
You'll be happy to know that sellers from the U.S don't have to pay a sales tax for successful sales on Poshmark. Instead, it is collected from the buyer depending on the type of item they purchased, their city and state, and the shipping costs.
Poshmark does all the work of calculating the sales tax and collecting it from the buyer. It even does the job of submitting the local and state taxes on your behalf, so you don't have to lift a single finger!
Questions or just say hello!
Well, congratulations to you for making it this far! Here's a reward in the form of a 10% discount code on your first month of Crosslist (add during check-out). Sign up now with a 3-day money-back guarantee!
You can learn more about how Crosslist works here.
If you have further questions, feedback, bug reports, or want to know a bit more about us, why not swing by for a chat and say G'day! You can have a chat with us through Messenger.