E-Commerce Shipping: Understanding Shipping Costs and Strategies

---
Are you an e-commerce business owner looking to improve your shipping strategy? Or maybe you're new to online selling and need a little guidance. Regardless, shipping can be a significant challenge for online sellers, but it's also one of the most important aspects of running a successful e-commerce store.
Customers expect fast and affordable shipping options, but many factors go into determining the cost and speed of delivery on your end. If you're unsure where to begin, we'll explain everything you need to know about e-commerce shipping – from understanding the process to choosing the right methods and strategies for your business. So let's dive in!
E-commerce shipping explained
E-commerce shipping is the process of delivering products purchased from an online store to customers. It's a crucial aspect of any e-commerce business, as it can impact customer satisfaction and retention.
The shipping process begins when a customer places an order on your website. The order is then processed, packed, and shipped out to the customer using various methods, such as ground or expedited shipping.
Understanding the ins and outs of e-commerce shipping can make all the difference when building a sustainable online business. So, naturally, part of having a thorough understanding of e-commerce shipping requires an awareness of the factors at play. These include the below:
Location
One important factor to consider in e-commerce shipping is your warehouse's location and the buyer's location. Shipping costs are typically calculated based on the distance traveled between these two points. As such, it's crucial to have accurate weights and dimensions for each product to provide accurate shipping cost calculations for customers during checkout.
Carrier choice
Choosing reliable carriers with trackable packages and insurance options is essential in case something goes wrong during transit. This provides both yourself and your customers with added peace of mind. For interest sake, below are some of the most popular carriers for e-commerce stores: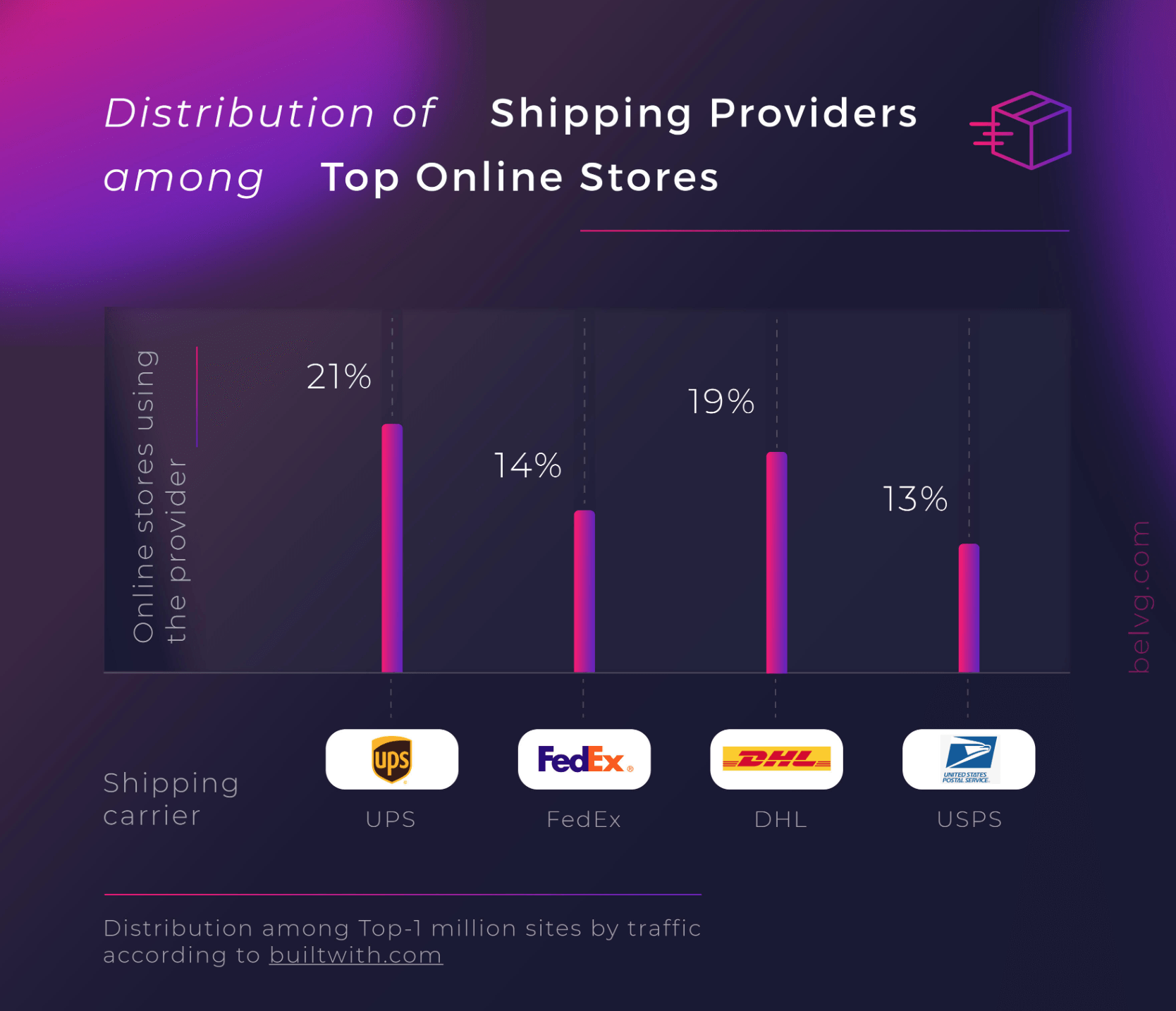 Shipping timeframes
Shipping times can be a critical factor in overall customer satisfaction. Providing fast delivery by offering expedited services or same-day/next-day delivery options can help differentiate your business from competitors while reducing cart abandonment rates.
For example, sometimes an order is time-sensitive (in the case of a last-minute birthday gift, etc.), so a customer may abandon checkout if you cannot offer a speedy shipping option.
Understanding the e-commerce shipping process
The shipping process for e-commerce businesses is a critical part of the customer experience. It's essential to understand each step in this process so that you know how to properly send orders out to customers, track them throughout their journey, and provide the best possible service.
Here's a brief overview of the general order fulfillment and shipping process: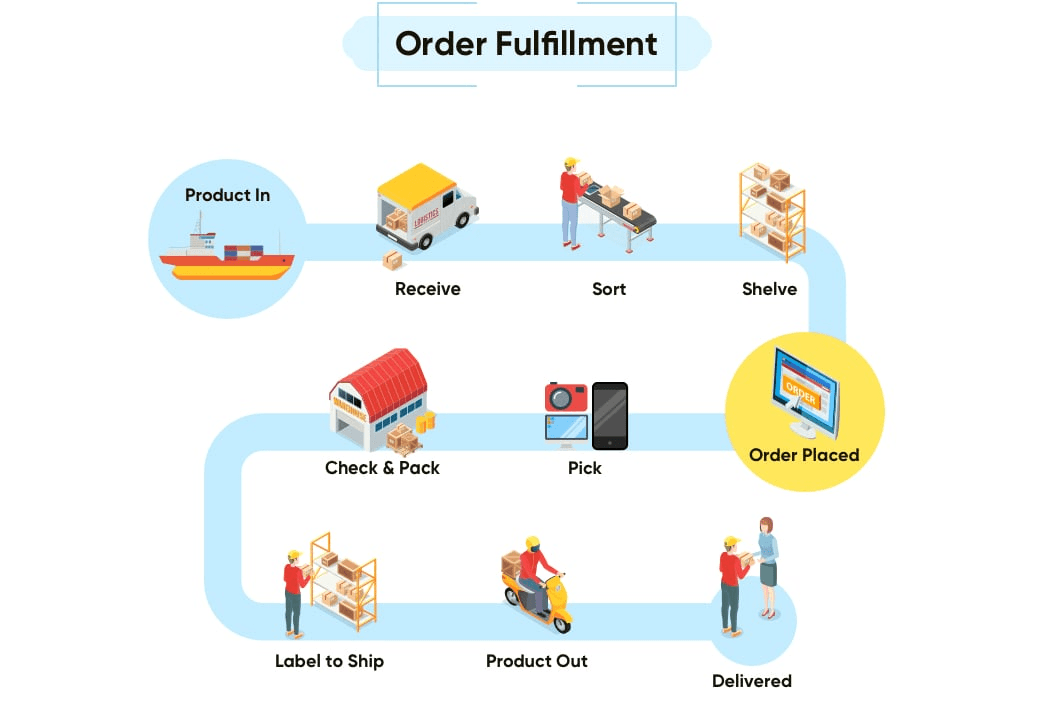 First, you will receive an order from your customer. You will need to check that the items are indeed in stock and adjust your inventory levels across all your platforms. If there are any stock issues, these must be attended to before you can proceed with the shipping process.
Step 1: Prepare your shipment
After a customer has placed an order through your online store or an online marketplace, it's time to prepare the shipment. This includes packing all items into appropriate packaging materials (typically boxes, bubble wrap, or envelopes) and verifying that there are no missing items or incorrect quantities before sending them out.
If necessary, include any additional documentation, such as invoices or warranty information, with the package in accordance with local regulations.
Step 2: Select a shipping method
Depending on your business needs and budget considerations, you can select from several seller shipping methods to send out your orders. Common options include USPS First Class Mail, UPS Ground, FedEx Express Saver/Ground/Home Delivery services, and DHL Express Worldwide services, amongst many others.
Researching these providers will help you determine which offers the most suitable features at an affordable price point for your business's needs. But more on that later.
Your customer will most likely have selected and paid for a shipping method when placing an order. However, remember, if you're offering free delivery, you will be liable for the shipping costs, so select your carriers carefully.
Step 3: Calculate the shipping costs
Once you have chosen a carrier and calculated any required packaging fees or other costs associated with handling your order(s), it's time to calculate the total cost of shipping based on weight/size calculations. Your carrier may have flat rates for specific-size packages for local and national deliveries or offer real-time pricing.
You may also need to consider special requirements such as signature confirmation if customers request it during checkout or hazardous materials regulations if certain products require extra care while being shipped. These can sometimes incur additional charges over and above the shipping fee.
Step 4: Print shipping labels
The next step involves printing shipping labels for each order. These play a vital role in ensuring the smooth transit of packages through different hands and locations before reaching their final destination. They should always contain relevant details, including:
tracking number
sender information (address, contact information, name)
recipient name, contact details, and address
instructions specific to that particular delivery, such as COD payments (cash-on-delivery)/call before delivery, dangerous goods, fragile items, etc.
Depending on the platform and carrier, you can sometimes get pre-printed shipping labels, saving you the trouble of manually filling in each waybill. However, even if you're using pre-printed shipping labels, cross-check that all the information is correct.
Below is an example from FedEx of a printed shipping label versus a manual peel-and-stick waybill.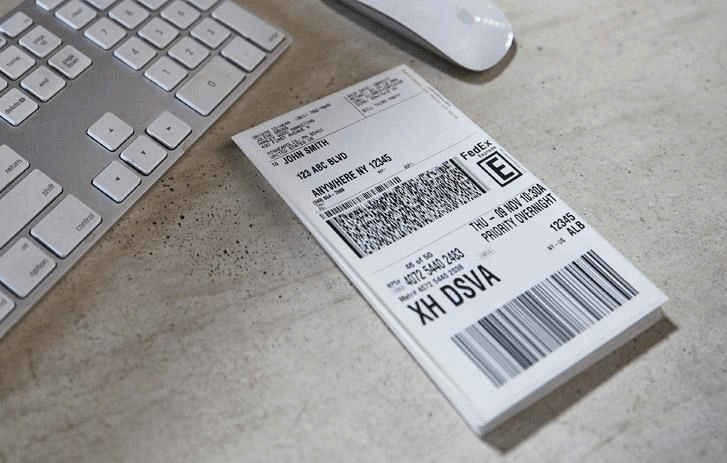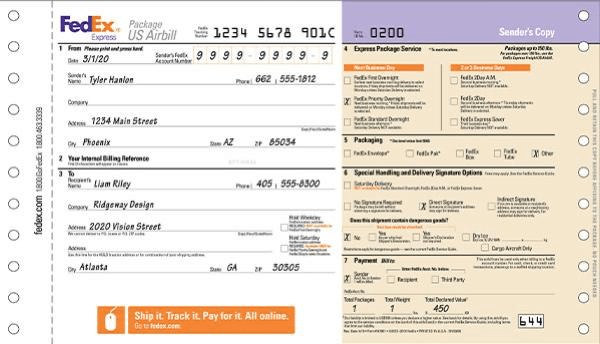 Once you've correctly filled out/checked your shipping labels, stick your labels onto the corresponding packages and retain a copy of each waybill. Your orders are then ready for pickup from your designated carriers.
Step 5: Schedule pickups/deliveries
Scheduling pickups allows carriers like USPS, FedEx, UPS, etc., to pick up packages directly from your warehouse rather than having your employees (or yourself) drive around town trying to drop off orders themselves.
Alternatively, depending on your chosen methods, deliveries can be made via parcel lockers or retail pickup points.
Step 6: Transit and delivery
Once dispatched, the parcel will go through several stages between point A (your warehouse) till point B (customer's address), where it may get sorted differently depending upon the courier service chosen. Domestic vs. International deliveries might take different routes and involve customs clearance procedures along the way if necessary.
Likewise, economy vs. express services will be treated with different levels of urgency, and packages may end up at different depots before arriving at their final destinations.
During the transit phase, customers should get automatic notifications with regular updates about their parcel's whereabouts.
Step 7: Tracking
Tracking packages is an important part of the e-commerce shipping process, as it allows customers to keep tabs on their orders and businesses to ensure that products arrive at their destinations safely and on time. As an online seller, this enables you to stay one step ahead by anticipating potential delivery issues before they happen.
Ensure you receive digital proof-of-delivery (POD) for each order and retain it as proof that the customer received their order. You never know which customers may try to get a freebie, so protect yourself with receipts!
Below is a fantastic example of an electronic POD which includes the delivery time, address, name of recipient, and a signature. Some carriers even take a picture of the parcel in the recipient's hands as concrete proof they successfully handed the parcel over.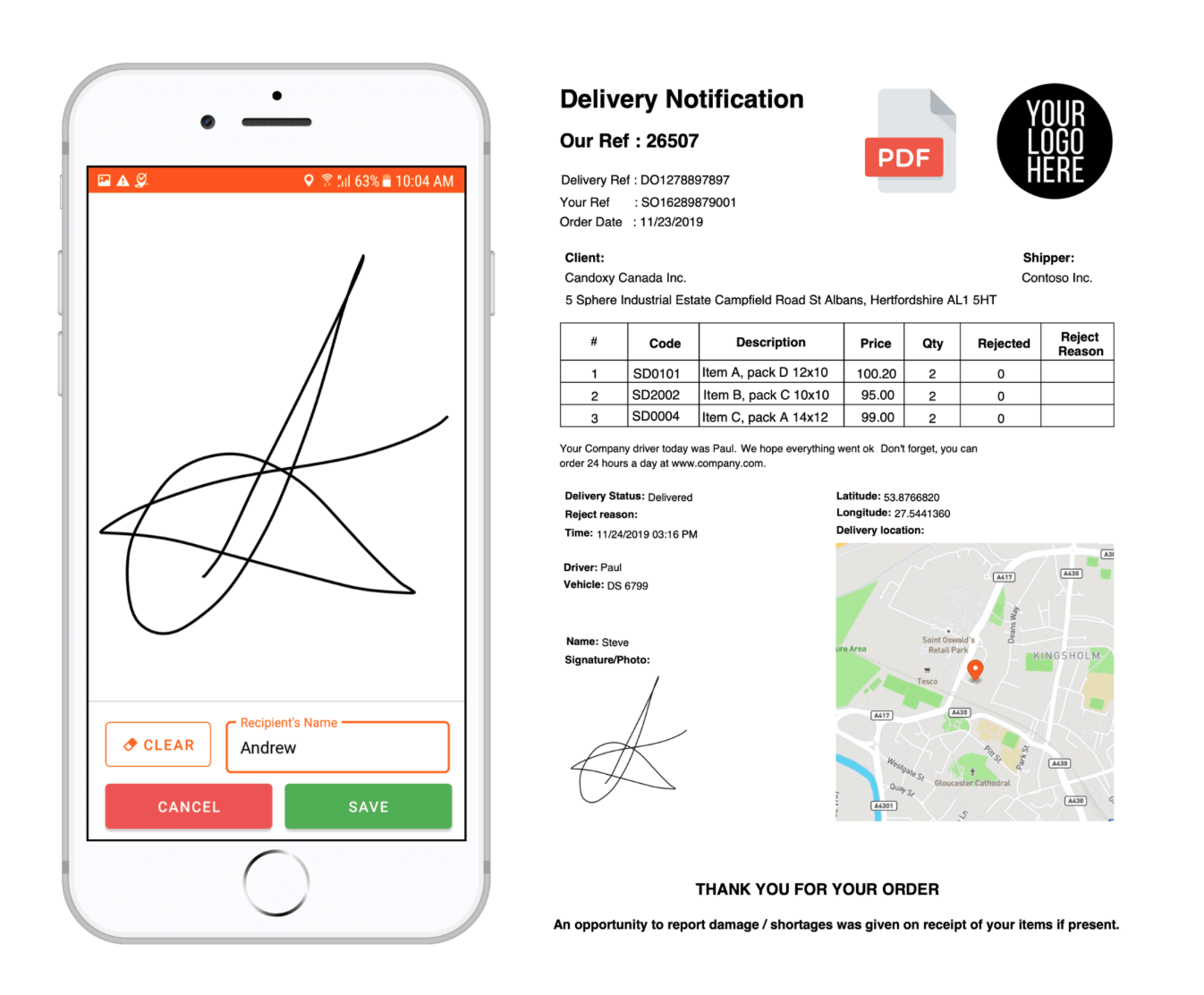 Step 8: Handling returns
When products do not meet customer expectations, arrive damaged, or are otherwise unsatisfactory, customers may choose to return them for full refunds or exchanges. It's vital that you have policies in place that communicate:
how long customers have to return items (typically around 30 days)
what types of products are eligible for refunds (not all items may be refundable)
who pays for return shipping costs (in most cases, this will fall on the customer).
As you probably are aware, returns can be a logistics nightmare if not managed efficiently, so your returns policy should clearly outline the steps your customer has to take if they'd like to log a return. This may require them to pay for or book a return, or if you offer free returns and exchanges, you would be required to liaise with the customer and make a booking for upliftment.
Once a product has been returned to you, it must be processed according to your returns policy. This would typically involve an inspection of the item before issuing a refund or providing an exchange/replacement.
E-commerce shipping methods and strategies
Choosing the right e-commerce shipping methods and strategies can make all the difference in customer satisfaction, efficiency, and, ultimately, your bottom line. There are several different e-commerce shipping methods out there, each with its own pros and cons. These include:
1. Standard shipping
This is the most basic e-commerce shipping method and typically involves ground transportation of goods from point A to point B within an agreed-upon time frame (such as 3 to 5 working days). It is usually offered free of charge by many online sellers for customers who spend a certain amount or reside in a specific geographic location.
2. Express shipping
Express shipping refers to faster turnaround times than standard shipping, usually involving air freight or other expedited shipping services like UPS Next Day Air or FedEx 2Day. While these options can be more expensive than standard delivery, they often come with guaranteed arrival dates that can be invaluable in keeping customers happy when orders need to arrive quickly due to tight deadlines or special occasions.
3. International shipping
International shipping for e-commerce businesses typically involves working with an international carrier to transport goods from your warehouse to your customer overseas.
Different options can be chosen depending on the shipment size, such as air freight, ocean freight, or ground transportation. Your customers will need to factor in customs fees and taxes when calculating the total amount they must pay.
Additionally, depending on the destination, they may need to provide paperwork and documentation for customs clearance.
4. Drop-shipping/fulfillment services:
With drop-shipping/fulfillment services, sellers do not keep inventory themselves but instead entrust third parties with delivering goods directly to customers via the warehouses closest to them. This significantly reduces the product selling price, transit costs, and lead times due to low overhead costs – things just get shipped straight from the source without you having to get involved!
This strategy reduces risks associated with holding physical inventory, so it's worth looking into if you don't want to bother dealing with complex logistics and inventory management processes. Marketplace fees, such as eBay seller fees, can also eat into your profit margins, so obtaining stock at competitive prices and keeping other costs low can help you maintain healthier profit margins.
An example of a well-known and trusted fulfillment service is Ship Network.
5. Local pickup option
If you have the necessary infrastructure to hold stock at your premises, you are well-positioned to provide a local pickup option. This enables customers to swing by to collect their orders, eliminating shipping costs and other logistics headaches. This is a great way to save money while still providing an excellent customer experience.
6. Parcel lockers
Parcel locker shipping is a delivery method many carriers offer that enables customers to pick up packages at convenient, secure locations. Packages are typically dropped off in designated lockers or boxes and can be retrieved 24/7 with an access code provided to the customer.
This type of delivery eliminates the need for someone to wait at home or work for their package, making it especially convenient for those who cannot receive deliveries during traditional business hours.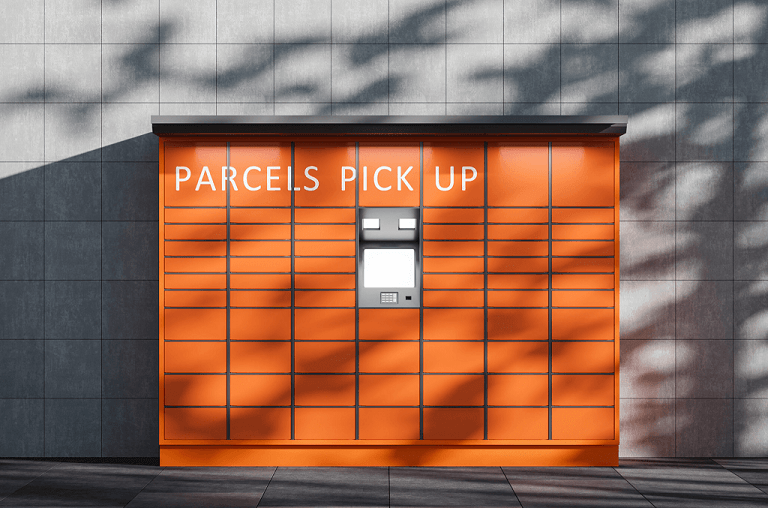 It is a very convenient shipping method for sellers as well for a few reasons:
Pricing is usually simpler and more cost-effective
Parcels don't need to be booked with a courier but instead are entered via an app or website which generates a pin code
Sellers can drop multiple parcels off at once at a locker close to their location
This eliminates the need to deal directly with a courier or wait in long lines at the post office
7. Pickup points
3rd-party parcel pickup point shipping is a type of delivery service that allows customers to have their packages shipped directly to a third-party location for convenient pickup.
This might include a local convenience store, gas station, or other locations where staff are available to accept the package and hold it until the customer arrives. It offers an easy way for customers to receive their purchases without waiting in line at the post office or having someone home when deliveries arrive.
E-commerce shipping costs
Shipping costs play an important role in the buying decisions of customers. High shipping costs can deter potential customers from completing their purchases and negatively impact your sales.
The cost of e-commerce shipping depends on a variety of factors such as weight, distance, destination, carrier, and delivery time. As a business owner, it is essential to understand these factors to offer competitive rates while maintaining profitability.
Tips for reducing shipping costs
One way to reduce e-commerce shipping costs is by negotiating with carriers for better rates based on the volume or frequency of shipments.
Another strategy is offering free shipping for orders over a certain amount or providing flat rate options for specific products/locations.
It's also important to keep in mind that unexpected fees, such as customs charges or additional insurance, may be added during international shipments, which can significantly increase the overall cost. At checkout, you should make it clear that the customer is liable for these charges.
Calculating shipping costs
As we've touched on, e-commerce shipping costs will vary depending on several factors, but the most significant influencing factors will be your carrier, parcel size, and type of service. You can find shipping cost calculators for various carriers below:
USPS – Calculate shipping cost
UPS – Calculate shipping cost
Canada Mail – Calculate shipping cost
UK Royal Mail – Calculate shipping cost
FedEx – Calculate shipping cost
5 e-commerce shipping price strategies
Your shipping costs are a major factor that can make or break your business. To help you stay ahead of the competition and attract more customers, here are five effective e-commerce shipping price strategies:
1. Free shipping thresholds
Offering free shipping for orders above a certain amount can incentivize customers to spend more at your store while helping you cover some of the costs.
2. Flat rate shipping
This strategy involves charging a fixed rate for all orders regardless of size or weight. It simplifies the checkout process and allows customers to know exactly how much they'll be paying upfront.
3. Real-time carrier rates
Instead of setting fixed rates, this strategy calculates the shipping cost for each order based on factors such as distance, weight, and carrier fees. This ensures you're not overcharging or undercharging your customers, protecting your profitability and making for ultra-transparent costs.
4. Product-based shipping
By calculating shipping costs based on individual products, you can offer different rates depending on their size, weight, fragility, and other factors. This gives you greater control over your margins without risking customer dissatisfaction due to high prices.
5. Regional pricing
Depending on where your customers are located geographically, offering discounted regional pricing options could prove beneficial in sustaining an ongoing relationship with them and keep them coming back time after time.
There's no one-size-fits-all approach when it comes to e-commerce shipping pricing strategies. What works best for you will depend largely upon various factors, including product type, the volume being shipped, and where your orders are being sent geographically.
How to manage e-commerce shipping as a multi-channel seller
Selling on multiple online marketplaces has become essential for long-term success. It provides access to a larger customer base, increases visibility and brand recognition, and helps you build relationships with new customers.
Additionally, having a presence on various platforms allows businesses to take advantage of different marketing opportunities, such as promotions and discounts that are specific to each platform. This can help businesses drive more traffic and sales, which is key for long-term success.
However, with all these benefits comes the added administrative load of managing logistics across multiple online platforms. It can be easy to make mistakes when juggling multiple sales channels, but by implementing the following tips, you can minimize errors and keep your shipping department running smoothly:
1. Understand the shipping policies of each marketplace
The first step is to familiarize yourself with each marketplace's shipping options and processes. Each platform may have its own unique set of rules and requirements for shipping, such as pricing tiers, handling timeframes, etc. Make sure you know what's expected of you before diving in.
Once you understand the requirements for each marketplace, determine which carriers will best meet your needs. Consider cost efficiency and reliability when selecting a carrier – if one option isn't working well for customers, switch it up!
You may even want to consider offering more than one type of shipping speed or carrier service to give customers more choices when ordering from your store.
2. Tracking information is your new best friend
Offering tracking info with every shipment helps ensure orders arrive on time and provides buyers with peace of mind while also helping to reduce the number of customer support requests related to delivery status.
Tracking numbers must be accurate, so ensure they are correctly updated in the respective marketplace after an order has shipped out.
3. Invest in a cross listing tool
Finally, make sure your business is equipped with appropriate inventory management tools capable of integrating across all the marketplaces where you're selling products online.
Cross-listing tools, like Crosslist, help you manage your inventory efficiently by enabling you to list and synchronize your products across multiple sales channels. This allows you to maintain one central inventory, eliminating the need for manual tracking and re-listing of items across different platforms.
Cross-listing tools can also automate pricing rules so that shipping costs are uniform across all sales channels, ensuring a consistent customer experience no matter where they shop.
The takeaway
E-commerce shipping is a crucial responsibility as an online seller and is one of the most important lessons you will need to grasp when learning how to start an e-commerce business. This is because understanding the shipping process and choosing the right methods and strategies can significantly impact your business's long-term success.
Mastering e-commerce shipping requires continuous learning and adaptation as consumer preferences change over time. But focusing on building a reliable logistics system that meets customer needs without sacrificing your profitability will undoubtedly lead to long-term business growth.
Questions or just say hello!
Well, congratulations to you for making it this far! Here's a reward in the form of a 10% discount code on your first month of Crosslist (add during check-out). Sign up now with a 3-day money-back guarantee!
You can learn more about how Crosslist works here.
If you have further questions, feedback, bug reports, or want to know a bit more about us, why not swing by for a chat and say G'day! You can have a chat with us through Messenger.