How to Start an E-Commerce Business in 4 Steps!

---
The thought of starting your very own e-commerce business is both an exciting and terrifying prospect. There are so many variables to consider before you can get going, but it doesn't have to be quite as complicated as it seems. With e-commerce sales expected to grow by 10.4% in 2023, there are plenty of opportunities to make a decent income if you find the right niche.
With proper planning and some elbow grease, anyone can launch a successful e-commerce business, so don't be deterred by the naysayers who are too afraid to leap.
If you're ready to learn more about how to start an e-commerce business and the specific steps you need to take, we're breaking them down into actionable steps, so you can easily understand the process of launching an online store. So, let's get started!
How much does it cost to start an online store? Creating a budget.
Starting an online store doesn't have to be expensive. In fact, you can probably get started for less than $100. Of course, how much you'll need to spend will depend on the size and scope of your business. If you're just starting, you can get by with a few basics like a domain name, hosting, and a shopping cart plugin or sell on an online marketplace like Amazon or eBay for free.
So, if you'd like to learn how to start an online business, here's an overview of some of the costs you can expect to encounter as you get started.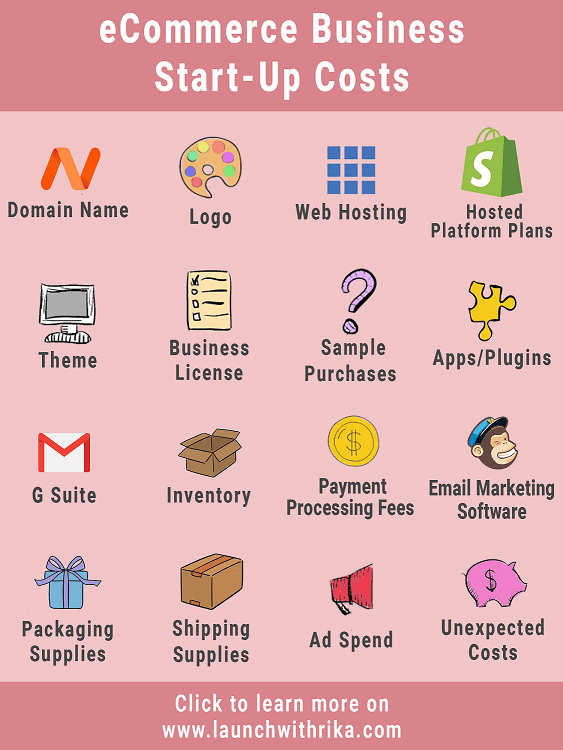 As your business grows, you'll need to invest in additional tools and services to manage inventory, process payments, ship orders, and market your business. Let's break those costs down for you…
How to start an online boutique: Common startup expenses for online businesses
Startup expenses for online businesses can vary significantly depending on the product type, size, and scale of operations. However, it is good to be prepared and understand the potential costs before you start your business.
Generally speaking, some of the most common costs associated with launching an online business include:
Business registration & licensing fees
Location-dependent, you may need to pay business registration fees or apply for specific licenses before launching your venture. This will typically involve filing paperwork with the relevant agencies and paying the applicable fees.
Even if you're a sole trader and don't want to register a company, you can still register your business name, so you retain the exclusive rights to use the name. If you come up with a new invention or idea, it can also be worth looking into trademarks and patents; however, that can be very expensive as it often requires the assistance of attorneys.
Professional service
You may need to hire professional services such as attorneys, accountants, or consultants to properly set up your company's legal structure, apply for necessary permits/licenses, and manage finances.
You may also need to hire an ecommerce development firm if you have difficulties building and customizing your website on your own.
These services could be costly depending on the complexity of your operations and the expertise required by professionals involved in the process.
Equipment & technology
Many e-commerce businesses require special equipment and technology-related purchases to run their day-to-day operations efficiently (e.g., computers, point-of-sale systems, invoicing software).
For example, Apple's newest operating system, macOS Sonoma Beta, revolutionizes the interplay between hardware and software by offering an improved digital experience in a variety of domains.
If you are selling physical items online, you may also have inventory storage costs associated with maintaining an appropriate amount of product at all times.
Advertising & marketing
Potential customers need to know about your new business, preferably before your launch, so you don't have a slow and disappointing launch day, which can be very discouraging for new businesses. This means you'll need to start investing resources into marketing efforts as soon as possible – both online (SEO/SEM) and offline (print media) if you can swing it.
The cost associated with these activities will depend largely upon which methods you choose but should not be neglected when budgeting for your new e-commerce venture! Here's an idea of how to allocate your marketing budget in 2023 once you know how much you can spend.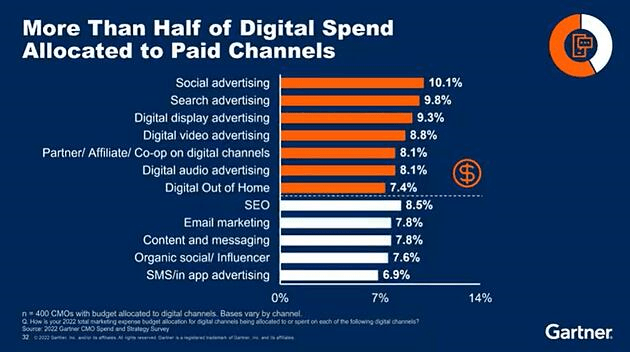 Insurance
Your business may require liability insurance or errors & omissions insurance. Insurance premiums will typically depend upon risk factors unique to each operation, so make sure you do proper due diligence research before committing too much money towards this expense.
If you're a small-scale operation with low inventory costs and a low-risk product (i.e., not electronics or baby toys with potential choking hazards), you can probably skip insurance altogether when you're just starting.
Employees
While most startup e-commerce businesses don't have a team right out the gates, if you plan on hiring employees right away, then several expenses must be taken into consideration, including wages, benefits, payroll taxes, workers' compensation, etc.
These costs can add up quickly, so make sure they are factored into any financial projections before making hiring decisions.
Inventory
If you'll be selling a physical product, you will potentially need to fork out capital upfront to have stock on hand to fulfill orders as they come in. Stock units will be easier to plan if you create a proper business plan and start your marketing campaign before your launch.
Ideally, if you can drum up enough excitement to secure pre-sales, you can cover some of the upfront costs of acquiring initial stock.
Product ideas: Tips to find profitable products
When it comes to understanding how to start an e-commerce business in 2023, the next logical step is to find your winning product! Easier said than done, right? Wrong!
If you've got your wits about you and use these insider tips, you can tap into a goldmine and turn your online venture into a full-time gig in no time.
Understand consumer trends
When looking at how to start an online business, first, understand consumer behavior trends and market shifts from the previous year. Consider what products have sold well and any emerging trends or technologies that may become popular in the next few years.
This will indicate where consumer interests lie, and which areas might be worth exploring further when it comes to finding new product ideas. To find this information, you can check out consumer trend reports on blogs like HubSpot and Forbes, or you can often find sales information on Poshmark, Etsy, and Amazon's blogs, for example.
If you want particular information about a niche you want to tap into, you can purchase consumer insight reports from a company like Brandwatch. Below is a sample of a consumer intelligence report.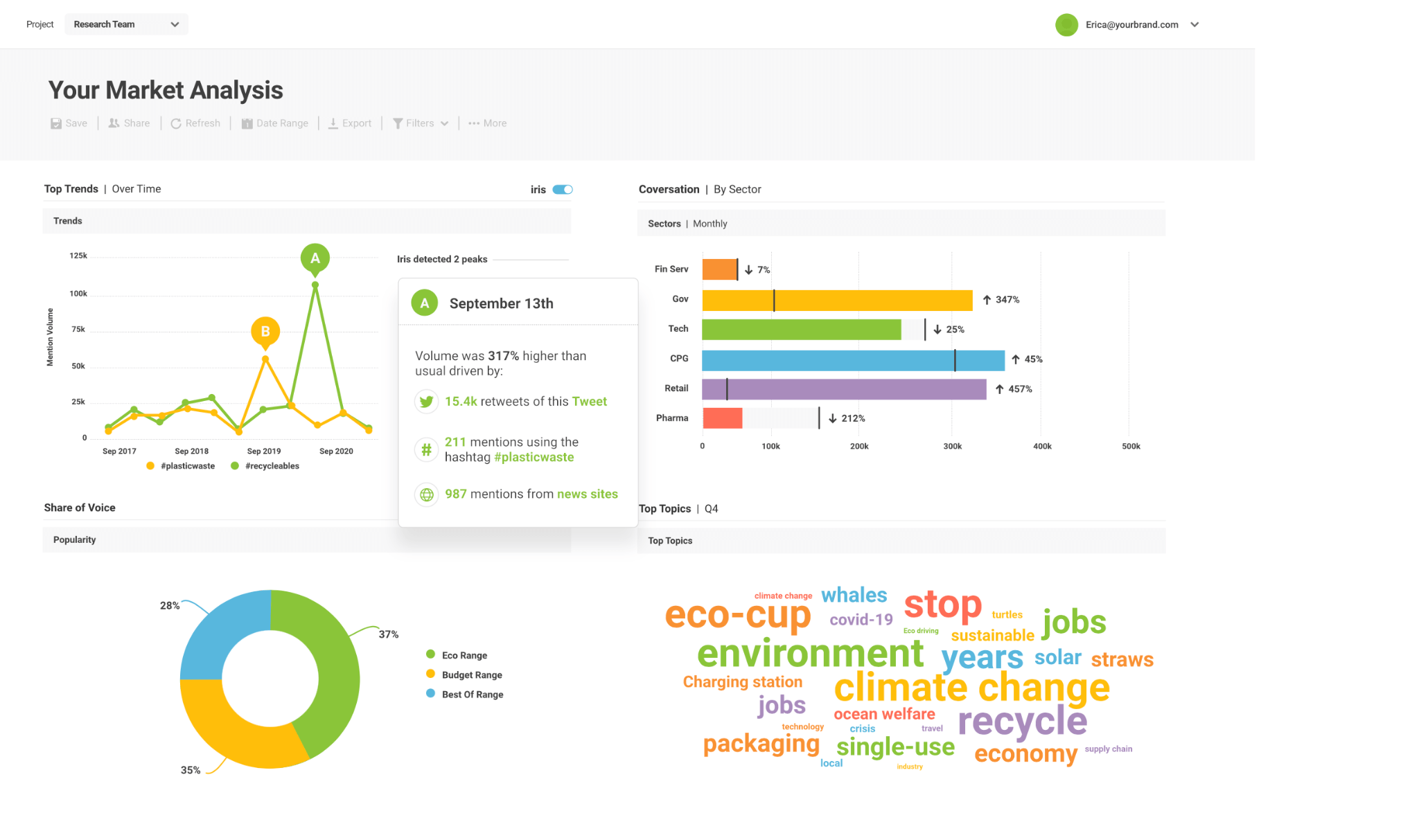 Identify gaps in the market
Consider creating products based on current customer needs rather than trying to predict future ones. Keep an eye out for industry gaps and try to fill them with innovative solutions that could benefit customers directly if they were available now.
You should also look at existing businesses and identify what makes their offerings unique so that you can use this knowledge in developing your product ideas. By researching your competitors, you can also identify any weaknesses and use this to your advantage by bringing a product to the market that better services the needs of your target customer.
Keep up to date with industry news
If you hope to understand exactly how to start an online boutique, It is essential to keep up-to-date with changes within e-commerce platforms such as Amazon, eBay, or Shopify, so you know how certain features work on these sites and how best to optimize them for selling your products online successfully.
Practice social listening
Don't forget about using social media platforms like Instagram, Facebook, or YouTube for your research.
Study influencers with large followings and post content related to whatever industry sector you're entering with your e-commerce store – these people are likely already promoting similar products, so you need to understand why those particular items are being pushed over others before launching a campaign of your own. What are their benefits? Do they have a USP? What marketing tactics are they using?
This will provide valuable insight into how you can better advertise/promote your products once launched, which could save you considerable time and money in the long run when you get it right initially.
Practicing social listening can also provide an excellent opportunity to promote and list your items, and then sell on Facebook Marketplace.
How to start an online business from home: Quick tips to find winning products
1. Start by doing your research – know your niche and what sort of products are in demand. Use Google Trends to see if there are any seasonal changes in what people are searching for.
2. Use keyword research tools like Google AdWords Keyword Planner, Keywords Anywhere, and UberSuggest to find popular keywords related to your niche that people are searching for. You can also use paid tools like eRank and Marmalead to get actual sales figures from sellers on Etsy and other online marketplaces.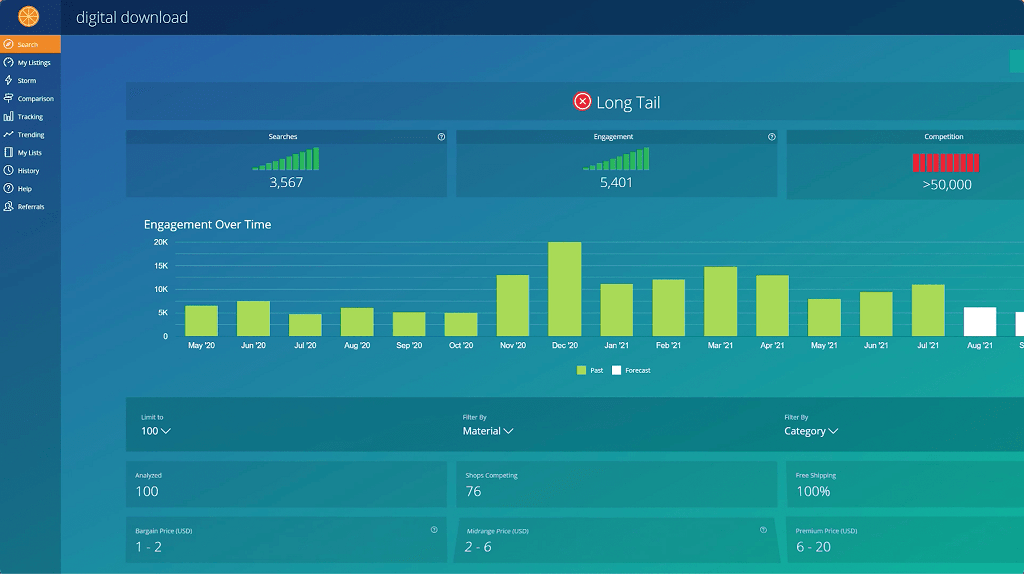 3. Look for products with high margins so you can profit even after accounting for shipping costs and other expenses associated with selling the product.
For example, digital wall art can have a high-profit margin because you outlay for the initial design, and then you make money time and again from the same product without any further costs; you can literally sell it in your sleep.
4. Find light and small products so they're less expensive to ship. This will help you save on costs and make it more affordable for customers to buy from you, especially if they're located far away from where you are.
If you're short on time or need inspiration, you're in luck! We put together a comprehensive guide with our top Etsy shop ideas for those looking for a profitable niche to tap into. If you're more interested in setting up a resale business, you can check out our guide on the best things to resell in 2023.
How to choose an e-commerce platform
The next very important step in launching your e-commerce business is choosing a suitable platform to start selling your products on.
This decision will be dependent on a number of factors including the product you are planning on selling as well as how much money and time you have to invest in getting set up, among others.
In general, you can go two ways: you can either sell your products on existing marketplaces such as eBay or Etsy, or you can start your own website using software such as Shopify or WooCommerce.
Shopify offers a range of subscription service features, including subscription management apps, personalized product recommendation tools, subscription-based content, and service delivery options.
WooCommerce is a similar package but goes together with the popular content management platform, WordPress.
Here are a few specific things you'll need to consider when choosing an e-commerce platform:
1. Cost – How much does the platform cost? Is there a monthly fee or a transaction fee? Make sure you know all the costs associated with the platform before deciding. Sometimes it can be costlier to create a Shopify or WooCommerce store, so it eats into your profits before you've even had a chance to start selling.
On the flip side, getting your start on an online marketplace can save you money because generally creating an account is free and transaction fees are nominal in comparison.
2. Features – Does the platform have all the features you need? Ensure it has everything you need to run your business, such as product management, inventory management, shipping integration, payment processing, etc.
Most online marketplaces have great built-in tools to make running your store as simple as possible, however, creating your own e-commerce store does give you more control over customizations. This infographic has some great suggestions of features to look out for when choosing the right platform to launch your online business.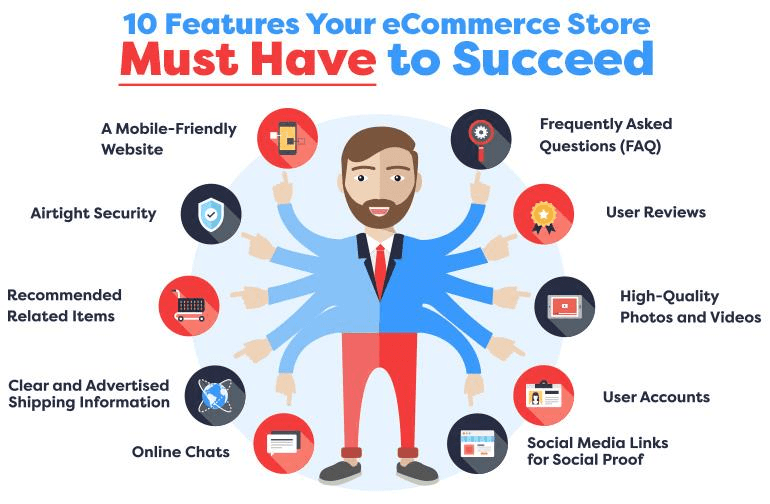 3. Ease of use – How easy is the platform to use? You will want to ensure it is easy to add products, manage orders, and process payments, especially if you're not tech-savvy. The easier the platform is to use, the less time you will spend training employees on how to use it or wasting your precious time figuring out how things work.
For example, even though Shopify and WooCommerce are marketed as user-friendly, there is still a steep learning curve, and often professional coding is required to customize various functions. Online marketplaces, on the contrary, are built to be very easy to use and require absolutely no technical know-how.
4. Customer support – Does the platform offer good customer support? If something goes wrong with your store, you will want to be able to contact someone for help and receive a reasonably quick response, so you don't lose out on sales.
5. Time constraints – How much time do you have available to get set up? Do you have time to perform regular website maintenance and troubleshoot problems?
Setting up a custom online store is time-consuming and will require regular site maintenance, so you need to decide whether you can commit the necessary time to do so. If you're short on time and want a quick start, using an online marketplace may be your best bet.
Large marketplaces vs. your own online store
As you will have gathered from the above, the big question is whether you will sell on online marketplaces, have a standalone online store built on Shopify or WooCommerce, or do a combination of both. No matter what you decide, they each come with their own pros and cons, which we'll outline below.
Pros of selling on online marketplaces
Offer a much wider reach than operating your own website or store, giving you increased exposure and access to larger audiences.
Increases the visibility of your products by putting them in front of people searching for related items, increasing the chances that they will purchase from you.
Customers can easily access all types of products available on these sites, so they can conveniently shop for multiple products simultaneously and consolidate shipping costs. If you have a standalone website that only sells a single type of product, this can be a less convenient way for consumers to shop.
Generally, it is free to set up an account, and compared to the costs of hiring a developer, the transaction fees are negligible in most instances.
Consumers are more likely to trust large online marketplaces since they provide a secure payment gateway, convenient delivery options, and reliable customer service support systems, which add credibility for buyers and sellers alike.
Setting up shop is relatively simple compared with establishing an independent e-commerce site. Most marketplaces have user-friendly tools that allow you to start selling immediately without needing any technical expertise or coding skills.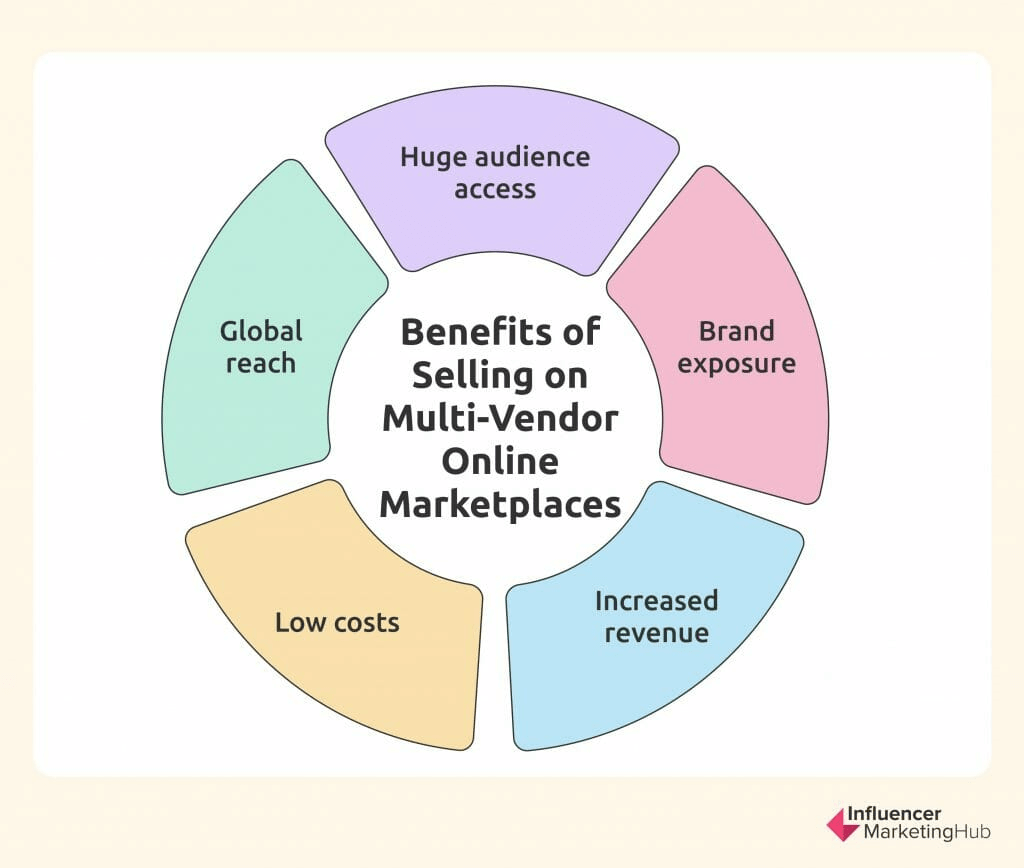 Cons of selling on online marketplaces
A large pool of sellers means competition is fierce and it can be hard to stand out as a newcomer
Fees can impact your profit margin, however, one must weigh up how much it would cost to run an independent online store as they do come with their own set fees.
Lack of control over user experience design, customer service, SEO, and (sometimes) returns policy.
If a marketplace suffers a scandal or reputational damage, consumers may boycott the platform which can result in lost sales.
Marketplace algorithms may prioritize certain products over yours, resulting in decreased visibility. This can be mitigated if you put time into your listing SEO and marketing efforts.
Certain products, like medical devices, may be prohibited which can limit you if you sell products outside of the scope of the platform.
Pros of selling on your own online store
Can customize the website's design and presentation of products.
Potential to improve profit margins since there is no middleman involved.
Appealing to audiences who prefer supporting small businesses and are anti-corporations like Amazon, eBay, etc.
Ability to connect to analytics software like Google Analytics 4 for easier tracking of customer data and a greater understanding of their purchasing behavior. This can enable you to customize your product offering to various market segments.
Full control over your website's SEO.
Cons of selling on your own online store
With a sea of online retailers, it can be hard to get noticed. Independent online stores also often have lower search engine rankings compared to larger marketplaces, meaning they may not be seen by as many potential buyers.
Because independent online stores are not well known, customers may be less likely to trust them or their products due to the lack of brand awareness and reputation.
It's difficult for independent sellers to compete with bigger marketplaces in terms of marketing reach and budget, making it harder to attract a wider audience and generate sales on an ongoing basis.
Setting up an online store can be difficult and time-consuming for smaller businesses that don't have dedicated IT teams. This can lead to technical issues, such as the shopfront or product pages not displaying correctly, potentially chasing customers away.
Without adequate security measures, your store could become vulnerable to hackers or malicious attacks, which may harm customer data or damage your reputation if they go undetected.
Here's a quick recap of the above for those short on time.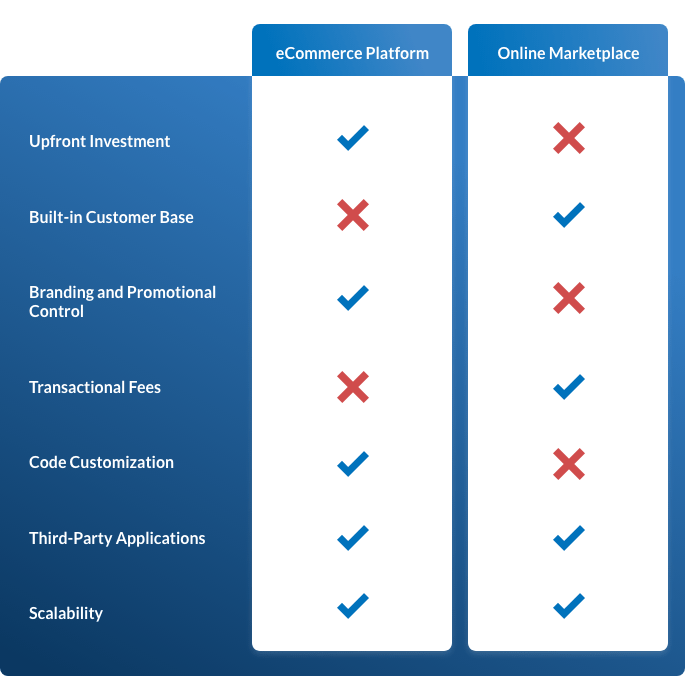 Our verdict
While it is very possible to develop and launch an online store successfully, many more fail than thrive largely due to budget constraints and lack of technical know-how. A better starting point, in our opinion, is selling on online marketplaces.
This way, you have a built-in audience with global reach and a set of user-friendly tools that can help you launch your online selling venture with ease.
To mitigate some of the potential challenges associated with selling on online marketplaces, only sell on reputable platforms, take control of your SEO by writing keyword-rich listing titles and descriptions, and offer buyers A+ customer service.
Another smart move is choosing to sell on multiple channels so you can avoid relying on just one to bring in sales. If you experience a downturn in sales on one marketplace (e.g. an algorithm update causes a drop in visibility and revenue) you at least have two or more other platforms that you're still selling successfully on.
Selling on multiple channels is the perfect middle-ground between investing in a Shopify or WooCommerce store and selling on a single marketplace, both of which are risky moves for most sellers.
While it may sound like listing on several platforms requires a lot of admin on your end, it is simpler than you think. Because it's 2023, there is, of course, a tool for that! Using a cross listing app like Crosslist can save you hours of time by importing your listings at the click of a button and making uploading to your other marketplaces as easy as hitting "publish."
With that in mind, it may be time to polish up your online selling skills. If you'd like a good idea of what it takes to sell on a big online marketplace, check out our guide on how to sell on eBay.
Create a sales and marketing plan
If you have hopes of mastering creating an online store, you must design an in-depth sales and marketing plan before your launch. In fact, you should start running your campaigns a few weeks or months before the official launch date to build up excitement.
The good news is that you don't need to hire an expensive media agency or even be a marketing expert to run successful campaigns. Here is how you can get started as a new online business:
Identify your target market
Before creating an effective sales and marketing strategy, it's important to understand your target customers. Analyze demographic data such as age, gender, location, income level, and customers' interests to determine who will most likely purchase from you.
Knowing this information will ensure that all of your efforts are directed toward people who genuinely are interested in what you offer.
Establish goals & objectives
Once you know your target market, establish realistic yet achievable goals with measurable objectives that align with your company's overall mission. When setting these targets, make sure they are specific (such as increasing total revenue by 20%), attainable (not impossible or unrealistic), and timely (set deadlines or timeframes).
Create an online presence
Developing an online presence should be one of the first things on your agenda since having visibility through search engines like Google makes up a large portion of web traffic nowadays.
This means optimizing content for keywords that potential buyers may use when searching for products and services like yours. This helps your website rank higher on search engine results lists much faster. Some specific deliverables you can plan for include:
registering domain names;
building a website or joining online marketplaces;
leveraging social media platforms;
blogging regularly about topics relevant to your customers;
implementing SEO techniques such as link building, Google My Business listings and other tactics to maximize visibility and traffic from organic sources.
Determine which social media platforms would be most effective in reaching your customers (Facebook versus Twitter versus Instagram) as well as how exactly you will use each platform (will you post on groups/rely on organic posts or run sponsored posts).
Implement paid advertising strategies
In addition to getting found organically via the content marketing tactics mentioned above, paid advertising can also significantly drive awareness about newly established brands. You can use Google Ads, Facebook, Instagram, Twitter, and Pinterest to create ad funnels that will lead your customer from awareness to consideration and, ultimately, conversions.
Establish a pricing & promotions strategy
A critical aspect of any marketing mix is your pricing and promotions strategy. Your e-commerce pricing strategy should consider all overhead costs and ensure a healthy margin. Another pricing consideration is whether you will use a round number such as $50 or a price of $49.99 to create the impression you're offering a deal.
Studies have shown that 51% of consumers find the price to be the main deciding factor behind purchasing from a brand, as per the below chart.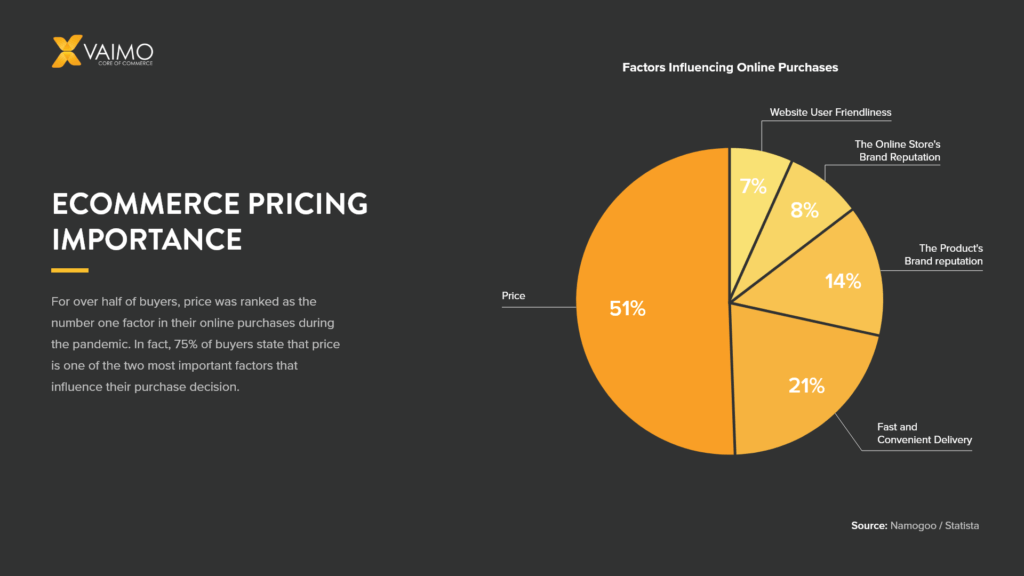 You should also create a calendar with promotions to drum up excitement and traffic. For example, consider seasonal themes, holidays, and events when designing your promo campaigns. Remember to run promotions for limited periods to create a sense of urgency.
Network
Decide if offline promotional efforts are worth exploring, like attending events or networking with local organizations relevant to your niche. For example, if you sell skincare products, you could attend a local beauty expo or set up a stand at your local mall for people to sample your products.
Ensure all messaging on your chosen channels has consistent branding across all touchpoints to create an immersive and harmonious customer experience.
Final takeaway
Starting an e-commerce business may seem overwhelming from the outside, but if you follow the steps outlined in this guide, you will be well on your way to creating a successful online business.
By choosing an in-demand product, selling on the right platform for your niche, investing in your marketing strategy, and understanding the costs involved from day one, you are well-positioned to succeed in this exciting and growing space.
Questions or just say hello!
Well, congratulations to you for making it this far! Here's a reward in the form of a 10% discount code on your first month of Crosslist (add during check-out). Sign up now with a 3-day money-back guarantee!
You can learn more about how Crosslist works here.
If you have further questions, feedback, bug reports, or want to know a bit more about us, why not swing by for a chat and say G'day! You can have a chat with us through Messenger.