28 Profitable Etsy Shop Ideas

---
Making a living doing something you love is the dream, right? The best kind of work is doing something that doesn't feel like work at all. With online marketplaces like Etsy growing year after year, it is now more possible than ever to turn your passion into a profitable online business.
Using a platform like Etsy instantly makes your product available to shoppers all over the world who wouldn't otherwise find what you're selling in big retail stores. So, what are the best Etsy shop ideas to start a successful online business? There are plenty, but we're going to go over some of the most profitable niches to help give you the best start on Etsy!
Ok, but first, what is Etsy?
Etsy is one of the fastest growing online marketplaces, connecting sellers with buyers from around the globe. Etsy's focus is on handcrafted and vintage items as well as craft supplies.
In 2021, Etsy reported having over 90 million active buyers, with over 40% coming back for repeat purchases. Get more information by reading Etsy reviews.
Etsy has also invested over $600 million in marketing in the last year to bring more buyers to the platform. This is good news for sellers who can count on more potential customers coming across their products.

Top 5 Etsy sellers and categories
Despite these encouraging statistics, it can still feel very daunting to start a new Etsy business. But let these star seller stats inspire you. The most popular Etsy shop worldwide is CaitlynMinimalist, which sells handcrafted personalized jewelry, and sells on average 40 000 items per month on Etsy.
ModParty is the second most successful Etsy store worldwide. They sell bespoke gifts and party favors for bridesmaids, weddings, baby showers, and more. With over 1.4 million sales under their belt since opening their Etsy shop in 2013, the husband-and-wife team behind the business has created an impressive Etsy empire.
BeadBoat1 sells jewelry supplies and comes in at number 3 on the leaderboard. They average around 28 000 sales per month and have racked up an impressive tally of over 1.5 million sales since opening in 2014.
Coming in at number 4, SeedGeeks is a family-owned, sustainable living company selling heirloom seeds grown on their 50-acre heirloom seed farm. They average 23 000 sales per month and have made over 387000 sales since opening their Etsy shop in 2014.
HeatherRobertsArt is a popular shop that sells SVG files at a bargain price of $1 each! The shop averages sales in the range of 22 000 per month, so you do the math…that's a pretty decent living!
Other mentionable niches coming in the top 20 are also stickers, printable art, printable wedding stationery, baking supplies, custom fabrics, and kids' clothing.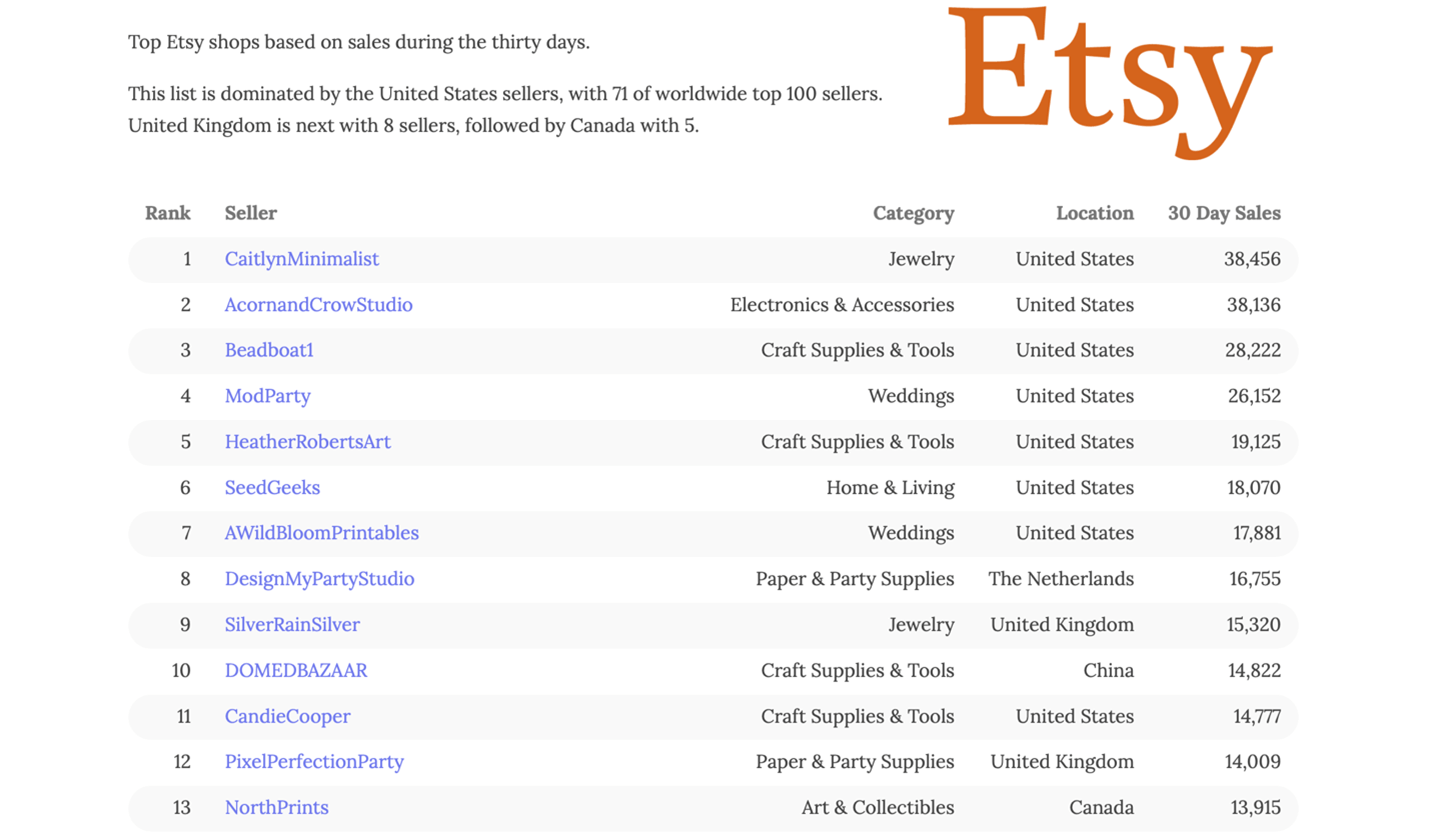 Those are all very different niches, but all of these sellers are making a living doing what they love while enjoying the work/life balance that comes with owning your own business. Ready to start your own Etsy store? Alright! Let's dive right into the best Etsy shop ideas.
Best Etsy shop ideas
1. Home organization products
Staying home so much over the pandemic has made a lot of people realize they need to put more effort into organizing their homes. Two years of staring into a messy pantry will do that to you. Drawer organizers, kitchen labels, and handmade shelving have been in high demand, so if organizing is your thing, turn it into your day job!
Example: BellamyStone
2. Wall art
Wall art can be printable or hard copies, depending on where you are located. Items that sell well include nursery wall art, wall art with inspirational or funny quotes and seasonal wall art to be used as decor for the Fall, Christmas, etc.
Example: SoftNSoft
3. Planners and journals
Most people need planners or journals, so this is a very profitable area to tap into. Journals on Etsy are sold as either printable or physical products and range from regular planners to more niche products like pregnancy trackers, habit trackers, and budget spreadsheets.
Example: PlannerKate1
4. Bead and jewelry suppliers
You will remember we mentioned that BeadBoat1 is the shop with the third highest sales on Etsy. In fact, shops that sell beads and jewelry supplies consistently rank in the top 10 for sales. If you enjoy crafting and can source some interesting beads ranging from African-inspired to baby silicone teething beads, you could be on your way to becoming an Etsy success story.
Example: Beadboat1
5. Handmade beauty products
Buyers love handmade items and bath products are no exception. Whether you make artisanal soaps and bath bombs, special face care products, or your own brand of organic baby products, Etsy is a great marketplace to introduce your products to a global market.
Example: MoonRiseCreek
6. Printable party invitations & decor
Printable party invitations and decor are another very popular niche to tap into on Etsy. Some of the top sellers on Etsy sell party printables which include invitations, favor tags, and other pieces of party decor.
You can select specific niches like kids' parties, baby showers, or special occasions like weddings, depending on what you'd prefer to design. You could also create separate shops for different niches to make it easier for shoppers to find and shop for your items.
Example: DesignMyPartyStudio
7. Teacher/classroom resources
An under-the-radar but highly profitable niche on Etsy is teacher printables and resources. If you are a teacher looking to make some extra money, creating printable classroom decor, worksheets and other teacher resources is a good option. You get a creative outlet, help other teachers and kids get more out of their lessons, and create a stream of passive income.
Example: MissJacobsClassroom
8. Personalized jewelry
As we mentioned before, the shop that has the most sales on Etsy sells personalized jewelry, so we know that this niche works. If you make jewelry or have a supplier who can make the items for you, opening a personalized jewelry store is one of the best Etsy shop ideas. You could include items like birthstone rings, initial necklaces, name necklaces, and initial charm bracelets for example…the options are endless!
Example: CaitlynMinimalist
9. Niche gifts and party favors
It has become increasingly popular to give personalized gifts to groomsmen and bridesmaids in recent years, so it's no surprise that Etsy stores that focus on products in this area tend to do well. Popular items include "will you be my bridesmaid/groomsmen" gifts to thank you gifts and special gifts for parents of the bride and groom.
Another personalized gifting niche that is popular is pregnancy announcement gifts. This could range from announcement cards to personalized onesies, mugs, and wine labels. Regardless, it is a joy to make a living by sharing in some of people's happiest moments.
Example: ModParty
10. Baby accessories
People are willing to spend big money on babies and who can blame them?! Bespoke baby accessories like knitted booties, fancy bows, headbands, and beanies are popular items to sell on Etsy. Pacifier clips made of colorful silicone teething beads are also a great idea and very popular products.
Example: ThinkPinkBows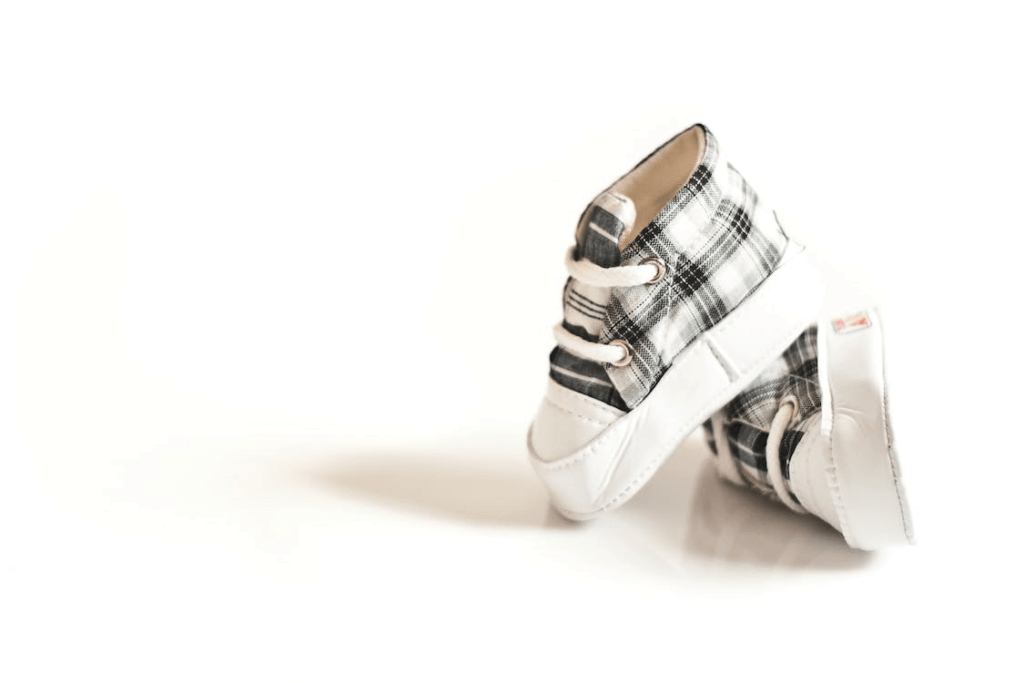 11. Baby clothing
Following on from baby accessories, baby clothing is a very popular niche. After all, who can resist buying adorable, tiny onesies, rompers, and pants?! If you enjoy sewing or are a mom who already makes clothes for the little ones, turn your hobby into a profitable online business with an Etsy baby clothing shop.
Example: LaserlyEngraving
12. Digital pregnancy announcements
If you're a photographer or gifted graphic designer, you can create fun and unique pregnancy announcement mockups.
Digital pregnancy announcements have grown in popularity, allowing people to share the big news with family and friends in a creative way. You can do seasonal themes and then neutral themes, using letter boards and other theme-specific props to create your products.
Example: CafeLatteDesigns
13. Mockups
Product mockup images are popular products for photographers to sell on Esty. In fact, mockups are very popular items to purchase amongst Etsy sellers and marketing professionals.
For example, sellers who design favor tags want to show examples of their favor tags in use. That's where you come in. You can stage photographs using blank favor tags, so all sellers need to do is paste their tags onto your image, and voila! The same goes for t-shirts, flat lays, cards, etc.
Example: Moonlitmockups
14. SVG files
SVG files are image files that have transparent backgrounds and can be printed onto items like glasses, t-shirts, bags, mugs, and much more. SVGs are another example of an item popular amongst Etsy sellers.
For example, someone who sells graphic t-shirts can purchase your SVG files to print onto their shirts. It's advisable to add on a commercial license if the design will be replicated over 100/500 (up to you) times so that you can also profit from the product if a t-shirt goes viral and gets thousands of sales.
Example: SVGCUTTABLES
15. Clip art files
Graphic designers and talented artists make a great living by selling their clip art files on Etsy. Other Etsy sellers and small businesses make use of these clip arts in their products and some people use them for personal projects.
For example, if you design a set of Halloween-themed clip arts, sellers who make seasonal Halloween printables, décor, and cards can purchase your designs to use in their creations.
Don't forget to add on a commercial license here too so you don't lose out on income. Currently, the most popular clip arts are watercolor clip arts so do keep that in mind when deciding what to paint/draw.
Example: DigitalArtsi
16. Fabric supplies
Are you a fabric supplier? Open an online fabric shop with Etsy to sell your fabric finds to a global marketplace. Leather, glitter fabrics, and vinyl for Cricut machines are hot ticket items. In addition to that, if you print your own designs onto fabric or can custom-print fabric, you're also onto something good.
Example: Spoonflower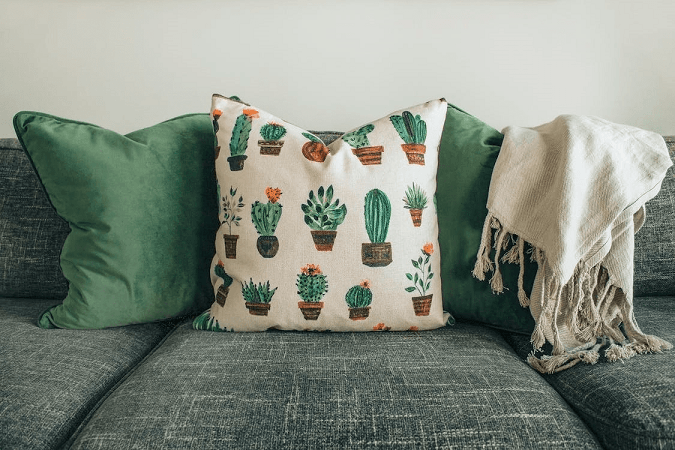 17. Patterns
Do you make patterns for sewing? Sell them on Etsy! So often people want to start sewing but lack the skills required to make a pattern. Share your talents by selling your patterns, which could be anything from baby clothing to knitting patterns and ladies' clothing.
The most popular sellers often include a tutorial on how to cut and sew the garment or knit/crochet the item, which keeps buyers coming back for more because they're getting the most out of the product.
Example: OhMeOhMySewing
18. Knitted products
Can you make beautiful blankets, jerseys, and other knitted items? Knitted goods are popular amongst buyers on Etsy, especially if they're something unique that cannot be found in a big retail store. Chunky knit blankets, fashionable jerseys, and baby blankets are always in high demand.
Example: TheKnottyOnes
19. Marketing templates
Marketing professionals can make the lives of small business owners all over the world easier with marketing templates that range from logos to business cards and social media templates.
Some of the most successful sellers focus on a particular niche, like real estate, and create templates specifically for this niche. For real estate, this could look like listing templates, listing brochures, call cards, and digital business cards.
Example: BlogPixie
20. Embroidery patches
Embroidery takes special skills and talent, so it's no surprise embroidery patches for craft projects are in high demand. In fact, uniquely designed embroidery patches regularly feature in the top 200 Etsy shops according to Craftcount.
If you have embroidery skills, this could be the perfect Etsy shop idea for you!
Example: MarciaEmbroidery
21. Planner stickers
On Etsy, planner stickers are a BIG business with some sellers making six figures a year selling stickers. They can either be sold as printable stickers that are downloaded and need to be printed out on sticker paper or as physical ready-to-use products.
Example: HappyCutieStudio
22. Mugs
Believe it or not, you can make money with an Etsy shop that focuses entirely on selling mugs! You could offer personalized mugs for special occasions like weddings, engagements, and pregnancy announcements to seasonal items for holidays like Mother's Day, Father's Day, and Easter. This simple product is in high demand on Etsy and can turn you a decent profit in time.
Example: WimlyMugs
23. Self-expression products
We live in a world where people are now free to express themselves and be exactly who they want to be. Self-expression products are a versatile Etsy Shop idea that includes items like Pride pins, flags, and t-shirts, for example, are a highly profitable and in-demand niche to tap into.
Example: RainbowandCoUK
24. Pet supplies
Pets are without a doubt important members of the family so it comes as no surprise that pet products are very popular on Etsy. From pet clothing to collars, beddings, and bowls, if pets are your passion, you have an opportunity to tap into a wildly popular market.
Example: TagPup
25. Craft supplies and kits
People are really enjoying doing craft projects as a form of relaxation and creative expression. If you're already selling something crafty, create another business out of your business by selling craft projects for people to recreate your products. Some good Etsy business ideas include:
Felt baby mobile kit
Embroidery kit
Beaded pacifier clip kit
Sewing kits
Digital papers
Scrapbooking kits
Example: MyPorchPrints
26. Digital products and fonts
Did you know that you can also sell digital products on Etsy, such as fonts and even mobile applications?
You can sell your fonts on Etsy for commercial use in logos, marketing materials, designs for invitations, etc. Hand-drawn fonts are very sought-after so if you've got the talent, you can start making a passive income on Etsy right away.
Alternatively, you can also go a step further and sell fully-fledged mobile applications on Etsy, such as this Clean Up App – Phone Cleaner.
Example: KAFontDesigns
27. Pottery
People love to buy unique one-of-a-kind decor items for their homes, so selling handmade bowls, vases, mugs, and other items on your Etsy store is a sure-fire way to start a profitable online business. Boho-style decor in neutral colors is very much on-trend and in high demand on the platform, so this could be the direction to take when creating your products.
Example: SunSprinklesShop
28. Personalized prints
Personalized prints are a special gift for several occasions, including anniversaries, engagements, weddings, and births. From hand-drawn family portraits to maps, star constellations, and cities to commemorate the place a couple met or got engaged and birth stats posters, you can include a wide range of personalized prints and even offer a framing service to make it gifting-ready.
Example: ArtCanyonMaps
How do I choose what to sell on Etsy?
As you can gather, there are a lot of really great Etsy shop ideas out there, so there is no need to reinvent the wheel.
With that being said, certain niches are saturated or monopolized and can be really tough to break into.
You should never go and outright copy someone else's product because that is very unethical. Instead, find what sells really well and put your own spin on it.
Etsy releases their trend predictions each year, so you can also look at trends forecasts to get inspired and help you narrow down your niche. Here's an example of some of the Etsy trends predicted for 2022: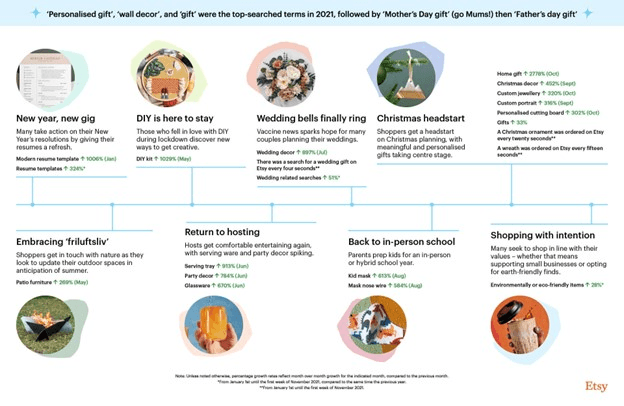 Deciding what to sell on Etsy also comes down to your own interest, skills, and hobbies. If you're not the best knitter, selling wonky baby booties isn't going to get you on the Etsy top 10 list in a hurry (or ever). If you're a superstar painter and sell watercolor clip art images, you've got a good chance of making it work.
Further reading: The Ultimate Guide To Selling On Etsy
Cross list your products to other marketplaces for maximum reach
Once you have your Etsy store set up, then it's time to consider branching out to sell your products on other marketplaces. The more marketplaces your products appear on, the higher the likelihood you're going to get sales.
Buyers, especially when they're shopping for a high-ticket item, will shop around and compare products and prices. If you're popping up on all the marketplaces they're searching on, you have a much higher chance of them purchasing your product than if you were only on Etsy.
But let's be honest, it can be a real drag manually uploading each listing to various marketplaces, taking away precious hours you could rather be spending on other areas of your business. That's where cross listing comes in.
Cross listing basically means you will post the same listings across multiple online marketplaces. To do this, you'll need a cross listing tool to seamlessly list products across various online selling platforms.
How to cross list to other marketplaces?
Crosslist can help you save tons of time uploading your Etsy listings to multiple marketplaces and getting your products in front of a wider pool of buyers, faster. For example, if you are selling vintage clothing on Etsy, you can quickly and easily add your listings to your Facebook Marketplace, eBay, Poshmark, and Mercari shops in a few minutes. Take a look at the marketplaces Crosslist supports here.
Let's use the example of cross listing from Etsy to Poshmark using Crosslist. First select your approach, which could be the direct approach, bulk import, or single import (you can learn more about the different approaches here). We're going to use the bulk import approach for this example.
Step 1: Open Crosslist and click the Import Listings button in the top right, selecting Etsy as the marketplace you'd like to import from.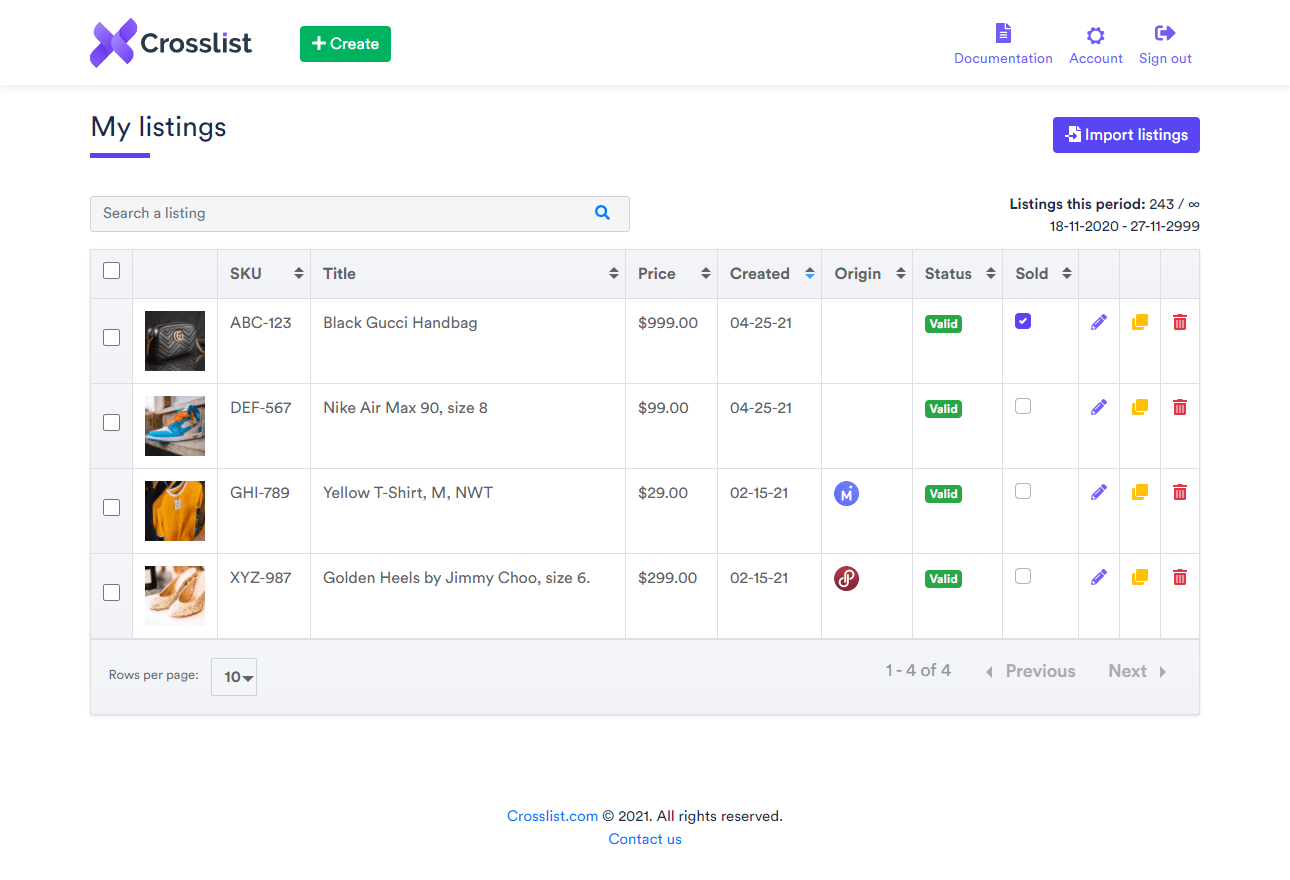 Step 2: Select up to 10 listings to import into Crosslist, then hit the Import button to proceed.
Step 3: Select the marketplace you want to Crosslist to, which in this case would be Poshmark.
Step 4: Optimize your listings by adding marketplace-specific information (for Poshmark this could be drops, tags, etc.)
Step 5: You can now post your Etsy listings to Poshmark by clicking the Post button.
How quick was that?! Within minutes your Etsy listings can be posted on another marketplace and in front of a whole new audience. Rinse and repeat for as many other marketplaces as you'd like! For an in-depth example on how to cross list from one marketplace to another, you can check out our step-by-step tutorial.
Final thoughts
With online shopping continuing to grow year on year, finding a niche to sell in on Etsy is a no-brainer.
With so many profitable niches to choose from, you can find something that aligns with your skills and interests to turn your hobbies and passions into an online Etsy empire.
Once you've gotten going on Etsy and you're ready to sell on other marketplaces, our cross posting tool can save you tons of time and help you grow your online business.
Questions or just say hello!
Well, congratulations to you for making it this far! Here's a reward in the form of a 10% discount code on your first month of Crosslist (add during check-out). Sign up now with a 3-day money-back guarantee!
You can learn more about how Crosslist works here.
If you have further questions, feedback, bug reports, or want to know a bit more about us, why not swing by for a chat and say G'day! You can have a chat with us through Messenger.