Your Go-To Guide On How To List And Sell Items On Multiple Platforms

---
According to Global Ecommerce Forecast conducted by Insider Intelligence, global e-commerce retail sales will pass $7 trillion by 2025. If you are in the reselling business this is the time to seize the opportunity and make a profit by reselling on various online marketplaces.
Reselling platforms like Poshmark, Mercari, Depop, and others are broadening the playing field to compete with eBay's market dominance. As a reseller, you can choose one platform for your business – but truly successful retailers are selling their items on various online marketplaces.
This can be time-consuming and labor-intensive, so experienced resellers are using Crosslist's multi-channel listing software to save time cross listing on the world's largest online marketplaces. 
Keep reading and find all the information you need to take advantage of modern cross listing software and stay ahead of the reselling game.
Do you need software to list on multiple platforms?
Cross listing means posting the same item on various online selling platforms. A solid cross listing tool will allow you to concentrate on your online business while managing the inventory specifics of the multi-channel sales behind the scenes.
With quality multi channel listing software, sellers can seamlessly list across different platforms. Moreover, they can track products effortlessly, establish credibility with cross-channel reviews, increase listing visibility and engagement, and save time.
Ultimately, a good cross listing app will help you sell more items in less time.
5 reasons to use a cross listing app to sell items on multiple sites
With many new marketplaces emerging, it is impossible to maintain a presence on multiple platforms without a cross listing app. Here are five compelling reasons why you should use cross listing software to level up your reselling business:
1. Helps build credibility
Cross listing apps ensure that your products are seen by many customers. A bigger number of eyes on your merchandise might lead to more sales for your online company.
Also, you can grow brand awareness if you cross post on multiple platforms. Of course, you have to describe your items using long tail and relevant keywords – so the search engines can recognize your listings.
The more search queries your brand shows up – the more potential customers will get to know about your brand. If you manage to keep then you are on the right track. Research says that it costs between six to seven times more to get a new customer vs. keep the existing customers.
Sellers and buyers are asked to review each other on several marketplaces. As you continue acquiring and selling, you can establish more credibility for your company based on honest consumer feedback. This could imply that you are:
These certifications will demonstrate to potential consumers that you are a trustworthy seller.
The easiest way to cross list on the world's largest online marketplaces is by using cross listing software. Direct cross listing allows you to cross list a listing between marketplaces with just one mouse click.
2. Saves precious time
Listing may appear to be a time-consuming operation, but it is far quicker than you think if you use a cross listing app.
With Crosslist you can quickly list on marketplaces such as eBay, Poshmark, Mercari, Depop, and others. Crosslist is a web application that is accessible from any device. You just need to register an account to get started. Then select the marketplaces on which you want to list your product.
This will dynamically generate the required product information relevant to those marketplaces.
You can even use your mobile phone to take pictures of your products directly! Keep in mind that posting only works on your computer using Google Chrome with Crosslist extension installed and mobile devices can only be used to create listings.
Crosslist will then automatically complete the required product information on these marketplaces, saving you precious time.
Crossposting apps allow you to import existing listings from multiple marketplaces, and you can quickly crosspost your inventory to other marketplaces.
Crosslist allows you to cross list your inventory between marketplaces using three different approaches:
Direct cross listing
Import in bulk
Import one by one
Direct cross listing
Direct cross listing allows you to cross list multiple listings between marketplaces with just one mouse click. This is especially useful for when you want to copy your listings to other marketplaces without making any modifications to your listings.
To direct cross listing, you simply need to navigate to a specific or your listing overview. From the listing overview, simply select the listings you want to cross list and click the Cross list button to begin the copying process to other marketplaces!
Import in bulk
When you import in bulk, first you have to import your listings into Crosslist. This can be useful if you want to make some modifications to your listings before cross listing them.
After selecting the marketplace from which you want to import your listings, you will be redirected to a page that will automatically fetch all currently published listings that you previously posted on that marketplace.
Here, you can select up to 10 listings to import at the same time. Crosslist will automatically sort the listings by date. For eBay, the limit has been increased to 20.
One by one
One by one listing is useful in case you have a very large inventory and only wish to make modifications to a few listings before cross listing them. In that case, it may be easier to navigate to the product detail page directly rather than searching for your listing in bulk import tool.
3. Helps small-to-medium resellers to diversify and go niche
Selling your items on multiple channels means that you are not putting all of your eggs in one basket. That can cut the risks of not selling your items. If you don't sell them on one marketplace – there is a good chance you will on another!
Bear in mind that approximately 35% of consumers shop on niche marketplaces!
This is why you need to research which items you can sell on specific marketplaces and familiarize yourself with the whole process.
Learn what sells best in each marketplace and use cross listing software to list best-selling products.
Here are some examples of top-selling items on eBay:
Automotive: parts and accessories, air and fuel delivery, starters, alternators, ECUs and wiring, lighting and bulbs, motorcycle parts
Clothing, shoes, and accessories
Collectibles: military equipment, decorative collectibles, matchboxes…
…
You can check Poshmark trend reports to check trending categories, brands, and items. Usually, the best-selling items are clothes and accessories. Depop is a platform for selling unique fashion items, while Kidizen is a marketplace for secondhand children's apparel.
While some of the niche marketplaces have a smaller audience, they are often specifically geared to what you're selling!
4. Allows you to have live customer support
Cross listing apps are usually coming with great customer support. Crosslist prides itself on excellent customer support and if you check reviews on Trustpilot that seems to add up.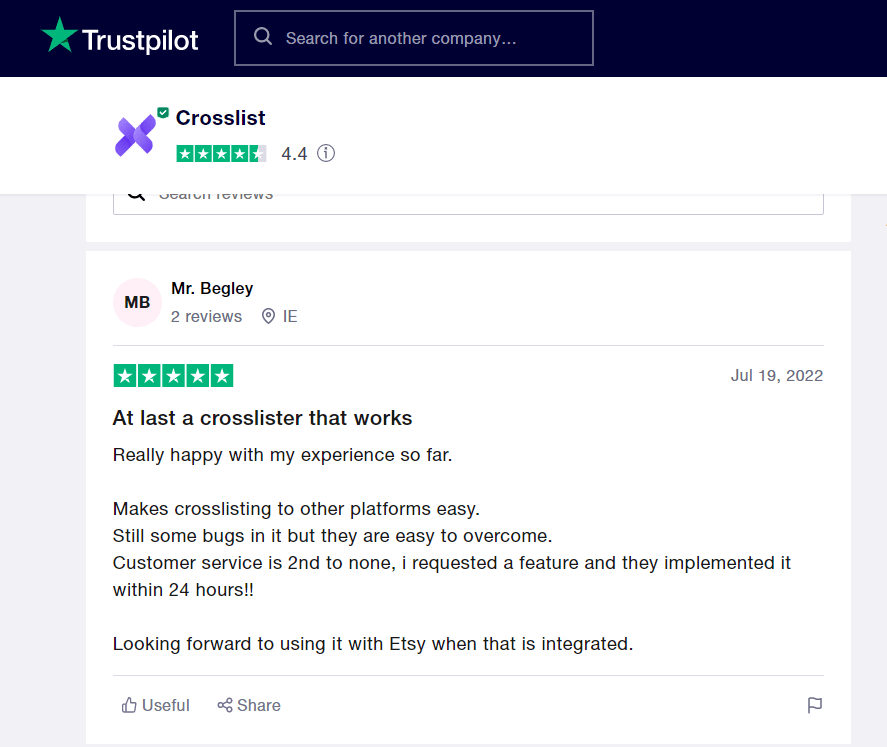 Really happy with my experience so far. Makes cross listing to other platforms easy. Still some bugs in it but they are easy to overcome. Customer service is 2nd to none, I requested a feature and they implemented it within 24 hours!! Looking forward to using it with Etsy when that is integrated.", is said in the last review.
5. Can help you to improve ROI
Cross listing apps like Crosslist assist you in keeping track of all the available and sold products, the price they sold for, the platforms they sold on, and the date they get sold.
By using this feature you will be sure you won't sell one product twice. This will save your precious time with inventory management and ou will be able to focus on exclusively on the growth of your reselling business.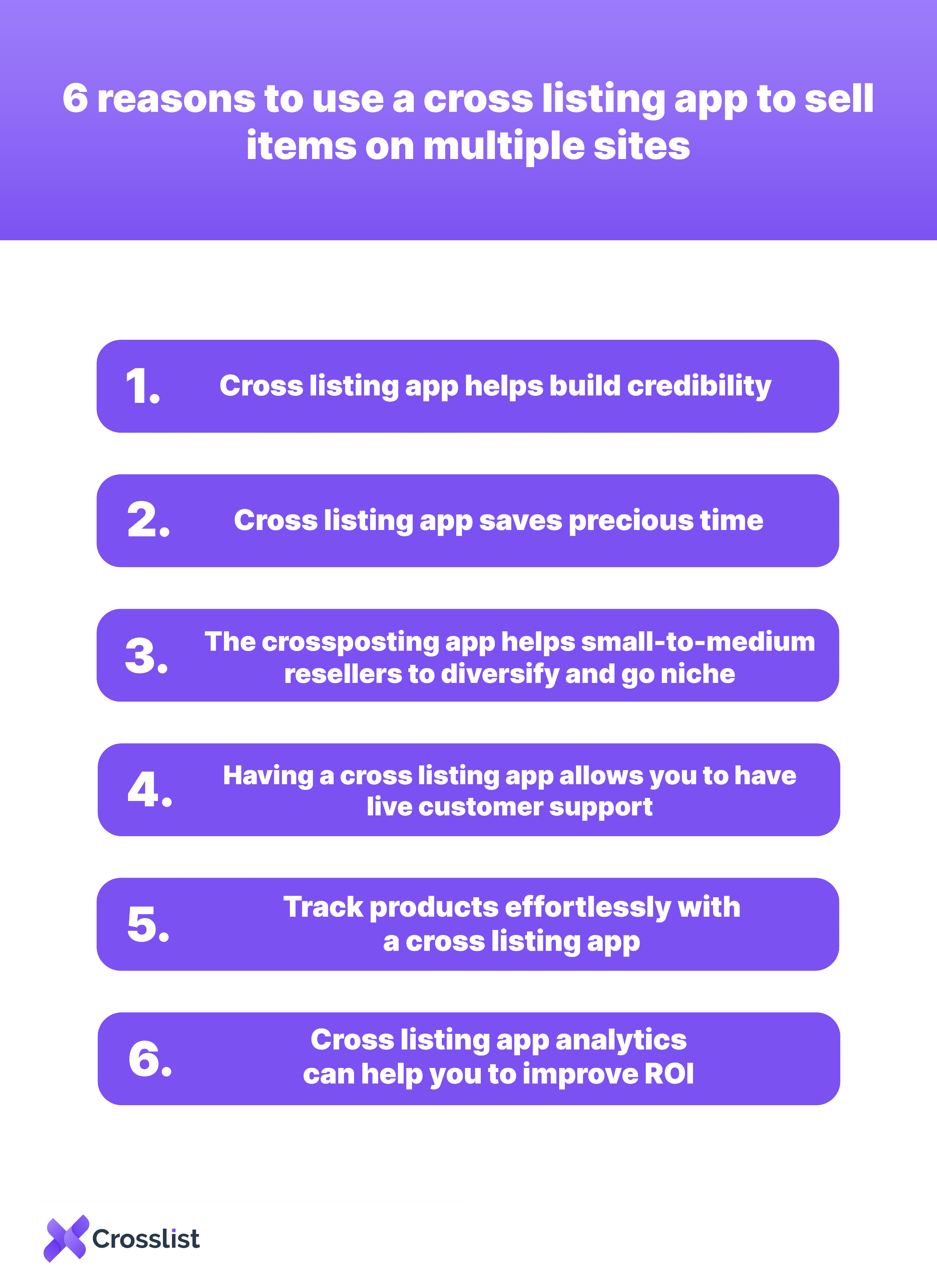 Before cross listing, make sure you set up your products right!
Before you begin cross listing, make sure you configure products properly so they may be submitted across multiple platforms. Here are some things to consider:
1. Optimizing item titles
Although each marketplace's requirements for item titles may differ slightly, such as the character count threshold, best practices are consistent across all marketplaces.
Most marketplaces recommend including the brand, make, and model, and any relevant size, color, and material information, in the title. Your product titles must be compatible and also provide helpful information in a non-spammy manner.
Including product nouns that customers frequently inquire about can be beneficial. For shoppers searching for "Nike Air Precision III basketball shoe," for example, "Nike Air Precision III basketball shoe" may be a more relevant search title than "Nike Air Precision III."
2. Optimizing product pages
Your product pages must be optimized for better SEO rankings. Here are a few tips for optimization:
Incorporate long-tail keywords into item titles and listing descriptions due to their specificity and higher click-through rates
Pay attention to details when describing items. Include all necessary information and be specific.
Optimize images for quick loading and alt-text containing your target keywords. Moreover, you can add video product descriptions and customer reviews.
3. Uploading multiple higher-quality images
Product images have a significant impact on purchase decisions when it comes to shopping online. According to Justuno, visual appearance is a key factor for 93% of consumers when buying online. Make sure you include images of sufficient quality to capture the attention of your potential customers.
To ensure you can list products, familiarize yourself with the marketplace's image requirements. Most marketplaces require a high-resolution primary product image on a white background. Larger images offer greater detail, which can increase conversions leading to more sales.
The Crosslist application helps you enhance images using their built-in photo editing tool. So, you can add captions or filters to pictures.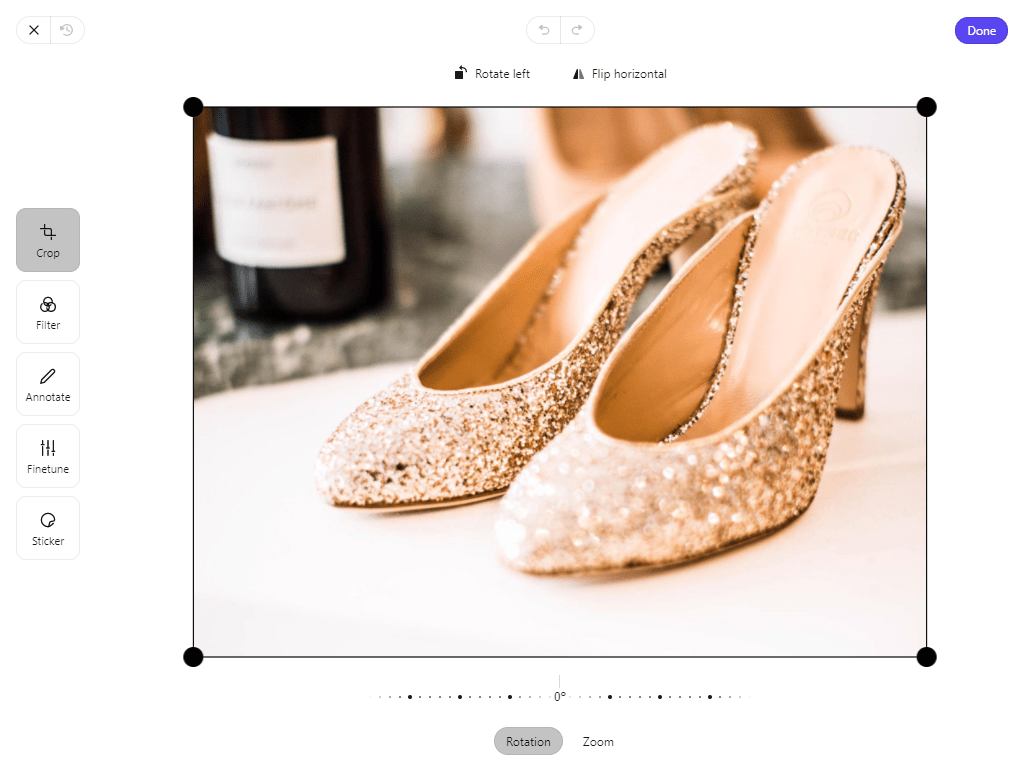 4. Setting fair prices
Your price rates should be exact and accurate to avoid any misunderstanding. Price is a crucial factor influencing 74% of consumers, as per Shopify's 2022 Future of Commerce Report.
Behind every purchasing decision is a behavioral pattern. Customers are bound by internalized reference prices from previous experiences. When determining the fairness of a price, they compare it to the internal reference pricing points. Perception of price fairness is influenced by the customer-business relationship.
This relationship is influenced by four factors:
Transparency in pricing your products
Conforming to competitive industry standards
Being able to provide an explanation for price differences
Maintaining price consistency while making price changes
5. Staying organized
Organizing your inventory across several channels can save you time and money. Inventory management is an essential component of every reselling business, regardless of how much stock you have. If a company is not organized, it will not be scalable.
Resellers manage their physical inventory in a variety of ways. Many people use garment hanging racks, sometimes organized by size or color. Other merchants employ shelf units, with some mechanism of determining what goes where. Most resellers use an SKU system with corresponding bins.
It goes without saying that assigning Stock Keeping Units (SKUs) to the products is vital. SKUs are one-of-a-kind identifiers assigned to each product to streamline the fulfillment and shipping processes. SKUs can be set in any way you see fit. However, they are typically classified based on the product line, brand, etc. Building an effective inventory management technique entails maintaining an orderly and straightforward structure.
Organizing and streamlining inventory management can assist sellers in keeping track of inventory, avoiding overselling, and controlling product performance.
6. Managing shipping fees and times
Keep any additional fees in mind when deciding which marketplaces to cross list on. Listing charges and transaction fees vary by platform, so bear that in mind while listing your items.
Shipping fees are frequently included when listing items online. Be transparent on the shipping costs and who has to pay for it – the seller or the buyer. Prepare for additional costs by researching and adjusting the listing price to ensure a profit.
Local pickup is now available as a delivery option on more reselling platforms, including OfferUp and Facebook Marketplace. Mercari Local offers a convenient way to buy and sell items locally without the meetup.
This saves both buyers as well as resellers money on shipping fees. Always be cautious and adhere to the platform's safety protocols when conducting in-person transactions.
Your shipment times should be explicit and easily available to customers. It helps to minimize dissatisfaction with perceptions of late delivery.
Pro tip: Always use one central platform and cross post to have all products in one place. It will make it much easier to automatically duplicate your product listings across multiple marketplaces. Using too many platforms without cross posting software will only cause headaches and a long line of dissatisfied customers. To avoid this, each reseller should have a single central platform where all inventory is listed first and then cross list to other places.
Cross listing FAQ
Making decisions regarding cross-listing may get confusing. So, here we list answers to some key questions to give insights suitable to your reselling business.
1. How to post items to sell on multiple sites at once?
With Crosslist, you can quickly post items on multiple sites for selling all at once. Bulk import allows you to import 20 listings simultaneously in a few seconds. Or, you can directly cross list from one platform to another. Here are 4 simple steps for a seamless cross listing experience:
Register a Crosslist account with a 3-day money-back guarantee
Create new listings after selecting the marketplaces of your choice
You can also import existing listings from various marketplaces to rapidly cross list your inventory on other platforms
List your product on several marketplaces all at once
Crosslist supports bulk posting, and direct and imported cross listing to the following marketplaces:
eBay
Poshmark
Mercari
Kidizen
Tradesy
Facebook (only direct cross listing, bulk posting, and single import supported)
Depop
Vinted
2. How often should I cross post?
Knowing how many visits a platform receives might help you determine whether it is worthwhile to crosslink to, and if so, for how long.
EBay.com, for example, is the second most popular website only behind Amazon, with a 13.43% share of visits and 1.7 billion monthly visits. Smaller platforms may not be quite there yet in terms of traffic, but they have a very engaged niche audience.
Every online platform has its unique posting frequency.
Let's take the example of Poshmark. Most top sellers advise listing at least three items per day – or more. But the main secret for success on all marketplaces is fast crossposting. For more tips check out our Explainer series:
3. Is cross listing safe?
Yes, it is fully secure. Simply read the instructions on each site and ensure that they accept cross listing your products.
Most cross-reference tools are compatible with accessibility software. They function similarly to your browser's auto-completion feature. The software is not intended to be used to spam and disrupt any marketplace.
Ensure that the selected tool does not request any of your marketplace login details. Crosslist, for example, will never ask for your password but simply control your browser through its browser extension!
4. What is the best cross listing app?
Crosslist is the top pick for the modern seller who is always on the go, with features that outperform the older applications in many ways.
Crosslist takes great pride in its elegant design and user-friendly interface. It also makes every effort to be as mobile-friendly as possible. Cross list allows you to instantly crosspost from one online market to another with affordable pricing plans.
Crosslist's intuitive image-editing interface is a standout in-app feature.
Take advantage of cross posting
Jacqueline Snyder and Minna Khounlo-Sithep are the co-founders of the small business coaching platform The Product Boss, and hosts of the marketing podcast of the same name. They always advise their business students to explore and cross sell to multiple online marketplaces for their products.
Crossposting is a great way to increase visibility and target an audience interested in your product. That's why you should cross list on multiple marketplaces with a suitable tool.
Use an intuitive tool like Crosslist, which helps resellers with bulk listings and quick crossposting on several online marketplaces. Finally, take advantage of listing automation to increase exposure and bring traffic into your funnel.
Questions or just say hello!
Well, congratulations to you for making it this far! Here's a reward in the form of a 10% discount code on your first month of Crosslist (add during check-out). Sign up now with a 3-day money-back guarantee!
You can learn more about how Crosslist works here.
If you have further questions, feedback, bug reports, or want to know a bit more about us, why not swing by for a chat and say G'day! You can have a chat with us through Messenger.