Grailed Review: Is It Worth Selling on Grailed?

---
Whether you've been selling online for a while or just starting, choosing which marketplaces to sell is challenging.
With new online marketplaces cropping up all the time, it's tough to know which ones are worth your time and which ones to steer clear of.
If you've been toying with the idea of selling on Grailed, we will conduct an in-depth Grailed review to help you decide whether it's the right platform for your online business.
Why enter the resale market at all?
First, the reselling market is hot – like fiery, red poker kind of hot. In fact, it is growing 24x faster than retail, driven mainly by Gen Z consumers. This is due to several factors, which we will delve into below.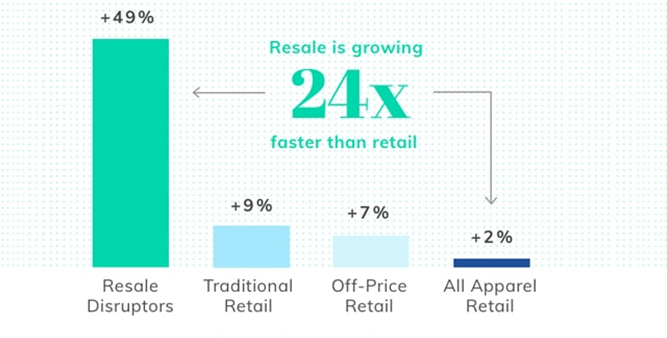 Second, the rise in retail prices on designer and brand-name goods and the simultaneous cost of living crisis have forced people to reconsider their spending habits. So scoring a deal on those Converse sneakers by purchasing a used pair can save you some money down the line.
With consumers tightening purse strings, labels are also manufacturing fewer units or discontinuing product lines. This creates a high demand for certain products that are hard to come by.
This is, in fact, similar to the high-end brand Supreme's business model. They have two seasons and release limited drops every Thursday, which sell out in seconds. So, as you can imagine, there is high demand for second-hand branded clothing like this.
Third, there is an increased awareness of the need for sustainable and conscious consumerism. The fast fashion industry continues to cause damage to the environment, with enormous amounts of waste generated each year.
Buying from the resale market allows consumers to buy more sustainably and lessen waste.
What is Grailed?
Grailed is a peer-to-peer fashion marketplace for men's clothing.
It's similar to other marketplaces like Depop and Poshmark, but it focuses exclusively on high-end and luxury brands for men. You can buy and sell new or gently used clothing from brands like Gucci, Supreme, Off-White, and more.
In 2022, they also started including womenswear as a category on their site; however, it is still predominantly geared toward men's fashion.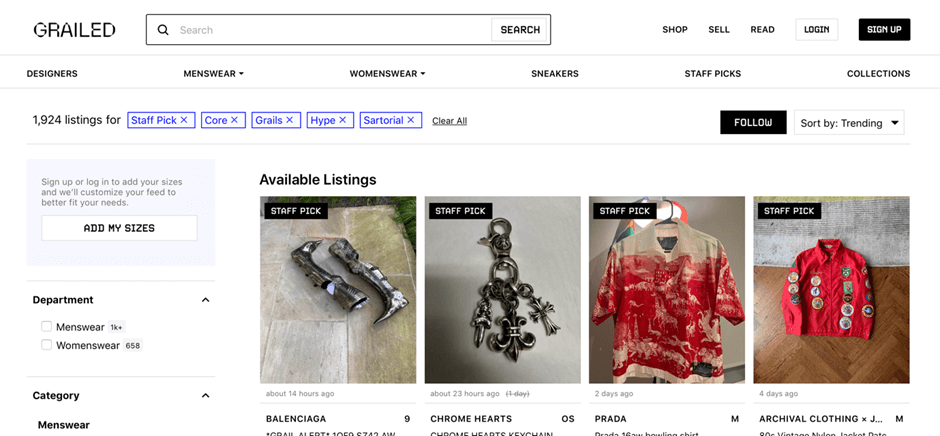 Grailed was founded in 2013 by Arun Gupta and Jake Metzger. The company is based in New York City. Grailed raised $60 million in venture capital funding during Series B funding rounds from investors like Goat Group, Groupe Artemis, and Thrive Capital in the latter half of 2021.
As of 2022, Grailed has over 10 million active users and 4.7 million listings.
Grailed reviews
When you Google "Grailed Reviews," you're going to get bombarded with a lot of negative stories and experiences. This is much the same as what you'll see on other marketplace reviews for eBay, Poshmark, etc.
When a buyer or seller has a negative experience, they are far more likely to write a review than someone who had a good experience.
You may also find certain people just like to write negative reviews, and if you look at their online activity, there is a history of finding something to complain about.
So is Grailed legit? While it's not without its flaws, it is a legitimate and well-funded resale website. If you're aware of the potential problems that can arise, you'll be much better off taking swift action to deal with them.
Let's take a look at some reviews from SiteJabber and Trustpilot.
Sitejabber reviews
Grailed has a rating of 1.76 stars out of 56 reviews on SiteJabber. Now that's a small sample size out of the 10 million people who actively use Grailed.
The majority of complaints come from buyers who are dissatisfied with their purchases and feel they could have received better customer service from Grailed itself. Let's take a closer look.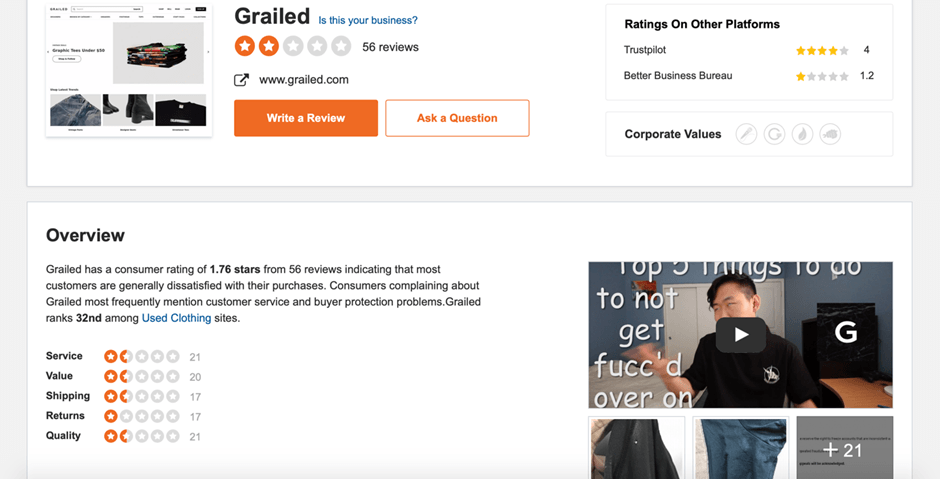 Here are some examples of negative buyer reviews:
Spend your hard-earned dollars with StockX. Grailed is a bunch of crooks. I shipped a $300 hat in an envelope! They lie; customer service does not exist. They will block you from communicating with them. Worst purchasing experience I've ever had.
The Grailed site guarantees buyer satisfaction if a seller lists an item that does not match what you received. The item I got initially didn't fit so I tried to resolve with seller. As I figured it could be resolved, I pack it up then I noticed a visible stain on back leg. The listing had the stain but it wasn't noted. I sent several pics Grailed asked for and kept coming back to me 3x asking for more pics. Finally I gave up. Buyer satisfaction NOT guaranteed.
Both these issues resulted from bad sellers and not on the part of Grailed. The first seller should have taken more care with packaging the item carefully before shipping and been more willing to communicate with the buyer when they were upset.
The second buyer complaint also highlights the seller is at fault for not bringing attention to the stain on the garment.
However, as a buyer, it is your due diligence to ask questions, request more images, and carefully check the images for flaws before purchasing. This way, you can avoid shady sellers like the above.
Next, we will look at a review from an unhappy Grailed seller:
My son has purchased items from the site in the past, but sold a pair of shoes for the first time almost 100 days ago for $617. He listed the UPS tracking number he used to deliver the shoes. He still has not been paid by Grailed. We cannot get anyone on the phone to help and the "customer service" ticket threads are a joke. We'll be notifying the BBB and our lawyer says it's time to get involved.
This appears to be quite a serious payment processing issue, and we cannot see whether Grailed has responded to this allegation at the time of writing this review.
We also are unaware if there is another side to this story, such as the buyer requesting a refund or something to that effect.
Glitches in the system and poor communication between customer service and the technical team likely resulted in this breakdown in communication. As a venture-backed company, Grailed is not setting out to steal innocent sellers' money.
It's not all gloomy, though; there are also happy buyers and sellers leaving reviews. Here is an example of a satisfied buyer who purchased an item from Grailed.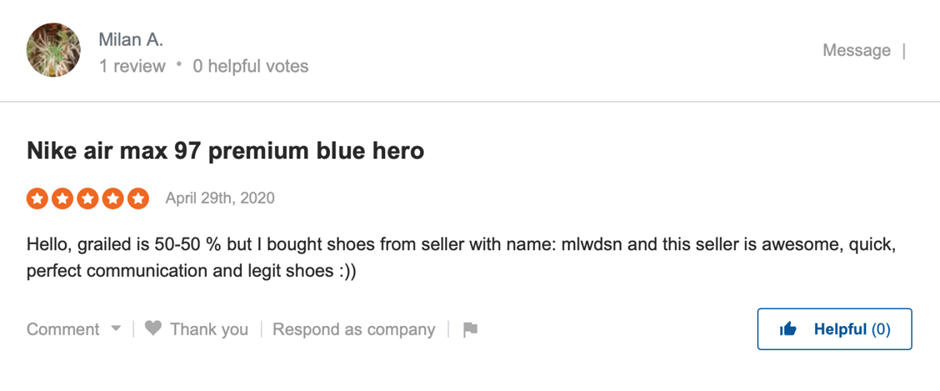 Trustpilot reviews
Grailed has a rating of 4 stars out of 2033 reviews on Trustpilot. While 56% are 5-star ratings, there are, of course, some 1-star reviews too. Let's take a look at some examples.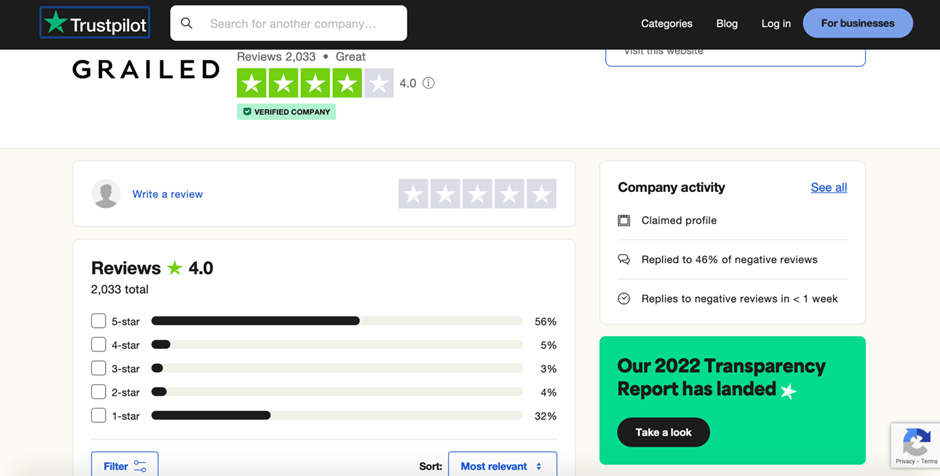 Don't use Grailed.com! Recently spent over 200$ and bought a jacket, which was described as black by the seller but turned out to be blue when it arrived. Sent it back and even payed shipping costs for the return, but the seller did not respond nor did I receive any refund. Grailed support doesn't offer help. I heard from several people with similar experiences and already had several instances when I didn't even receive my item. Once you paid, your money is gone!
A seller provided an invalid tracking number and never responded to questions. I totally wasted time and got my refund.
Once again, the buyers with negative experiences bought unsuspectingly from shady sellers.
Fortunately, the buyer given invalid tracking details got their refund; they are simply annoyed their time was wasted. It has to be noted that Grailed has also actively responded to these negative reviews and hopefully works things out with the buyers.
Next, let's take a look at some negative reviews from sellers:
Lying about my items they have the worst authenticators i have submitted my heron preston t-shirt about a zillion times they want clear photos lmao they are very clear they authenticate then i resubmit and they remove them for made up reasons so you're saying you were wrong in the first place when you authenticated them???
This is now the second time in the last 2 years that my account has been wrongfully frozen. I have not received any claims from any customers yet my account was frozen out of no where today. It says i have items with no tracking from over 3 years but those items have already been delivered and i have no way add tracking at this point since me and the customer agreed to shipping them with no tracking which i cant even show photos of because my account is frozen!!
These sellers have encountered understandably frustrating issues that put their sources of income at risk. It seems problems with the authentication of branded items and accounts being frozen for no apparent reason are the most common gripes.
Again, we don't know the specific context and the other side of the story in these instances.
For example, maybe the seller's item was flagged as inauthentic in the past. Or the other seller didn't send tracking information, so, therefore, was frozen.
It is always important to look at reviews objectively and focus on the fact that the overwhelming majority are pretty positive.
Let's take a look at some positive examples: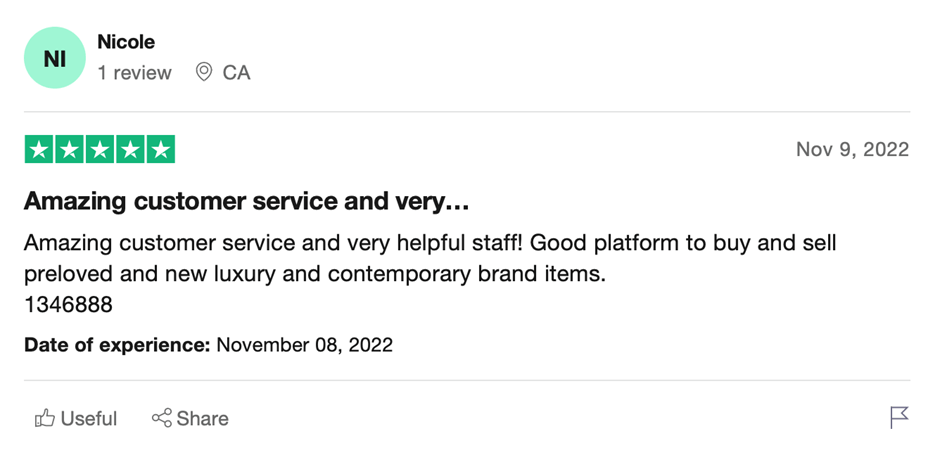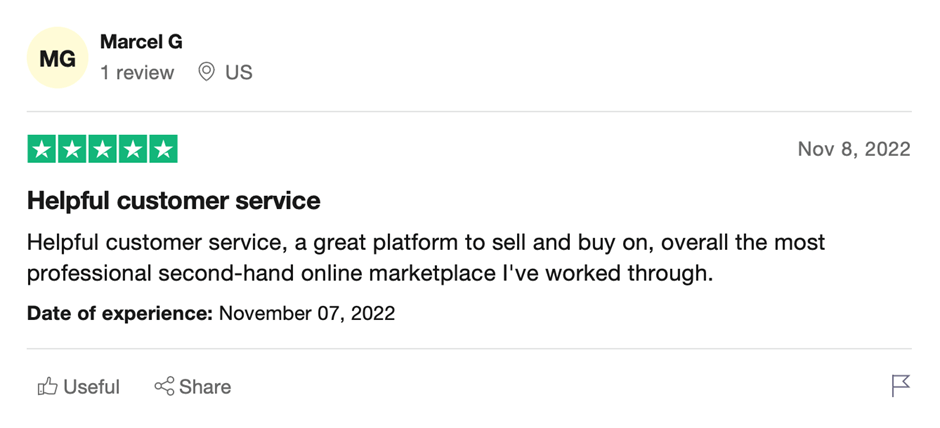 As you'll note, customer service is brought up repeatedly as a reason why people enjoy buying and selling on Grailed.
Pros of selling on Grailed
Now that we have a good understanding of the general feedback out there, let's look specifically at the positives of selling on Grailed.
When you sell on Grailed, you can take advantage of a number of benefits that can help you boost your bottom line.
1. Low fees
For starters, Grailed does not charge any listing fees, so you can list as many items as you want without worrying about additional costs. Furthermore, Grailed offers a flat 9% commission on all sales, which is significantly lower than the standard 10-25% charged by most resale marketplaces.
This means more of your sale proceeds will go directly into your pocket. They also charge payment processing fees, but they are minimal.
Here is the breakdown:

Check out our free Grailed fee calculator if you want to calculate your total seller fees, profit and margin.
2. You set the shipping costs
As a seller, you have total control over the shipping costs of an item under "buy it now" circumstances. If a buyer makes an offer, the offer includes the shipping fee, so keep this in mind and come back with a counteroffer if you need to cover the shipping.
Additionally, Grailed now provides shipping labels for US-based orders.
3. Site traffic
Grailed's large user base and high traffic volume increase the likelihood that your items will sell quickly and at a higher price point than if you were to list them on a less popular platform or highly saturated marketplace.
Ideally, you want to focus on clothing though, as Grailed is primarily a marketplace for selling used mens- and womenswear.
4. Good customer service
Grailed receives a lot of positive feedback for providing excellent customer service to buyers and sellers. Their support team seems to take swift action when attending to issues and, most of the time, seem to sort out the problem at hand.
5. Grailed protection policy
For peace of mind, Grailed provides a money-back guarantee with their buyer protection policy, so if a buyer receives a fake, damaged, or incorrect item, they can receive a full refund.
Buyers who pay through PayPal can also dispute orders directly with PayPal to receive a refund. This security makes Grailed a more attractive site to shop for second-hand goods and helps to attract buyers to the platform
Every item you sell is also covered by PayPal's Seller Protection.
Overall, selling on Grailed is a great way to earn extra cash while decluttering your closet – and who doesn't love that?
Cons of selling on Grailed
Of course, Grailed has a few issues, like most online resale platforms. Let's look at some of the most common issues buyers and sellers encounter.
1. Item authentication
Grailed has a team of authenticators who study images of branded or designer items to authenticate them as legit or fake.
Now several sellers have had their authentic items rejected multiple times, despite opening disputes with customer service. This can be frustrating for an honest seller with authentic designer items.
On the flip side, buyers complain that items are authenticated too easily, and as a result, they are sometimes scammed with fakes.
Poshmark does physical inspections of high-ticket designer items before shipping to verify authenticity.
Grailed may need to look into doing the same if there are a lot of scammers selling counterfeits on the site.
2. Grailed customer service
The majority of people have had great customer service experiences with Grailed. However, a handful report it can be challenging to get a response, especially as a seller.
With buyers often protected and favored, sellers may have to give refunds and never receive the item back, which means the buyer scammed them. These issues are tough to keep track of, and marketplaces like Grailed will need to look at how to avoid these situations going forward.
3. Payment holds
To protect buyers from scammers, sellers must provide valid tracking details within seven days of the purchase. Until tracking information has been provided, Grailed withholds payment from the seller.
Some sellers find this frustrating and find their payments are held unfairly despite providing tracking information. As long as you ship timeously and provide your buyer with valid tracking details right away, you shouldn't have any problem with payment holds!
4. Account freezing
Some sellers report having their accounts frozen for silly reasons or no reason at all.
Some examples given were because they didn't provide tracking information to the buyer despite agreeing with the buyer this was how the item would be shipped and having their account frozen after complaining about the new Grailed system and interface.
It is hard to verify these claims, but Grailed's customer service seems very on the ball, so they would likely be able to get your account reinstated if it was genuinely suspended for no valid reason.
Conclusion
All in all, Grailed is a legitimate and reputable marketplace that offers good customer service and a wide variety of luxury goods for sale. Don't be put off by a handful of negative reviews.
Who knows, selling on Grailed may be just the extra push your business needs to take your side hustle full-time.
Ready to add Grailed to your sales channels?
If you're already selling on a number of online marketplaces and now want to start selling on Grailed too, you might be wondering how to upload your inventory to Grailed as quickly and efficiently as possible.
In fact, if you have hundreds of listings to upload manually, you may be put off branching out to another marketplace at all.
The good news is, because of cross listing apps like Crosslist, there is no need to upload your listings to new marketplaces manually.
Crosslist allows you to bulk import listings from one marketplace and publish them to your other marketplaces with a few clicks.
All your listing information and images are automatically pulled through to Crosslist, meaning the entire process is sped up, and you get to list your items and win those sales faster.
Questions or just say hello!
Well, congratulations to you for making it this far! Here's a reward in the form of a 10% discount code on your first month of Crosslist (add during check-out). Sign up now with a 3-day money-back guarantee!
You can learn more about how Crosslist works here.
If you have further questions, feedback, bug reports, or want to know a bit more about us, why not swing by for a chat and say G'day! You can have a chat with us through Messenger.