7 Benefits Of Multi-Channel Selling

---
We all know the big e-commerce marketplaces like Amazon, eBay and Etsy. You might already be selling on one of them but have you considered listing your products on multiple online marketplaces?
From reaching new customer segments to taking advantage of different marketing opportunities, listing on multiple online channels can be a boon for your business. The major upside to selling on multiple marketplaces is that it can skyrocket your sales.
In fact, listing on at least 3 marketplaces could bring in a whopping 156% more sales than if you're listing on only one marketplace. Ready to learn more? Read on!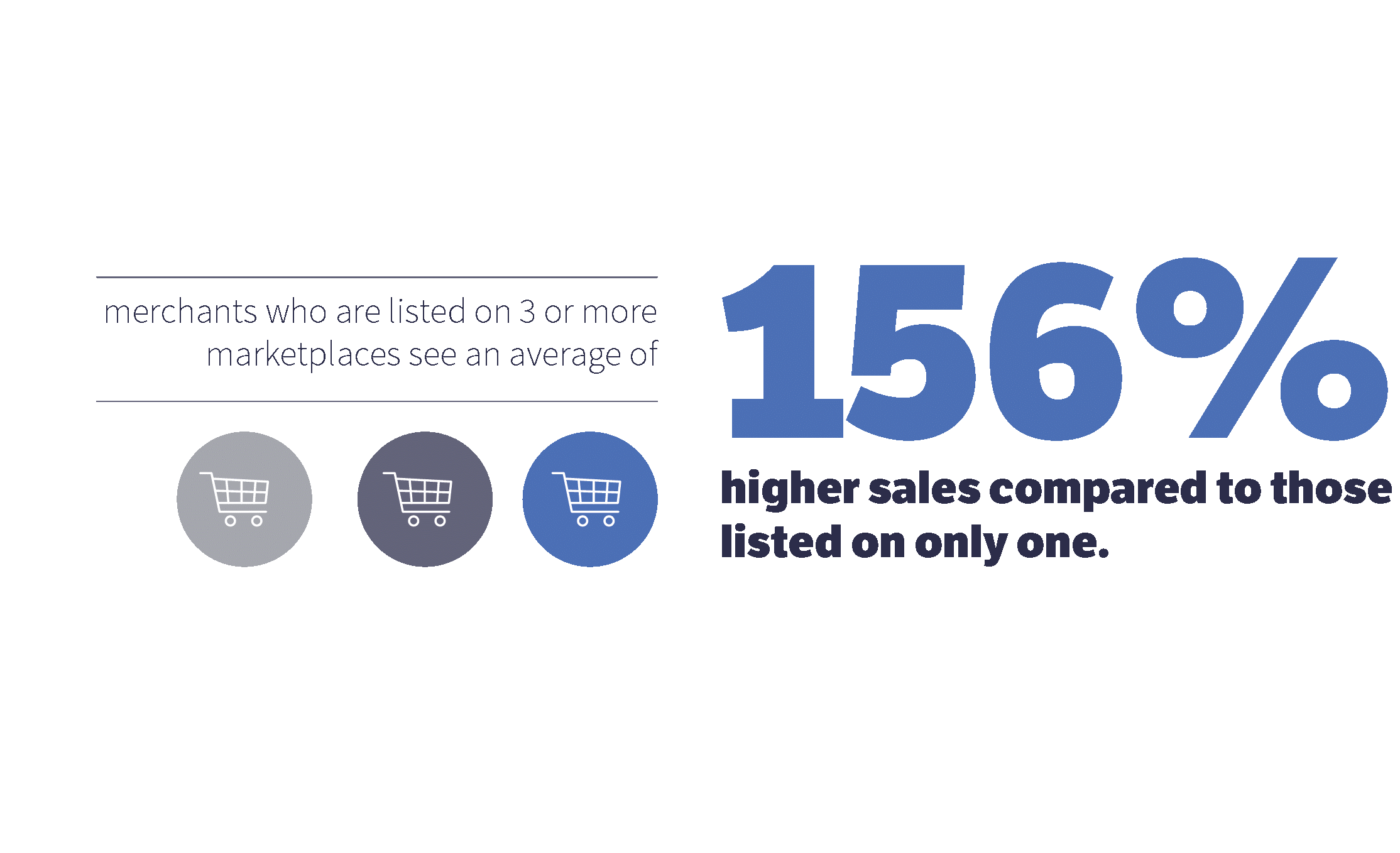 What is cross listing?
Cross listing is the process of listing your products on multiple marketplaces. This can be a great way to increase your visibility and reach more customers.
7 benefits of cross listing your inventory
There are many reasons to list your products on online channels as opposed to a single sales channel. Perhaps the most obvious reason is to reach a larger audience and increase sales. In fact, 74% of sellers who use more than one sales channel see a definite increase in sales.

But there are several other advantages to multi-channel selling as well, which we cover in detail below.
1. Testing out new markets
Cross listing can be a great way to test out new markets and see which ones are the best fit for your business. You can experiment with different e-commerce pricing strategies and product descriptions to see what works best in each marketplace.
This can help you fine-tune your selling strategy and find the platform that gives you the most success.
2. Increased visibility
When you list on multiple marketplaces, your products become more visible to potential customers. This can lead to increased traffic to your listings and, ultimately, more sales.
In fact, most shoppers need to see an item multiple times before converting and buying from you. 46.7% of sales begin with searches on online marketplaces like Amazon and Etsy as opposed to Google.
Say you sell bespoke scented candles on Shopify and a potential customer sees your ad on Instagram. They may not click through to your Shopify store and browse further based on that one ad.
However, perhaps they also come across your products on Amazon, Etsy and Poshmark during their search. Seeing your product multiple times across more than one platform makes your product visible and increases the odds of you making the sale.
3. Access to new customer segments
Today's online shoppers are savvier than ever before. They know what they want and they have preferred platforms to shop these products on. If you want to reach them, you need to be visible on the platforms they're engaging with.
Each marketplace has its own unique customer base so by listing on multiple online platforms, you can reach new customers who might not otherwise find your products.
Consider, too, social media platforms like Instagram. No longer reserved just for being social, they are also becoming popular sales channels.
4. Increased credibility
Having your products listed on multiple marketplaces can give you a boost in credibility. Potential customers may view you as more established and trustworthy if they see that you're selling on multiple platforms and backed by reputable online marketplaces.
A study by DigitalCommerce found that 65% of shoppers are willing to buy from an unknown brand if they are selling via an online marketplace as opposed to their own online store.
5. Diversify your risk
When you list your products on multiple marketplaces, you safeguard your business against unforeseen issues such as marketplace bans, account suspensions, payment issues, a major update affecting your traffic or business model, or platforms collapsing entirely.
If one marketplace experiences a downturn, you can rely on the others to keep your business afloat.
Let's say you only sell on Etsy and someone unfairly reports a listing. Your account could be suspended or even terminated, which could spell the end of your business.
If you were selling on Etsy, eBay and Amazon, however, you would feel the financial pinch far less than if you had all your eggs in one basket. This diversification protects you from fluctuations in any one market.
6. The ability to target niche markets
When you start looking at all the online marketplaces out there for you to sell on, you'll notice many serve specific niche markets. Here are the niches the most popular online marketplaces tend to cater for:
Etsy
Etsy is a marketplace that focuses on unique, handmade, and vintage items. The site has been particularly popular with artists and crafters who sell handmade goods, vintage finds, and craft supplies.
Etsy has also become a popular platform for selling wedding items and decor, as well as children's toys and clothing. Want to learn how to sell on Etsy? Read our comprehensive guide to Etsy reviews for sellers.
Amazon
Amazon is a massive online retailer that sells a wide variety of items, from books and electronics to clothing and home goods. While Amazon does cater to many different niche markets, there are some that they are particularly well-known for.

One of the most popular things to buy on Amazon is books. Books are one of the original items that Amazon sold when it first started out as an online bookstore back in 1995.
Today, you can still find a huge selection of both new and used books on Amazon, making it a great place to shop for all your reading needs.

Another big market that Amazon caters to is the world of electronic consumer goods. You can find everything from laptops and tablets to TVs and digital cameras on Amazon, often at very competitive prices.
They also sell a lot of small electronic items like phone cases and batteries, which makes them a go-to destination for many people looking to buy these kinds of products.

In recent years, Amazon has also become a major player in the grocery market. They offer both fresh food items and pantry staples via their grocery delivery service, which delivers these items right to your door.
As you'll notice in the graph below, Amazon's contribution to the online grocery delivery market has grown significantly in the last 6 years.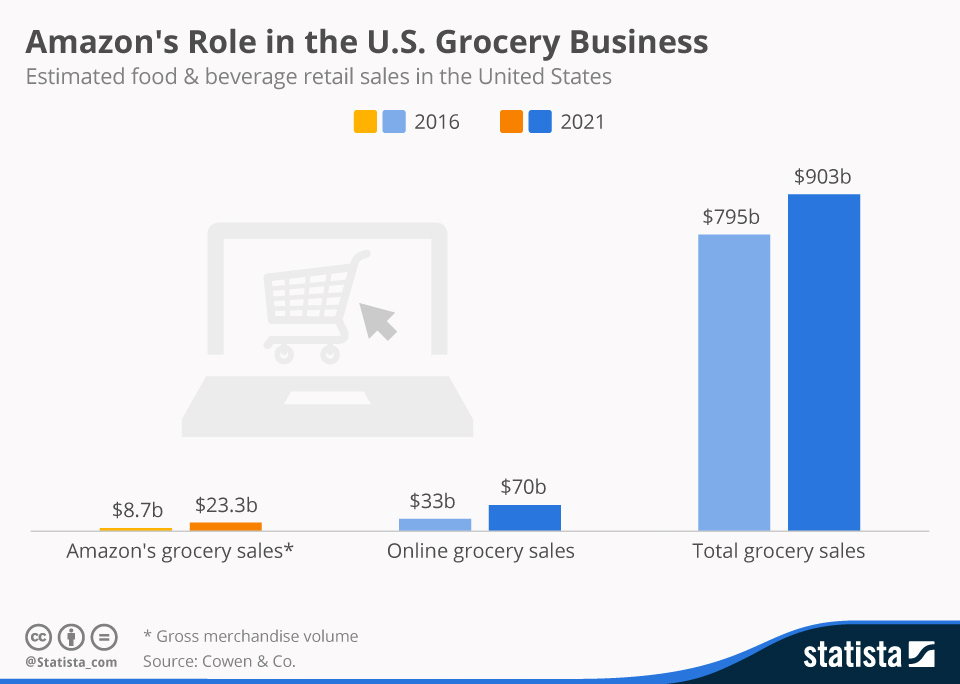 eBay
eBay is a marketplace that enables people to buy and sell goods and services worldwide. eBay has something for everyone, whether you're looking for new or used items, rare or common items, or anything in between.

Some of the niche markets that eBay caters to include:
Collectibles: eBay is a great place to find collectibles, including items like coins, stamps, comics and more.
Fashion: You can find new and used clothing, shoes, accessories and more on eBay. There's also a huge market for vintage and designer fashion.
Electronics: Whether you're looking for the latest gadgets or trying to find a good deal on used electronics, eBay has you covered. You can also find parts and components for electronic projects.
Home & Garden: From furniture to appliances to home décor, you can find just about anything for your home. And if you're looking for garden supplies, there's an extensive selection of those as well.
Toys & Games: Kids (and adults!) love toys and games! You can find everything from dolls and action figures to board games and video games on eBay.
Learn everything you need to know about how to sell on eBay with our comprehensive guide for sellers.
Poshmark
Poshmark is a fashion marketplace that connects buyers and sellers of new and used clothing, shoes, and accessories. The company offers a variety of niche markets, including plus-size fashion, petite fashion, vintage clothing and designer brands.
Plus-size fashion is one of the fastest growing segments of the retail market, and Poshmark provides an easy way for plus-size women to find stylish clothing in their size range.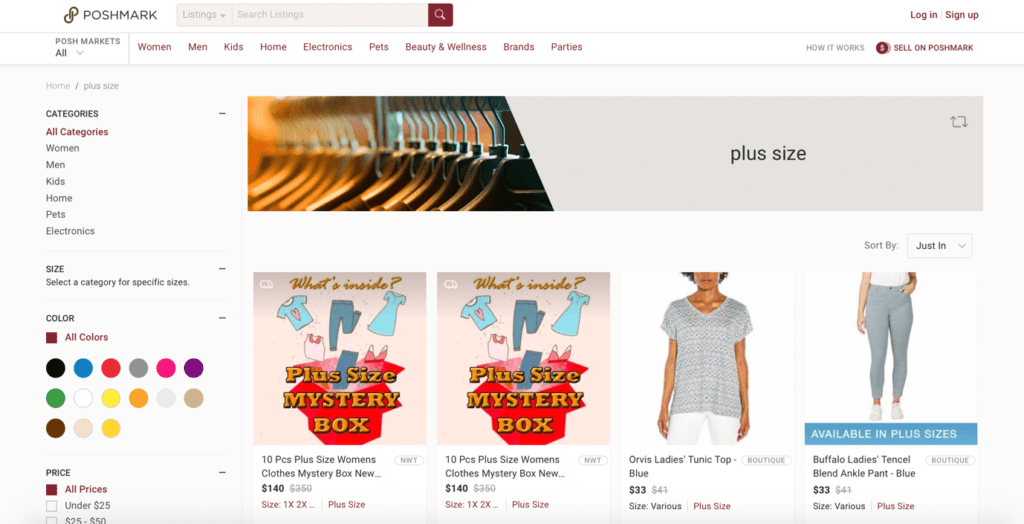 The petite market is another growing segment, as more women are searching for clothes that fit their smaller frame.
Poshmark also has a large selection of vintage clothing and designer brands, which appeal to customers who are looking for unique or hard-to-find items.
Learn the ins and outs of how to sell on Poshmark with our ultimate guide for sellers.
Next to Poshmark, there is also Depop which caters to Gen Z'ers looking for vintage clothing. See how they stack up: Depop vs Poshmark: Which Is The Best Resale Platform?
Vinted
Vinted is a marketplace for second-hand fashion, where people can buy and sell clothing, shoes and accessories. There are several different types of buyers on Vinted, which can be broadly categorized into three main niches:
Vintage/thrift shoppers: These are people who enjoy buying second-hand items, often for the lower price point or for the unique style that vintage clothing can offer. Vintage shoppers may also be interested in supporting sustainable fashion practices by buying pre-owned items instead of new ones.
Fashionistas on a budget: These users are looking for designer or high-end brands at a fraction of the retail price. They might be students, young professionals, or anyone else who wants to look stylish without breaking the bank.
Pregnancy/new motherhood: Many users join Vinted during pregnancy or after having a baby, when their bodies have changed and they need a new wardrobe that better fits their new shape. This group is also interested in saving money on maternity clothes that will only be worn for a few months (or less!).
Thinking about selling on Vinted? Then check out our Vinted review to figure out whether it's the right platform for you.
Mercari
Mercari is a mobile commerce platform that connects buyers and sellers of new and used goods. The company offers a convenient and easy-to-use solution for people who want to declutter their homes or earn extra money by selling unwanted items.
Mercari primarily caters to two types of niche markets: (1) those who want to declutter their homes every once in a while, and (2) those who want to consistently earn extra money by selling unwanted items.
The first group includes people who are looking to get rid of unused or unwanted items taking up space in their homes. Mercari offers an easy way for these individuals to sell their belongings and clear out some clutter.
The company also provides free shipping labels, so sellers don't have to worry about the hassle or cost of shipping their items.
The second group of customers Mercari targets are people who want to create an online business selling new and used items. This could include clothes, shoes, electronics, toys, sports equipment and home decor.
Mercari provides an easy platform for these individuals to list and sell their items without having to deal with the hassle of setting up a garage sale or meeting strangers in person.
Facebook Marketplace
Facebook Marketplace is a platform that allows users to buy and sell items within their local community. There are a variety of different niche markets that Facebook Marketplace caters to, including:
Art & Collectibles: Facebook Marketplace is a great place to find unique art and collectibles from around the world.
Electronics: From phones and tablets to laptops and cameras, you can find just about any type of electronic device on Facebook Marketplace.
Furniture & Home Goods: If you're in the market for new furniture or home goods, then be sure to check out Facebook Marketplace. You'll find everything from couches and coffee tables to appliances and decor.
Further reading: How To Sell On Facebook Marketplace: The Ultimate Guide
7. Piggybacking off the platform's marketing efforts
Most online marketplaces put a lot of money towards their marketing efforts. You can use this to your advantage by leveraging their credibility to boost your odds of making sales.
There are a few key things to keep in mind when trying to latch onto an online marketplace's marketing efforts:
First and foremost, it is important to understand the platform on which the marketplace operates. What kind of users does it attract? What do they care about? What kinds of content perform well on the platform?
Answering these questions will give you a good foundation for creating your own marketing strategy that is tailored to the specific marketplace.
Secondly, take some time to study the marketplace's existing marketing efforts. What do they do well? What could be improved?
Identifying both the strong and weak points of their marketing will help you create a more effective strategy of your own.
By learning from the online marketplaces you are listing on, you can create strong, focused marketing messages to attract the right buyer to your store. Here is a brief overview of some of the benefits to multi-channel selling: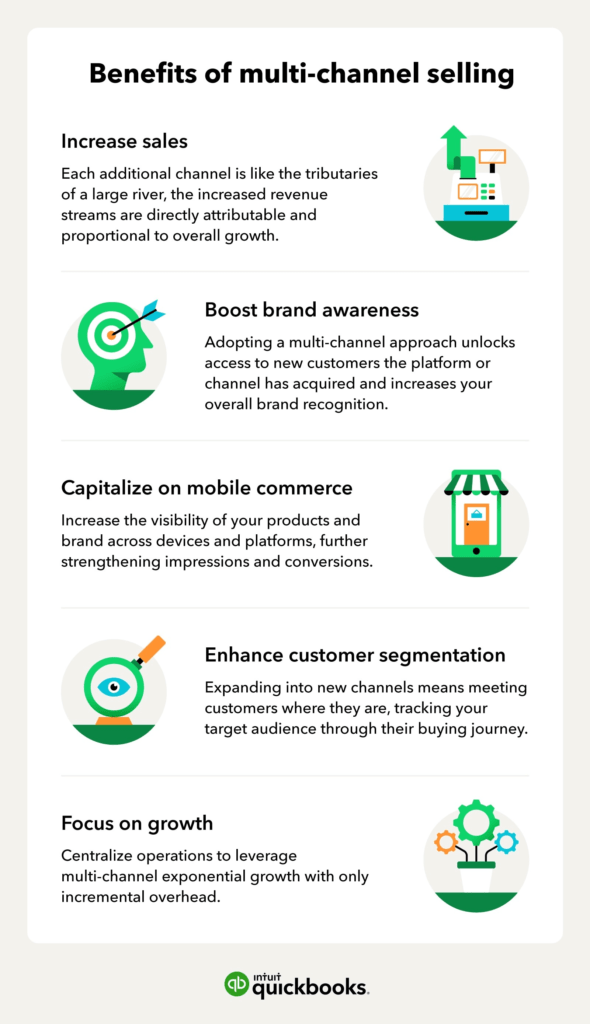 Automate multi-channel selling with a cross listing tool
Now that you understand the many benefits on cross listing on multiple sales channels, you might be wondering how to get the job done.
Let's assume you sell your product on Amazon and spend 20 hours a week editing and perfecting your listings. Many people incorrectly assume listing on 2 marketplaces means double the effort, but with a cross listing tool, this is not the case.
Cross listing tools can help save time in a number of ways. First, they can automate the process of posting listings to multiple sites. This can be a huge time saver, as it eliminates the need to manually post listings to each site.
Second, cross listing tools can provide users with the ability to track their listing activity across multiple sites. This allows users to quickly and easily see which sites are receiving the most traffic and leads, and make adjustments accordingly.
Finally, cross listing tools can help users manage their listings more effectively by providing them with powerful search and filtering features. This helps with inventory management and makes it easy to find specific listings, or groups of listings, that need attention.
Crosslist can do it all, and more…
But not all cross listing tools are created equally, so which one should you choose? Crosslist offers sellers a user-friendly and speedy cross listing tool that'll help you get the labor-intensive task of uploading listings to multiple marketplaces done in a flash.
Our intuitive platform not only speeds up the process but also populates listing fields for you based on the information available.
While you should always check your descriptions and marketplace-specific fields are correct, Crosslist can save you the hassle of having to manually input your listing information.
With the click of a button, multiple listings can be imported, checked and then published to your chosen marketplaces. It really is that easy!
Key takeaway
Selling on multiple channels provides you with a number of advantages and benefits, including increased reach, efficient marketing strategies, brand equity and tapping into niche markets.
This strategy is essential to success in today's competitive marketplace. You can maximize your sales and profits by taking advantage of all the selling channels available to you.
Questions or just say hello!
Well, congratulations to you for making it this far! Here's a reward in the form of a 10% discount code on your first month of Crosslist (add during check-out). Sign up now with a 3-day money-back guarantee!
You can learn more about how Crosslist works here.
If you have further questions, feedback, bug reports, or want to know a bit more about us, why not swing by for a chat and say G'day! You can have a chat with us through Messenger.