How To Sell On Facebook Marketplace: The Ultimate Guide

---
Have you been selling successfully on eBay or getting the itch to diversify your sales channels? If you're yet to venture into the world of selling on Facebook Marketplace, you're missing out on a golden opportunity to scale your business!
With millions of active users, this online platform has become a go-to destination for buying and selling goods. From clothing to furniture, electronics to vehicles, the possibilities are endless. But how can you ensure your items stand out in a crowded marketplace?
In this guide, we'll cover everything you need to know about selling on Facebook Marketplace in 2023, from FB marketplace fees to products that sell well to kick your sales into high gear.
What is Facebook Marketplace and how does it work?
While Facebook (now Meta) has been around since the early 2000s, it only expanded into the world of eCommerce in 2016 with the launch of Facebook Marketplace.
It was initially designed to serve as a free platform for existing users to buy and sell products within their local community. At the time, businesses were prohibited from posting ads on the platform.
By 2021, Facebook Marketplace had grown exponentially, attracting almost a billion monthly visitors. In fact, in the same year, Facebook reported over 56 million active buyers, with a projection of this number rising to 69 million by 2025 – we don't know about you, but that's a pretty massive customer base!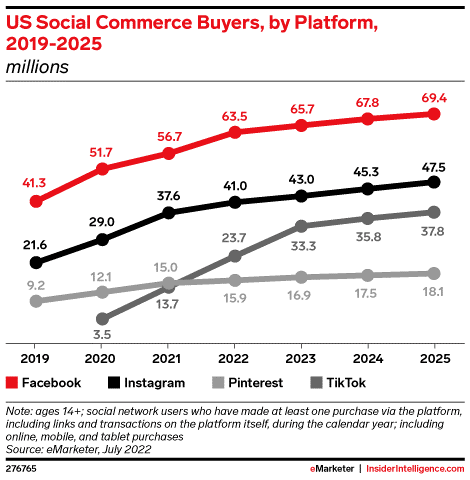 Of course, expanding Facebook Marketplace buy and sell to businesses and merchants made sense. After all, they loyally pay for sponsored ads on the site and are a significant source of revenue for Meta.
You can sell as an individual on Facebook Marketplace in two ways. First, you can set items for local pick up, which means you will meet up with your buyer, and payment will be made in cash or via Venmo, etc., once the buyer has inspected the item.
The other option is setting items for nationwide shipping, which enables the entire transaction to be facilitated by Facebook's native payment system. Accepted payment methods include debit or credit cards and PayPal.
This means as a merchant with a large volume of orders, you eliminate the need to meet up in person with buyers to facilitate transactions. You will need to ship the order within three working days, either using USPS prepaid shipping labels or shipping labels of your choosing.
Benefits of selling on Facebook Marketplace
Selling on Facebook Marketplace has become a popular way of making money online for both individuals and businesses. With omnichannel selling becoming increasingly important for boosting sales, it offers sellers another well-established avenue to sell through.
There are several specific benefits to Facebook Marketplace that make it an attractive option for sellers, which includes:
No listing fees
Facebook Marketplace is free to use when you sell from your personal profile and opt for local pick-up. Unlike other online marketplaces, there are no listing fees or subscription charges, meaning you can pocket all the profits from your sales. This gives you more freedom to offer competitive prices or barter with buyers.
Massive user base
Facebook has a vast established user base of almost 3 billion monthly users, which makes it much easier to find buyers for your products. Because of this, Facebook Marketplace offers a smart way to tap into your local market and move inventory that may have been sitting for a while on your other sales channels.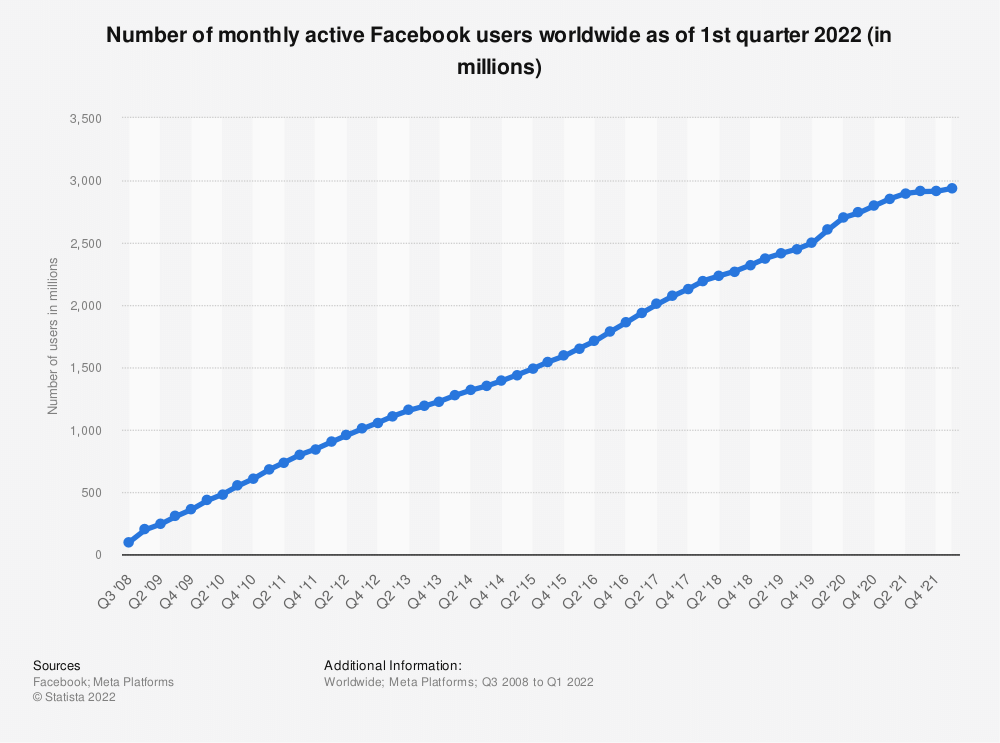 Convenience
Selling on Facebook Marketplace is convenient because if you've got an existing Facebook account, there's no complicated registration process. Tap on the marketplace app, and you're ready to sell! The platform itself is very user-friendly and self-explanatory, even if you're listing for the very first time.
Smooth transactions
Transactions can be completed quickly and easily through Messenger. Buyers and sellers can communicate directly with each other in real time, making negotiations smoother.
Should you wish to use Facebook's payment processor to facilitate transactions, you can be assured payments are secure and encrypted for both your and your buyer's peace of mind.
Element of trust
Using Facebook Marketplace allows you to build trust with potential customers by linking your personal profile to your seller account. They can see that you're a real person (not just a scam account) and whether they have any mutual friends with you to feel more comfortable purchasing from you.
Think about it…if you click on an account with an avatar for a profile picture and three friends, you'll start wondering who the person behind the account really is. However, if you see you went to the same high school as the seller or have five mutual friends, you'll feel more at ease they're legit.
Here's a summary of what we've just gone over if you're scanning the article!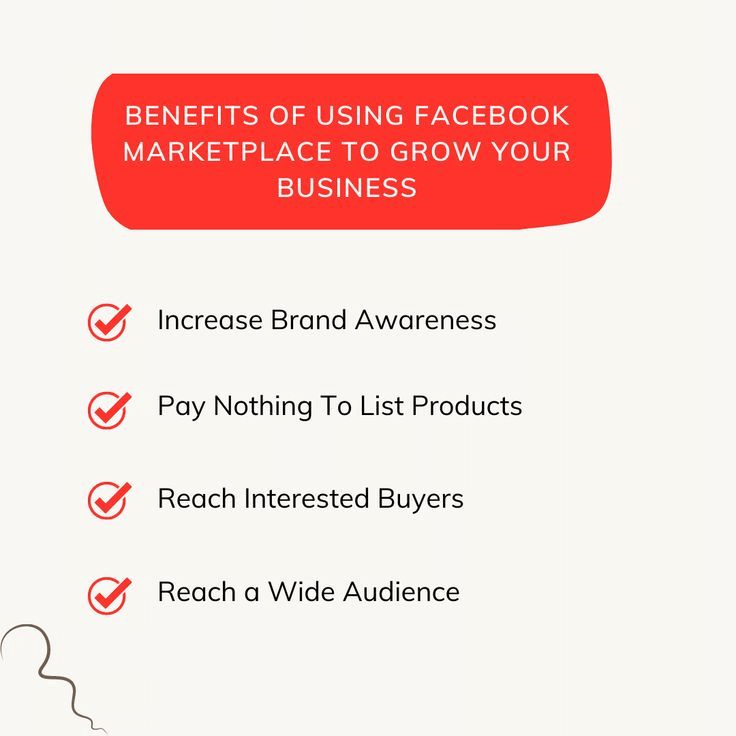 What can you sell on Facebook Marketplace?
You can sell almost anything on Facebook Marketplace, including clothing, furniture, electronics, toys, vehicles, and more. You may not be allowed to sell certain items due to local laws or restrictions from Facebook policies.
These items include weapons (including firearms), alcohol and tobacco products, animal or animal parts/products, drugs, and drug paraphernalia.
While it initially became known as something of a virtual garage sale, this is a misconception. While people use it frequently to declutter their homes, businesses also use it to bring awareness to their services and products. It has also become the perfect platform for retail arbitrage.
This is when sellers buy in-demand items at wholesale prices and then sell them for a higher price online.
Challenges of selling on Facebook Marketplace
Despite Facebook Marketplace becoming an invaluable tool for online sellers, like any online marketplace, it comes with its own challenges.
Competition
One major challenge is competing with other sellers in your niche. With millions of active users on Facebook Marketplace, standing out from the crowd can be difficult. This means that pricing and product quality must be competitive to attract buyers.
Unreliable buyers
Another challenge is dealing with unreliable buyers or scammers. Unfortunately, not all buyers are honest or trustworthy, leading to several frustrating situations, such as canceled orders.
You will encounter many tire kickers sending generic "Is this available" messages which you're expected to reply to. Often these people will go silent after you've wasted time responding to them. This is an unavoidable part of selling on Facebook Marketplace, unfortunately.
Another frustrating situation that regularly happens is someone asking you to hold an item for them and making time to collect, only to never pitch up.
Adhering to Facebook's policies
Navigating the policies and guidelines set by Facebook Marketplace can also be challenging for new sellers who may not fully understand how everything works. Violating these rules could result in account suspension or even permanent termination from using the platform.
Sometimes system glitches can result in account suspension by no fault of your own or a disgruntled buyer reporting your account (say for rejecting their lowball offer). While you will likely be able to get your account reinstated, getting help from Meta's support team is enough to make you tear your hair out.
Despite these challenges, selling on Facebook Marketplace remains a viable option for many entrepreneurs looking to grow their business through omnichannel selling.
Products that sell well on Facebook Marketplace in 2023
Every platform shifts and changes as time goes on, ebbing and flowing along with trends. So, what may have sold like hotcakes last year may go stale this year. To maximize your chance of success, it's essential to keep up to date with what types of products are likely to sell well on this thriving marketplace.
Here are some current hot ticket items:
Customized promotional items
Customizable promotional items are any type of item that can be personalized with a company's logo, message, or branding. These items are great for promoting a brand or business as they allow companies to create unique pieces to help them stand out from the competition.
Some of the most popular customizable promotional items include water bottles, apparel (t-shirts, hats, bags), mugs, and glassware. Other extremely popular options are customized pins and lanyards – pins are worn by staff or representatives to promote the business, while branded lanyards are essential at big events or conferences.
Furniture
Furniture has always been a popular category on Facebook Marketplace and continues to dominate as one of the most active niches on the platform. This is especially true in our current economic client as consumers try to save money by purchasing gently used furniture or bargains that can be restored.
Of course, many people are also looking to support small businesses that can offer better quality products for a fraction of the price of big retail chain stores.
So, if you make furniture, refurbish pieces, source vintage gems, or dropship on-trend furniture, you will always find a huge demand for your products on Facebook. However, it's a very competitive space, so you'll need to find ways to stand out.
Kid's clothing and toys
Kids grow like weeds, and their interests change just as quickly, so those shoes that fit last month? They're now squeezing little toes. And that Lego set? So last week.
Many parents, especially those who've been at it a while, understand that buying new and expensive items for kids is a huge waste of money. Clothes don't fit for long; if they do, they get covered in dirt or paint or torn while climbing a tree. That's why the kid's clothing and toys category is booming on Facebook Marketplace.
Parents can find barely-worn clothing and shoes or toys that got played with once for literally a quarter of the price they'd be new.
Seasonal products
Holiday items sell exceptionally well on Facebook Marketplace. Examples include Christmas decorations, customized Mother's Day gifts, or kids Easter baskets. If you sell personalized gifts, you'll want to add your seasonal items to Facebook Marketplace to expand your customer base.
Garden tools, plants, and decor
Facebook Marketplace users seem to enjoy DIY and home improvement projects, so selling gardening tools, decor, and plants are a great way to launch your online business.
From fancy hoses to sprinkler systems, picket fencing, and pots, there are plenty of different products you can choose to sell within this niche. While you can successfully sell plants locally, avoid shipping plants – it's a risky business! Plants can arrive at your customer's doorstep wilted and dead, which means bad reviews for you.
Dropshipping baby gear
Baby goods are popular on Facebook Marketplace because it is a convenient and cost-effective way for parents to purchase the items they need for their growing family. Parents can find great deals on baby products, such as strollers, car seats, cribs, clothes, and toys, at discounted prices.
Additionally, buyers have access to product reviews from other customers and can ask questions before making a purchase via Messenger.
Once you've determined which items to sell, it's time to find a reliable dropshipping partner who offers high-quality baby goods at reasonable prices. Look for suppliers that provide fast shipping times and have easy return policies.
Collectibles
Collectibles like records, antiques, art, and other vintage finds are popular on Facebook. While many sellers are looking for a specific item to collect or for their home, some avid collectors simply love the thrill of the hunt and bartering for the best price.
While several categories tend to perform well on Facebook Marketplace, it ultimately comes down to unique items sold by motivated sellers who price their products competitively within their respective markets.
If you're new to online selling, you may want to pause and first read our comprehensive guide about how to start an online business.
18 steps to selling on Facebook Marketplace
Right, now for what you came for! Here's your easy-to-follow guide to selling on Facebook Marketplace:
1. Set up your account
You'll need a Facebook account to sell on Facebook Marketplace. If you don't have one already, create one and set up your profile. Now you're ready to start selling.
To find a marketplace, click on the marketplace icon in the app or on the website. Here's what that will look like on both devices:
On desktop:

On mobile: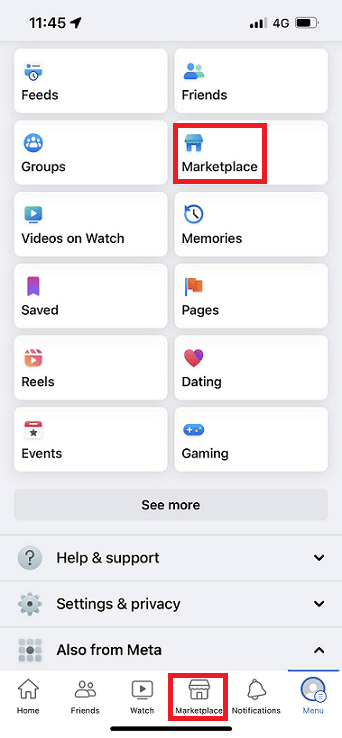 2. Add a listing
Now it's time to add your first listing! Navigate to the left-hand marketplace dashboard, where you will see a button that says, "Create a listing." Click on that to open a screen that looks like this: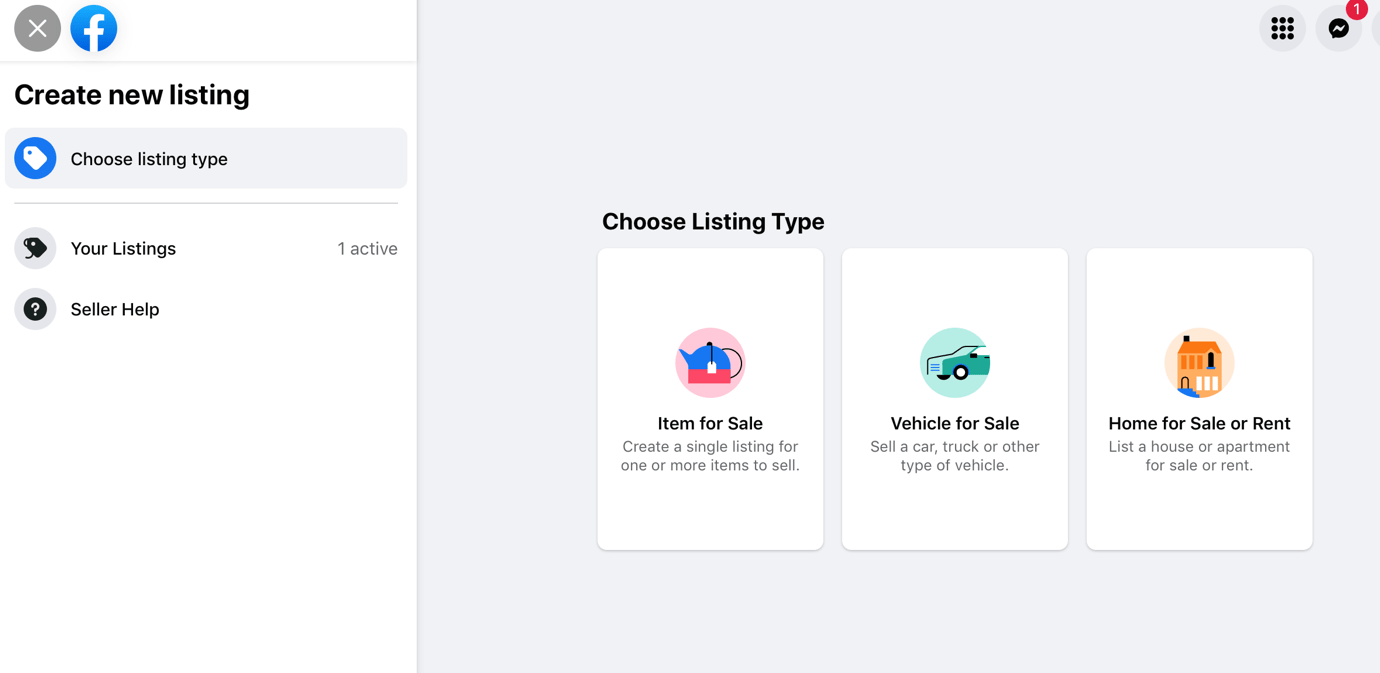 Select the type of item you will be selling. Most sellers will choose the "items for sale" option if you're selling an item small enough to be shipped.
3. Take photos
Your listing images will be the first thing potential buyers see when browsing their search results, so you will want to stand out. Take your time capturing good-quality images of your items in natural lighting, especially the first image you use for your listing.
Take pictures from as many angles as possible and close-ups to show the item's condition.
4. Add a title
Next, you must add a title. Be descriptive and add as much information as possible about the product, using keywords that a buyer may use to search for your product. For example, if you sell a specific brand of stroller, write the title like this:
Brand + Model + Stroller + Color + Condition
5. Set your price
When it comes to pricing, you need to be competitive to stand out, but you also don't want to price so low that you lose out on potential profit. So, research what similar items are going for and try to price your items in a similar price range so you strike a balance between making a profit and still attracting buyers.
6. Add a category
This is very important to help Facebook properly index your listing. Their platform is very intuitive, so often make suggestions based on your title but always double-check and choose the most suitable category for your product.
7. Disclose item condition
Next, you'll want to let the potential buyer know what condition the item is in. Your options are: new, used – like new, used – good, used – fair. Be realistic when selecting an appropriate item condition; it is not worth the potential fallout trying to cover up faults.
8. Write a listing description
Your description needs to be as detailed as possible. Be honest about any flaws or damage, and if applicable, include measurements. Use keywords throughout the description to help your listing pop up when someone searches for your item.
9. Add availability
For one-off pieces, you can set the availability to "list as single item." You can select "list as in stock " if you have multiple items in stock." This helps you manage inventory and lets buyers know they can purchase multiple products.
10. Add an SKU
If you track inventory with SKU codes, you can add your product SKU to each listing. This will only be visible to you and is an optional step.
11. Include product tags
You can add up to 20 product tags to make your listing more searchable in Marketplace. Try including alternative keywords or search terms people may use when searching for your items.
12. Set your location
13. Set meetup preferences
You can let buyers know how you'd prefer to transact upfront. You can select public meetup, door pick-up, or door drop-off, as well as nationwide shipping (for eligible sellers).
14. Boost post (optional)
If you want your products featured in search results, you can boost your listing with a paid ad. This works in the same way as a sponsored post you see on business pages. You can choose a target audience based on interests and demographics and set a budget.
15. Hit publish!
16. Respond promptly to inquiries
Be ready to answer questions from potential buyers quickly and thoroughly, keeping a friendly but professional tone. So, you don't leave anyone hanging, turn on pre-defined replies that will automatically be sent to interested buyers.
If you will be going on vacation or are ill, turn on vacation mode to let potential buyers know you are unavailable. This avoids adding new orders to your workload when you're unable to attend to them.
17. Follow through with orders
Package products properly when shipped to make a good first impression and prevent items from being damaged in transit.
18. Leave feedback
Facebook Marketplace reviews work both ways, sellers are also able to leave a rating for their interaction with a buyer. This can make it easier for other sellers to spot difficult buyers they may want to avoid doing business with.
Bonus tip
Look for Facebook groups that align with your niche. This could be social groups, interest groups, or buy-and-sell groups. You can then share your listings to these groups to expand your reach and get them in front of people who may be interested in purchasing your product.
Understanding Facebook Marketplace fees
It's important to understand Facebook Marketplace selling fees as an online seller. While there are no listing or membership fees, Facebook does charge a selling fee of 5% per shipment or a flat fee of $0.40 for transactions under $8.
It's also important to note that additional fees may apply if you use shipping labels purchased through Facebook Marketplace. These fees vary based on the weight and destination of the package.
To avoid any surprises when it comes to fees, head over to our Facebook Marketplace seller fee calculator to figure out exactly what fees may apply to your order. Remember to always factor in these costs when setting prices for your products.
If you want to see how other marketplace fees compare to Facebook Marketplace, read our recent article covering eBay seller fees.
Tips for saving money on Facebook Marketplace fees
When compared to other online Marketplaces, Facebook Marketplace fees are, in fact, negligible. However, they can be avoided entirely if you only allow local pick up and drop off for listings. This means you avoid using Facebook's in-built payments and paying payment processing fees.
If you do need to enable nationwide shipping, you can reduce your fees in the following ways:
Consolidate each customer's order into one shipment, as the fee is calculated per shipment
Ensure the shipping costs are accurate based on the weight and size of each package
Final thoughts
Selling on Facebook Marketplace can be a lucrative opportunity if you're looking to expand your reach and increase sales. By following these simple steps and understanding the benefits and challenges of this platform, you can successfully navigate through this ever-growing marketplace in 2023 and beyond!
If you add Facebook Marketplace to your omnichannel selling strategy, consider streamlining your listing management with Crosslist. Instead of uploading listings individually to each marketplace, you can import and publish listings in bulk batches to save you time and sanity!
Additional reading: 7 Alternatives To Facebook Marketplace.
Questions or just say hello!
Well, congratulations to you for making it this far! Here's a reward in the form of a 10% discount code on your first month of Crosslist (add during check-out). Sign up now with a 3-day money-back guarantee!
You can learn more about how Crosslist works here.
If you have further questions, feedback, bug reports, or want to know a bit more about us, why not swing by for a chat and say G'day! You can have a chat with us through Messenger.