7 Alternatives To Facebook Marketplace

---
Online marketplaces have transformed how we buy and sell goods, and among them, Facebook Marketplace stands out as a dominant platform.
If you've been selling on Facebook Marketplace for a while, maybe you're ready to spread your wings. Or perhaps you've realized Facebook Marketplace isn't the right fit for your niche.
Whatever has brought you here, the good news is that there are plenty of alternative sales channels that you can expand to.
So, stick around because we're going in-depth into each marketplace's niches, target audience, and general pros vs. cons to help you find the right channels to sell on.
Why you should consider selling across multiple marketplaces
Diversifying where you sell – often termed multi-channel selling – isn't just a clever sales strategy… it's becoming a necessity in today's competitive online selling landscape.
The surge in online marketplaces has opened up endless opportunities for sellers.
However, to truly harness this potential, it's essential to understand the advantages of expanding across platforms. Let's take a look at some of the compelling reasons to adopt this approach:
1. Increased sales opportunities
By simply being present on more platforms, you cast a wider net. Different marketplaces have their own dedicated user bases, so selling on multiple channels ensures that you can capture a diverse audience, increasing your chances of sales.
2. Diversified revenue streams
Relying solely on one platform can be risky business. Algorithm changes, fee structures, or even unexpected outages can take a toll on your sales. By diversifying, you avoid putting all your eggs in one basket, which helps in creating a more stable income.
3. Enhanced brand visibility
Being present on multiple platforms gives your brand more exposure. This not only increases sales opportunities but also strengthens brand awareness.
4. Reach different audience segments
Different marketplaces cater to varied demographics. For instance, while Etsy might attract an audience interested in handmade and unique products, eBay might draw those looking for collectibles or discounted items.
Multi-channel selling allows you to tailor your strategy to cater to these distinct audience segments.
5. Competitive advantage
Multi-channel sellers often have an edge over those restricted to one platform. By understanding the nuances of each marketplace, sellers can optimize prices, promotions, and product offerings based on what works best for each platform.
6. Customer insights
Different platforms offer varied analytics and customer insights. Selling across multiple channels provides a more holistic view of customer preferences, buying habits, and feedback, enabling better business decisions.
7. Potential for higher profit margins
Depending on the competition and audience on a particular platform, sellers might be able to command higher prices for their products. This can lead to varied profit margins across platforms, potentially boosting overall profitability.
Given the many benefits, you might wonder about the feasibility of managing multiple platforms independently.
That's where tools like Crosslist come into play. Crosslist is a cross-listing tool designed to streamline the process of listing items on different marketplaces.
Here are some of the advantages of using such tools:
Time efficiency: Manually listing products on multiple platforms can be time-consuming. Crosslist automates this, saving significant time.
Consistency: Ensure product listings are consistent across platforms, maintaining brand image and clarity.
Inventory management: Avoid overselling by easily delisting your inventory from one central dashboard. When an item sells on one platform, you can easily use Crosslist to remove the listing from other marketplaces.
Error reduction: Automated listing reduces the chances of errors that can occur with manual entry, such as incorrect pricing or product details.
What is Facebook Marketplace?
Facebook Marketplace emerged as a digital bazaar embedded within the Facebook ecosystem, allowing users to both purchase and sell goods and services.
One of the significant attractions for sellers venturing into Marketplace is its inherent convenience and zero listing fees.
Integration with Facebook Messenger enables instantaneous communication, letting buyers and sellers discuss prices and coordinate logistics like pickups or deliveries.
Its design caters to both local and national audiences, ensuring users can pinpoint items within their vicinity or cast a wider net.
The Marketplace spectrum is vast, from furniture and trendy apparel to books and tools, resonating with a diverse user base.
A reminder that Facebook Marketplace is not the same thing as Facebook Shop. While the former serves as a communal trading space, emphasizing person-to-person exchanges, the latter is tailored for online merchants, allowing them to market their products directly via their Facebook pages.
Why search for alternatives?
Despite its colossal footprint, an increasing contingent of sellers are gravitating towards alternatives to Facebook Marketplace.
Several reasons underpin this shift:
Cluttered interface
As a comprehensive social platform, Facebook doesn't offer a Marketplace interface solely dedicated to commerce. Amidst posts from friends, family, and pages, product listings often get lost in the shuffle.
This diluted interface, interspersed with unrelated content, often leads to disengagement. Sellers might get a lot of interest and endless "Is this still available?" messages, but tangible leads or conversions remain elusive.
Dedicated buyers, intent on purchasing, often bypass Facebook Marketplace in favor of platforms offering a more streamlined, professional shopping experience.
Absence of management tools
Once a sale is initiated, the logistical aspects of payments, shipping, and returns fall squarely on the seller's shoulders.
The platform lacks built-in tools to facilitate and manage these integral components of the selling process.
Conversion hiccups
Contrary to popular belief, a vast reach does not guarantee sales. The casual browsing nature of a significant portion of Facebook Marketplace's audience often doesn't end in purchases.
Achieving meaningful conversions frequently necessitates a more targeted strategy, be it via ads or other promotional avenues.
Promotion constraints
Sellers often grapple with Marketplace's limited tools for elevating their listing visibility. The platform doesn't inherently provide robust promotional tools or options to spotlight products or services unless sellers fork out ads.
Hidden costs
While listing on Facebook Marketplace is free, the catch lies in advertising. Should sellers opt to advertise, they're met with challenges in zeroing in on their desired audience, often due to less precise targeting options. This lack of granularity can inflate costs and impact ROI.
Given these challenges, it's no wonder sellers seek alternative platforms offering a more tailored, commerce-centric environment without the distractions and limitations intrinsic to Facebook Marketplace.
The best Facebook Marketplace alternatives
1. Poshmark
Founded in 2011, Poshmark has positioned itself as a unique blend of e-commerce and social media, establishing itself as the original "social commerce" platform.
Its intuitive mobile-first design allows users to navigate between shopping, selling, and interacting with the community. On that note, Poshmark's strength lies not just in transactions but in cultivating a fervent community bonded by fashion.
The app will highlight the best-selling brands every week, giving sellers excellent insight into what buyers want: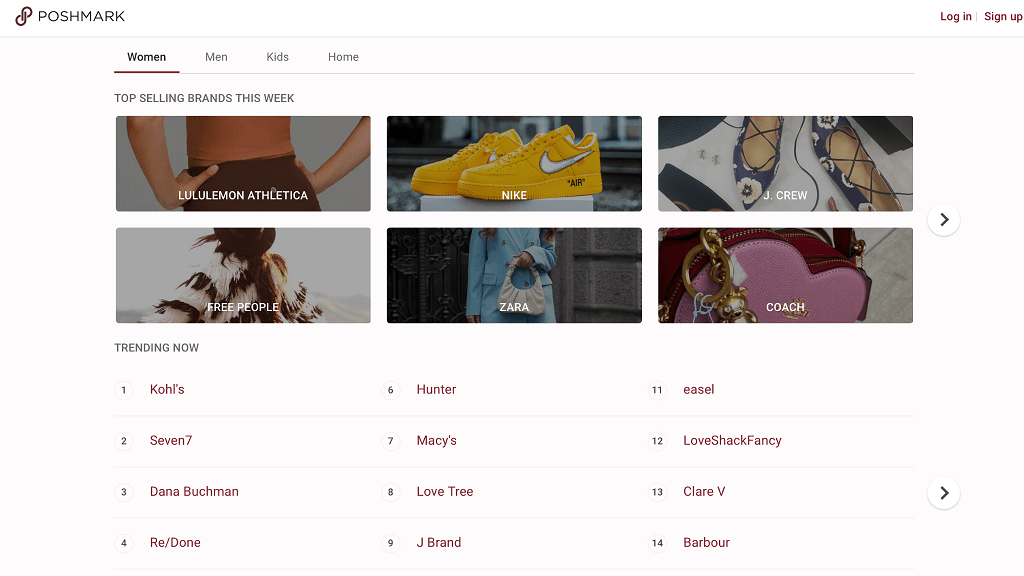 The niche
While the platform started predominantly as a hub for women's fashion, it has since branched out, encompassing men's fashion, kids' wear, and home decor.
Yet, its essence remains rooted in style. Poshmark attracts both fashion-forward individuals seeking the latest trends and eco-conscious consumers desiring to give clothes a second life while promoting sustainable consumerism.
Pros
Community engagement: High user interaction fosters trust and repeat business.
Authentication service: In-app luxury item verification reassures buyers what they're buying is legitimate.
Eco-conscious appeal: Promotes sustainable shopping through pre-loved items.
Cons
Increased competition: With its growing popularity, standing out as a seller is challenging.
Fee structure: The 20% commission on sales can eat into profits, especially for lower-priced items.
Bottom line
The strong communal feel encourages sellers to actively engage, share, and promote not just their items but also others, making it more of a social selling experience. However, as more sellers flock to the platform, new entrants might find it harder to gain traction.
Additionally, while providing a comprehensive service, the commission is steeper compared to some other platforms, impacting profitability on lower-priced items.
Read our complete guide on how to sell on Poshmark for all the tips and tricks to getting the most out of the platform.
2. Mercari
Originating in Japan, Mercari has swiftly garnered global attention since its 2013 launch, branding itself as "The Selling App."
The platform's ethos revolves around simplicity, making the buying and selling process as seamless as possible for its diverse user base. Below will give you a good idea of the vast number of categories on offer: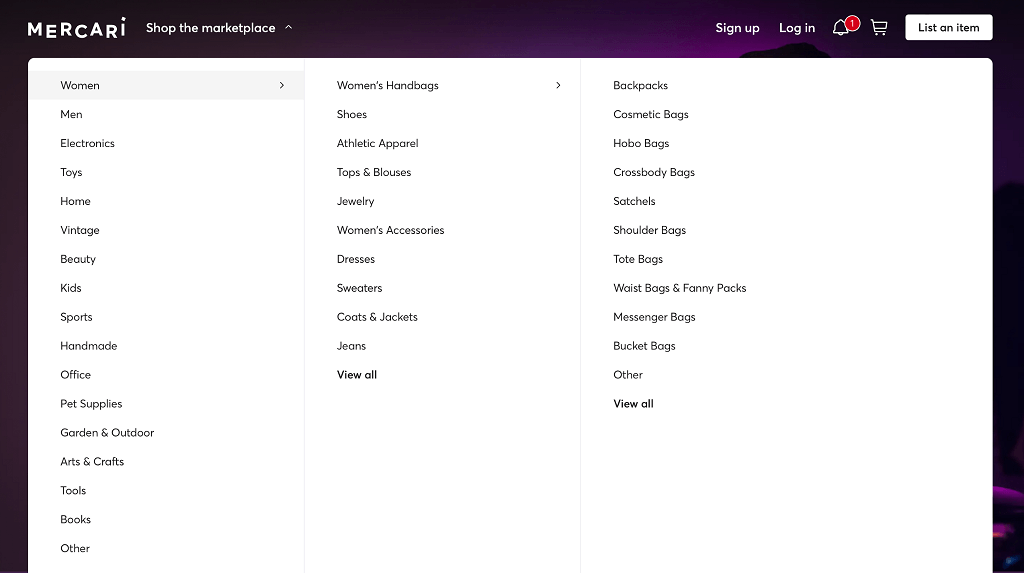 The niche
Mercari's broad spectrum of categories allows for an eclectic mix of items – from collectibles and antiques to tech gadgets and apparel.
This diversity makes it a hotspot for those searching for unique finds, everyday items, or even rare collectibles. It doesn't pigeonhole itself, attracting a vast demographic of both sellers and buyers.
Pros
User-friendly design: An intuitive interface benefits both newcomers and experienced sellers.
Transparent fees: 2.9% of the sale value, including shipping, plus $0.50 per successful sale.
Listing diversity: Allows sellers flexibility in what they can offer.
Cons
Stiff competition: Wide-ranging listings mean more sellers vying for attention.
High rate of returns: Many sellers argue the platform overly encourages returns, which creates added hassle for sellers.
Bottom line
Mercari's platform caters to those who want a hassle-free selling experience. The diverse listing capability means sellers aren't restricted, allowing for creativity and versatility in their offerings. The platform's all-welcoming nature means sellers do have to work harder to distinguish their listings.
Getting paid after successful delivery means some sellers are ripped off by buyers trying to scam them out of their items. But this can happen on any platform.
3. Etsy
Etsy is a haven for artisans, crafters, and vintage aficionados. Since its inception in 2005, Etsy has celebrated the unique, the handmade, and the timeless, establishing itself as the go-to platform for items that tell a story.
You can find almost any personalized item you can imagine on Etsy, from Christmas decorations to mugs and t-shirts.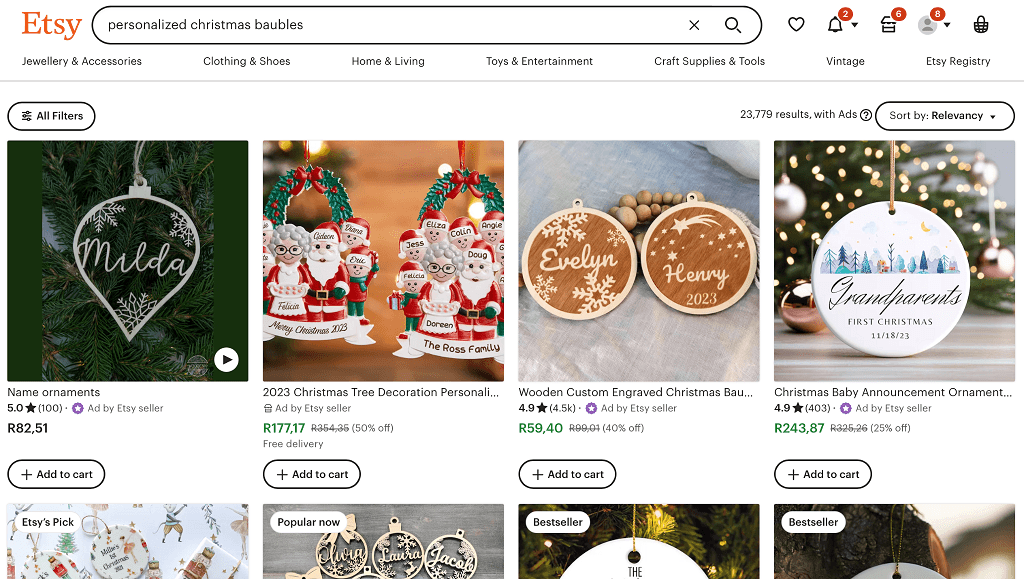 The niche
Etsy has carved out its niche in handmade, custom products, and vintage treasures. The platform attracts discerning shoppers seeking personalized gifts, unique home decor, and items with history and soul.
Pros
Unique audience: Dedicated buyers value craft and are willing to pay for uniqueness.
Global reach: Sellers can effortlessly cater to an international audience.
Custom orders: The platform's structure facilitates personalized, made-to-order items.
Cons
Fee structure: There are multiple fees, from listing to the transaction, which can be complex and sometimes eat into margins for low-price items.
Intense competition: The platform's popularity has led to a surge in sellers, making some categories too saturated to bother entering into.
Bottom line
Etsy's audience is not your typical online shopper. They're individuals pursuing the extraordinary and willing to invest in craftsmanship.
Sellers must be astute in understanding Etsy's fee system to ensure profitability. Furthermore, as more artisans establish their storefronts on Etsy, standing out, especially in popular categories, demands more effort and creativity.
Before embarking on your Etsy adventure, you may want to hop on over to our guide on how to sell on Etsy.
4. eBay
From its humble beginnings in 1995 as an auction site, eBay has become an e-commerce giant almost 3 decades later.
Offering both auction-style and straightforward buy-it-now options, it remains a versatile platform for a broad spectrum of items. Just by taking a look at the home page, you'll instantly see what a huge range of products are on offer.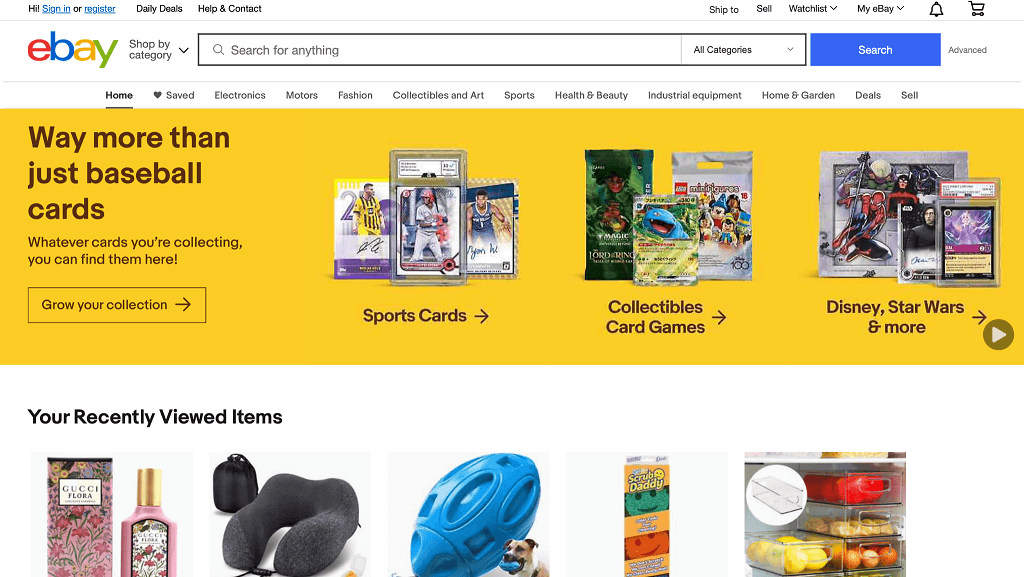 The niche
eBay's extensive categories range from collectibles and antiques to tech devices and everyday essentials. It appeals to various demographics, from dedicated collectors hunting for rare items to regular shoppers looking for a deal. The auction format also draws in bidders looking for a thrill.
Pros
Dynamic pricing: Auctions can drive up item prices based on demand.
Seller protections: Robust systems in place to combat fraud and scams.
Vast audience: Global reach ensures a diverse customer base.
Cons
Complex fee structure: eBay charges various fees, which can sometimes be confusing for newbies.
Listing overwhelm: The sheer volume of items means your listing can easily get lost.
Bottom line
eBay's auction dynamic can be a game-changer for sellers with unique items, driving competition among buyers and potentially higher prices. Its longstanding reputation and systems ensure a safe environment for sellers.
To maximize profitability, sellers must navigate eBay's intricate fee structure effectively. Given eBay's magnitude, achieving visibility requires strategic listing practices, including effective SEO and competitive pricing.
Read through our guide on how to sell on eBay for everything you need to know about selling on this popular platform.
5. Vinted
Vinted, a platform emanating from Lithuania, has risen as a notable force in second-hand fashion. Boasting a user-centric design and a strong commitment to sustainable shopping, Vinted emphasizes the joys of decluttering wardrobes and discovering pre-loved gems.
You'll see this emphasis the moment you open up the website…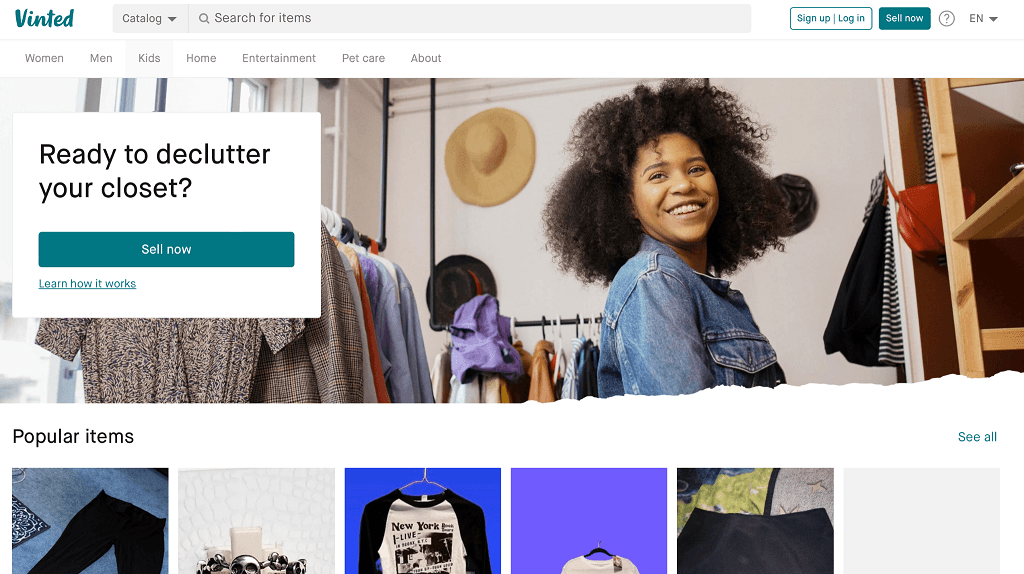 The niche
Vinted specializes exclusively in second-hand fashion. From clothing and accessories to shoes and bags, the platform encourages a cycle of reuse. Its sustainable stance attracts eco-conscious consumers, and the platform's vibe is about treasure hunting, making fashion recycling both chic and responsible.
Pros
Zero selling fees: Sellers receive the full amount that buyers pay.
Eco-friendly narrative: Appeals to the growing number of sustainable shoppers.
Swap option: Unique feature allowing users to exchange items.
Cons
Less control over shipping: Buyers can choose their preferred shipping method, giving sellers less control over this area.
Niche audience: Limited to fashion, narrowing down the spectrum of potential buyers.
Bottom line
Vinted's primary appeal is its eco-friendly narrative and zero-fee selling model. The platform thrives on the concept of reviving fashion, and the swapping feature adds an extra layer of engagement.
While Vinted offers an excellent platform for fashion enthusiasts, a lack of control over shipping can scare off some sellers.
The platform's fashion-specific nature might also not appeal to sellers with diverse product categories.
6. Depop
Depop, a blend of social media and e-commerce, champions unique fashion styles. With a design mirroring platform like Instagram, Depop has tapped into the younger generation's desire for individualism, making buying and selling an engaging experience.
Just look at the site's home page, and you'll instantly get a feel for how it's geared towards streetwear.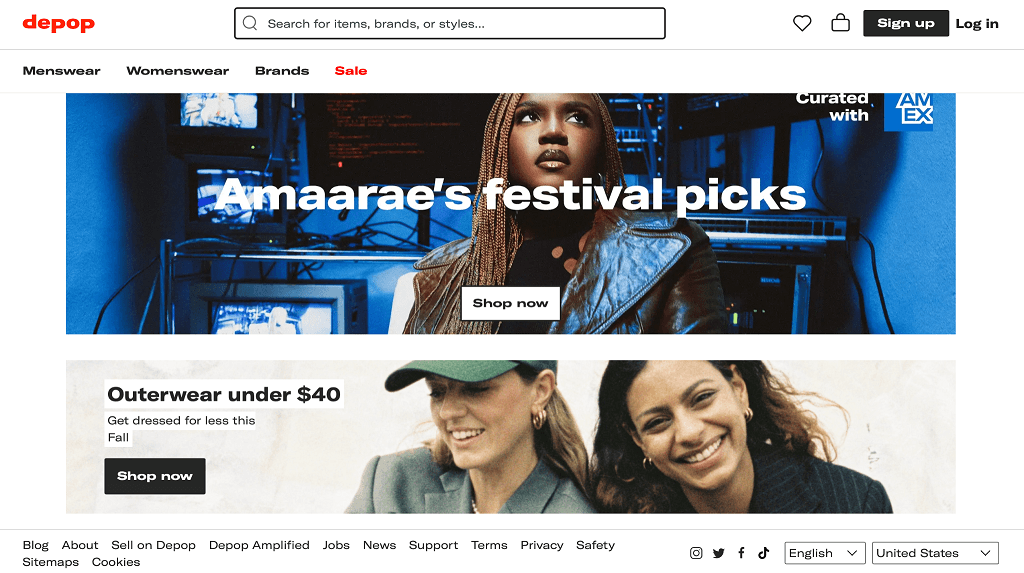 The niche
Depop is a haven for retro, vintage, and uniquely fashioned items. With a demographic skewed towards Gen Z and younger millennials, it's all about showcasing personal style, standing out, and embracing individuality. Depop is the stage for fashion statements, from upcycled designs to indie brand launches.
Pros
Youthful demographic: Appeals to younger audiences looking for unique style pieces.
Engaging platform: The social media-like design boosts interaction and engagement.
Eco-conscious appeal: Many users sell and buy to promote sustainable fashion.
Cons
Fee structure: Depop takes a 10% commission, plus additional potential fees through payment processing.
Narrow demographic: The platform's youthful vibe may not appeal to older generations.
Bottom line
Depop's strength lies in its unique interface and youthful energy. Sellers, especially those with a keen sense of style, can tap into a demographic that values individuality and sustainability.
While Depop offers a fantastic platform for individualistic fashion, sellers need to be mindful of the fees to avoid cutting into profits.
7. Kidizen
Kidizen, as the name suggests, is all about kids. This dedicated platform for children's items has carved a niche, focusing on selling and community-building, allowing parents to buy, sell, and connect.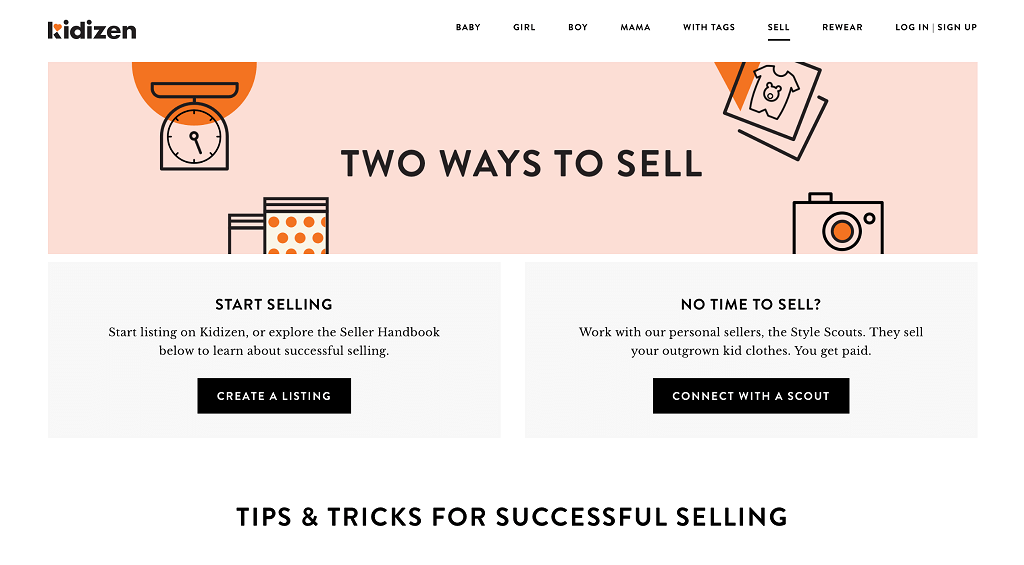 The niche
Exclusively tailored for children's products, Kidizen covers everything from clothing and shoes to toys and accessories. The community aspect is strong, with parents and caregivers sharing tips, forming bonds, and celebrating milestones.
Pros
Dedicated platform: Targets a specific audience looking for children's items.
Style scouts: Too busy to sell? Connect with a Kidizen Style Scout who can sell your items on your behalf!
Sustainability: Encourages reuse, promoting eco-friendly shopping for kids.
Cons
Limited audience: Exclusively focuses on children, which narrows the potential buyer base.
Market saturation: Popular categories can have a lot of listings, increasing competition.
Bottom line
Kidizen stands out due to its community-focused approach. The platform's focused approach means sellers are limited to a specific category of products. Additionally, given its growing popularity, certain categories can be crowded, demanding sellers to differentiate their offerings effectively.
The takeaway
In the vast world of online selling, limiting oneself to a single platform can mean missed opportunities. Embracing multi-channel selling with the right tools and strategies can propel a business to new heights.
Not only does it increase sales potential, but it also provides stability, diversification, and a broader understanding of the online marketplace ecosystem.
Questions or just say hello!
Well, congratulations to you for making it this far! Here's a reward in the form of a 10% discount code on your first month of Crosslist (add during check-out). Sign up now with a 3-day money-back guarantee!
You can learn more about how Crosslist works here.
If you have further questions, feedback, bug reports, or want to know a bit more about us, why not swing by for a chat and say G'day! You can have a chat with us through Messenger.