How To Sell On Etsy: The Ultimate Guide
---
There is no denying that starting an online store is an attractive business idea in 2022. With 80% of global consumers shopping online regularly, starting an online business that can reach a global audience just makes sense.
One of the best platforms to embark on launching your online selling ventures is without a doubt Etsy. So, if you're ready to learn all there is to know about how to sell on Etsy, then grab a drink and keep reading!
What is Etsy?
Etsy is the world's largest online marketplace for handmade and vintage goods. You can sell just about anything on Etsy, from handmade jewelry to vintage dresses, accessories, and digital downloads.
Whether you're a beginner or an advanced seller, this guide will teach you how to sell on Etsy like a pro.
Etsy integrates with the likes of Shopify and WooCommerce, making connecting your existing selling platform to Etsy a breeze.
Why is selling on Etsy a good idea?
Etsy is one of the most popular online marketplaces for handmade and vintage goods. With over 7.5 million active sellers and a growing community of 96 million buyers, Etsy has something for everyone.
Almost 60% of Etsy buyers come back to make repeat purchases, so winning the hearts of Etsy customers can score you customers for life!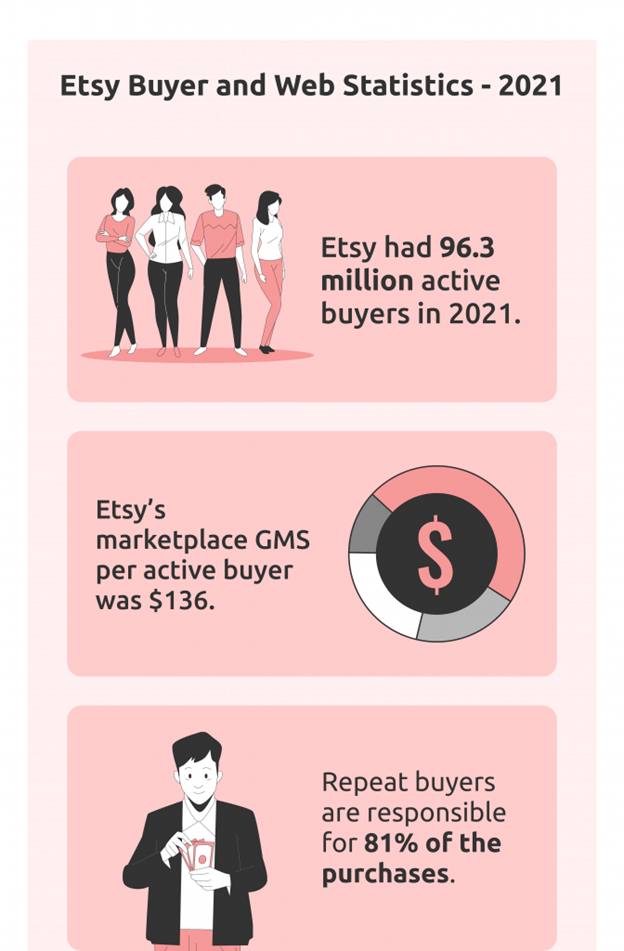 Here are five reasons why selling on Etsy is a good idea:
1. Etsy is growing rapidly
Etsy saw an increase in revenue of 8% in the first half of 2022, compared with the same period last year, and it's projected to continue growing.
This means that there's an increasing demand for handmade and vintage goods, and Etsy offers a safe and secure platform for sellers to sell their products and for buyers to shop.
2. Etsy is customizable
Etsy allows you to customize your shop to reflect your style and brand. You can add a branded banner image, add inspirational quotes or behind-the-scenes photos to your feed, and more. This enables you to create a unique selling experience that will attract buyers.
3. Etsy is fun and rewarding
Selling on Etsy can be fun! The community is supportive and friendly, so it's easy to connect with buyers and build relationships that can lead to sales. Plus, there are lots of rewards available for sellers who achieve success on Etsy.
4. Etsy is reliable and trusted
As a reputable online company, Etsy has a reputation for being the go-to marketplace for handmade items. Because of their strict policies and seller vetting procedures, buyers trust the marketplace and feel comfortable making purchases through Etsy.
5. Flexible work schedule
If Etsy becomes your full-time gig, it allows you to work a flexible schedule. You can set your own hours, work from home, and take advantage of all the perks that come along with being your own boss!
It's no wonder Etsy is especially popular among working moms who want a better work-life balance to have more time with their little ones.
Understanding Etsy fees
If you're thinking of starting an Etsy shop, one of the first things you'll need to decide is how much money you're willing to spend on fees. There's no question that Etsy is a pricey platform, but it's worth considering the costs before jumping in.
Etsy charges sellers five different fees: listing fees, transaction fees, payment processing fees, shipping costs, and VAT. Here's a breakdown of each:
Pro tip: you can use our Etsy fee calculator to calculate your total seller fees, profit & margin!
Listing fees
The first fee you'll pay when creating an Etsy shop is listing fees. These are charged for every item you list and are currently $0.20 per item.
If your item sells, you'll automatically be charged a listing fee to essentially "re-list" the item in your store, even if you've stated there are 20 in stock.
Transaction fees
Etsy charges sellers a transaction fee of 6.5% of the total order amount (including whatever your shipping fee is).
Payment processing fees
Etsy charges you 3% + 25 cents of each sale to process payment for your order via Etsy Payments.
Shipping label fees
You will pay a fee for the shipping label to deliver your order to the customer. The specific fee will vary depending on your carrier. You can get more information on Etsy's shipping fees here.
VAT
Depending on the region where you sell from and/or where the buyer is from, Etsy will charge the buyer and/or seller VAT accordingly.
How to sell on Etsy: everything you need to know
If you're thinking of selling your handmade treasures on Etsy, the first step is to learn how to sell on Etsy. From finding the right niche to setting up your shop, we'll cover everything you need to know to get started. Ready to jump in? Let's go!
How to create an Etsy store
Because Etsy is an open marketplace, there is no pre-approval or prerequisites required for you to become a seller.
So as soon as you'd like to start selling on Etsy, you can skip straight to setting up an account. Here is how to do it step by step:
First, create an Etsy account and agree to Etsy's terms and conditions.
You can use your email address, Google account, or Facebook account to sign in.
Now it's time to create your Etsy store. To do this click on "Sell on Etsy" in the upper right-hand corner of your screen:

Next, you'll need to choose a shop name and create a shop profile. Other information Etsy will require you to fill in includes shop preferences, payments, and billing. You will also be required to upload at least one listing so have some images and information ready to upload.
You can use your shop name as the main identifier for your Etsy store, but you can also include a logo and descriptive text about your shop.
Once you have set that all up, set up your shop sections. Here you can add your store policies, about section, team member profiles, and thank you messages for buyers to receive after buying items.
Etsy seller eligibility
Etsy is an online marketplace, and its primary goal is to provide positive buyer experiences.
Etsy's aim has always been to be the number one destination for buyers looking to purchase unique, handmade products and craft supplies.
With this in mind, there are certain products that cannot be sold on Etsy which we will go over below.
The reasons for these bans vary. Some prohibited products pose legal risks, others may be harmful to buyers and some simply do not align with Etsy's vision and values.
Violating these terms can result in immediate account termination or suspension, depending on the severity of the infringement. The following products are not allowed to be sold on Etsy:
Alcohol
Tobacco products
Drugs and drug paraphernalia
Medication
Animal products
Dangerous or hazardous items
Weapons
Illegal items
Internationally regulated items
Products that support or glorify violence
Products that promote or glorify discrimination and hatred
Nudity or adult content
It is worth noting that regulating listings is a complex process. If someone flags a listing, it goes through a rigorous process where many factors are taken into account.
Etsy values freedom of expression, but not when it causes harm. Etsy values items of historical or cultural importance, however understanding these types of products can evoke an emotional response, so there is a very fine line at times.
It is best to just altogether avoid anything that could be flagged as a restricted item.
For example, selling cannabis art could potentially be flagged as going against Etsy policies for promoting drug use, much like selling t-shirts with graphic slogans could be flagged for promoting violence.
One last thing to note, Etsy sellers are only eligible to list products on the site if they are over the age of 18.
Figure out your niche
There are so many profitable niches on Etsy, ranging from digital products to wall art and pottery, the sky's the limit!
We're not going to ramble on here because we already covered 28 profitable Etsy shop ideas a while back and we know you'll find those insights valuable when deciding on what to sell.
Get traffic to your Etsy store
If you're like most Etsy shop owners, you probably dream of getting lots of traffic to your store. But how do you go about getting it? These simple, but tried-and-tested strategies, will help you get loads of traffic to your Etsy store in no time.
1. Promote your content on social media
One of the most effective ways to get Etsy traffic is to promote your content on social media sites. Share articles, pictures, and videos that feature your products or your shop on Instagram, Facebook, and Twitter.
You can also use paid ads to target specific demographics (like women over the age of 35) with ads for your shop.
If you sell craft supplies, for example, you can use social media to create tutorials to show potential buyers how to use your products to create their crafting projects.
When using paid ads, you can set up retargeting ads that show your ad campaign to people who have interacted with your website or Etsy store.
People are often distracted while shopping online so retargeting ads can help remind them to come back to your shop to finish a purchase.
2. Write quality articles about your products
Quality content is one of the best ways to get Etsy traffic. Make sure that each article you write features at least one product from your shop or features a tutorial on how to make a certain product.
In addition to promoting your articles on social media sites, share them on other blog platforms as well by trying to get guest blogging features on high authority sites that relate to your niche.
3. Create eye-catching graphics for Pinterest
Pinterest is your best friend as an Etsy seller. If the only tip you take away from this guide on how to sell on Etsy, it's embracing Pinterest to market your store.
Pinterest is the secret weapon many successful Etsy sellers use to get tons of traffic to their stores.
Create eye-catching Pinterest images to share links back to your blog and to your Etsy store. You can also use Pinterest-sponsored posts to promote well-performing pins and products.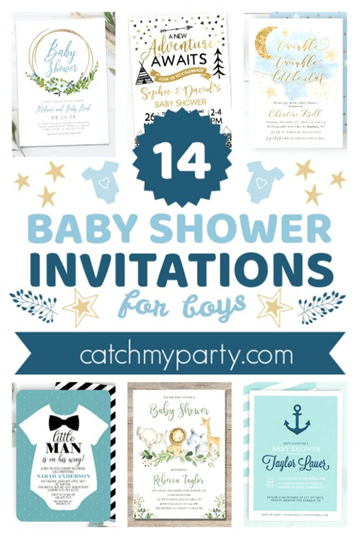 4. Embrace email marketing
The great thing about Etsy is that it integrates with a number of email marketing platforms like Aweber, helping you set up an opt-in that will allow you to capture the contact details of customers to stay in touch.
You can send weekly emails to your mailing list featuring new products, links to your blog posts, or announce sales.
If you have a separate website or blog you use to send traffic to your Etsy store, you can set up lead magnets on your website to capture leads.
For example, as a crafter, you could offer a free crafting tutorial or crafting templates in exchange for a person subscribing to your mailing list. Email marketing is still one of the best ways to get repeat business from your customers.
5. Use Etsy ads
Etsy offers sellers Etsy Ads to help promote your listings. You can set a daily budget and choose which listings you would like to advertise. If you find there is interest in a particular item, test out increasing your budget for that item and see if it brings in more sales.
Etsy also automatically shows your products as off-site ads, on partner sites like Google. You will be charged a commission for off-site ads only if someone makes a purchase after clicking through from an off-site ad.
Ace Etsy SEO
Etsy SEO is absolutely VITAL for success on the platform. SEO is an abbreviation for Search Engine Optimisation and refers to the practice of optimising your listing to appear higher in the rankings of search engines such as Google or Bing.
If you aren't using relevant keywords in your listing titles and descriptions, you'll get lost amongst the competition and lose out on sales. SEO has become more important for how high your listing ranks in Etsy search in the past year. In order to ace Etsy SEO, you need to optimize each listing as follows:
1. Keywords are king
It is imperative you use relevant keywords in your title AND listing description. Many sellers create great listing titles and neglect their descriptions, but with the 2022 Etsy algorithm shift, you now need to include keywords in your description too for your listings to rank for those keywords.
Instead of stuffing your title full of short keywords, focus on long-tail keywords that will target a highly motivated buyer.
If someone is searching for a wildflower ceramic clay coffee cup on Etsy for example, they're more likely to find you if you target that long-tail search term than if you just used "clay mug" as your title.
You should always use your main keyword/phrase at the beginning of your title.
Here's an example of a great title:

2. Include at least one keyword in each of your listing tags
Your listings tags are also important and not to be ignored. You can include 13 listing tags limited to 20 characters each, and we highly recommend including them all.
Continuing with the floral clay mug example, you can include tags as follows that help Etsy understand what your listing is about to match you with buyers: floral clay mug, handmade mug, clay mugs, floral mugs, vintage clay mug, pottery mug, etc.
3. Use images that include keywords
Use at least one image that has text that includes a keyword. Etsy's algorithm and AI will scan every inch of your listing to make sense of what you're selling.
4. Write engaging descriptions that include keywords
We've mentioned it already, but do not neglect your listing descriptions! This is a huge mistake so many sellers make.
Use your description to sell your product and share interesting facts about your product by highlighting its features and benefits, naturally including some keywords in the text.
5. Select the correct category
Choose the correct category when listing your product. There are many to choose from so to make sure you're selecting the correct one, check what category your competitors are listing theirs under and follow suit.
Etsy Payments
When it comes to selling on Etsy, one of the most important factors is payment.
The gold standard of payments on Etsy is Etsy Payments. It is more convenient for sellers because payments are sent directly to your bank account on a chosen day, however, it is important to understand your other options.
Etsy payments are only available to eligible countries, of which you can find the full list here.
If Etsy payments are not for you, you can also opt to use PayPal to accept payments.
Etsy Payments do deduct fees for payments which we touched on above. You will be charged a payment processing fee of 3% + 25 cents.
You could also potentially be charged a deposit fee for depositing funds into your bank account if your deposit amount falls below the threshold amount for your country.
To sign up for Etsy payments, you will need to submit documents to verify your identity which could include a copy of your identity card and possibly proof of your banking details.
Etsy shipping
If you're new to Etsy, you may be wondering how to ship your items. Here's everything you need to know about shipping on Etsy:
You can ship using regular mail or Etsy Shipments.
Etsy offers discounted rates for shipping with USPS First Class Mail and Priority Mail.
You can also use Etsy Shipping to schedule a custom shipping date and time with a carrier of your choice.
You can use the "Ship to" drop-down menu on your order details page to choose a destination country and postal code.
If you need help calculating postage, Etsy has you covered! Their postage calculator will give you accurate shipping estimates for your items.
How to get Star Seller status on Etsy
If you want to make an Etsy shop that stands out, one of the first things you need to work towards is to get star seller status.
Once you have achieved star seller status, your shop will be featured more prominently on the site, and you'll be able to attract more buyers. Here are the steps:
1. Create a high-quality product
Quality is key when selling anything online so make sure all your items are of the best quality possible.
If you can, try to use unique or rare materials in your products so that buyers can find something special and unique about them.
2. Promote your products well
This means posting about your products on social media and other popular websites. Not only will this help increase traffic to your shop, but it will also create interest in what you have to offer.
Make sure to include keywords in your posts so that Etsy can index them properly!
3. Set up an efficient shipping system
When buyers place orders, they want to be sure they'll receive their items quickly and without any hassles. Try to ship items quickly to avoid long wait times for your customers. Be sure to use a reliable carrier and provide tracking information to your customer.
4. Ask for feedback
Set up a follow-up email a few days after an order to check in that the customer is happy with their order or to quickly rectify any issues.
You can also take the opportunity to request feedback. The more 5-star reviews you get, the faster you will climb to star seller status.
5. Respond quickly
Etsy requires you to respond quickly to messages in order to be eligible for a star seller badge. In fact, you'll need a message response rate of 95% and above to qualify. Having the Etsy app on your phone will help you access and answer queries faster.

Etsy dos and don'ts
Now that you know the basics of selling on Etsy, here are some additional dos and don'ts to get you started:
Do: Use high-quality photos and descriptions. Your items will be more appealing to buyers if they can see the quality of your work. Include clear measurements so buyers can understand the size of your item. Write in clear, concise language with easy-to-read fonts.
Don't: Be spammy. Be honest about your item's condition and shipping times. Do not engage in any fraudulent activities, such as using stolen images or misrepresenting your item's condition.
Do: Stay organized and keep track of your sales. Make sure to list the sale date, time, and price of each item you sell. Keep track of how many buyers have bought each item, plus shipping information if applicable. Write a thank-you note after each sale to let buyers know how much they've helped boost your account balance.
Don't: Forget to take pictures! It's easy to get wrapped up in the creation of your products and neglect to snap some gorgeous pictures of your products. But the bottom line is your listing images can make or break your sales! Take pictures on a neutral background in natural lighting from a number of different angles. If you can, include a styled image or two to show your product in use.
Do: Use videos. Etsy encourages sellers to include a listing video because they have come to realize buyers tend to purchase more from sellers who include videos than those who don't.

Don't: Copy. It is not ethical to copy someone else's work. Sure, take inspiration but never flat out copy someone's idea, this is a one-way ticket to land in hot water and blow your chances of success before you've even started.
Do: Be thankful. It is polite to send a thank you message to a seller when you get an order, especially if you're starting out and trying to build your reputation. This builds good rapport with your customers.
Don't: Overprice your items. You can set the price of your item, but you are not allowed to charge more than you actually earn in shipping fees.
Do: Put an effort into your storefront. Etsy allows you to add a profile image and banner to your store. Put some effort into presenting an attractive and well-organized storefront. You can also include sections to make it easier for people to find what they are looking for in your collection.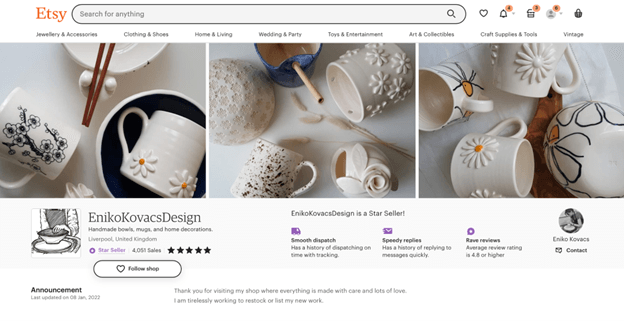 Don't: Break the rules. Follow Etsy's rules and policies to avoid account suspension or termination.
Do: Offer discounts. The sweet spot for a discount has been found to be 15%, so slap on a discount and watch your orders roll in.
Cross list your items on other online marketplaces
Now that you know how to sell on Etsy, you can investigate the benefits of cross-listing your products on other online marketplaces.
There are many positives to having your products listed across multiple selling platforms, such as eBay, Poshmark, Depop or Mercari.
Some benefits of listing on multiple online marketplaces include:
Increased traffic: Having your products listed on multiple online marketplaces will increase traffic to your store. This increased traffic can lead to higher sales and increased brand awareness.
Increased sales: By cross-listing your products on other online marketplaces, you are likely to achieve higher sales than if you only sold on Etsy. This is because Etsy is a highly competitive marketplace and other online marketplaces offer sellers a wider range of product options and increased exposure.
Improved customer retention: Having your products listed on multiple online marketplaces will help you retain customers. By selling on multiple platforms, you are giving your customers more choices and the opportunity to find your products easier. This means that they are more likely to buy from you again in the future.
Begin by creating a list of your favorite online marketplaces.
eBay, Facebook Marketplace, and Amazon are all great places to sell your handmade goods, but there are many other options out there.
Decide which marketplace is best for promoting and selling your items. Once you have determined which marketplaces you want to sell your items on, it's time to start uploading your products to your chosen marketplaces. But that sounds like a real drag, right?
Wrong! Using a cross listing app like Crosslist can save you hours of time by allowing you to upload listings in bulk at the click of a mouse.
Whether you have a few listings you want to upload to multiple marketplaces or a huge inventory, Crosslist can save you hours of time, frustration, and repetitive work by simplifying the process.
All you need to do to use Crosslist is import your listings into Crosslist and then publish them to your chosen marketplace.
Crosslist can even go so far as to populate marketplace-specific listing fields with the information on hand to help you speed up the process. We have plenty of resources to walk you through the easy steps to using Crosslist to cross list your products.
The key takeaway
As a global marketplace, Etsy is a no-brainer for sellers who are wanting to sell their products to a global audience. Etsy continues to grow and improve the platform for buyers and sellers alike, making it a dynamic and premium destination for handicrafts and vintage items.
Questions or just say hello!
Well, congratulations to you for making it this far! Here's a reward in the form of a 10% discount code on your first month of Crosslist (add during check-out). Sign up now with a 3-day money-back guarantee!
You can learn more about how Crosslist works here.
If you have further questions, feedback, bug reports, or want to know a bit more about us, why not swing by for a chat and say G'day! You can have a chat with us through Messenger.