Etsy vs eBay: A Comparative Analysis For Sellers

---
As an online reseller, you will have come across Etsy and eBay in your search for a suitable selling platform.
Perhaps you're even selling on one of them. If you've been toying with the idea of branching out to one of these platforms but are unsure what the big difference between them is, we've got you covered.
We've compiled an in-depth analysis of each platform to help you gauge whether they fit your multi-channel selling strategy.
First, let's go back to the beginning…
2005 wasn't just the birth year of YouTube or the year Brangelina coupled up…it was also the beginning of Etsy.
It emerged like a silent rebel in a world drowning in mass production. Etsy didn't just say, "Let's sell stuff." It went, "Let's celebrate individuality, craftsmanship, and the sheer audacity of making something with one's bare hands in a world where machines are taking over."
Etsy gave artisans a platform to showcase their talents and a place where buyers came to appreciate authenticity over brand names.
In the nearly two decades that have passed, it's maintained its image as a haven for individual creativity, catering to those who appreciate the story behind the seller as much as the product.
Now, step back another decade to 1995. The era of boy bands, oversized flannels, and the inception of eBay.
Its emergence shook up the retail landscape and launched the concept of e-commerce. The internet was young, and eBay was the daring new kid, turning our garages into gold mines.
eBay was born from the idea of connecting folks who had stuff to get rid of with those who wanted it, giving everyone a chance to be a seller or buyer in a dynamic marketplace. Auctions became less about shouting numbers in a crowded room and more about quietly, anxiously clicking 'Bid Now' at 2 a.m.
From the rare Star Wars collectible to that designer bag you couldn't afford at full price, eBay was, and remains, the universe of possibilities.
1. Target audience and product focus
When you think of Etsy, if you're anything like us, you likely imagine the free-spirited friend who spends weekends at craft fairs and always gifts you hand-made birthday presents.
Etsy is for the bohemian at heart, those who appreciate the time it takes to carve a piece of wood into art, and those who want their homes filled with stories, not just decor.
It's where you find items infused with personal touches, bearing traces of the creator's soul. But it's not just the buyer who's different; the seller is often a passionate creator who puts blood, sweat, and often tears into their creations.
Conversely, eBay is like that enormous flea market that sells everything from vintage comics to the latest tech gadgets. Because of this, the platform attracts a diverse crowd.
From the tech geek wanting the latest gadget to the historian hunting for a century-old manuscript, eBay caters to all. It's not so much about the handcrafted touch here.
On eBay, variety is the spice of life; there is the thrill of finding that diamond in the rough or scoring a product at half its market price.
And for sellers? It's about reaching a global audience and being able to sell almost anything.
2. User interface and experience
Navigating Etsy feels a bit like strolling through your local art district. The aesthetics are deliberately soft and warm, oozing intimacy. The platform invites you into a world where every item has a story, and every shop has a distinct personality.
The beauty of Etsy is in its details: the passion of sellers is evident in their product photos, descriptions, and even their thank-you notes. Etsy sellers are known to go above and beyond to provide amazing customer service and add a personal touch to every order.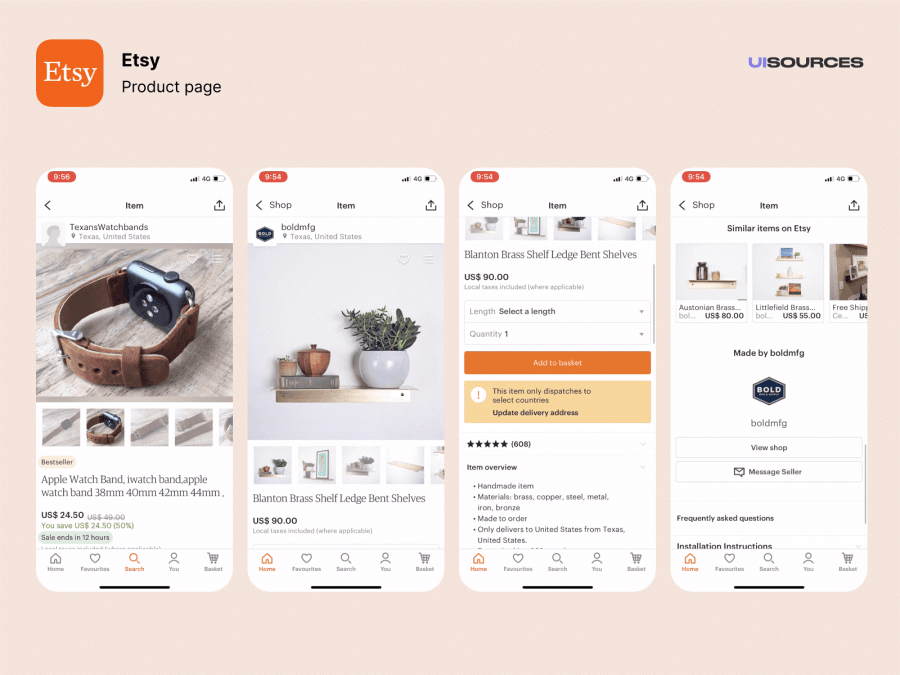 eBay, on the other hand, feels like walking into a bustling metropolitan plaza. It's vast, brimming with energy, and incredibly functional. It's built for the fast-paced, for those who know what they want and want it now.
The interface isn't about cozy aesthetics but rather about efficiently delivering vast amounts of information. Searches yield a spectrum of results, from professional storefronts to amateur garage sales.
The thrill here is in the hunt, sifting through hundreds of listings to discover the perfect deal. You'll notice how a very different experience on eBay immediately greets you than on Etsy!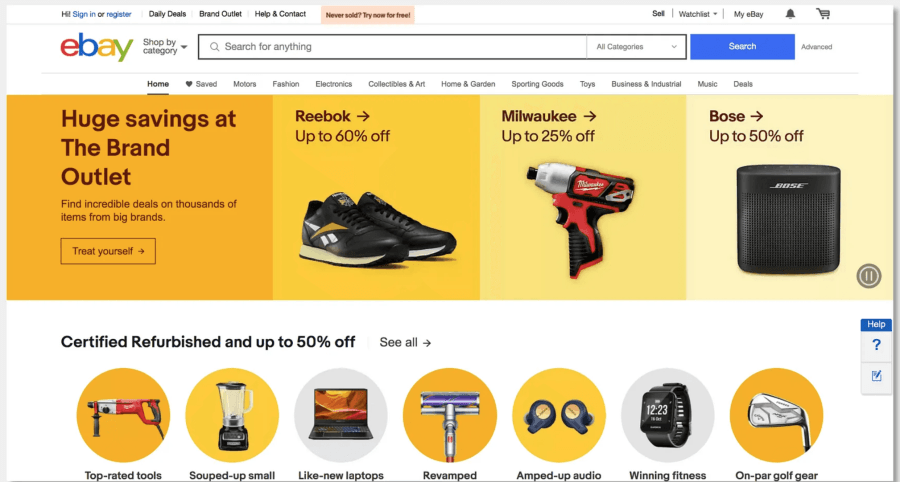 3. Selling features
For sellers, Etsy is more of a community than simply a sales platform. It equips artists with tools finely tuned to their crafty needs. Here's a glimpse into its creator-friendly toolkit:
Listing ease: With a straightforward process, listing a product on Etsy feels more like sharing your art than a tedious chore.
Promoted listings: Sellers can push their products to a broader audience. By investing a little extra, your product can get premium visibility, potentially driving more sales.
Shop customization: Sellers can personalize their storefronts, infusing them with personality and branding. From custom banners to selecting featured products and adding personalized thank you messages, Etsy sellers have a fair amount of control over adding a personal touch to their shops.
Etsy offsite ads: This feature helps sellers advertise within Etsy and on major search engines like Google, Facebook, Instagram, and Pinterest. The jury is out on just how helpful Etsy ads are because the platform controls targeting, unlike Facebook and Instagram. Here's what that could look like for a seller selling mugs:
Etsy Payments: This tool streamlines the payment process, supporting various methods from credit cards to Apple Pay, ensuring smooth transactions.
Seller protection: This provides a safety net against potential fraud and chargebacks, giving sellers peace of mind.
Etsy Teams: A community feature where sellers can connect, collaborate, and share resources, fostering a sense of camaraderie.
Star Seller badge: Sellers who meet certain criteria can get a "star seller" badge on their profile, which automatically boosts listings in search results.
eBay, with its vast ecosystem, also offers a suite of features tailored for diverse sellers, from garage clear-out enthusiasts to professional enterprises:
Flexible listing options: Whether you opt for a fixed price or set your product up for auction, eBay offers a variety of listing formats to suit your strategy.
eBay Store: For regular sellers, this subscription-based model provides additional tools, branding options, and promotional features.
Global shipping program: This simplifies shipping products internationally. eBay handles customs, duties, and logistics.
eBay Promotions Manager: Sellers can set up special offers, enticing buyers with deals like BOGO or setting volume discounts. See below how a seller is offering 25% off when you purchase 4 items or more.
Terrapeak product research: Integrated into the Seller Hub, this tool offers insights into market trends, helping sellers price their products competitively.
Seller Hub: This central dashboard provides an overview of listings, sales, and performance metrics. It's like the command center for eBay sellers.
Resolution Center: Should issues arise, this feature assists in resolving disputes between buyers and sellers. The Resolution Center is useful in case you need to block a buyer, for example.
4. Seller fees
Money makes the world go round, and Etsy understands that sellers need clarity when it comes to costs. Etsy has made several changes to its fees over the years, which some sellers argue have become too expensive.
We've laid out the current fees below so you can come to your own conclusions on whether it's feasible for your business or not:
Listing fee: Every item you list costs a minor fee, irrespective of whether it sells. This fee is currently $0.20 per item. You will also be charged this fee whenever an item sells, regardless of whether you have more stock.
Transaction fee: Sold something? Great! The bad news? Etsy takes a small percentage of the sale price – 6.5%. It may not sound like much, but it can eat into your profits on low-cost items.
Payment processing fee: This applies when using Etsy Payments. It's generally a fixed amount that varies depending on your location. You can find more information about payment processing fees for your country over here.
Offsite ads fee: Etsy automatically advertises your product outside its platform, so there's an additional fee when it results in a sale. If your store has made under $10,000 in sales in the last year, you'll hand over a 15% commission for the sale. If you've made over $10,000 in the last year, you are charged a 12% commission. Unfortunately, there is no option to turn off Offsite Ads. This is a compulsory feature.
Subscription option: For those wanting to supercharge their store, there's Etsy Plus. It offers advanced features at a monthly charge of $10.
Use our Etsy fee calculator tool for an accurate idea of fees on your items. Here's an example of what a sale would cost in the US, UK, CA, and AUS: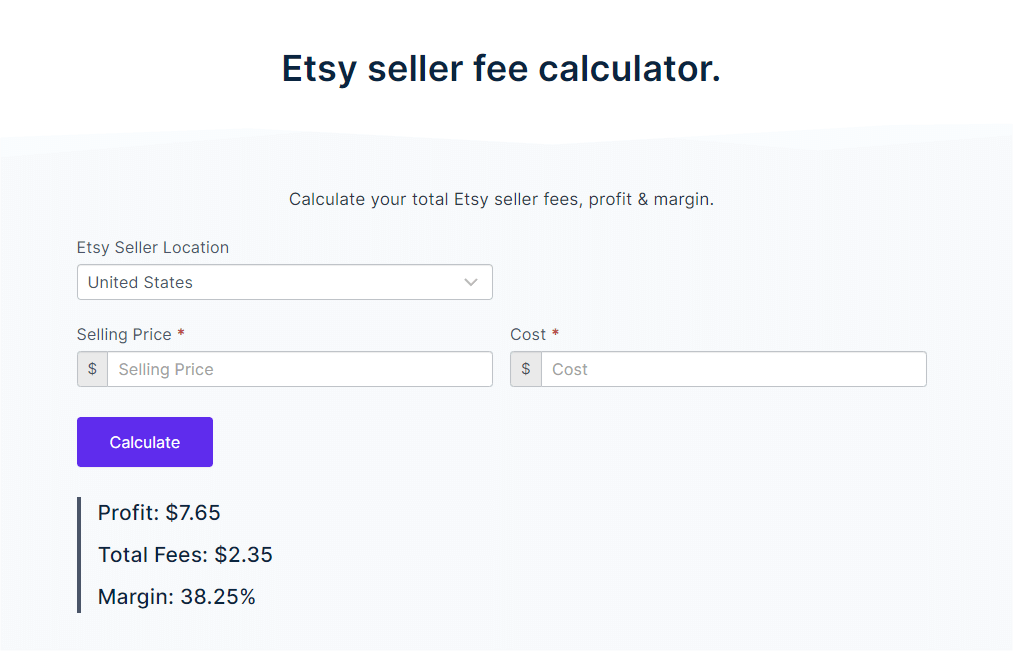 If you thought Etsy's fees were a doozy, navigating eBay's fee structure might initially feel like solving a Rubik's cube.
Instead of charging a flat fee, different fees apply for different product categories. Let's demystify it:
Insertion fee: This is essentially the cost of listing an item. You get 250 free listings monthly, after which fees apply. This ranges from $0.35 for common categories to $20 for commercial and industrial equipment.
Final value fee: eBay takes a percentage of the final sale price once your item sells.
Store subscription fees: Opting for an eBay Store? Monthly fees vary based on your store level: Starter, Basic, Premium, Anchor, or Enterprise.
Optional listing upgrade fees: Want to make your listing stand out with bold text, subtitles, or other features? There are fees for that, too!
Payment processing fees: These fees apply when buyers pay via eBay's managed payment system.
You can check out eBay's fee breakdown here for an accurate idea of fees. You can also consult our guide to eBay seller fees.
5. Trust and safety
Etsy has a warm, community-driven ethos where safety is prioritized. The review and rating system helps shine a light on reputable sellers, giving them a natural boost in visibility. Etsy promotes open communication channels between buyers and sellers, fostering trust through conversation.
And sellers aren't left to fend for themselves in the dark; Etsy's Seller Protection protects against potential fraud, ensuring the community's well-being.
Etsy's Seller Protection policy is designed to support sellers in sticky situations related to certain problematic transactions. Here's an overview of how it works:
1. Eligibility
To be eligible for Etsy's Seller Protection, sellers must meet certain criteria:
The item must be sold through Etsy.com.
Sellers must use Etsy Payments or PayPal as their primary method of payment.
Sellers need to be able to provide evidence of the shipment using tracking data to show that the item was shipped to the address listed on Etsy.
2. Coverage
Etsy's Seller Protection covers sellers against:
Chargebacks (which are disputes initiated by a buyer's credit card issuer).
Cases where a buyer claims they did not receive an item, even when the seller has valid proof of shipping or delivery to the address given by the buyer.
3. Dispute resolution
Etsy encourages sellers to communicate with buyers directly to resolve any potential misunderstandings. This can be done through Etsy's Conversation platform.
If a resolution can't be reached and the transaction meets the Seller Protection criteria, Etsy will help mediate. Sellers must cooperate with Etsy by providing necessary information within the requested time frame.
4. Requirements for proof
Sellers must provide valid proof of shipping. This can be a shipping or tracking number that shows the item was shipped to the provided address.
For items valued above a certain threshold (which may vary by country), sellers might be required to provide signature confirmation as proof of delivery.
5. Limitations
While the policy offers protection, there are instances where sellers might not be covered:
If a transaction is processed outside of Etsy.com.
If the shipment is sent to an address not listed on Etsy.
Transactions are processed using payment methods other than Etsy Payments or PayPal.
Items not delivered in person (e.g., digital items).
Add to the above policy the assurance of encrypted transactions, and you have a platform that takes the safety of its users seriously.
eBay also enforces robust policies and measures to ensure trust. Its iconic feedback system is the heartbeat of its trust infrastructure, where every transaction could impact a seller's or buyer's reputation.
But it's not just about the positives; mishaps are addressed with eBay's Money Back Guarantee. Got an issue? The Resolution Center is your go-to mediator, ensuring fair play.
And for those worried about counterfeit items, the VeRO Program is eBay's knight in shining armor, ensuring the authenticity of products. This stands for "Verified Rights Owner Program" and protects the intellectual property rights of brands and sellers.
For example, say a seller is trying to pass off fake Abercrombie & Fitch gear as authentic. Their listings can be flagged, and eBay will force them to verify authenticity before continuing to sell. Below is an example of the thousands of brands protected by the policy: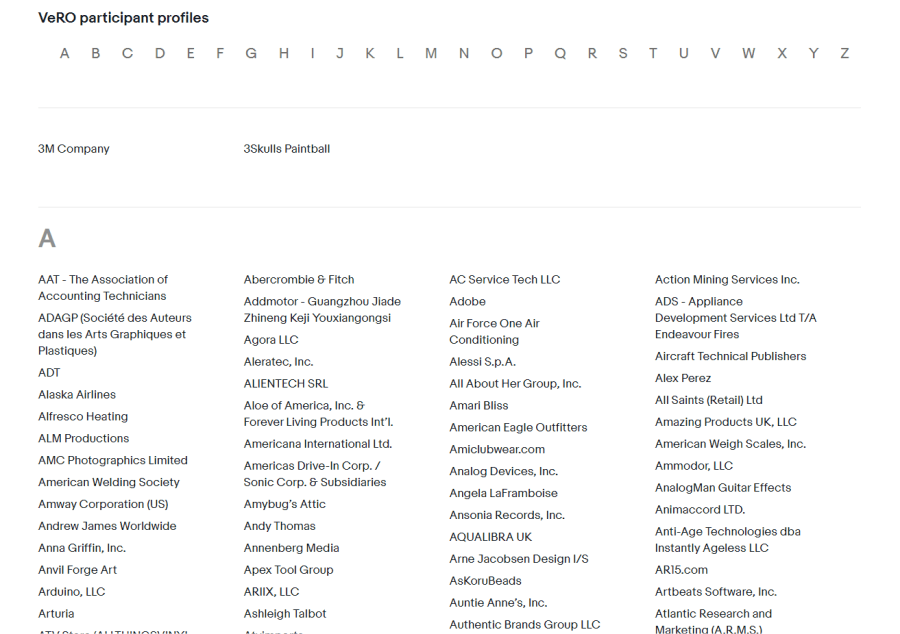 6. Global presence and shipping
Selling on Etsy may feel like browsing through a quaint corner store, but to the contrary, you have access to a global audience. Etsy encourages international selling, allowing artisans to showcase their crafts to buyers worldwide.
The platform provides a detailed playbook on international shipping policies, ensuring sellers are not caught in customs-related red tape. And then there's the hassle of currency exchange.
Etsy simplifies it. With its integrated currency conversion, prices automatically adjust based on where the potential buyer is browsing.
eBay is a sprawling international bazaar. With its Global Shipping Program, sellers can ship to a centralized US shipping center, where eBay takes over, ensuring the product reaches international buyers and handling all customs and international shipping intricacies.
7. Community and support
Etsy is a tight-knit community. Sellers and buyers exchange ideas, share experiences, and seek advice on the platform's dedicated forums.
Beyond this community spirit, Etsy empowers its sellers. Educational resources are abundant, from webinars to articles, all designed to ensure sellers master the art and science of online selling.
eBay, given its massive user base, feels more like a metropolis. But within this vast city, neighborhoods thrive. The community forums and discussion boards are bustling with activity, from troubleshooting technical glitches to sharing selling strategies.
And when things go south? eBay's robust customer service infrastructure, from call centers to online chat support, ensures that issues are addressed promptly.
8. Future prospects and innovations
In the fast-paced world of e-commerce, Etsy isn't just knitting in the corner. The platform continually updates its features, aligning with market trends and seller needs. One of its commendable focuses has been on sustainability.
Etsy is committed to reducing its energy usage by 25% by 2025. This eco-conscious approach isn't just for show; it is reflected in their "Zero Waste" initiatives to promote eco-friendly packaging among sellers and encourage sustainable practices throughout the platform.
eBay isn't resting on its laurels, either. The platform has been dabbling in technological advancements, experimenting with augmented reality features to enhance the shopping experience.
Strategic partnerships and acquisitions complement this tech-forward approach. eBay's keen eye for emerging startups and platforms ensures it remains ahead of the curve, continually evolving to offer better experiences for both buyers and sellers.
Leveraging Etsy and eBay in a multi-channel selling strategy
As an online reseller, putting all your eggs in one basket can be dangerous. Diversifying across multiple platforms is akin to casting a wider net in the vast ocean of online shopping.
Enter the dynamic duo of Etsy and eBay, two giants that, when leveraged together, can elevate a seller's visibility to stratospheric levels.
At its core, multi-channel selling is about amplifying your reach. Think about it: while Etsy caters to a niche audience seeking unique, handcrafted items or vintage treasures, eBay's expansive marketplace appeals to a broader spectrum, from collectors seeking rare finds to everyday shoppers looking for a good deal.
By listing on both platforms, sellers tap into diverse demographics, ensuring their products catch the eye of both the discerning artisanal shopper and the deal-hunting consumer.
But managing listings, inventory, and orders across multiple platforms can get chaotic, right? That's where cross listing tools like Crosslist come to the rescue. These tools act as a bridge between platforms, streamlining the product listing process across multiple channels.
Imagine creating a listing for a vintage pendant. Instead of manually entering details on both Etsy and eBay, a tool like Crosslist allows sellers to create a single listing and push it to both platforms seamlessly.
Beyond just listings, these tools often come equipped with features that synchronize inventory levels, ensuring that when a product sells on one platform, it's updated or removed from the other.
Now, the burning question: Which products or niches are primed for this dual-platform strategy? Handcrafted items, printables, vintage products, or artisanal goods naturally fit the Etsy mold.
But these items can also find a passionate audience on eBay, especially among collectors or those seeking unique gifts.
On the flip side, while eBay is home to a wide array of products, limited-edition items, DIY kits, or craft supplies can be cross-listed to Etsy, targeting the platform's craft-loving audience.
The trick is to identify products with a universal appeal or those that, while niche, have dedicated audiences on both platforms.
Integrating Etsy and eBay into a cohesive multi-channel selling strategy is not just smart – it's transformative. It maximizes visibility, taps into varied consumer bases, and, with tools like Crosslist, ensures the process remains efficient and manageable.
For sellers eyeing growth, leveraging both these platforms can lead to a significant uptick in visibility and sales, making online selling a playground of limitless possibilities.
Final thoughts
Navigating the e-commerce seas requires a reliable compass, and choosing between Etsy and eBay is a pivotal decision.
Both platforms offer unique experiences. While Etsy exudes a sense of community, offering a haven for unique, handcrafted items, eBay's vast, dynamic marketplace caters to a broader range of products and sellers.
Your choice hinges on your goals. Etsy's your ally if you're a craftsman seeking a community vibe. But eBay beckons if you're looking for a broader marketplace with global reach. Looking for the best of both worlds?
Adopt a multi-channel selling strategy if your product can find a place with both platforms' audiences.
Questions or just say hello!
Well, congratulations to you for making it this far! Here's a reward in the form of a 10% discount code on your first month of Crosslist (add during check-out). Sign up now with a 3-day money-back guarantee!
You can learn more about how Crosslist works here.
If you have further questions, feedback, bug reports, or want to know a bit more about us, why not swing by for a chat and say G'day! You can have a chat with us through Messenger.