How To Block A Buyer On eBay To Make Your Merchant Experience Safer

---
As eBay merchants, we love our buyers, right? I mean, we wouldn't exist without them. After all, they are the ones who make it possible for us to earn money from our passion.
But, not all buyers are made equal, and not all transactions are smooth sailing. Sometimes, you may come across buyers who turn the waters choppy–be it with fraudulent activity or repeated cancellations.
In such cases, the best action is to simply block them and move on. Here, we explore when and how to block a buyer on eBay to make your selling experience smoother.
When should you block a buyer on eBay?
Sometimes, certain buyers bring more trouble and stress than they're worth. That's a good sign that maybe it's time to block them. eBay lets you block a maximum of 5000 buyers.
When you block a buyer on eBay, they won't be able to bid on your seller's listings, make you an offer, or buy any of your products. This automatically applies to every single one of your listings. However, they will still be able to see your listings and contact you (more on how to prevent this later).
Here are some good reasons to block a buyer on eBay:
Unpaid invoices for purchases, especially when they are long overdue and you find yourself reminding them constantly
Repeatedly canceling bids, backing out of them at the last minute, or returning the products and asking for a refund
Suspected fraudulent activity
Being abusive towards you
They are a competitor and you want to prevent them from purchasing your products
How to block a buyer on eBay in 4 easy steps
Did you come across a troublesome buyer and decide to block them? All you need to do is get their eBay username or the email ID linked to their eBay account and follow these steps.
Step 1: Log in to your eBay merchant account. Click on the My eBay tab at the top right corner and choose the Selling button from under it.

Step 2: Locate the order associated with the problematic buyer and note down their username.
Step 3: Head to the Blocked Buyers List. There are two ways in which you can reach this page.

Through Account Settings:
a) Click on your name at the top left corner. Select Account Settings from the drop-down menu.

b) Select the Selling Preferences option. Scroll down till you reach the Your Buyers section. Here, you will find the Blocked Buyer List option.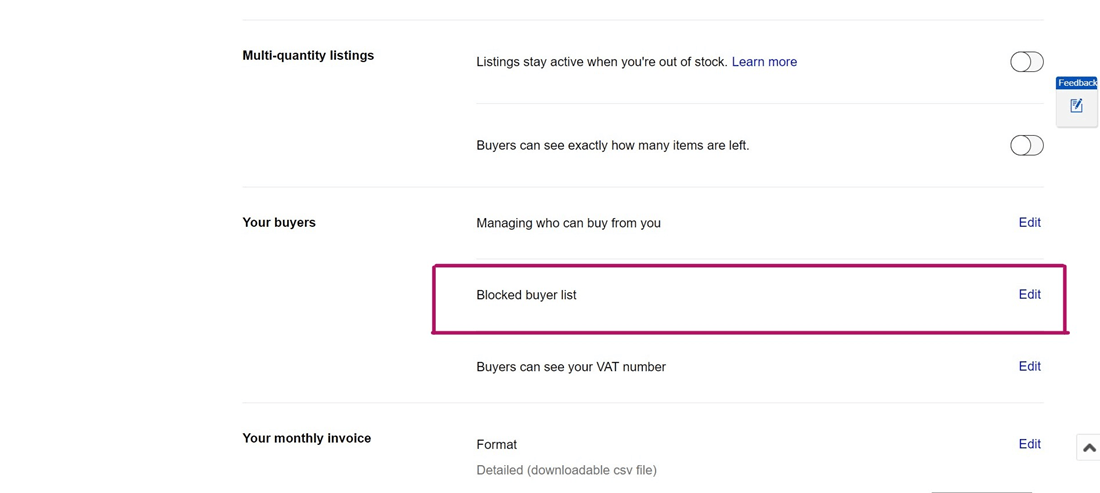 c) Click on Edit and you will be taken to the required page.
Through Help and Contact:
a) Click on the Help and Contact button found at the top left corner.

b) Type the words "block a buyer" on the search bar. The very first search result will have a button called Block a Buyer.
c) Click on that button, and you will be taken to the required page. Here, you will see a text box prompting you to enter the username or email ID of the buyer(s) you want to block.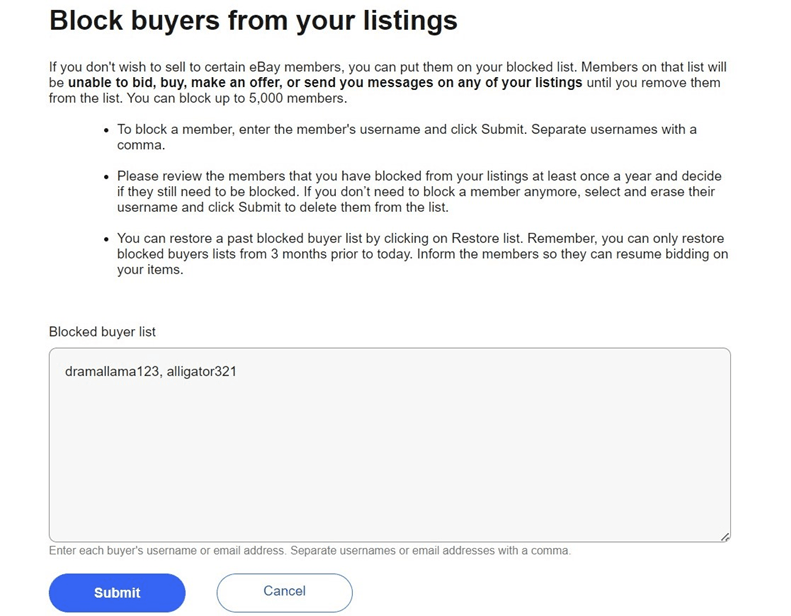 Step 4: Enter the username(s) and click on Submit. If you want to block more than one buyer, separate their usernames with a comma in between.
Aaaaaand that's it! You have successfully blocked those people from bidding on or ordering your items.
Additionally, you can also restore an old blocked buyer's list from up to 3 months before by selecting the Restore List button on top of the text box.
Note: The term "blocked buyers list" is a little bit misleading because eBay allows you to block the accounts of both buyers and sellers.
How to prevent blocked buyers from contacting you
As we mentioned above, blocking a buyer does not prevent them from sending you a message. However, you can block them from contacting you.
Step 1: Go to Account Settings and click on Selling Preferences. Scroll down till you reach the Your Buyers tab.
Step 2: Here, you will see an option called "managing who can buy from you." Click on the Edit button beside it.

Step 3: You will be redirected to the Buyer Management page. Scroll down till you reach the Buyer Requirements section.
Step 4: Check the option that says "don't allow blocked buyers to contact me."

Now, all the people from your blocked list will no longer be able to message you. In fact, they won't even see the "contact seller" button under your product listings.
However, it's worth noting that this communication block extends only to your currently active and future listings. The blocked buyers will still be able to contact you regarding past transactions, if any.
Preemptively blocking a buyer on eBay by setting buyer requirements
Let's say you put up an auction-style listing for some limited-edition printables on eBay.
After an intense bidding war, a single buyer emerges as the winner.. Only for them to back out of completing the purchase at the very last minute.
You go to their eBay account, only to find out that they have a negative feedback score. This indicates that they probably do this kind of thing often.
Or, maybe, the person who won the bid is someone who has a history of purchasing from you and leaving the invoices unpaid. Wouldn't it have been neat if you could have prevented this buyer from bidding on your item in the first place?
It would have saved you a lot of time and energy, especially if you sell on multiple channels.
Luckily, eBay has this wonderful feature where it allows you to set a certain number of criteria for buyers. This means that only buyers who meet all of your requirements will be able to bid/ purchase from you.
This ensures that problematic buyers stay away from your products, making for a smoother and safer eBay merchant experience for you. Let's explore all the different types of buyer requirements available.
To preemptively block a certain group of buyers, head to the Buyer Management page by following the instructions from the previous section.
Scroll down to the Buyer Requirements section, and you will be able to see all the buyer limits that you can set.


As you can see from the screenshots above, you can set buyer requirements and preemptively block buyers:
Who have a history of canceling orders or not paying for purchases. Note that you can only block buyers who have made at least 2 cancellations within a specific time period.
Whose primary delivery address is located in an area you don't ship to. This especially comes in handy if you are a small business that can only ship to certain locations.

To exclude certain regions or PO boxes from your shipping locations, head to Shipping Preferences and select the Exclude Shipping Locations option. Here, you will be able to check off all the locations you don't deliver to.



Who are currently winning or have already bought a certain number of items from you in the last 10 days. This prevents the same person from buying multiple quantities of the same product from you. If you are selling limited edition products and want to limit each buyer to a single quantity or want to prevent others from buying stuff in bulk and reselling, this restriction will help you.
Who have a low feedback score. A person's feedback score reflects their reputation. The higher their score, the more positive their transactions have been. A lower score means several sellers have given them a negative rating.
Who haven't provided a payment method. This prevents buyers who haven't provided a payment method on eBay from bidding on your items or making you an offer, resulting in fewer unpaid orders.
Who have breached eBay policies in the past.
While setting buyer requirements will lead to fewer negative interactions, be careful of setting the bar too high as this can lead to a decrease in sales.
How to unblock or exempt a buyer on eBay
Sometimes, you may want to unblock certain buyers or exempt them from the buyer requirements you have set. Maybe you blocked them by mistake, maybe their feedback score improved tremendously, or maybe they are no longer active on eBay.
To unblock someone, simply head to the Blocked Buyers List and remove their username from the text box and click on Submit. This should do the trick, and the unblocked buyer(s) will be able to bid on your items, order from you, send you an offer, or contact you once again.
To exempt someone from the buyer requirements you have set, head to the Buyer Management page and scroll down to the subsection titled Buyer Exemption List. Don't forget to note down their username first!

Click on Manage Buyer Exemption List and type their username(s) in the text box.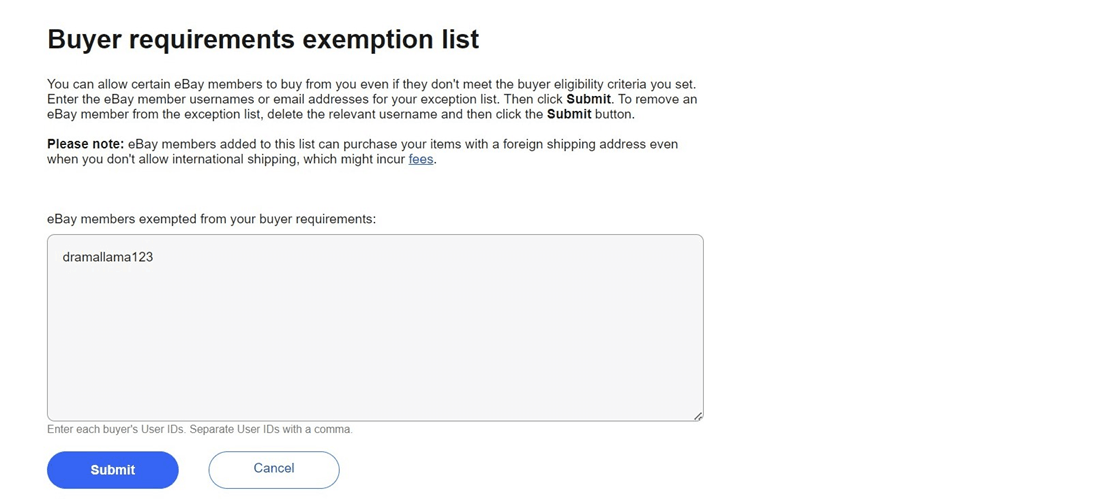 Once you click Submit, these buyer(s) will be able to purchase from you even if they don't meet the buyer requirement criteria.
For instance, let's say you have Alaska and Hawaii on your list of excluded shipping locations. Now, if you exempt a buyer whose primary delivery address is located in Alaska, they will still be able to purchase your items.
Note that you might incur a higher shipping fee because of this.
How to avoid blocking buyers on eBay
Blocking each and every buyer you have a negative interaction with can be frustrating. Not to mention, bad for your business.
So, instead of heading straight to the block option, here are some alternatives you can try to reduce scams, frauds, and unwanted situations in general.
1. Set up buyer requirements
As we discussed above, setting some standards for buyers to meet is a good idea if you don't want to use the block function generously.
This will save you a lot of time and energy by automatically blocking buyers with a history of cancellations from purchasing your items.
2. Report the buyer
eBay takes all reports very seriously, so if a buyer is giving you too much trouble, it might be worth reporting them instead of just blocking them.
Reporting a problematic buyer also has the bonus option of protecting other sellers from them.
Once you file a report about a buyer, eBay starts monitoring their account. If an account receives multiple reports, eBay will restrict them, meaning they won't be able to buy or sell anything via the platform.
Here's when you can report a buyer:
They are sending you unwanted messages frequently without buying anything
They are using abusive language towards you
They asked you to complete a transaction off of eBay
Their invoices are long overdue
They keep bidding and then retracting their bids
They are abusing the eBay money-back guarantee by damaging the item after receiving it and demanding a refund
They are demanding extra items that were not part of the original listing
Here's how you can report a buyer:
Step 1: Click on the My eBay tab in the top right corner. Select the Selling button from the drop-down menu.

Step 2: Select the Sold button from the left side. You will be taken to an overview of all your sold items.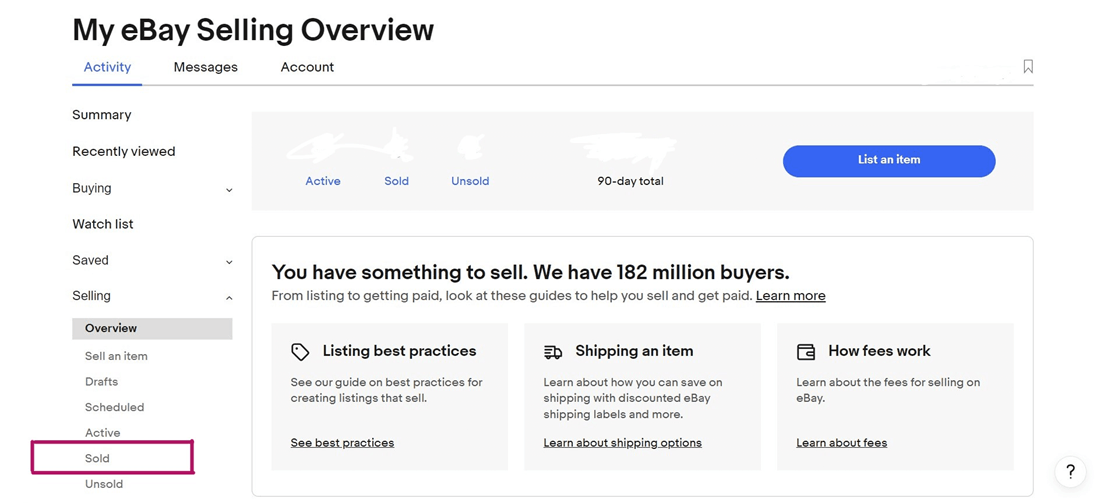 Step 3: Select the concerned order. From the drop-down menu, choose Leave Feedback. Now, select Report Buyer, and you're done!
3. Get help from the resolution center
If you fall victim to a scam or an unpaid order, or if a buyer is harassing you after a purchase, it's probably time for eBay to step in and handle this for you.
Head to the eBay Resolution Center and open a request for the cancellation of an unpaid sale.

You can also choose to contact customer service and speak with an agent about your query directly. Go to Help and Contact and scroll to the bottom of the page. You will see the option to contact eBay.
4. Correct your eBay transaction defects
If a buyer leaves unwarranted negative feedback, eBay will remove it for you within 72 hours as long as you can provide proof.
eBay defines a transaction defect as something that's out of the seller's control. Here are some of the things it includes:
When a buyer doesn't pay for a purchase and later claims that they never received the item
A transaction defect took place due to a glitch/ error on eBay's website
The buyer is abusive towards you
The shipment was damaged in transit
eBay instructs you to hold a shipment or cancel a transaction
Make your eBay experience safer
Sometimes, certain buyers bring a truckload of trouble, turning your eBay selling experience into a headache. If you have no other way of resolving the issue, go ahead and block them.
But, always keep an eye on your activity log to ensure that you aren't losing out on sales by blocking too many people over minor inconveniences. Find a balance that works for you without hurting your pocket.
Questions or just say hello!
Well, congratulations to you for making it this far! Here's a reward in the form of a 10% discount code on your first month of Crosslist (add during check-out). Sign up now with a 3-day money-back guarantee!
You can learn more about how Crosslist works here.
If you have further questions, feedback, bug reports, or want to know a bit more about us, why not swing by for a chat and say G'day! You can have a chat with us through Messenger.