Features And Benefits Of Selling On Facebook Marketplace

---
Selling on Facebook Marketplace is an easy and effective way to reach a larger audience and increase your sales. According to Facebook, 1 in 3 adults in the USA use Facebook Marketplace to purchase goods monthly.
This number is expected to grow in coming years as eCommerce and the resale market continue to grow. If you want to make money online or expand your reach by tapping into a new audience, learning how to sell on Facebook Marketplace can be an excellent option.
This guide will teach you everything you need to know about selling on Facebook Marketplace in 2023: from setting up your shop, marketing your products, and optimizing your listings for success to the best products to sell. So, get ready; let's learn how to sell on Facebook Marketplace!
What is Facebook Marketplace?
Facebook Marketplace is a feature on the Facebook app that lets users buy and sell items with other users in their local community.
Users can browse through listings, search for specific items, and message the seller to ask questions or make an offer.
When it was first introduced in 2016, only individuals could use the platform to sell used items. But thankfully, Facebook saw the need for businesses to also use Marketplace to sell their goods and services, so it opened up the platform to businesses too.
Since then, Facebook Marketplace has exploded, with millions of listings uploaded daily.
You'll notice below that in June 2020, Bizrate Insights found that over 18% of adults had bought something off of Facebook Marketplace.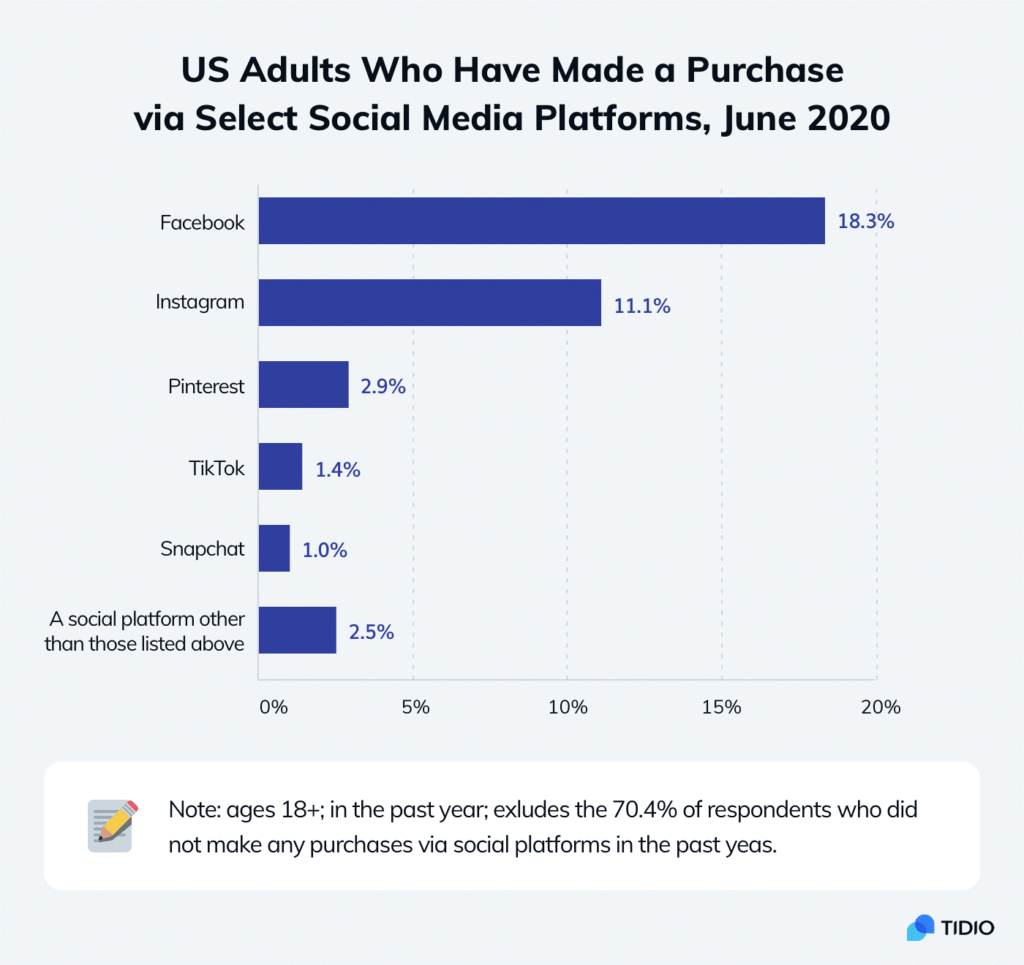 Sellers can create a listing by taking a photo of the item they want to sell, adding a description, and setting a price. They can also include their location, contact information, and shipping details. Once a listing is created, it will appear in the Marketplace section of the Facebook app for other users to see.
Buyers can message sellers directly from a listing to ask questions or make an offer. If both parties agree on a price, the buyer can arrange payment and pick-up or delivery with the seller.
Facebook does not facilitate transactions between buyers and sellers but does provide some tools to help ensure a safe and smooth transaction process.
Who should sell on Facebook Marketplace?
If you're looking at how to sell on Facebook Marketplace, there are a few things you should know. First and foremost, anyone can sell on Marketplace. Whether you're an individual who wants to declutter your home or a small business owner, you can list items for sale on Marketplace.
There are a few things to keep in mind when deciding whether or not to sell items on Facebook Marketplace:
Consider your audience
If you're selling products that would appeal to a wider audience, such as home decor or clothing, then Marketplace is a great option. However, if you're selling niche products that wouldn't interest the average Facebook user, another platform might be a better fit.
Commit time and resources
Another thing to consider is whether or not you have the time and resources to commit to selling on Marketplace.
You'll need to invest time in creating listings and shipping products to customers. If you're not sure you can commit the time and resources necessary to sell successfully on Marketplace, then it might not be the right platform.
Think of your goals
Finally, think about your goals for selling on Marketplace. Are you looking to make some extra cash? Or are you hoping to build a sustainable business?
Facebook Marketplace is very easy to use, so if you're looking to make a quick buck, it offers a lower entry barrier than other marketplaces, such as Poshmark or Etsy.
However, if you want to build a business, you'll need to put in more work to make sure your listings stand out from the others. For those sellers, using Facebook Marketplace may require more effort than using other marketplaces.
If done right though, it could be a great springboard to success for you!
What can you sell on Facebook Marketplace?
Facebook Marketplace is great for selling items you no longer need or want. You can sell just about anything on Facebook Marketplace as long as it isn't illegal or restricted by Facebook's terms of service.
If you're not sure what to sell on Facebook Marketplace, consider these popular items:
Clothes
Furniture
Electronics
Household items
Toys
Vehicles
Real estate
Pet products
Food products
Services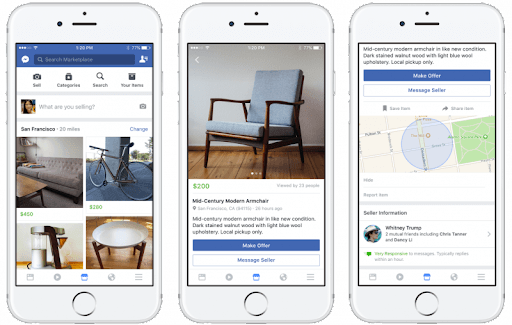 Basically, you can sell ANYTHING on Facebook Marketplace other than banned and illegal items like weapons, drugs, medical devices and medications, animals, or adult products.
Benefits of selling on Facebook Marketplace
When it comes to selling items online, there are few platforms as popular – or as easy to use – as Facebook Marketplace.

With over 2.9 billion active users, Facebook is the perfect place to reach a large audience of potential buyers. And since Facebook Marketplace is integrated into the main Facebook app, it's easy to list and manage your items for sale.

Best of all, listing items on Facebook Marketplace is free. So, if you're looking for an affordable way to reach a vast audience of buyers, Facebook Marketplace is hard to beat.

Here are some of the top benefits of selling on Facebook Marketplace:
Reach a huge audience
With over 2.9 billion active users, Facebook offers one of the largest audiences for online sellers.
Easy to use
Listing items on Facebook Marketplace is quick and easy and can be done directly from your phone. Messages will pop up in a separate Marketplace inbox in your Facebook Messenger app, making it easy to manage conversations regarding your listings.
Low fees
Facebook Marketplace charges the seller a 5% fee if you're selling something for more than $8. For everything below $8, the fee is $0.40. You can use our Facebook Marketplace fee calculator to calculate your total fees, profit, and margin.
Compared to other selling platforms such as eBay, Mercari, or Poshmark, the 5% fee is very attractive.
Boost your visibility
When you list an item on Marketplace, it also appears in people's News Feed if it is related to similar items they've been searching for – giving your listing even more exposure to potential buyers.
Target a local audience
Facebook Marketplace makes it easy to target local buyers searching for items close to their community. Many buyers don't want to travel far to collect a purchase or need an item immediately, so being visible on their radar can help you win more local business.
Best features of Facebook Marketplace
Facebook Marketplace is a great way to sell items and services online. It offers a convenient, user-friendly platform for buyers and sellers to connect.
Here are some of the best features of Facebook Marketplace:
You can list your products and services for free, and there is generally no fee after a successful sale.
Facebook Marketplace is available to anyone with a Facebook account in almost every country.
Buyers and sellers can communicate with each other directly through the Messenger app in a separate Marketplace inbox.
Buyers can search for specific items or services using the search bar within a particular radius.
Buyers can filter results by location, price, category, or keywords.
Buyers can browse through featured listings or recent listings.
You can share listings with your friends, family members and in Facebook groups.
As a business, you can pay for a sponsored post that appears on the Facebook Marketplace results page, which buyers can click on to head to your website. For example, let's say you sell bedroom furniture, and someone is searching for an upholstered headboard. If you pay for PPC ads, your product or ad could come up in the search results and end up in the buyer selecting to purchase from you.
Top selling categories on Facebook Marketplace
Facebook Marketplace is a great way to sell products and services online. There are many different categories that you can choose from, but some categories are more popular than others.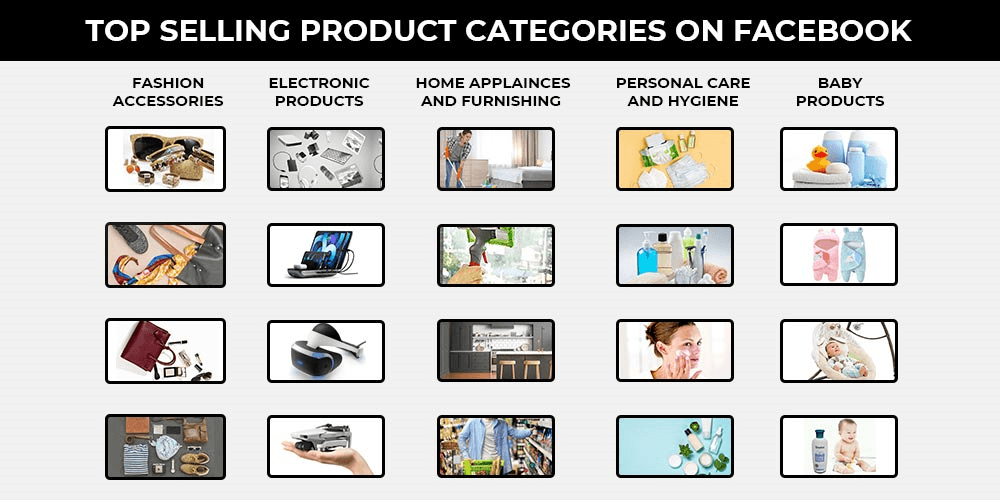 Here are the top-selling categories on Facebook Marketplace:
Clothing and accessories
This is one of the most popular categories on Facebook Marketplace. People love to buy and sell clothes, shoes, and accessories on the platform.
Home and garden
Home and garden products are also very popular on Facebook Marketplace. You can find everything from furniture to appliances to gardening tools being sold in this category.
Electronics
Electronics are another hot commodity on Facebook Marketplace. You can find everything from phones to laptops to gaming consoles being sold in this category.
Vehicles
Cars, trucks, motorcycles, RVs, boats, etc., are all popular items in the vehicles category on Facebook Marketplace.
This makes Facebook Marketplace stand out from other multi-niche players such as Mercari, where you really can't sell cars due to its price limit of 2.000 USD.
Services
Services are also a big seller on Facebook Marketplace. If you offer a service, such as home cleaning or pet sitting, you can list it in this category and reach a wide audience of potential customers.
Cleaning products
Bulk or discounted cleaning products are a top-seller on Facebook Marketplace.
Baby products
Discounted or preloved baby products are very popular on Facebook Marketplace as many parents don't want to spend a fortune on items their babies will only use for a couple of weeks or months.
Further reading: 28 Profitable Etsy Shop Ideas
How to sell on Facebook Marketplace: step-by-step approach
First, you need to create a seller's account on Facebook. To do this, go to the Marketplace section of Facebook and click on the "Sell Something" button.
Next, you need to add your product listings. You will need to add photos, a description, and a price for each listing. You can also add shipping information if you are willing to ship your products. Once your listings are live, start promoting them to your audience.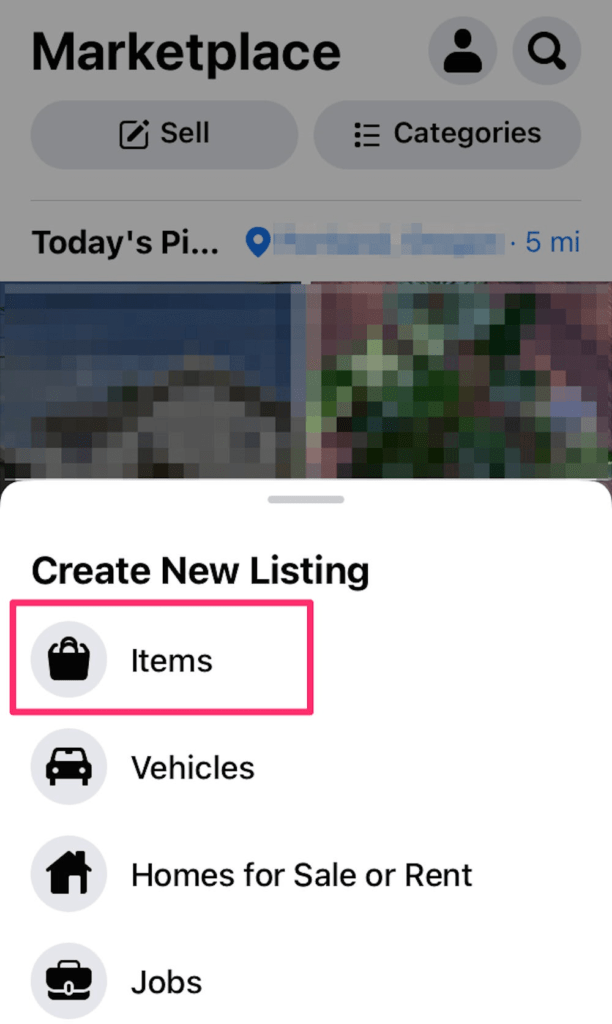 Selling successfully on Facebook Marketplace requires some research and planning.
Here are some tips to help you get started:
Develop a strategy
It's essential to have an overall plan for how you will approach selling on the platform.
Research your target audience, determine what type of product or services you want to offer, decide which pricing model works best for your business, and set goals for yourself so that you can track your progress over time.
Promote your listings
Posting regular updates about new listings is one of the most effective ways to promote sales on Facebook Marketplace – this helps keep people informed about what's available from your store and encourages them to check it out!
Additionally, consider using paid advertising options such as ads in newsfeeds or sponsored posts if the budget allows it; these strategies will enable you to target specific audiences more accurately than organic postings alone would be able to do.
Respond promptly and professionally
When customers inquire about a listing or place an order through Facebook Marketplace, make sure you respond quickly and professionally with helpful information regarding the item(s).
This shows customers that their concerns are taken seriously by giving them timely responses while maintaining a positive relationship between seller and buyer – vital in ensuring customer loyalty moving forward.
Monitor performance
Finally, use analytics tools provided by Facebook Marketplace (or third-party solutions) to monitor performance across different channels – this way, you'll be able to track which methods are working best for reaching potential buyers/customers, optimize campaigns accordingly based off insights gained from data collected over time (e.g., adjust target audiences), and measure success against established goals.
You can share them on your personal Facebook profile or in relevant Facebook groups.
Fulfill orders timeously
Whether you're shipping orders out or meeting up with the buyer, it is best to try to arrange a prompt collection or send off the item as soon as possible.
Regardless, package the item neatly because it leaves a good impression on the buyer when they receive a tidy and attractive package. They will also be more likely to give you a good rating and review.
Set up your shop policy
Setting up a Facebook Marketplace shop policy is vital because it helps you clearly communicate expectations to potential buyers.
Having a shop policy in place establishes trust with customers and can help ensure smoother transactions.
A shop policy should cover accepted payment methods, shipping policies, return/exchange procedures, customer service contact information, and more.
By setting clear expectations upfront, buyers will know what to expect when they purchase from your store and can make informed decisions about their purchases.
Use a heatmap
Setting up a Facebook Marketplace heatmap for Facebook ads can be beneficial because it provides an effective way to measure and analyze the performance of your ad campaigns.
By analyzing the data from your heatmap, you will be able to determine which posts buyers are responding well to, as well as identify areas that need more attention or improvement.
Additionally, this analysis can help you adjust your targeting strategies and maximize the return on investment from each ad campaign.
How to optimize your Facebook Marketplace listings
Optimizing your Facebook Marketplace listings is incredibly important to ensure that you are maximizing the exposure of your products and/or services.
By optimizing your listings, you can make them easier to find by potential customers who are searching for relevant items.
Additionally, optimized listings will feature more prominently in searches, helping increase their visibility and potentially drive more sales or inquiries.
Optimizing also allows for specific keywords to be included in the listing titles and descriptions which can help direct people directly to what they're looking for – this is especially helpful if a customer knows exactly what item or service they need.
As such, optimization of Facebook Marketplace listings should not be overlooked as it has tangible benefits that could help increase engagement with your products or services.
Here are some tips for optimizing your listings:
Use descriptive titles and descriptions
Ensure that you include as much detail about the product or service as possible in your title and description. This will help potential customers find what they're looking for quickly, increasing the chances of them clicking on your ad.
Add high-quality images
Include multiple images with each listing, so potential buyers can get a real sense of what they're purchasing before deciding to buy it from you.
Make sure all photos are clear and well-lit, and show off the item from different angles if possible since this will help create trust and confidence in buyers who may not have seen the product before.
Include key info like price, condition, and location
Providing information such as price (including whether it's negotiable), condition of item/service being offered (new/used), place of delivery/pick-up, etc., is essential for getting someone interested enough to click on your ad or inquiring further about it, so make sure these details are included in every listing!
Including measurements can also be helpful, as most people will ask about the dimensions. To avoid replying to multiple messages with measurements, simply add them from the get-go.
Utilize categories and tags
Take advantage of Facebook's categorization feature by selecting relevant topics that describe the type of item or service you're selling and its features (e.g., color, size).
Doing so makes it easier for customers searching within those categories to find what they need quickly without having to wade through lots of irrelevant results first and thus increases their likelihood of buying from you over another seller who hasn't taken this step into account yet.
Boost posts when needed
You can also boost posts with targeted ads across Facebook's network when necessary to ensure maximum reach among users who might be interested in buying whatever goods or services you're offering.
This is especially useful if there isn't already a lot of organic engagement occurring around particular products, for example, due to seasonal trends or diminished interest levels.
How to stay safe selling on Facebook Marketplace
When selling items on Facebook Marketplace, there are a few crucial steps to stay safe. There are common scams that tend to take place in online selling platforms, some of which include the following: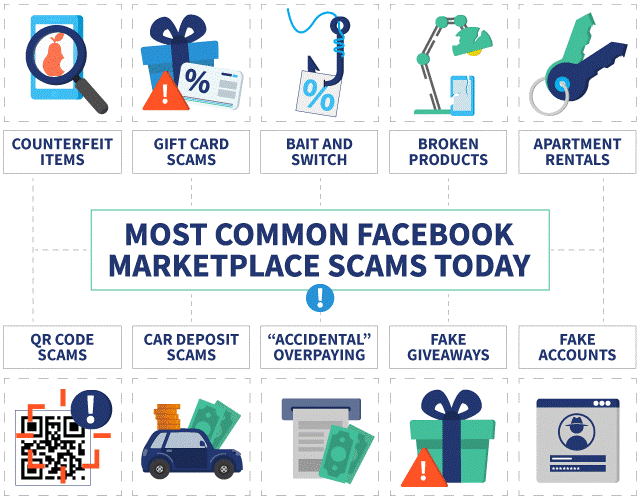 Don't meet strangers alone
When meeting up with potential buyers, bring a friend or family member along for safety reasons. Avoid going into someone else's home, and never invite them into yours.
Also, make sure you always meet in a public area where lots of people are around for extra security measures.
Vet potential buyers
Get as much information about the buyer as possible before agreeing to sell an item. Ask for their full name and contact number so you can research them online if needed (e.g., do they have any negative reviews from other sellers?).
If the buyer is reluctant to provide this information, it may not be worth proceeding with the transaction.
Take payment securely
Use secure payment methods such as PayPal, Venmo, or Zelle that offer some form of protection against fraud and theft if something should go wrong during the transaction process (i.e., refunds) or request cash on delivery.
Never ship an item off or hand an item over until you have received payment from the buyer.
Follow-up after-sale
Make sure you follow up with your customers after completing their purchases by sending them tracking numbers/confirmation emails and asking if they were happy with their purchase – this will help prevent any future issues arising due to miscommunication/misrepresentation of products sold etc.
Additionally, keep all receipts/proofs of purchase, such as screenshots, just in case something does happen down the line requiring legal action from either party involved in the transaction – this way, you won't be left out of pocket.
Report suspicious activity
As soon as anything looks suspicious or makes you feel uncomfortable while selling on Facebook Marketplace (such as requests for personal info or someone trying to buy products without paying first), report it immediately by calling your local law enforcement.
Use cross listing app to list quickly on Facebook Marketplace
If you're a seller who already has inventory on other marketplaces, you should definitely contemplate cross listing your inventory on Facebook Marketplace.
Sounds great, but you're probably already rolling your eyes at how long that's going to take you. Listing on more than one marketplace is a time-consuming process!
Enter Crosslist, a multi-channel listing tool that allows you to easily transfer inventory between marketplaces: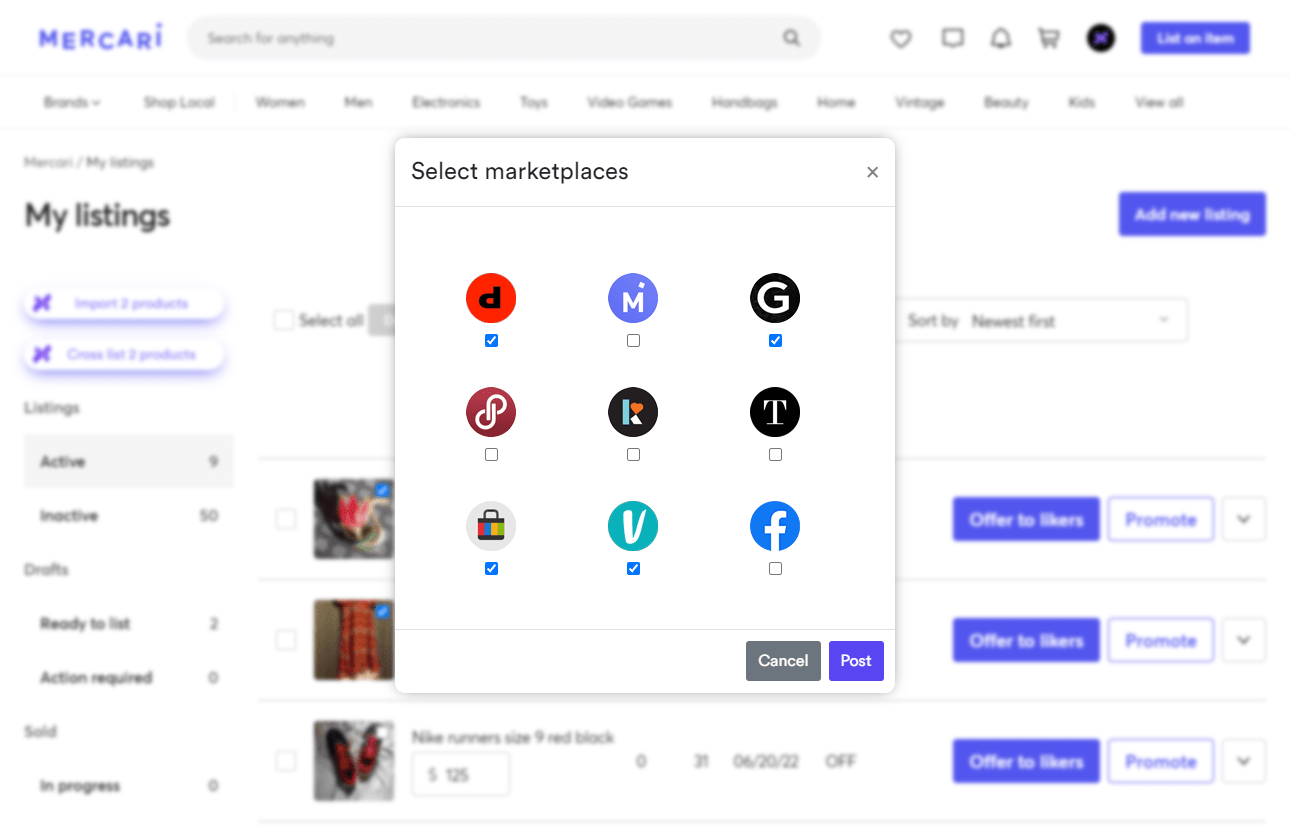 With Crosslist, you can have your inventory listed on Facebook Marketplace in a matter of minutes!
Check out our website to learn more about how Crosslist works and which marketplaces are supported.
Final takeaway
To conclude, selling on Facebook Marketplace in 2023 is an excellent way to reach a wide variety of potential customers.
With the right strategies and tactics, you can easily create listings that will attract buyers not only from your local community but from around the world.
You'll also be able to take advantage of new features like product recommendations and shopping cart integration.
By tailoring your approach to each customer's needs, you'll be sure to make a successful sale.
Ultimately, selling on Facebook Marketplace in 2023 is a great way for any business or individual seller to maximize their profits while reaching out to a huge audience.
Questions or just say hello!
Well, congratulations to you for making it this far! Here's a reward in the form of a 10% discount code on your first month of Crosslist (add during check-out). Sign up now with a 3-day money-back guarantee!
You can learn more about how Crosslist works here.
If you have further questions, feedback, bug reports, or want to know a bit more about us, why not swing by for a chat and say G'day! You can have a chat with us through Messenger.