Etsy Review: What are Etsy Fees for Sellers in 2023?

---
If you're an Etsy seller, you know that understanding the fees associated with selling on Etsy can be tricky and time-consuming. With so many variables, such as payment processing fees, listing fees, and even sales taxes, it can be hard to keep track of them all, especially as a newbie.
Fortunately, understanding these fees doesn't have to be a daunting task. We aim to provide an overview of Etsy fees for sellers in 2023 and what you should know before selling on this global marketplace. We'll also take a look at Etsy reviews from other sellers to get their insights into the process and how they managed the various expenses associated with selling on the platform.
Pro tip: use our Etsy fee calculator to calculate your total Etsy seller fees, profit & margin!
What is Etsy?
Etsy is an online marketplace where individuals can buy and sell handmade or vintage items and art and craft supplies. Etsy was founded by Rob Kalin, Chris Maguire, Jared Tarbell, and Haim Schoppik in 2005. It has since become one of the most popular eCommerce websites for crafters, artists, designers, and collectors to showcase their creations and find new buyers.
Etsy offers diverse products ranging from jewelry to furniture, clothing, and toys, all with a unique twist that you won't usually find at mainstream retailers. Many sellers offer custom orders through which customers can have pieces uniquely crafted just for them. You can also search by location to support local crafters when shopping on Etsy.
Sellers create their shop fronts on the website, listing their product offerings with detailed descriptions, clear pricing information, and attention-grabbing images, so customers know what they're getting before making a purchase decision. Sellers are responsible for shipping items directly to buyers, who place orders and pay via credit card or PayPal through Etsy's secure checkout system.
Buyers can then track the status of their order in real-time and, upon successful delivery, can leave feedback for the seller – this helps other shoppers decide whether they want to make similar purchases from the same seller in the future.
By the end of 2021, there were over 96 million active buyers on Etsy and more than 7.5 million sellers worldwide. The astounding stats show just how successful this creative platform has become since its inception eighteen years ago.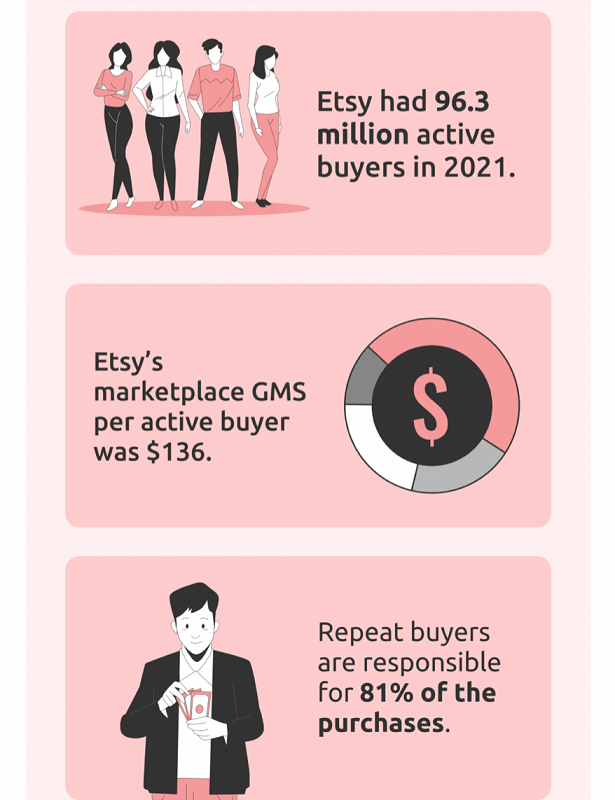 How much does it cost to sell on Etsy?
If you're a brand-new Etsy seller, hit pause and read our guide on how to sell on Etsy first to give you the best possible start. Ok, back to business. Online marketplaces charge sellers a fee to cover the costs of running and maintaining an online marketplace.
These fees typically include credit card processing, site hosting, customer service support, advertising, technology updates, and security measures.
What are Etsy Fees for sellers?
As an Etsy seller, you are responsible for paying several fees to keep your shop up and running. These include listing fees, transaction fees, and payment processing fees. Failure to keep up to date with your fees can result in the suspension and deactivation of your Etsy account.
Now, compared to other online marketplaces, Etsy's fees are pretty high, especially for sellers who sell lower-priced items or sell outside of the USA. Below is a table with an overview of the associated fees, but we'll go more in-depth, so you have a thorough understanding of what you're in for.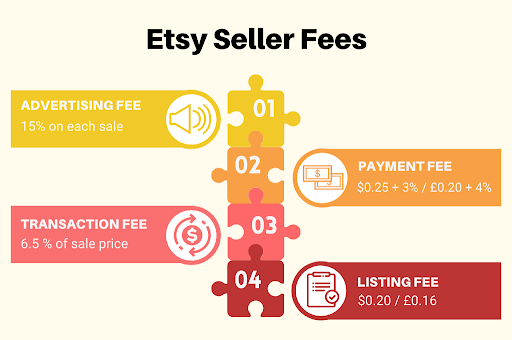 Listing fees
Every time you list an item for sale on Etsy, you will be charged a $0.20 listing fee. This fee is non-refundable, even if your item doesn't sell. Say you have 20 tubes of toothpaste in stock and upload your listing for the first time. You will be charged $0.20 initially and an additional $0.20 for every tube of toothpaste sold.
Transaction fees
Whenever you make a sale on Etsy, you will be charged a 6.5% transaction fee. This fee is calculated based on the total cost of the sale, including shipping, gift wrapping, and taxes.
Payment processing fees
Etsy uses third-party payment processors to handle all of its Etsy Payments transactions. For US sellers, Etsy charges a flat 3% payment processing fee per order plus $0.25. For sellers in other countries, Etsy charges varying rates depending on which country you are selling from.
You can use our Etsy fee calculator to calculate these fees for you!
Offsite ad fees
Etsy Offsite Ad Fees are an additional, compulsory cost incurred due to Etsy running active advertising campaigns on external websites such as Google Ads or Facebook Ads. Etsy charges a fee for each click-through within a 30-day window that directs customers to an Etsy shop. Etsy has promised sellers this will bring more visibility to their shops in exchange for a 15% fee on a successful sale.
Subscription fees
Etsy Plus Subscription Fees are a great way to get more out of your Etsy experience, with access to exclusive features and benefits that can help boost the visibility of your store and make managing it easier. These include advanced shop customization tools, shipping discounts with major carriers, detailed analytics for tracking sales performance, priority customer support from Etsy experts, and much more.
The monthly subscription fee is only $10, so it is worth looking into if you're serious about having a successful online business on Etsy.
Do sellers outside the USA pay higher fees?
Yes, sellers outside of the USA sometimes pay higher fees on Etsy. For example, Etsy charges an extra 2.5% currency conversion fee and VAT taxes (for EU countries) for any transactions made in currencies other than USD by non-US sellers.
Look at the table below for an example of how these variable costs can impact your profits.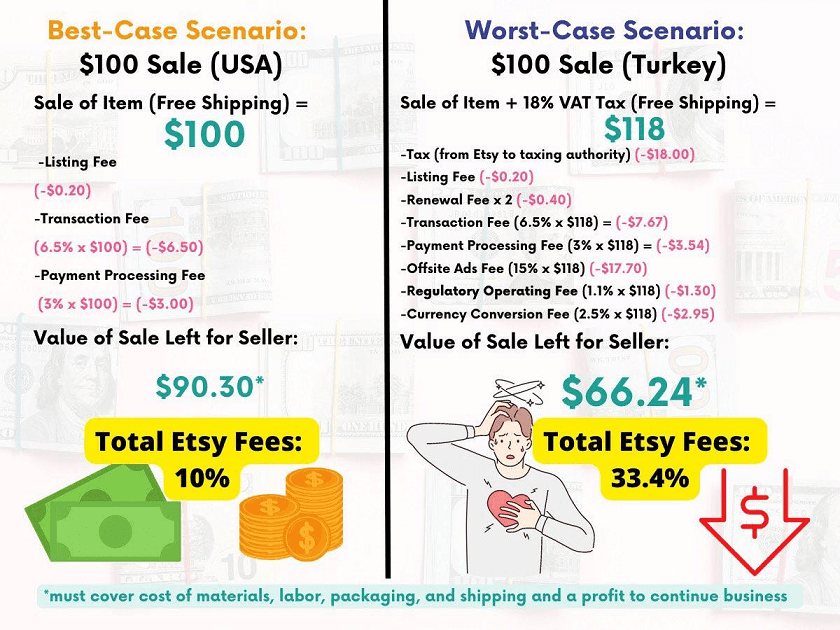 How to save on Etsy seller fees
1. Adjust your shipping costs
One of the most effective ways to reduce your Etsy fees as a seller is to adjust your shipping costs. For example, you can offer free shipping on certain items and combine multiple orders from a single customer into one shipment whenever possible. This allows you to spread the cost of shipping across all your sales, reducing the amount you have to pay in fees for each item sold.
You can also shop around for the most competitive rates from local carriers.
2. Up your prices
Increasing your selling prices on Etsy can help you maximize profits and reach your financial goals. Fetching higher prices can help you increase your profit margin for each sale, allowing more money to be reinvested back into your business.
Additionally, increasing prices will enable you to keep up with inflation and ensure that you don't end up running your business at a loss. Raising prices also helps differentiate yourself from competitors who might offer similar, inferior products at lower rates, so don't be afraid to demand top-dollar for your high-quality products.
Below is a little cheat sheet on how to hit the sweet spot with your pricing.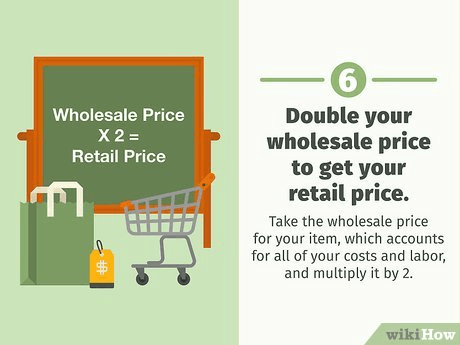 3. Run your own offsite ads
While you can't currently opt out of offsite ads, you can choose to avoid running native Etsy ads.
Instead, run your own ad campaigns on Google, Facebook, Instagram, and Pinterest. While Etsy's built-in ads give you no control over ad targeting, platforms like Facebook allow you to target specific audiences based on interests or past interactions, which can help you achieve better results in terms of conversions.
4. Turn off auto-renew
Etsy auto-renews listings after four months, but you can opt to manually renew listings after four months in case your product sits and never sells. For seasonal products, such as Christmas decorations, it makes sense to set these to manually renew as you won't need them to be live on your storefront all year round.
5. Slash production costs
Finding ways to cut your production costs on Etsy can save you money in two ways.
Firstly, it will help keep the prices of your products competitive and attractive to customers. Secondly, it will increase your profit margins to maximize profits from each sale. Reducing production costs may involve looking at more cost-effective suppliers or materials, streamlining processes, increasing efficiency within your business operations, or other measures depending on what type of goods you produce.
Is Etsy safe?
Etsy has grown from strength to strength since its inception, attracting buyers and sellers from all corners of the globe. Despite its growth trajectory, some users have expressed concerns about its safety.
Etsy does not release detailed information about its security measures, but it does say that it uses standard Internet security practices such as encryption and firewalls. It also encourages sellers to use strong passwords and to take steps to protect their accounts.
Some users have reported fraudulent activity on Etsy, such as unauthorized charges or fake listings. In response to these reports, Etsy has improved its fraud detection and prevention measures. It is important to note that Etsy takes fraud complaints very seriously and investigates all reports.
Common Etsy scams
Unfortunately, like any other online shopping platform, Etsy also has its share of scams. Here are some common Etsy scams to watch out for:
1. Fake sellers
Scammer sellers often advertise extravagant discounts on their products to lure buyers into making a purchase, only to never ship the items or use stolen payment information. If you come across a product that appears to be discounted more than the usual rate, double-check with the seller before purchasing it.
2. Phishing emails
Some scammers send emails pretending to be from Etsy, asking customers for personal information such as credit card numbers or passwords. If you receive an email asking for this type of information, do not respond and report it immediately.
3. Counterfeit goods
There have been reports of counterfeit goods being sold on Etsy by fraudulent sellers, which can be difficult for buyers to distinguish from authentic items by pictures alone. It becomes apparent after delivery that the item is fake or does not meet the quality standards promised by the seller's advertisement/description of the item.
Be sure to read customer reviews carefully before making any purchases. Contact the seller with questions about authenticity or quality before buying anything expensive from them.
4. False shipping information
To avoid falling victim to this scam, always check shipping policies before committing to buying something to know the expected delivery date and estimated costs before submitting payment for your order.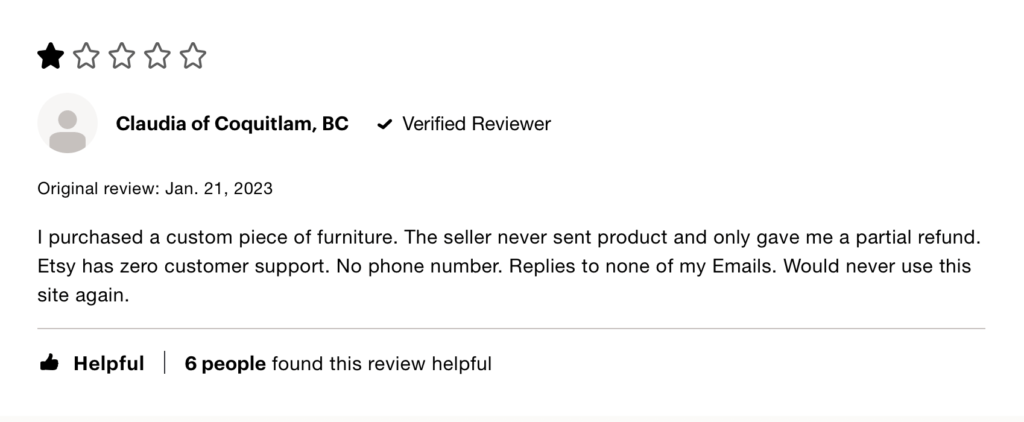 Overall, Etsy appears to be a safe place to buy and sell items. However, as with any online marketplace, there is always some risk of fraud or scams. Buyers and sellers should exercise caution when dealing with strangers and be sure to report any suspicious activity to Etsy.
Is selling on Etsy worth it in 2023?
In 2023, Etsy will continue to be a popular marketplace for selling handmade, vintage, and craft items. The company has plans to improve the platform to make it even easier for buyers to find the products they are looking for and to make it more convenient for sellers to manage their shops.
Whether Etsy fees will remain the same in 2023 remains to be seen, but for now, the fees laid out above are everything you can expect to pay as an Etsy Seller in 2023.
What Etsy sellers are saying
It can give you a good understanding of what it's like to sell on a platform by reading reviews from other sellers. We searched the web for recent comments by current sellers to help us build a clear picture of sellers' biggest pain points regarding the new fee structure.
"I joined and worked with Etsy when they first started. I have sold on this site for many years. The latest changes they have made have destroyed a seller's chance to make sales. The Star Rating System penalizes a seller and prevents the store's items from reaching the search engines. Added to this is the fact they force the seller to participate in the off-site ads at an outrageous price, and the site is now one of the worst to consider as a profitable selling venue. Plus, Etsy has allowed mass-produced items on the site basically forcing the Handmade Artists off the site. The last few months have also introduced a wave of buyers that seek out shops just to ding the stars, and Etsy refuses to stand behind a Seller no matter what. New sellers may want to reconsider using this site."
We noticed a common theme that many sellers are frustrated by the Star Rating System, which gives shops rating badges, and the lack of these badges directly correlates with how listings appear in search results. This poses a serious problem for new sellers who cannot instantly earn a star seller badge.
"I joined and worked with Etsy when they first started. I have sold on this site for many years. The latest changes they have made have destroyed a seller's chance to make sales. The Star Rating System penalizes a seller and prevents the store's items from reaching the search engines. Added to this is the fact they force the seller to participate in the off-site ads at an outrageous price, and the site is now one of the worst to consider as a profitable selling venue. Plus, Etsy has allowed mass-produced items on the site basically forcing the Handmade Artists off the site. The last few months have also introduced a wave of buyers that seek out shops just to ding the stars, and Etsy refuses to stand behind a Seller no matter what. New sellers may want to reconsider using this site."

Another new seller seems to have found it very challenging to get traction on the platform with the high associated sellers fees.
What are some Etsy alternatives?
Perhaps as a new seller, the fees scare you off a little. If that's the case, don't feel discouraged, as Etsy is not the be-all and end-all of online selling. There are several Etsy alternatives, each with its own unique selling points. Some of the more popular options include:
1. Shopify
One of the most popular eCommerce website builders, Shopify allows you to create your own custom store from start to finish without any technical know-how. With a drag-and-drop editor, hundreds of themes, and unlimited customization options, you can easily set up a professional online store in no time at all.
Additionally, Shopify provides powerful features such as analytics and marketing tools that will help make sure your sales stay strong regardless of how successful Etsy is for you.
2. Amazon Handmade
If you're looking for another marketplace platform with tons of potential buyers already built into it, then Amazon Handmade might be worth checking out as an alternative to Etsy.
As part of the larger Amazon ecosystem, many advantages come with setting up shop on their dedicated handmade marketplace, including access to millions upon millions of customers who use the site daily.
Plus, since it's part of Amazon itself, additional features like Prime shipping for eligible sellers further boost exposure and sales opportunities on top of everything else offered to sellers.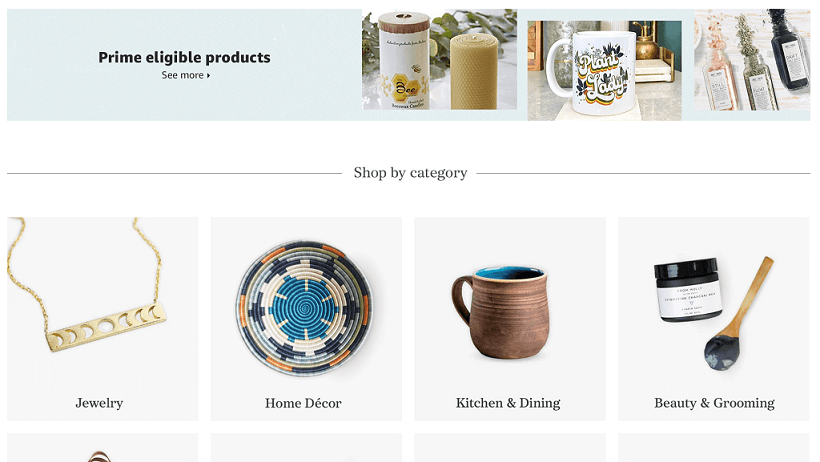 3. eBay
This can be a good alternative to Etsy, depending on what you are looking for and what you sell. While both sites offer goods from individual sellers, eBay is typically more varied, with a broader array of items and sellers than Etsy. The fees for listing and selling on eBay are generally lower than those on Etsy, which does make it an attractive option for sellers.
However, if you're specifically looking to sell handmade or vintage items, Etsy may provide a more engaged audience since it focuses more on that area.
4. Facebook Marketplace
Selling on Facebook Marketplace is great if you're looking to target a local audience with primarily used items or specific services (such as pool cleaning or landscaping), which will often require in-person interactions.
Generally, Facebook Marketplace connects buyers and sellers but does not facilitate transactions. Etsy offers more protection and support to both buyers and sellers than Marketplace does, in addition to a more curated selection of handmade products.
5. Bonanza
Bonanza Marketplace can be a great alternative to Etsy, depending on your needs and preferences.
Bonanza offers lower fees than Etsy, which is attractive for those looking to maximize profits or sellers whose products are priced below $15. Additionally, the site has fewer restrictions on what kind of items are sold compared to Etsy. It allows users to post listings with no expiration date, meaning you won't have to constantly renew (and pay for) listings like you would on Etsy.
However, it does not offer as much customer support or community engagement as Etsy does, so that may be something to consider before making a decision.
Mercari, Poshmark, and Kidizen are good alternative options for second-hand sellers. Our Mercari review and Kidizen review are both hot off the press, so give those a read to see whether they're right for you!
Consider cross listing to multiple marketplaces
Selling in multiple online marketplaces gives you access to a more extensive customer base and the ability to reach buyers who may not be familiar with your brand. This allows for more potential sales, greater visibility, and ultimately higher profits.
Additionally, when you sell on multiple channels, it helps diversify your income stream so that if one platform experiences technical difficulties or has slower traffic than usual, you can still make money from other sources.
The below infographic highlights some of the benefits of a multichannel sales strategy for your business.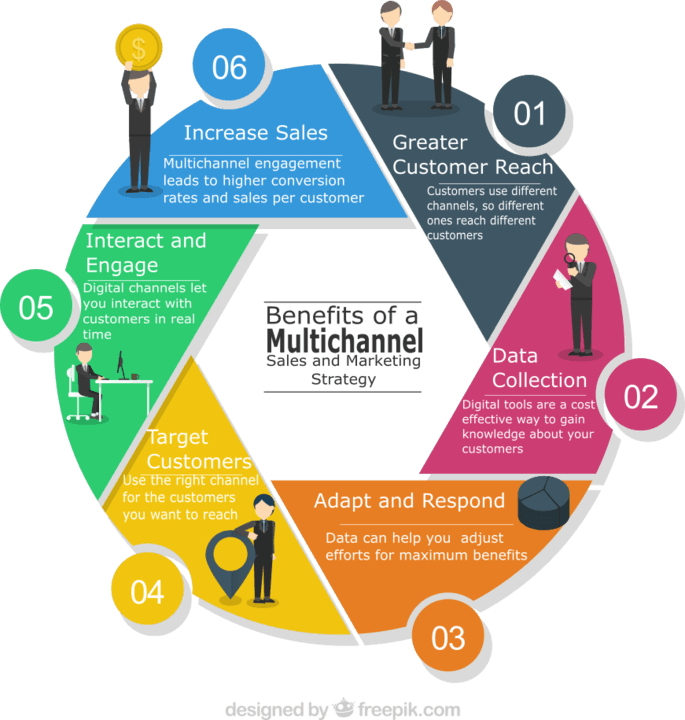 But that sounds like a real drag to sit and manually upload hundreds of listings, right?
Wrong! Using a multi-channel listing tool, like Crosslist, to sell across multiple marketplaces can be beneficial because it saves time and helps you stay organized. With a cross listing app, you don't have to manually list the same item on each marketplace one by one; instead, you can list items with just one click on all of the chosen sites in one go.
Conclusion
Etsy fees are an important consideration when setting up an Etsy seller account on the platform. Understanding all of the costs associated with selling on Etsy can help ensure you're prepared for what's ahead, price correctly and set a realistic budget.
Make sure to check the latest Etsy fee structures throughout 2023 so you know exactly what you will need to budget for and if any changes have been made since this article was written (although we'll be sure to keep it as up-to-date as possible!).
Knowing your fees upfront will help keep your business running smoothly and set you up to become an Etsy success story.
Questions or just say hello!
Well, congratulations to you for making it this far! Here's a reward in the form of a 10% discount code on your first month of Crosslist (add during check-out). Sign up now with a 3-day money-back guarantee!
You can learn more about how Crosslist works here.
If you have further questions, feedback, bug reports, or want to know a bit more about us, why not swing by for a chat and say G'day! You can have a chat with us through Messenger.