Kidizen Review: Make Money Selling Kids' Clothing

---
Are you looking for a way to make some extra cash? If you have kids (or nieces, nephews, and friends with kids), you can make quite a bit of money by selling their gently used clothing. Kidizen is an excellent platform for doing just that.
In this Kidizen review, we'll take a look at how the platform works and what you can expect to make from selling your kids' clothes. We'll also provide some tips on how to get started and what to do to ensure success. So, if you're ready to start making money from your kids' clothes, read on!
What is Kidizen?
If you're a parent, chances are you've heard of Kidizen. But what is it? Kidizen is an online marketplace where parents can buy and sell children's clothing. It's similar to other sites like Craigslist or eBay, but specifically for kids' items.
You can find popular kids' clothing brands at a fraction of the retail price, a massive drawcard for parents everywhere. Kids grow like weeds and can sometimes wear an expensive item of clothing once before outgrowing it!
Not to mention clothing, shoes, and toes can get dirty, torn/broken, or lost in the blink of an eye, so many parents are reevaluating whether they are willing to fork out on expensive designer gear.
Kidizen offers a sustainable approach to buying kids' clothing, accessories, shoes, and toys because they're worn for such a short time.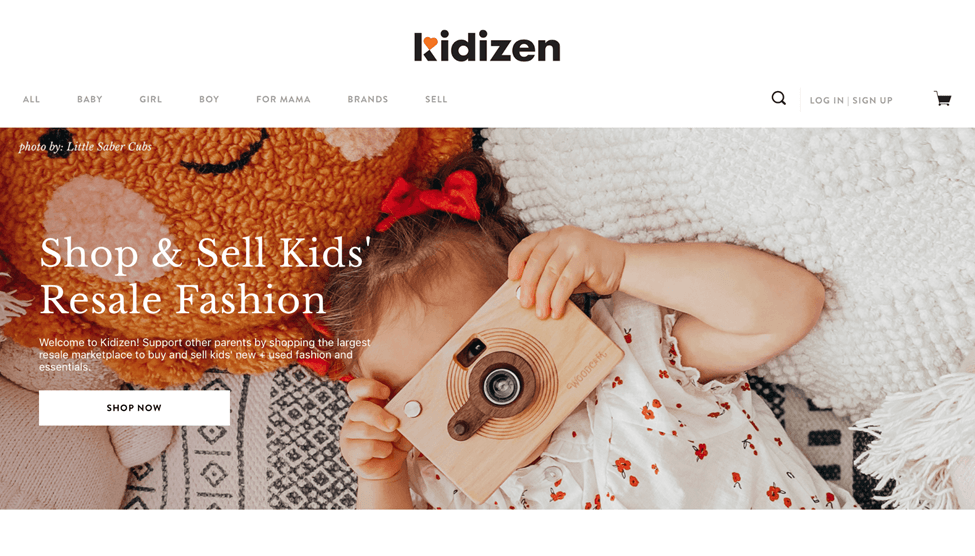 Kidizen was founded by three parents in 2014 and has grown into a vibrant online marketplace with over 800 000 registered users.
So, who should sell on Kidizen?
So, who should sell on Kidizen? Anybody who has kids' clothing that they no longer need! Whether you're looking to get rid of clothes your child has outgrown or simply want to declutter your home, selling on Kidizen is a great way to do it.
You can also use the platform to sell handmade clothes or other items for kids, such as toys, books, baby carriers, diaper bags and nursery room decor.
What can you sell on Kidizen?
You can sell everything from clothes and shoes to accessories and toys. If it's something that a kid would wear or use, you can sell it on Kidizen.
Additionally, under the "Mama" category, you can list women's clothing too. So, if you've got maternity clothing you'll never wear again, pay it forward and let another mom-to-be get a great deal on comfortable maternity wear.
These are some of the top-selling brands on Kidizen: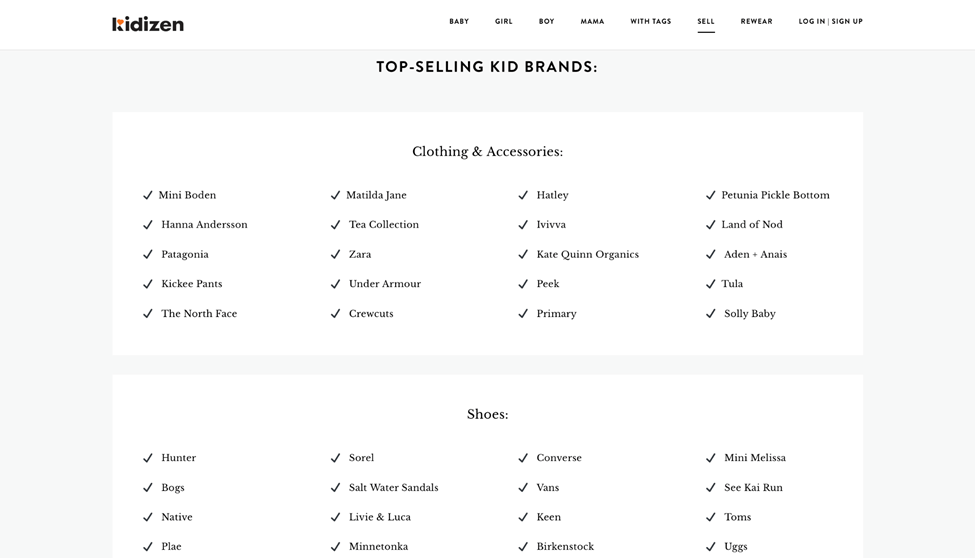 Prohibited items include items like formula and baby food, electronics (like tablets), replicas, kitchen accessories, and illegal items. For a complete list of what is prohibited, you can check their guide here.
Kidizen reviews from Appgrooves
Appgrooves has rated Kidizen 4.8 out of 5 stars, with users praising the app for its ease of use and a great selection of clothes. One user said:
"1. Shop essential, cute baby care items like clothes, toys, decor, maternity clothes, diapers, carriers and more in a beautiful user interface

2. Turn a dollar on your kids' outgrown clothes by opening your own shop! Take a photo, offer a price, get paid, and never worry about listing fees. Search the endless product selection by item name, keyword, filters, and more. Follow your fav brands. Buy with a secure purchase process"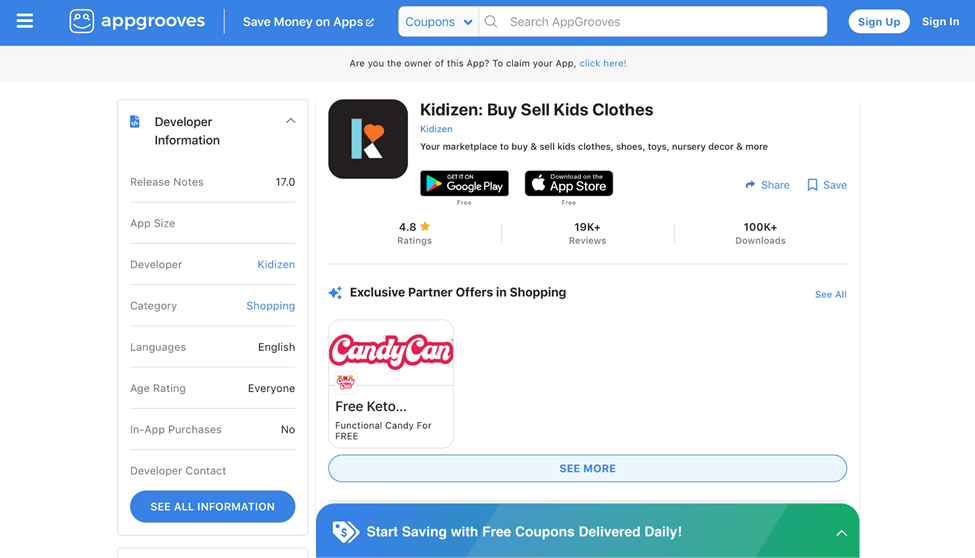 Another user said:
"Thank you Bethany for resolving my problem so smoothly! Seller was no help, but Bethany is great, so helpful and kind. I appreciate it."
Both buyers and sellers seem to enjoy the app's ease of use, variety of brands and items for sale at a steal, and excellent customer support from Kidizen's team.
They also mention there are no listing fees which is a big bonus from a seller's perspective. Any fees over the commission will eat into your profits, which sellers obviously want to avoid.
Now, let's look at some of the negative reviews:
"The app is good in theory, but there are far too many buttons to have to push to sell stuff. Also have to add one photo at a time which can be annoying when you have 4 photos for an item.

After you're done with that item you have to click multiple times to get back into a sale page to sell another item. Also every time I add photos they're upside down so I have to go into my photo editor on my phone(no editor in the app itself) and rotate images upside down before posting."
"The app itself is super easy. I like the way it functions. As a seller, this is not the place to be. 8 months with approx 20 listings at all times, tons of followers and zero sales. People are only into $1-5 items with free shipping.

Plus, if you don't list constantly they will just deactivate your shop. It mostly feels like a club you can't break into and they give zero info on how to use the app to your advantage. They give priority to corporate sellers."
These sellers find the way you are required to upload listing photos a waste of time and find the user interface can occasionally glitch, such as flipping photos upside down.
When you're pressed for time, this is understandably frustrating. The other seller found their items sat for months with no sales, but it's impossible to know what the seller was doing to promote their store and drive traffic with offers.
Kidizen has incredibly high and favorable reviews compared to similar online marketplaces, with the positive heavily outweighing the negative. Beyond Appgrooves, the sentiment is pretty positive.
On the Apple App Store, Kidizen has earned a rating of 4.9 out of 5 from over 17 000 reviews, with the majority being glowing 5-star reviews that praise the platform.
Pros of selling on Kidizen
There are many benefits to selling on Kidizen, but these are at the top of our list:
Low fees
For one, sellers keep the lion's share of the sale price, which is significantly higher than consignment stores or other online marketplaces.
Additionally, there are no listing or monthly membership fees – you simply pay a small transaction fee when your item sells. Kidizen's commission structure is 12% + $0.50 per sale.
Want to calculate your profit and margin when selling on Kidizen? Then have a look at our Kidizen fee calculator.
Take advantage of platform marketing efforts
Another big plus is that Kidizen does all the marketing and promoting of your items. They have a large social media following and send regular email blasts to their customers featuring new items for sale.
This takes a lot of the headache out of selling online, as you don't have to worry about driving traffic to your items yourself.
Good customer support
Finally, Kidizen also offers excellent customer support. They have a team of moderators who help keep the marketplace safe and reliable, and they're always available to answer any questions you may have about selling on their platform.
User-friendly app interface
The Kidizen app is user-friendly, making it easy to list and sell items. It is designed like a social media profile where you get an @ handle.
Uploading a listing is also pretty straightforward, with Category, Sub-Category, Brand, Condition, Gender, and Size as the only fields you need to add in addition to your photos and description.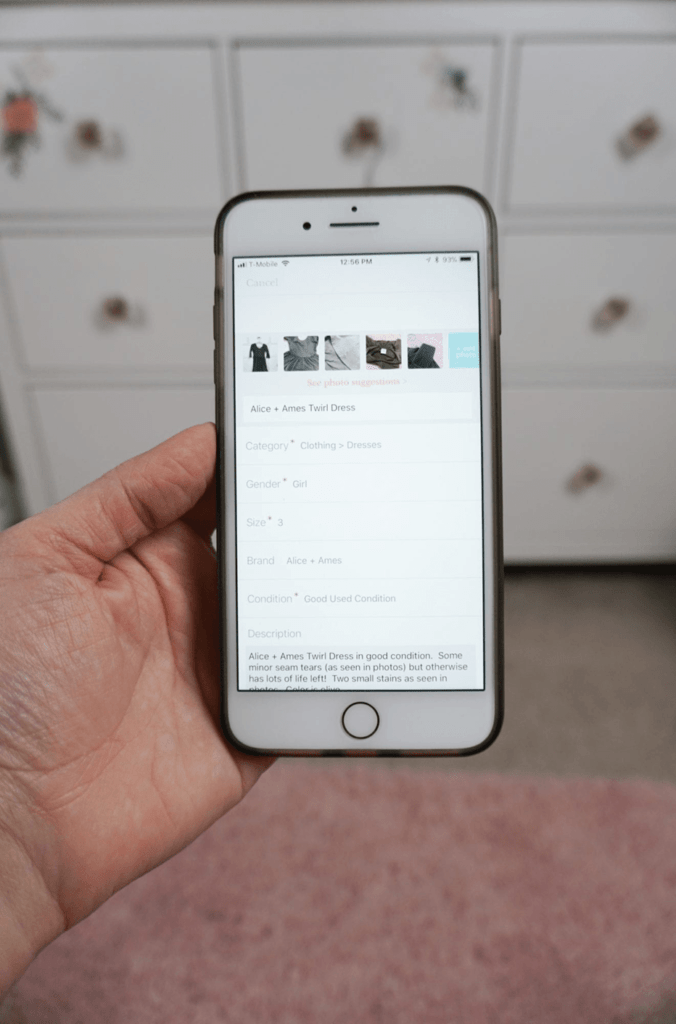 You can also easily keep track of your sales and earnings, which is helpful for tax purposes. There's also a built-in messaging system that makes it easy to communicate with buyers.
Two ways to sell
Selling online does tend to take up quite a lot of time, so Kidizen offers another way to sell if you're short on time to upload listings yourself. You can use their "Style Scouts," who will come to your house and pick up the items you want to sell, then list them on Kidizen for you.
This service is currently only available in select cities, but it's a great option if you want to get rid of some clothes and don't have the time or energy to do it yourself.
Less competition
Online marketplaces like Poshmark and eBay are saturated, and it can be tough to sell your items when there is so much competition. Kidizen is a niche marketplace with a small but active community actively searching for specific kids' clothing items, making it much easier to get sales.
Easy payments
There are three ways to get paid when you sell on Kidizen. When you make a sale, your payment status changes to Pending Kid Bucks. You then have seven days to ship to clear the payment. This protects the buyer from scam sellers.
Once the buyer has received the item, your payment will move to Redeemable Kid Bucks, which you can use towards purchases from other sellers. If you prefer, you can withdraw the funds to a bank account (no withdrawal fees) or a PayPal account ($0.25 withdrawal fee).
Cons of selling on Kidizen
There are a few potential cons to selling on Kidizen, like selling on any online marketplace.
Kid-focused marketplace
One downside of Kidizen is that it's focused solely on kids' clothing and gear or clothing for moms. This can be limiting if you're trying to sell other types of items, such as men's clothing or home goods.
Selling preloved items can be hard
Selling used items can be tricky – especially if they're in less-than-perfect condition. You'll need to take clear, well-lit photos, write accurate descriptions and set realistic prices to attract buyers.
For example, if you are selling a babygrow with a spit-up stain (because let's face it, this happens with babies!), you need to be honest about the stain, show it in images, and price the item accordingly. Keep in mind, it can take some time to build up a following and get your items seen by potential buyers.
Read on: 7 Foolproof Reselling Tips for Attracting Customers and Boosting Sales!
Customer service woes
Several Kidizen users have complained about the company's customer service. Issues include problems with account verification, difficulty getting in touch with customer service, and slow responses to inquiries.
Unreliable buyers
Another potential downside to selling on Kidizen is that buyers can be unreliable. In some cases, buyers may pretend there is a defect to get a refund and then never ship the item back to the seller.
This is a common scam on a number of marketplaces and nothing new. You should always take photos of the item before shipping, so you have proof the item was in good order upon sending.
Why you should use a cross listing app to sell on multiple marketplaces
When you have a lot of kids' clothing, books, and toys to sell, using a cross listing app can save you time and money. You can list your items on multiple marketplaces with just one click and reach a wider audience of potential buyers.
With a cross listing app like Crosslist, you can also track your sales in one place, so you always know how your business is doing. And if you need to make any changes to your listings, you can do it all from one central location.
Here is a quick overview of the benefits of cross listing and how the Crosslist app helps you realize these benefits:
Increase your visibility and reach a larger audience of potential buyers.
Get your products in front of more people who are interested in what you're selling.
Can potentially increase your sales and earnings.
Have a better chance of selling your items quickly when you widen your net.
Cross listing also has some other benefits, such as:
You can learn about new marketplaces and how they work.
You can test out different marketplaces to see which ones work best for you and your products.
You can get feedback from buyers on different marketplaces about what they like and don't like about your products.
Overall, cross listing is a great way to increase your chances of success when selling online.
Read on: 7 Benefits Of Multi-Channel Selling.
So if you're not already doing it, try it!
However, many sellers are put off by the idea of cross listing because it involves a lot of manual work and time.
Crosslist automates the process by allowing you to upload your listings in bulk at the click of a button and then import them into your chosen marketplaces equally fast.
Instead of spending hours uploading manually, you can be online and selling in minutes!
The verdict
Our verdict is in on Kidizen, and it's a resounding thumbs up from us!
As a buyer, you can find deals on stylish maternity and children's clothes and other baby essentials at a fraction of the price.
And this app is perfect for making a little extra money by selling kids' clothes, toys, shoes, and books. The process is straightforward, and the earnings can add up quickly. Whether you're looking to declutter your home or earn some extra spending money, Kidizen is worth checking out!
Interested in finding out how other marketplaces stack up against Kidizen? Then check out these in-depth reviews:
Questions or just say hello!
Well, congratulations to you for making it this far! Here's a reward in the form of a 10% discount code on your first month of Crosslist (add during check-out). Sign up now with a 3-day money-back guarantee!
You can learn more about how Crosslist works here.
If you have further questions, feedback, bug reports, or want to know a bit more about us, why not swing by for a chat and say G'day! You can have a chat with us through Messenger.