7 Foolproof Reselling Tips for Attracting Customers and Boosting Sales

---
According to a LendingTree side-hustle survey, nearly half (45%) of Americans considered starting a side hustle during the pandemic.
The survey was conducted among 789 Americans who said that they started side gigs because they need extra cash (53%).
But side hustles are not only about the money. Most of the respondents (Six out of 10) would continue to have their side hustle even if they weren't in need of the extra money. According to the survey, currently, the most popular side gigs are nannying and pet sitting.
Many side hustlers (20%) are making and selling their handmade products, while 18% of respondents are reselling different items on eCommerce marketplaces – and it seems that this kind of side hustle is getting more and more popular.
The whole resale sector will grow to reach $47 billion by 2025, driving the secondhand market's value to a whopping $77 billion. In other words, the resale sector will more than double its current worth ($36 billion), as shown in thredUP's 2021 Resale Report.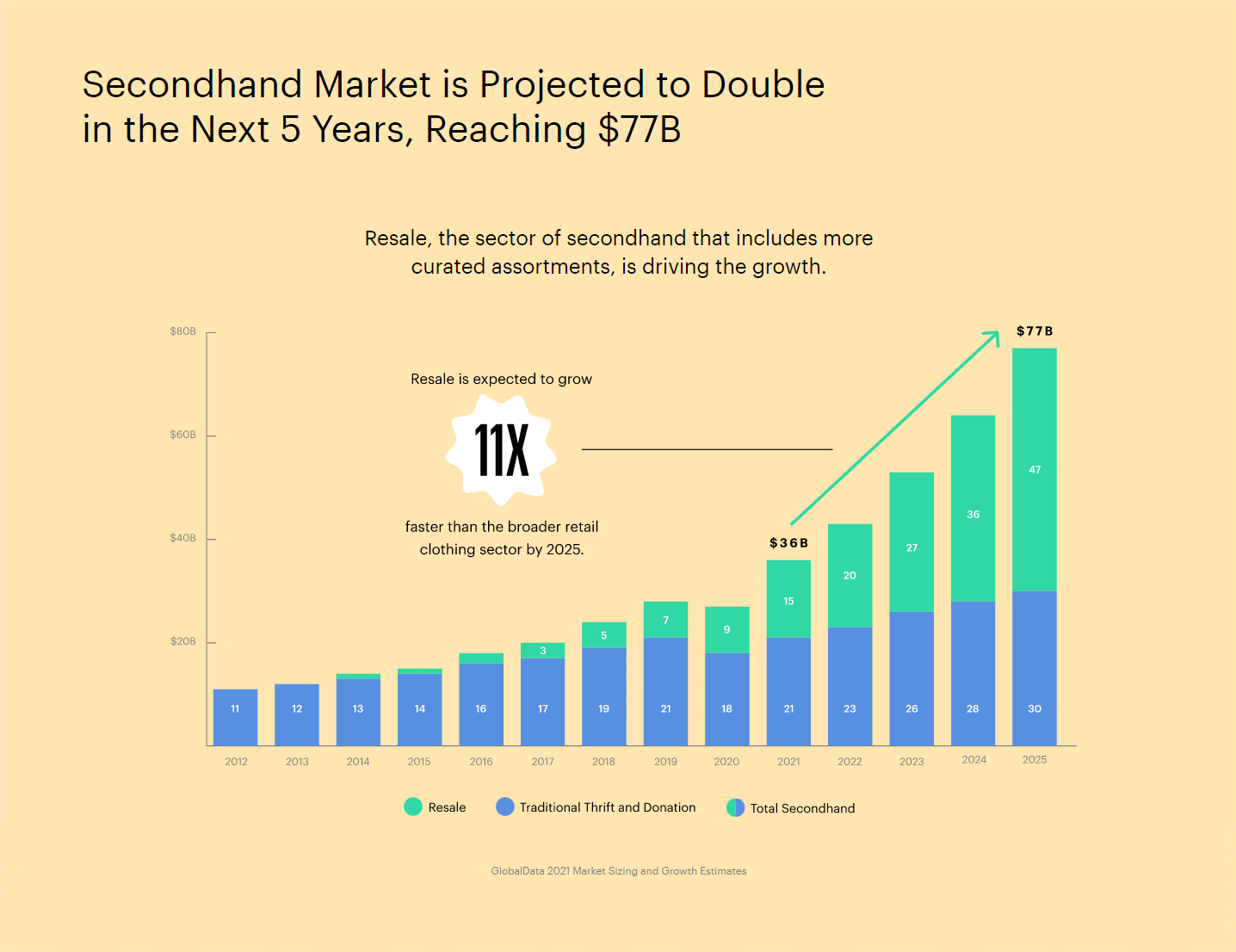 More and more sellers are popping up on the market and driving its growth, so getting your piece of the pie can be challenging.
However, if you play your cards right, you can make $40,000 per year in profits by investing only 5-10 hours per week.
Put in more hours, and you quickly turn it into a profitable business that generates a significantly higher ROI.
7 reselling tips that will help you make more sales
Since the competition is ramping up, we've decided to share some of the essential reseller tips and tricks that will help you get started or take your existing business to another level.
1. Research the market and decide what products you will sell
If you're going to run a successful reselling business, you'll need to source the right merchandise. This means finding products with a high resale value – and this isn't as daunting and time-consuming as you may think.
You can find excellent items at flea markets, yard sales, thrift stores, storage units, consignment stores, and liquidation marketplaces.
The most cost-effective options are church thrift stores, charity-based shops, and the "bins" (goodwill outlets where you can buy items by the pound at the lowest prices).
If you want to buy cheap and sell high, here's some inspiration:
Clothing items
Footwear, especially name brand shoes and limited-edition sneakers
Accessories like jewelry, handbags, and designer sunglasses & eyeglasses
Themed promotional products, e.g. personalized custom keychains
Sports equipment
Collectibles and antiques
Books
Wooden furniture
Kitchen appliances
Electronic devices
Board and video games
Baby and child products like strollers, swings, and toys
2. Choose the marketplaces where you will resell your products
Setting up and managing an eCommerce store can be costly, so leveraging existing marketplaces might be the best way to go. Many will even handle the storage, packaging, shipping, sales tax, and customer support for you.
Research the available platforms to learn how each can help you boost sales and choose the ones that are most suitable for your products.
Some of the most popular online marketplaces for resellers include:
eBay
Vinted
Kidizen
Tradesy
The best part is that you don't have to limit yourself to one platform. Use a cross listing app like Crosslist to list your products quickly and seamlessly on the world's largest online marketplaces.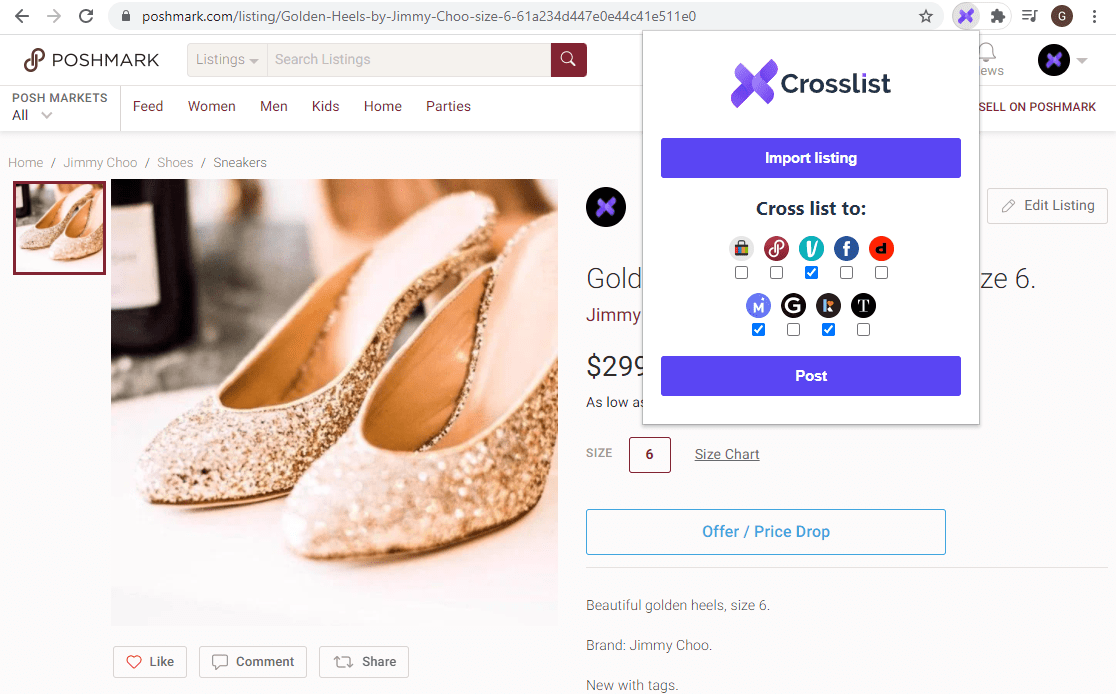 That way, you'll attract more potential customers and drive your sales through the roof.
Further reading: 7 Benefits Of Multi-Channel Reselling
3. Work on your online marketing strategy
Social media platforms are your best bet for attracting more customers and expanding your reach globally. You can leverage paid ads and promote your products organically with compelling content.
The best thing about social media is interacting with consumers to forge meaningful relationships and build a loyal customer base. Let's not forget the lightning-fast electronic word of mouth – free marketing that can boost your business in record time.
Email marketing is also excellent for engaging your target audience and driving sales. You can keep subscribers up-to-date with your latest product listings and promotions.
Don't forget to ask customers for honest reviews to ramp up your reputation and attract more buyers.
4. Help yourself and start using a cross-listing app
Listing your products on multiple marketplaces can be time-consuming, which is why most resellers use cross-listing apps.
A cross-listing app can save you precious time and help you gain more exposure, boost engagement, track all your products, and increase sales.
If you are struggling with deciding which cross-listing app should you use, check out our blog where we compared Crosslist with List Perfectly and Vendoo, another two popular cross-listing apps.
After comparing multiple features and types of pricing strategies we can comfortably say that Crosslist differs from the competition in the following ways:
Quick cross listing between 8 marketplaces
Dynamically supports all fields
Easy and straightforward to use
Mobile support
Enhanced images
Beautiful design
This is why Crosslist is one of the top-rated cross-listing apps for streamlining the process and reaching more customers. Thanks to one-click integrations with multiple online marketplaces, it lets you create bulk listings quickly.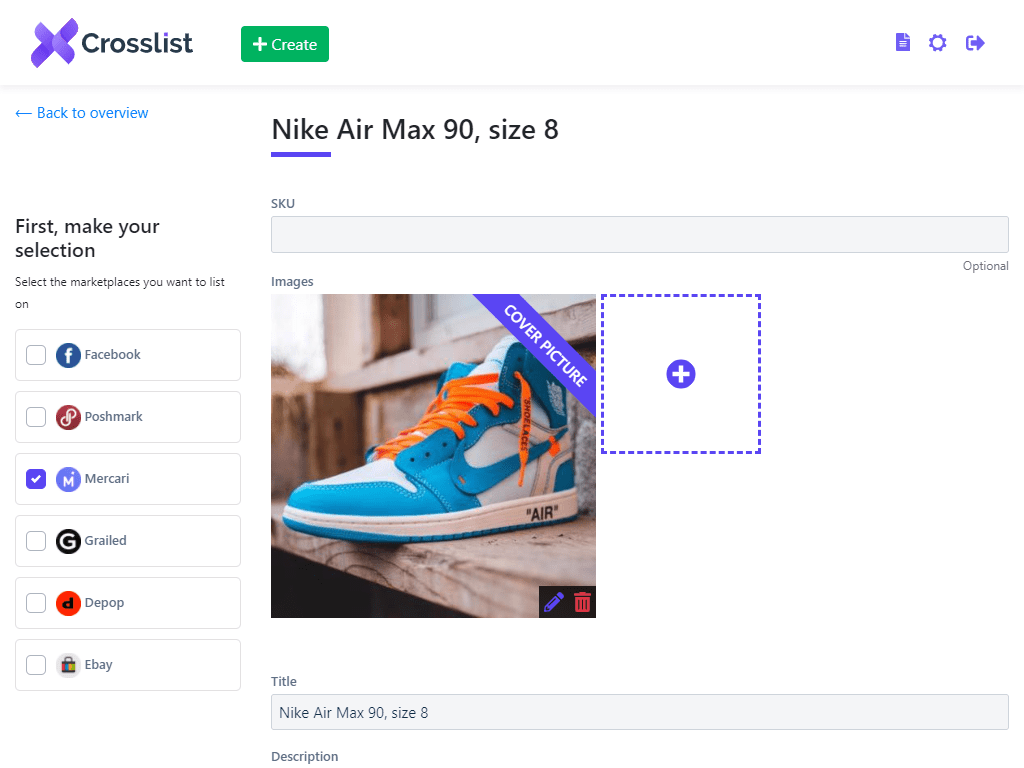 You can import up to 20 simultaneous product listings and cross-list them across marketplaces. You can manage them from a dedicated mobile app with an intuitive interface and a state-of-the-art image editing tool for making your products shine.
5. Invest in quality photographs
Ask anyone for tips on reselling products, and they'll tell you your success lies in high-quality photographs.
High-resolution images that present your products in the best possible light will capture attention, create excellent first impressions, inspire trust, and boost consumer confidence.
Your product images must be clear, well-lit, and attention-grabbing. Most importantly, they must showcase each item accurately so that customers know what to expect.
If you decide to use Crosslist, you'll enjoy the app's user-friendly photo editor that lets you edit pictures taken with your phone's camera.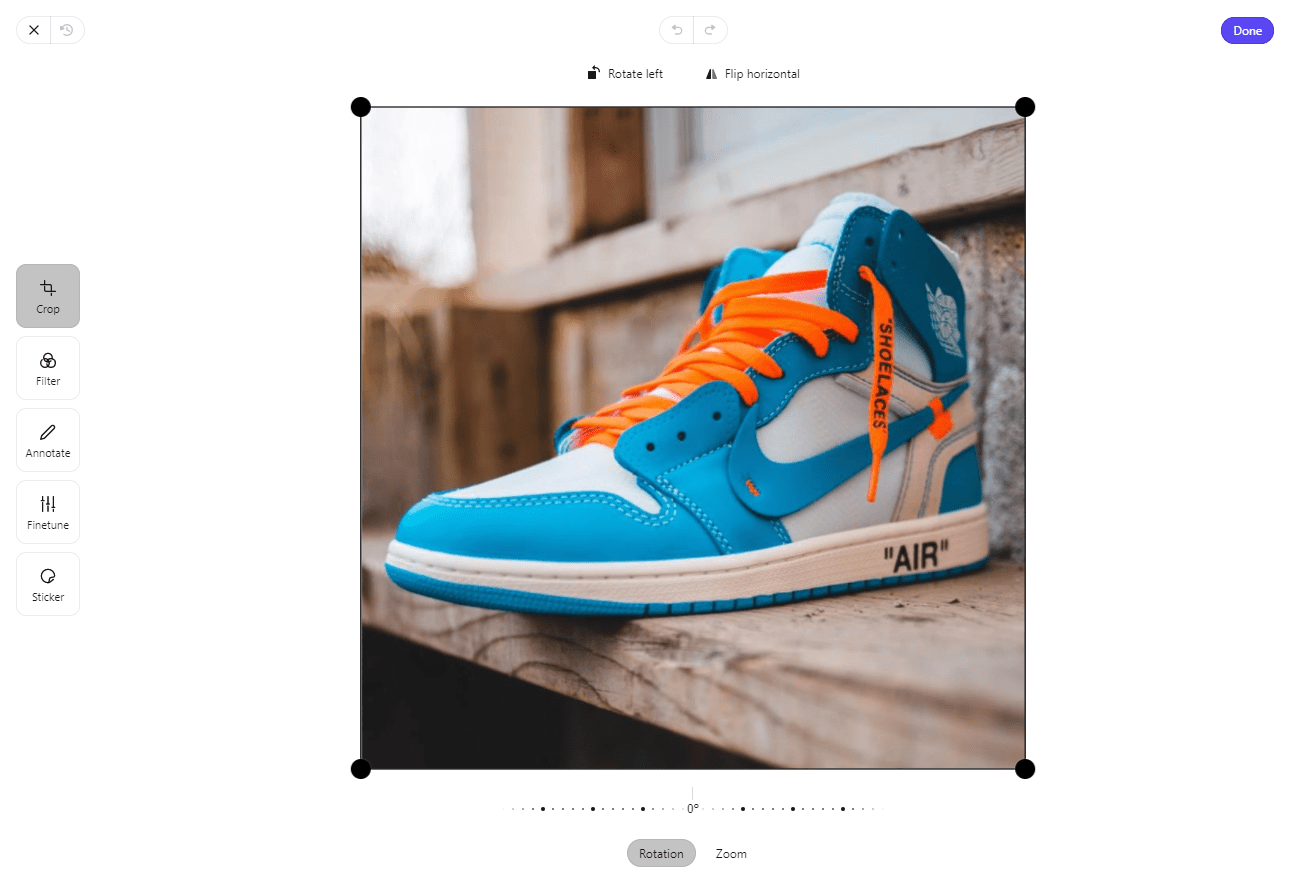 You can crop, rotate, flip, zoom, and fine-tune the photos to adjust the brightness, exposure, temperature, saturation, contrast, clarity, gamma, and vignette.
6. Describe your products in detail
Product descriptions are vital to consumers because they provide the necessary information for making an informed purchasing decision.
Why do you need them when pictures speak louder than words? Because detailed descriptions that highlight your products' features will help consumers understand the unique value and benefits of the product they purchase.
The most important is that you emphasize the following benefits:
What problem does your product solve?
How is your product different from other similar products on the market?
Why should a buyer choose to buy from you: why are you better than the competition?
Great product descriptions will improve customer experience and satisfaction, increase your online visibility, and attract more customers – as long as you use the right keywords and compelling copy.
Every description should state a specific item's brand, size, material(s), color(s), pattern(s), style, and condition. Don't list them if you want to stand out – tell a story that captivates your audience and entices them to click the "Buy" button.
Also, the good news is that you don't have to write a new product description for each platform. Just copy and paste the information about the product across different reselling platforms.
7. Keep your inventory organized
A messy inventory can hurt your productivity, efficiency, sales, and business reputation. Imagine being unable to find a sold item due to poor inventory management. You could ship later than expected and frustrate the customer.
Organizing your inventory well is crucial for locating and shipping products quickly. That means creating a spreadsheet or using an inventory management tool to list and keep track of all the products.
Crosslist supports mobile inventory management, so that's another reason to use it. You can add inventory numbers for each item into your listing notes to quickly find those ready for shipping. The search feature helps you locate anything in seconds using relevant keywords from the product descriptions.
Pro reseller tips and tricks
The reseller tips above will help you get started quickly, but there are other things to keep in mind, too. Here are some essential guidelines:

Track your expenses and income
Tracking your expenses and revenue from day one is vital for optimizing your budget, maintaining a steady cash flow, maximizing profit, and filing tax returns.
Consider selling goods you are familiar with
Specific product knowledge and experience will help you source the best items with the highest resale value.
Follow new trends and keep on learning
If you want to stay on top with your reselling business you must be dedicated to learning and following new digital marketing strategies and sales trends.
There are learning opportunities for resellers like virtual courses or seminars, but also you can visit different trade shows and conferences to see how you can grow your reselling business.
Be professional
It's critical to stay professional and polite even when interacting with a dissatisfied customer. Consistently provide excellent customer service, respond to social media messages and comments promptly, and treat your customers like your best friends to build trust and loyalty.
Think about how to scale your reselling business
The reseller tips above will help you boost sales, requiring more inventory to meet the growing demand. That's why you should have a plan for scaling up and turning your side hustle into a full-time job.
If you want to scale up, consider expanding your product offering, targeting a new demographic, or hiring extra people to help you grow your business.
Of course, if you are serious about your reselling business you can't scale it up without the help of one of the cross listing apps. Cross-listing apps, like Crosslist for example – will save you time, since it allows you to import existing listings from multiple marketplaces.
This way, you can quickly crosspost your inventory to different marketplaces and show your items to millions of potential buyers at the same time.
With Crosslist you can even use your mobile phone to take pictures of your products directly and list your product on multiple marketplaces at once.
All these features are accompanied by a clean and intuitive design – will help you to attract more customers, drive sales and scale your reselling business.
Questions or just say hello!
Well, congratulations to you for making it this far! Here's a reward in the form of a 10% discount code on your first month of Crosslist (add during check-out). Sign up now with a 3-day money-back guarantee!
You can learn more about how Crosslist works here.
If you have further questions, feedback, bug reports, or want to know a bit more about us, why not swing by for a chat and say G'day! You can have a chat with us through Messenger.