Depop Review: Should You Sell On Depop?

---
Ever complimented someone's outfit, and they came back with, "Thanks, I got it on Depop!"? That's because Depop is one of the hottest online selling apps for finding unique clothing, shoes, and accessories.
It's similar to Poshmark but with a more youthful appeal. But is it worth selling on Depop? To help you decide whether Depop is right for you, we will conduct an in-depth Depop review of the app and its features and give you tips on how to avoid scams on the platform.
To help you decide whether Depop is right for you, we will conduct an in-depth Depop review of the app and its features and give you tips on how to avoid scams on the platform.
First, is the resale market worth your time?
The resale market is worth your time if you want to make extra money. Depop is a great platform to sell on because it is so popular and easy to use.
You can make a decent profit by selling items in good condition that people are actually looking for. It is essential to do your research before listing an item to know what it is worth and how much competition there is for it.
Eager to learn more about reselling online? Then have a look at our ultimate guide:
7 Foolproof Reselling Tips For Attracting Customers And Boosting Sales
What is Depop?
Depop is a social eCommerce app that allows users to buy and sell items from each other. It's similar to other platforms like Poshmark, Mercari, and ThredUP, but with a few key differences.
For one, Depop is geared towards vintage and handmade goods, streetwear, and independent fashion brands. This makes it a great option for those looking to sell unique items you might not find on other platforms.
It's like an online garage sale but with a few more bells and whistles. You can find everything from clothes and shoes to homeware and art on Depop.
It was founded in 2011 by Simon Beckermann, with its headquarters in London, United Kingdom. Depop has amassed almost 30 million users within a decade, of which 90% are under 26. Interesting to know is that Depop has actually been acquired by Etsy in 2021.
The app has a massive pull with Gen Z sellers and buyers, is regularly ranked as one of Gen Z's most-visited apps in the US, and in 2019, was voted the best resale app according to a poll of teenage shoppers.

The app is free to download, and you can create a profile to post pictures and descriptions of the items you're selling. When someone buys one of your items by bidding on it, Depop handles the payment and shipping for you.
You simply package the item and drop it off at a local post office or with the courier of your choice.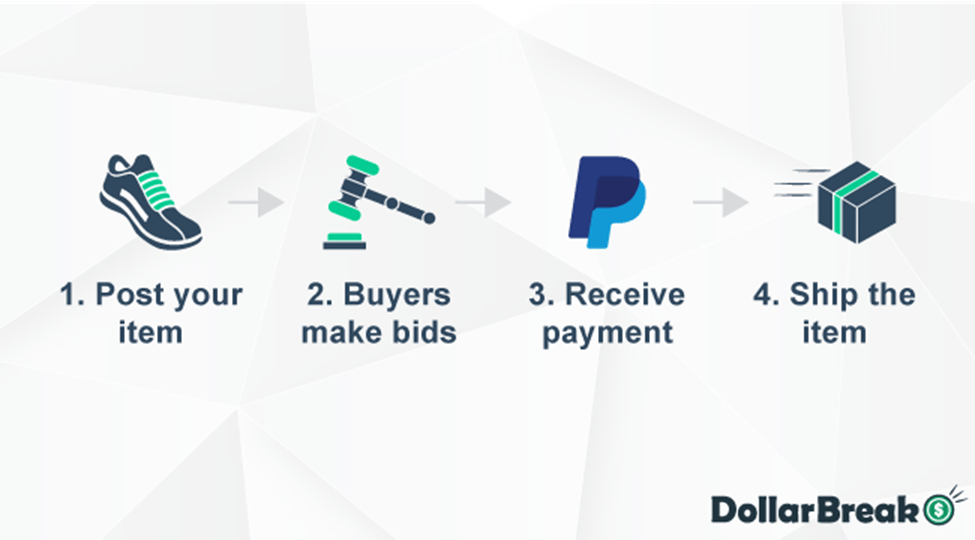 Depop review: common concerns
There are some common problems and concerns that come up when selling on Depop, much like on Poshmark, Vinted, and every other online marketplace.
One of the most significant issues is shipping costs. Since Depop is based in the UK, sellers often pay high international shipping fees when sending items to buyers in other countries. This can eat into your profits and make selling on Depop less profitable than selling on other sites.
Another common concern is scamming. Since Depop doesn't have as many buyer protections as some of the other platforms, it's easier for scammers to take advantage of buyers. This can be a big problem if you're not careful about who you're dealing with on the site.
However, let's look at some reviews from SiteJabber and TrustPilot.
Sitejabber reviews
On Sitejabber, Depop has earned a rating of 1.25 stars out of 5 based on 197 reviews. Most complaints come from buyers who are unhappy with their purchases due to misrepresentation or poor-quality items. Let's take a look at some of the reviews from sellers on Sitejabber.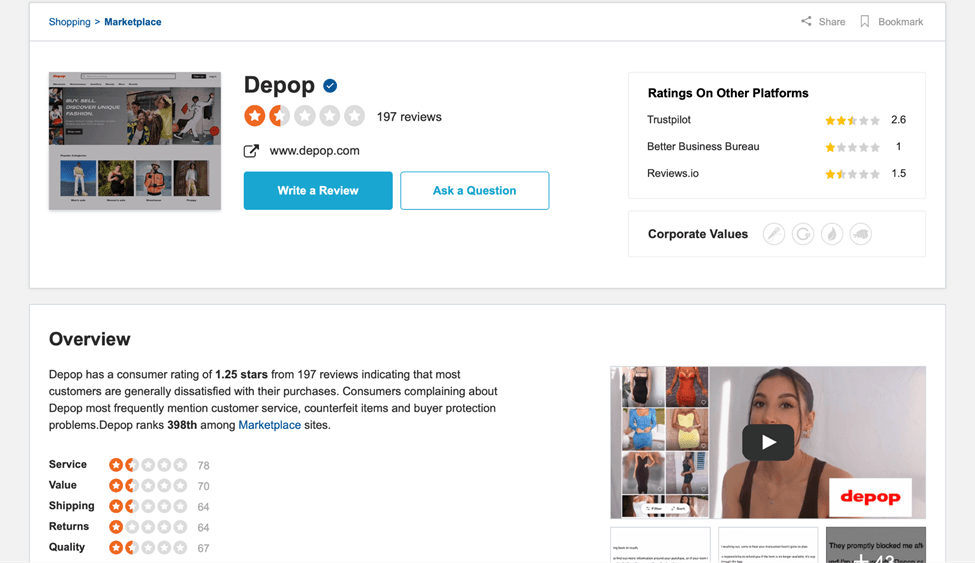 "(I've sold 5 things and they still consider me a "new" seller) I sold something and still haven't gotten my payment after a MONTH and another one that was supposed to be available today (10 business days = 2 weeks later) and that one still won't let me get paid even though it literally says today is the date. I am so annoyed and don't understand why everyone loves Depop so much. I have all my information set up on the app so I don't understand why I'm still waiting."
"Depop has no actual rules, just vague "guidelines" that they "enforce" because they have some kind of bizarro issue with whatever you're doing. If you write that "x" brand collaborated with other brands or band toured with other artists, you are "misusing hashtags" (which you can only use 5 of to begin with). I had 740 sold items over three years, 400 reviews as five stars and had built up a substantial amount of followers and they deleted my Depop account over that. Absolute nonsense."
"Steer clear from depop. Worst customer service in history. Nasty nasty people they hire. It was my only source of income as a single parent with depression and anxiety and they banned my account for having an old account I completely forgot existed 10 years ago."
The above reviews emanate from frustrated sellers. One seller is frustrated she is still considered a "new seller" and thus has to wait longer for payments to be released. This is Depop's way of protecting buyers from scamming sellers by holding payment until the item is received in good order.
The second review is from a seller who had their account deleted after enjoying great success as a seller for three years for what they feel is an unfair transgression.
The third review is from a seller who also had their account suspended because it was discovered they had another account open with Depop. To avoid scams, Depop only allows users to operate with one account.
It's not all bad! Some sellers have plenty of positive feedback, such as the below seller: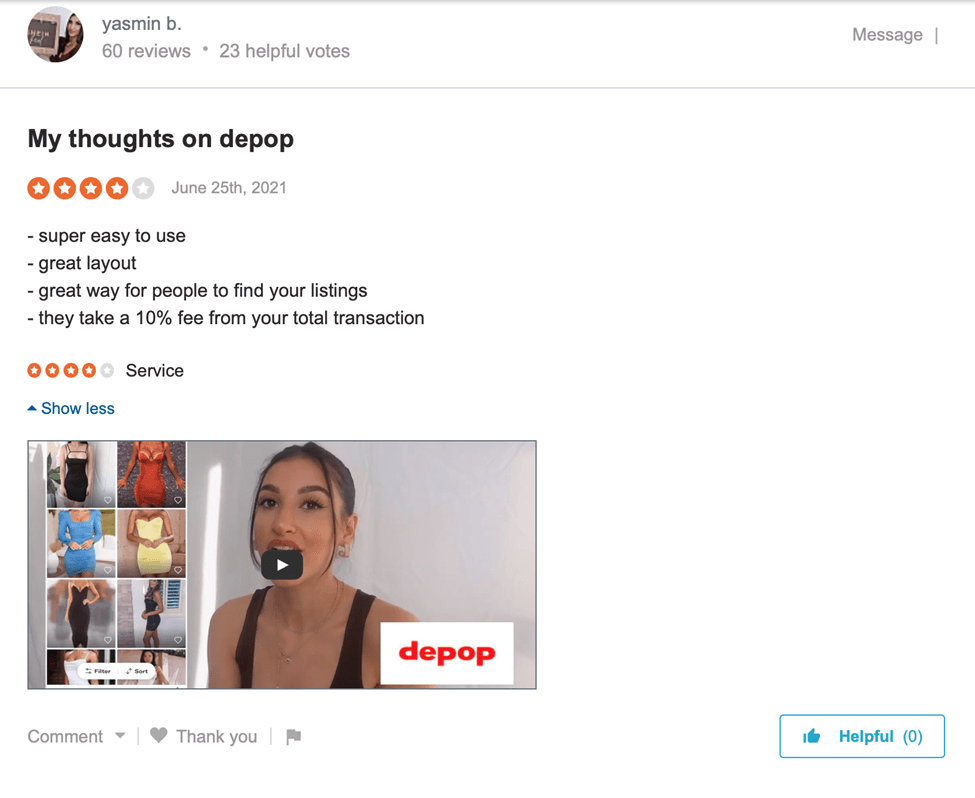 Next, let's see what buyers have to say about Depop:
"Purchased Hello Kitty stuff from a seller. Turns out it was from Shein (no mention of brand or pics of tags) and she charged double what it costs there. Filed a complaint but didn't want to return the items since my kid was already wearing them. My negative review was removed and there were no consequences for the seller."
Unfortunately, there are dishonest sellers on every platform. As a buyer, you must do your due diligence before purchasing. You can always run a reverse image search on Google to pull up similar images and do some price recons to see whether the seller is asking for a fair price.
Trustpilot reviews
On TrustPilot, 43% of the reviews are positive despite an overall rating of 2.5 out of over 5400 reviews. Again, most complaints center around payments, account suspension, and bad customer service.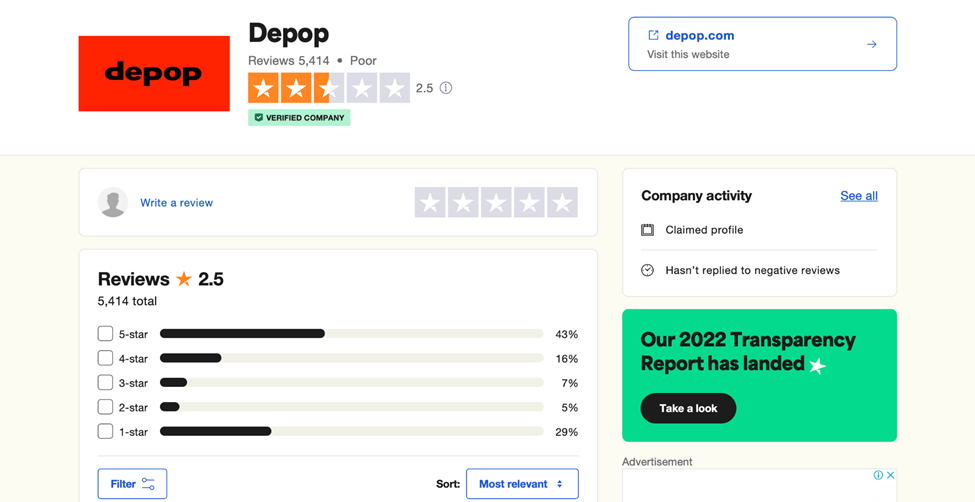 "AWFUL! I had many second hand clothes to sell but depop decided to ban my account for apparently having two accounts, even though one account was mine and another was my brothers and we had completely different emails and different names! I contacted customer support and it is clear that they didnt even review the complaint and said I am still banned!"
"So you sell your items, then are forced to wait "ten working days". I use this term very loosely because it's at their discretion when they actually release the money for sold items into your bank. I've been waiting now for 3 weeks and still no sign of getting paid. Depop support is a joke, all they do is quote the FAQ section and give no helpful information either. That's if you can track down their email because it isn't easy to find."
The sellers are both frustrated by Depop's perceived poor customer service. One seller was suspended for being found to have two accounts, while the other seller was frustrated with waiting to receive their payments for sales on the platform. Both sellers tried to resolve their issues with customer service but met a dead end with no resolution.
This is understandably frustrating for honest sellers encountering these issues. However, we can't verify these claims as we do not know the other side of the story.
Let's take a look at what buyers are saying:
"I ordered something on Depop. It has been 6 days and the seller hasn't shipped the item. I have messaged twice and received no response despite the seller having been online. I'm not able to even start a dispute until 7 days has passed even though the seller has already been paid?"
The buyer is frustrated that they paid for an order, and the seller has not shipped it yet. Depop gives sellers seven days to ship an order before a dispute can be opened and a refund can be issued.
While we are sure it is a frustrating situation, the rules are the rules, so the proper processes must be followed to receive a refund. Below are some positive reviews from TrustPilot: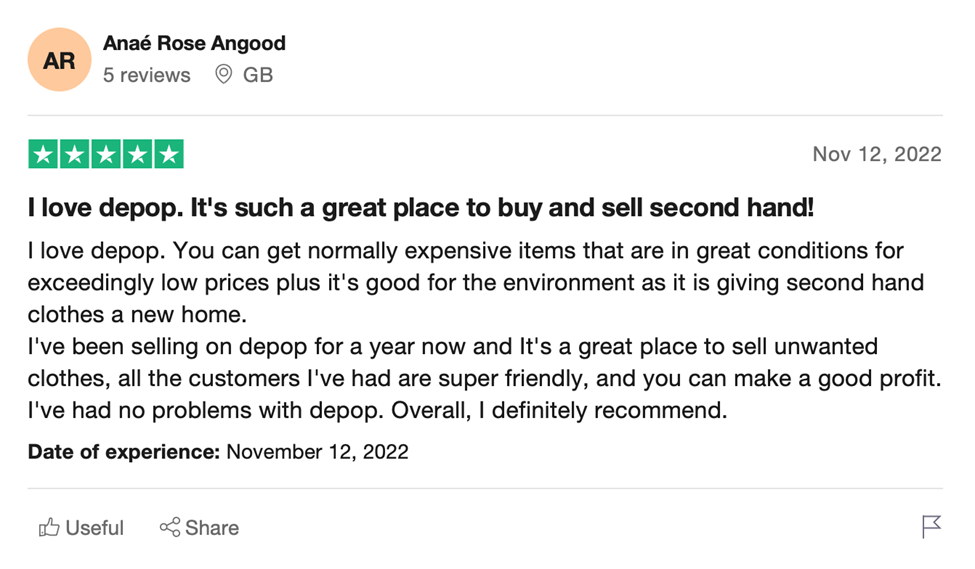 Regardless of the reviews you read about Depop; every experience is based on each user's perception, so validating each claim is impossible.
It is important to remember that most people who write a review will do so when they have had a negative experience more than when they have had a positive experience because they are frustrated and angry. It is their final swipe at the brand they feel done in by.
If you read the reviews, the majority of sellers who write about account suspensions have potentially breached the rules in some way.
And buyers who receive bad items are obviously frustrated, especially if Depop doesn't step in to issue refunds where they are due and suspend bad sellers.
Take every review with a pinch of salt and test the platform yourself by starting small.
Pros of selling on Depop
There are several advantages to selling on Depop, which include:
Great user interface
Depop is a highly visual platform, which makes it ideal for selling fashion and beauty products. In fact, the user interface is very similar to Instagram, where sellers can post images with a caption, tags, and hashtags.
Global audience
Depop has a global audience, so you can reach buyers worldwide, unlike marketplaces such as Mercari. While the app has its roots in the UK, it is used by people in the UK, USA, and Australia to buy and sell gently used or repurposed items.
Low fees
Depop offers low fees and commission rates, meaning you can keep more of the profits from your sales. They charge a flat rate of 10% per sale, significantly less than some competitor marketplaces where the commission can be over 20%, e.g. on Poshmark.
Learn how to calculate your total seller fees, profit and margin using our Depop fee calculator.
Excellent features
Depop offers a range of features to help promote your products, such as the ability to share listings on social media platforms.
You can also chat with buyers to answer any questions they may have about your listings, such as the fit or any visible flaws. Open lines of communication allow for transparency and help buyers feel comfortable to purchase.
PayPay payments
Depop deposits your payments into your PayPal account, making the app suitable for buyers and sellers across the globe. Or choose the Depop payments option for payments via Apple pay, credit or debit card.
Secure platform
The Depop app is 100% secure and offers a safe platform for buying preloved items. This increases shopper confidence and attracts buyers to the app.
Sell whatever you want
While the three main categories are Menswear, Womenswear, and Jewelry, you can also sell art, collectibles, homeware, and pretty much anything else that doesn't fall into the prohibited categories.
Prohibited items are pretty standard across the board with online marketplaces and include drugs, medicines, medical devices, weapons, animals, and other illegal items.
Cons of selling on Depop
Depop requires you to be active
One of the biggest cons of selling on Depop is that it can be very time-consuming. Because Depop is a social platform, you must be active to get sales.
This means posting new items regularly, responding to messages and offers, and shipping items out quickly. If you cannot commit the time, selling on Depop may not be worth it.
Some sellers find the fees too high
Another downside of using Depop for some sellers is that there are fees involved. As we mentioned already, Depop charges a 10% commission on all sales and a 3% + $0.25 fee for processing payments.
So, if you're selling lower-priced items, these fees can eat into your profits quite a bit. But you can try to work the commission into your price so you don't lose out on profits.
Scammers
As with any online marketplace, you buy and sell at your own risk. There's always the risk that your item could be fake or not as described. Although Depop has policies to protect buyers and sellers, there's always the possibility that something could go wrong.
Additional reading: Understanding Depop's Return Policy: A Guide For Sellers
Poor customer service
Some sellers and buyers have complained about Depop's poor customer service and automated responses, insisting they find it challenging to resolve issues they may have with orders, payments, and so forth.
This seems like a consistent problem across almost all online marketplaces, primarily due to the enormous influx of inquiries they receive daily.
Account suspensions
Another recurring complaint from sellers is getting their accounts suspended for no reason. It is impossible to know whether there is another side to the story in these cases (e.g., platform terms and conditions were violated in some way), so it is difficult to validate these claims.
If you read through the Ts & Cs and stick to the rules, it is unlikely you will run into any trouble with account suspensions.
The verdict
Depop is a legitimate and established online resale marketplace where you can sell unwanted clothing, shoes, accessories, and other items. While some buyers and sellers encounter issues with customer service and account suspensions, most users enjoy using the app.
Take the usual precautions you would when buying and selling online, and you'll be able to get the most out of Depop.
Ready to start selling on Depop?
If you're an established online seller with a thriving business looking for a lucrative new marketplace to add to your sales channels, now is the time to add Depop to your sales strategy.
There are plenty of reasons to sell on multiple online marketplaces. For one, you'll be able to reach a larger audience and, thus, have the potential to make more sales. Additionally, you can take advantage of different marketplace features to give your products more exposure.
And finally, selling on multiple marketplaces can help build your brand and create customer loyalty.
Let's take a closer look at each of these benefits:
Reach a larger audience
When you sell on multiple online marketplaces, you'll be able to reach buyers that use different platforms. This means you'll have the opportunity to increase your sales and grow your business.
Take advantage of different marketplace features
Each marketplace has its own set of features and tools that allow sellers to showcase their products in unique ways. By taking advantage of these features, you can make your products more visible and attract more buyers.
Build your brand
When customers see your products on multiple online marketplaces, they'll start recognizing your brand. This can help build customer loyalty and turn first-time buyers into repeat customers.
That all sounds great, right? But let's say you have 600+ listings…imagine uploading each to Depop manually. That's enough to make you tear your hair out. There's an alternative solution!
If you're selling products online, a cross listing app like Crosslist can be a helpful way to speed up adding your listings to multiple marketplaces.
The Crosslist app can help you manage your listings on the many marketplaces we support, and keep track of your inventory levels across all your sales channels. This can save you time and effort and help you maximize your sales.
Bulk uploading your listings has never been easier. Import your listings from your existing marketplace into Crosslist with the click of a mouse. Now you can publish them to any marketplace you choose in minutes! The advanced interface pre-populates listing fields based on the listing details provided, helping you save hours, days, and even weeks of your time.
Selling on multiple online marketplaces using a cross listing tool has plenty of benefits that can help you grow your business. So, if you haven't already, consider listing your products on additional platforms with Crosslist today!
Questions or just say hello!
Well, congratulations to you for making it this far! Here's a reward in the form of a 10% discount code on your first month of Crosslist (add during check-out). Sign up now with a 3-day money-back guarantee!
You can learn more about how Crosslist works here.
If you have further questions, feedback, bug reports, or want to know a bit more about us, why not swing by for a chat and say G'day! You can have a chat with us through Messenger.