Vinted Review: To Sell Or Not To Sell?

---
Are you considering selling some of your clothes but not sure if Vinted is the right platform for you? In this article, we explore the pros and cons of using Vinted so that you can make an informed decision about whether or not it's the right choice for you.
Vinted is a popular online marketplace for secondhand clothing. It's especially well-known in Europe but is also available to users in the U.S.
So, let's dive into an in-depth Vinted review to help you decide whether it's the right marketplace for you.
What is Vinted?
Vinted is a peer-to-peer marketplace for secondhand clothing and accessories. Launched in 2008 in Lithuania, Vinted now operates in over 30 countries, employs over 1000 people, and has over 45 million members.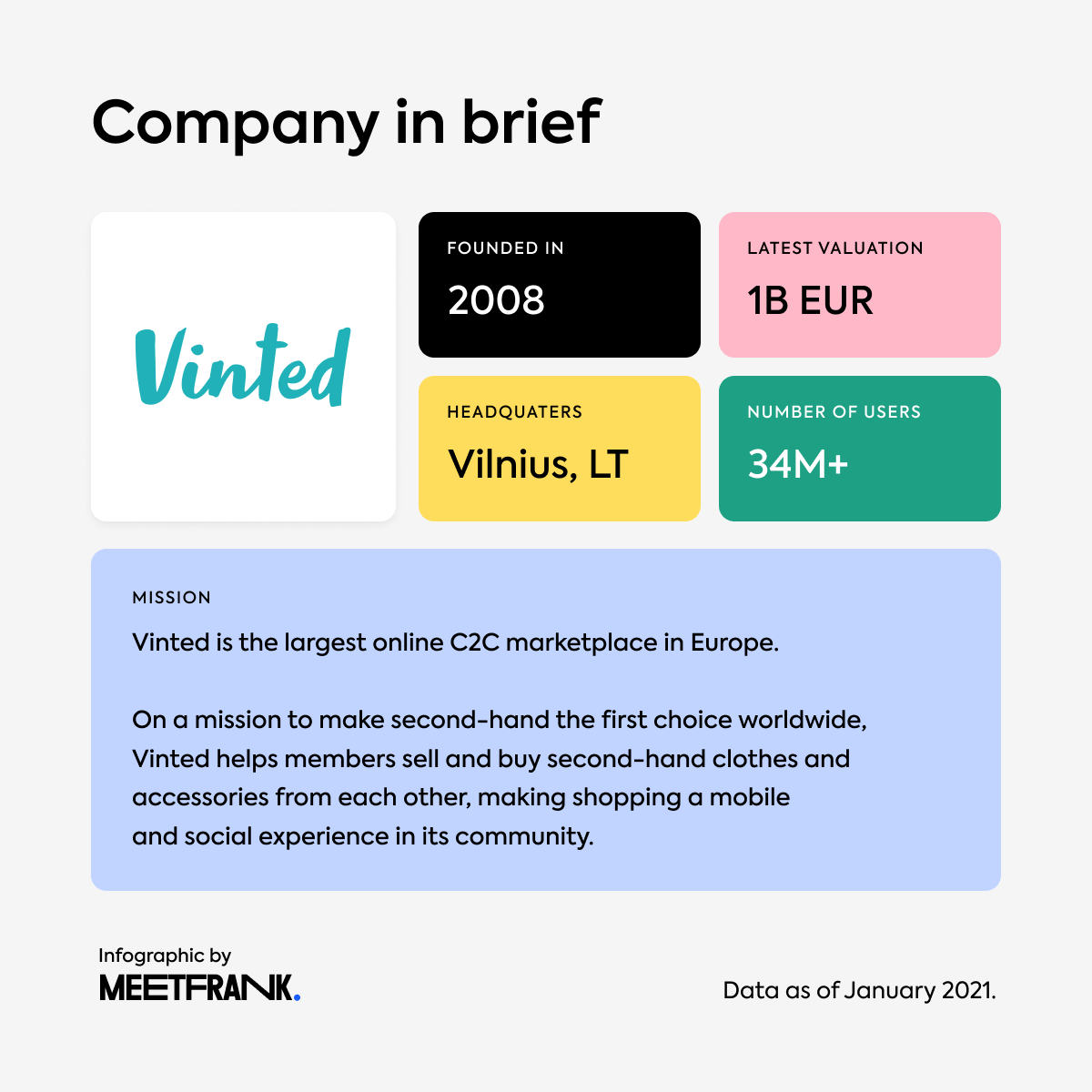 On Vinted, users can buy and sell items from their wardrobes or search for specific items from other users' wardrobes.
Vinted also offers a unique feature called "bundling", which allows users to combine multiple items into one purchase to save on shipping costs. For example, if you are looking for a pair of jeans and a top, you can search for "jeans + top" and find bundled listings that include both items.
What can you sell on Vinted?
A wide range of items can be sold on Vinted, including clothing, shoes, accessories, and home decor for women, men, and kids.
There are some restrictions on what can be sold, such as no undergarments or items that are damaged beyond repair. However, overall, there is a lot of flexibility in what can be listed for sale.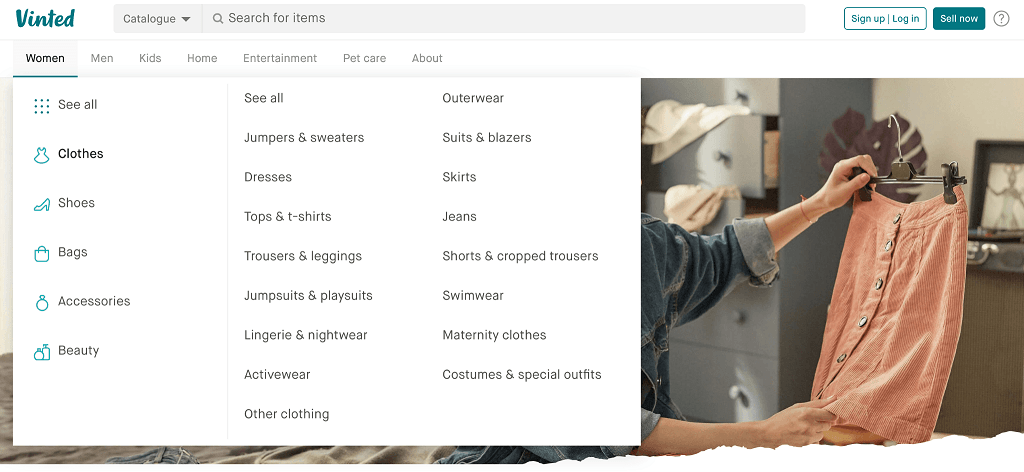 Many people use Vinted to declutter their closets and earn a bit of extra cash. Others use it as a way to sell gently used items that they no longer need or want. Still, others use it as a way to find unique or vintage items that may be difficult to find elsewhere.
Some of the most common and popular items for sale on Vinted include:
Denim, skirts, dresses, and women's fashion items
Belts, scarves, sunglasses, and other accessories
Necklaces, bracelets, bangles, and earrings
Handbags, tote bags, backpacks, diaper bags
Perfume, make-up, and other beauty products
Books
Pet care products like collars, leashes, dog bedding, and toys
In particular, the marketplace is geared towards selling gently used, secondhand goods.
Features and benefits
For sellers
Next, in our Vinted review, we'll look at the features and benefits of using this popular online marketplace and some potential drawbacks in the next section.
Ease of use
One of the best things about Vinted is its straightforwardness. The interface is straightforward and user-friendly, and plenty of helpful tutorials are available if you need them. You can also connect with other users on the site to ask questions or get advice.
No fees (!)
Another great thing about Vinted is that they don't charge the seller any fees! On Vinted, the buyer pays a fixed fee of $0.70 per transaction as well as a variable fee of 5% of the total order value. Vinted calls this the Buyer Protection Fee. The idea is that in exchange for this fee, Vinted will cover the cost of lost or damaged items.
For sellers, this is much more interesting than other marketplaces such as Poshmark or Mercari, who often charge seller fees in the range of 10-25%.
You can use Crosslist's free Vinted fee calculator to calculate your seller profit and margin when selling on Vinted.
Convenient mobile app
If you're going to be selling regularly, it can be a real drag only using your laptop to communicate with potential buyers. The Vinted mobile app makes it much easier to connect with buyers, respond quickly to messages, and list new items on the go.
No listing fees
Some online marketplaces like Etsy or eBay charge you a fee to list your item on the platform and other maintenance fees, such as paying to renew your listing after a set period if it hasn't sold. Listing fees on eBay and other marketplaces can eat into your profits, so it's a real bonus that Vinted doesn't charge any listing fees. 
Low minimum withdrawal amounts
Some marketplaces have very high thresholds for withdrawing funds, meaning profit can sit in your account, and you have no way of withdrawing it.
Vinted has a minimum withdrawal amount of £0.10, which can be sent straight to your bank account for added convenience.
Pre-paid shipping labels
Because the buyer pays for shipping, your shipping labels are pre-paid for. All you need to do is follow the shipping instructions Vinted sends to you once an item has sold, print out the label, and stick the label on the package according to the instructions.
For buyers
When we were compiling this Vinted review, we thought it was also essential to include the benefits of Vinted for shoppers because they ultimately determine how well your Vinted shop does. So instilling confidence in buyers is the first step to succeeding on the platform.
Shop on the go
Modern life is fast-paced and busy, so most people prefer doing all their shopping from their mobile phones rather than on a desktop.
This allows people to shop on the go while on their daily commute, standing in a queue, or over their lunch break. Vinted has a well-designed mobile app available on iOS and Android.
Secure payments
Vinted shoppers can pay via bank card or top up their Vinted wallet. Either way, payments are secure and encrypted, allowing for peace of mind while shopping.
Control over shipping
Unlike other online marketplaces, Vinted allows buyers to determine the shipping method for added convenience.
As a shopper, you can choose which carrier you would like to use to ship your order and track the parcel along its entire journey for peace of mind.
Buyer protection
To protect your money from scammers, sellers are only paid once the item is marked as received. Thus, buyers are charged a buyer protection fee of between 3 and 8% before postage fees to facilitate this security measure.
Easy refunds
If an order is lost in transit, arrives damaged, or is not as described, you can request a full refund from the seller within 2 days of receiving the item.
In most cases, the buyer will have to cover the return costs unless otherwise agreed upon (e.g., wrong item shipped by the seller).
That being said, the caveat is that refunds can often be slow (see below).
Bundles
Do you have your eye on multiple items from one seller? No problem! You can bundle a bunch of items into one parcel to save on shipping costs.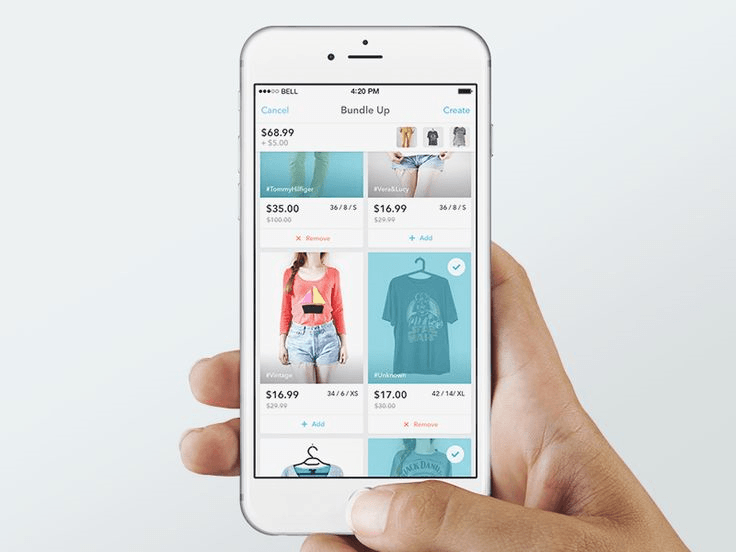 Negatives of selling on Vinted
As you'll find with most marketplaces, a few potential negatives exist to selling on Vinted.
For sellers
Items can sit idle for long periods
If you are not actively working on promoting your listings on Vinted, they can sit for a long time and not sell.
You need to have a good pricing strategy, decent images, and put effort into your descriptions if you want to sell items quickly. Otherwise, it defeats the point of decluttering your wardrobe.
Buyers choose how the order will be shipped
While control over selecting a shipping carrier is super convenient for buyers, it's not always convenient for sellers.
The carrier may not have great customer service or have a drop-off point in an inconvenient location.
It is always preferable to choose your own carrier, but if you sell on Vinted, you need to make peace with not having any control over the shipping method.
Technical issues
At the time of writing this article, Vinted is experiencing a delay in processing payments, which means sellers have to wait longer to receive their payouts.
In November 2021, Vinted suddenly required all sellers to submit scanned copies of their ID documents for funds to be released.
This understandably caused quite an uproar among sellers and within the EU's General Data Protection Regulation.
Some sellers had thousands in sales tied up in their Vinted accounts, and the money was frozen until identification could be provided.
The GDPR authority wanted proof that sellers' sensitive information would be kept confidential and secure.
Some argued how unethical it was to do this after the seller had accumulated a lot of sales. Many feel this identity verification should take place upon signing up.
Questions surrounding privacy
Sellers are urged to check their privacy settings when setting up a Vinted account. Certain checkboxes exist, such as "allow Vinted to use my images for marketing purposes" and "notify owners when I favorite their items", that private users may not appreciate.
For buyers
While there are drawbacks for sellers who choose to list their items on Vinted, buyers are not immune to problems either.
Some of the most frequently reported gripes revolve around customer service, buyer protection fees, and dissatisfaction with purchases. Let's look at these common problems a little closer.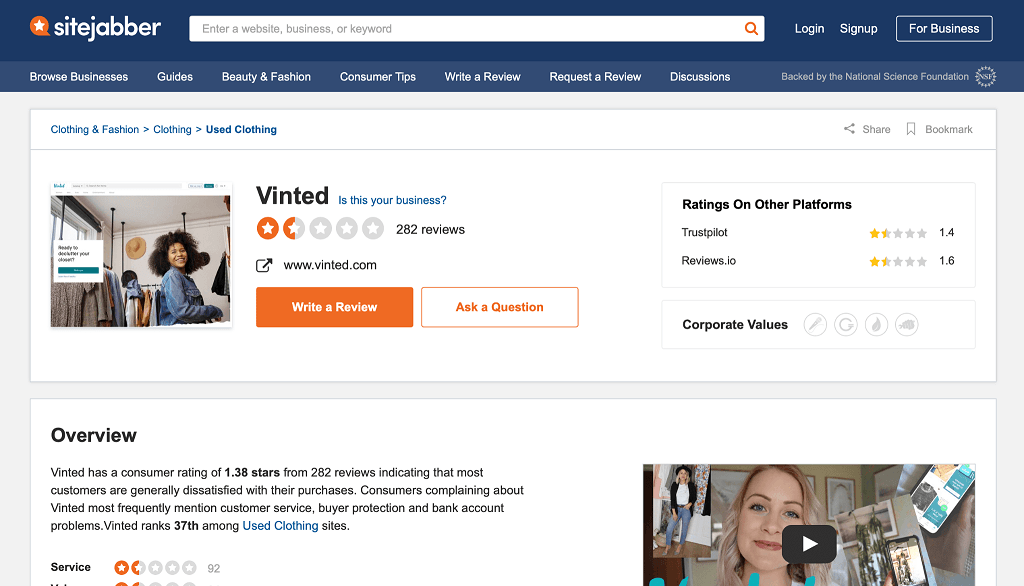 Poor customer service
Poor customer service can be two-fold for buyers. It can stem from their experience with the seller as well as the platform itself.
Buyers can run into problems when they buy from a disorganized or dishonest seller. Many of these online marketplaces can get a bad reputation from a handful of bad sellers that have nothing to do with the platform itself.
However, some buyers express frustration over how Vinted handles customer queries in that there is an automated response and often a 48-hour+ delay in any real feedback.
Refunds can be slow (or even non-existent!)
A few of the Vinted reviews commented that despite parcels being damaged or lost in transit, the platform never processed the refund, or if they did, it took a while.
It is impossible to determine whether these reviewers followed the correct procedures but if you do end up requesting a refund, be sure to notify the seller and get them involved in following up on the refund you're due.
Sifting through fakes
Buyers have reported that they've been duped into buying fakes on Vinted, which is not uncommon on any online marketplace. So how do you spot a fake? Ask for close-up pictures, a picture of the label, and check the price. If the price is too low for a high-ticket item, it's likely a fake.
How to avoid a scam on Vinted?
Sadly, there are scammers on almost every platform nowadays, but there are measures you can take to ensure you don't fall victim to a scam artist on the Vinted marketplace. Here are some things to look out for when using Vinted:
Be suspicious if a buyer offers to pay you more than the asking price for an item. This could be a scam where the buyer intends not to pay you at all, or they may cancel the transaction after receiving the item or try to get a refund from you with no intention of returning the item.
If a buyer asks for your personal information (address, phone number, etc.), do not provide it. This is likely a scam where the buyer intends to use your information for identity theft.
If something about a transaction feels "off" or too good to be true, trust your gut and don't do it. It's better to be safe than sorry!
If a seller has a lot of 3-star reviews, then it is best to avoid purchasing from them as they are likely not an honest seller.
If a seller has no reviews, don't assume they're a scammer, they could be new to Vinted. If they have no profile picture and give you seriously shady vibes, then walk away.
If the listing price is ridiculously low, it should raise a red flag, especially if it's a sought-after item like Levi jeans or anything else branded. You're likely buying a fake.
If photos look fake or staged, they probably are or could have been stolen from someone else's store or social media.
Don't be afraid to ask questions or for more images. A legit seller with nothing to hide will be more than happy to answer your questions or provide you with additional pictures of the items.
If you see any of these red flags, it's best to move on and find another seller. Don't let yourself be scammed on Vinted!
Is bumping listings worth it?
Vinted offers item Bumps, essentially allowing you to pay to boost the visibility of your listings. Bumping your Vinted listings is a great way to ensure that your items are seen by the most people possible.
When you bump a listing, it appears at the top of the page for 3 days. This means that more people will see your listing, and you're more likely to make a sale.
However, there is a downside to bumping your listings: it costs money. Each time you bump a listing, you have to pay a small fee of £0.95 per bump. This can add up quickly if you're constantly bumping your listings.
So, is it worth it to bump your Vinted listings? That depends on how often you do it and how badly you need to sell your items.
It will probably not break the bank if you only occasionally bump your listings. But if you're constantly bumping your listings, you might want to reconsider whether or not it's really worth it. It also depends on the value of the item.
There is more wiggle room with an item you're selling for $100 than the one you're selling for $10, as Bumps can start to eat into your profits on low-value goods.
Is Vinted Spotlight worth it?
There are a few things to consider when thinking about whether or not Vinted's Wardrobe Spotlight feature is worth it. For starters, it costs £6.95 for 7 days. What does that buy you?
Your items will be promoted in a separate section of Vinted for 7 days. They will appear prominently in the Vinted newsfeed and shopper catalog search results.
Specifically, 5 of your items will be displayed in shopper news feeds for the entire 7 days. 2 of the items will match shopper catalog filters and preferences to increase the odds of a sale.
Finally, shoppers have one-click access to the rest of your wardrobe off the one listing, boosting the chances of them buying multiple items in one go.
Below is an example from Vinted on how sellers could improve their visibility by using the Wardrobe Spotlight feature.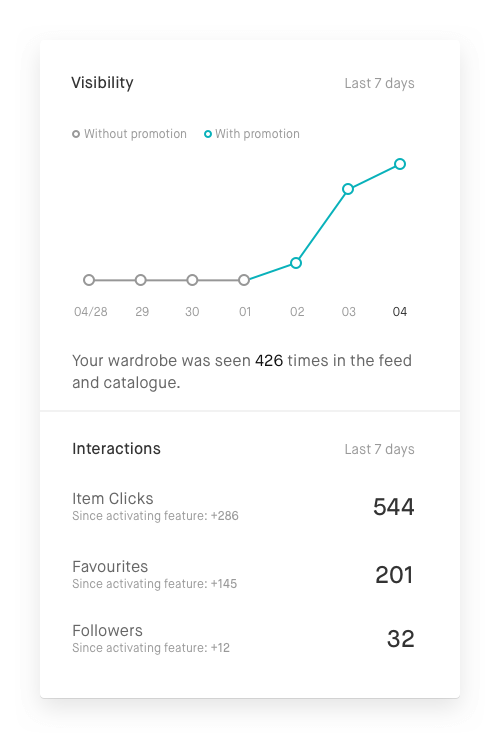 So, if you're looking for some extra exposure for your items and don't mind paying a little bit for it, then Vinted Spotlight is definitely worth considering.
6 tips to get the most out of Vinted
If you're serious about decluttering your wardrobe and want to sell your unwanted items off quickly, then pay attention. Here's our crash course on how to be successful on Vinted!
1. Quality over quantity
When it comes to selling on Vinted, it's important to remember that quality always trumps quantity.
Don't flood your closet with low-quality or damaged items; instead, focus on selling a smaller number of higher-quality pieces.
This will increase your chances of making a sale and help you build up a positive reputation as a seller on the site.
2. Take great photos
Besides quality items, another key to success on Vinted is taking great photos of your items. Make sure they're well-lit and show off the item from all angles. You can even add a little bit of creativity into your shots to make them stand out and grab attention.
3. Be responsive
Once you start receiving messages from potential buyers, it's essential to be responsive and answer any questions they have promptly. If you take too long to reply, they may move on to another seller who is more responsive.
4. Offer discounts
Buyers always appreciate discounts, so consider offering them from time to time (especially if you have multiple items for sale). This can help you move inventory quickly and encourage buyers to return to your closet in the future.
5. Stay active
The more active you are on the platform and actively promoting your store, the more likely you are to be found by buyers.
Don't be shy to use social media like Facebook groups and your personal accounts to get traffic to your store. Ask your friends to share your listings with their friends. This way, you'll have built up a following on Vinted before long.
6. Ship quickly
While Vinted gives you 5 days to ship sold items, the sooner you send items off, the better for you. You're much more likely to get a 5-star review if you send items off promptly rather than waiting – or exceeding – the entire window period.
Looking for more reselling tips? Then check out these 7 foolproof reselling tips for attracting customers and boosting sales.
So, is it worth selling on Vinted?
Vinted is an excellent platform for selling clothes, shoes, and accessories. The fees are reasonable, and the mobile app is easy to use. If you're looking for an alternative to Poshmark or Depop, Vinted is definitely worth checking out.
If you're already selling on another marketplace and considering spreading your wings to sell on other online marketplaces too, you're onto a good idea. After all, as the saying goes, it's not a good idea to put all your eggs into one basket.
Listing your items across multiple platforms doesn't have to be time-consuming. Crosslist can significantly speed up and automate cross listing items to multiple marketplaces. Find out more about how Crosslist can save you time here.
Want the scoop on how to sell on some of the world's most well-loved platforms? Check out our blog for the only guides to selling online you'll ever need.
Questions or just say hello!
Well, congratulations to you for making it this far! Here's a reward in the form of a 10% discount code on your first month of Crosslist (add during check-out). Sign up now with a 3-day money-back guarantee!
You can learn more about how Crosslist works here.
If you have further questions, feedback, bug reports, or want to know a bit more about us, why not swing by for a chat and say G'day! You can have a chat with us through Messenger.