How To Succesfully Sell On Depop And Skyrocket Your Sales!
---
Do you enjoy thrifting while having an urge to start your own business selling vintage clothing? Or do you simply want to reduce your wardrobe to a capsule? Whatever your objectives are, selling on Depop can be lucrative – if you learn how to do it well!
In this article, we will discuss everything you need to know about selling successfully on Depop, from setting up an eye-catching account to applying best-selling practices.
Before we get to all of that, a mandatory blurb about Depop for those unfamiliar with the platform.
What is Depop?
Depop started as an online marketplace for buying and selling clothing. While this is still its primary use, Depop now allows sellers to sell other items as well. They can set up their profiles to function as digital storefronts, listing their items accompanied by pictures, descriptions, and price.
According to Varsity, there are over 20 million Depop users, 90% of whom are under 26 years old. It is safe to say that the platform caters to the Gen Z audience.
How much does it cost to sell on Depop?
Posting stuff on Depop is free. In other words, you will not be charged for products that do not sell.
When your item does sell, Depop will take a 10% commission on the total transaction (that includes shipping costs). The cost will be deducted from your linked PayPal account or your card on file with Depop. In addition, the United States has a PayPal transaction fee of 3.49% plus $0.49 (keep in mind that PayPal can adjust these fees at its discretion). If you use Depop Payments, the fee is cheaper at 3.3% plus $0.45.
Let's clarify all of these fees using an example. Imagine you sold an item for $40, which you bought at $20. The shipping cost is $3 and is covered by the seller. You use Depop Payments to process the sale: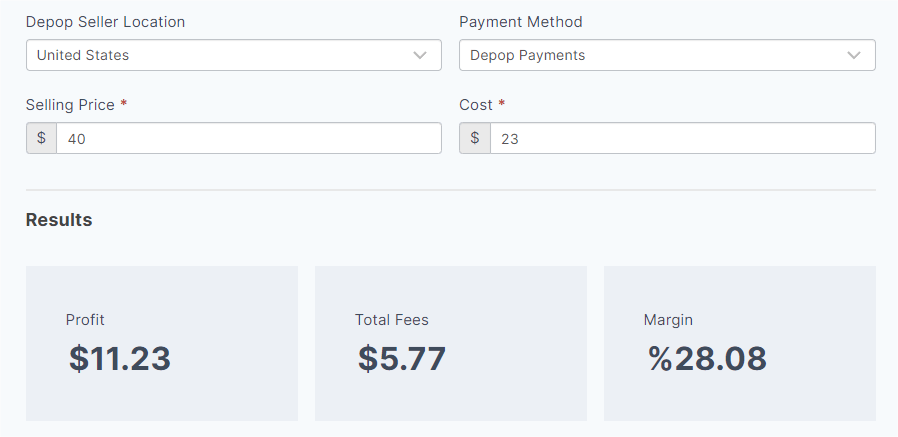 You can use our Depop fee calculator to help you calculate profitability when pricing your items.
Further reading: Depop Review: Should You Sell On Depop?
How to sell on Depop: 5-steps account set-up guide
Once you understand how it works and what to sell on Depop, you can start listing on the app. Here's a step-by-step instruction that will teach you how to set up the account the right way – and make your first sale.
1. Sign up to Depop
You can sign up using either the Depop app or through depop.com. You must first download Depop from Google Play or the App Store to use the app. You'll need to supply a phone number and a valid email address to complete the process.
2. Create your profile
Next, you'll need to create a username, pick a photo that will represent your shop, write a short bio for your profile, and choose a password.
If you want to be successful on Depop, spend some time creating a profile that stands out.
"Your bio is often one of the first things potential buyers see about your shop. It's important to make it snappy and personal, with enough info that they know what you and your shop are about. For example, if you have a distinct style, aesthetic, or unique selling point, make sure you mention that! We're sisters and we run our shop together, and our bio has this at the beginning."

– Depop seller @jimjamboree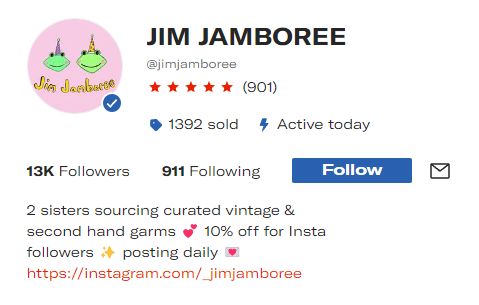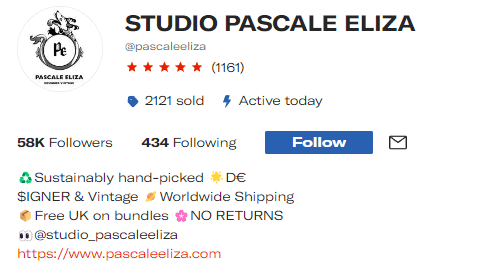 For more tips, read this guide on how to write the most effective Depop bio.
3. Set up PayPal
To sell on Depop, you must have a verified PayPal account. Follow these steps to link your PayPal account to Depop:
Launch the Depop app and tap the 'Profile icon' in the bottom right corner of your smartphone screen.
From the top right corner of the screen, tap the 'Settings' icon.
Select the PayPal account option.
Select Connect PayPal.
Access your PayPal account.
4. Set up Depop Payments
Depop Payments allows buyers to pay for things on Depop using Apple Pay, Google Pay, and credit/debit cards. Enabling Depop payments comes with significant benefits:
Increase your buyer base by providing extra payment options.
You will receive payment via your bank account.
You will be able to see all of your sales without having to leave the app.
You will be able to issue refunds without having to leave the app.
5. Start listing and selling
There are two ways to list items on Depop:
using the Depop app
through the Depop website
Get your shop off to a good start by listing at least four items. Take clear photos of each item and upload them to the app. Remember that great photos are crucial to grabbing a buyer's attention (more on that later in the article).
5 tips that will help you sell more on Depop
Making your product stand out is important in every marketplace – Depop is no exception. You'll be running your Depop page like a pro if you follow the tips we list below.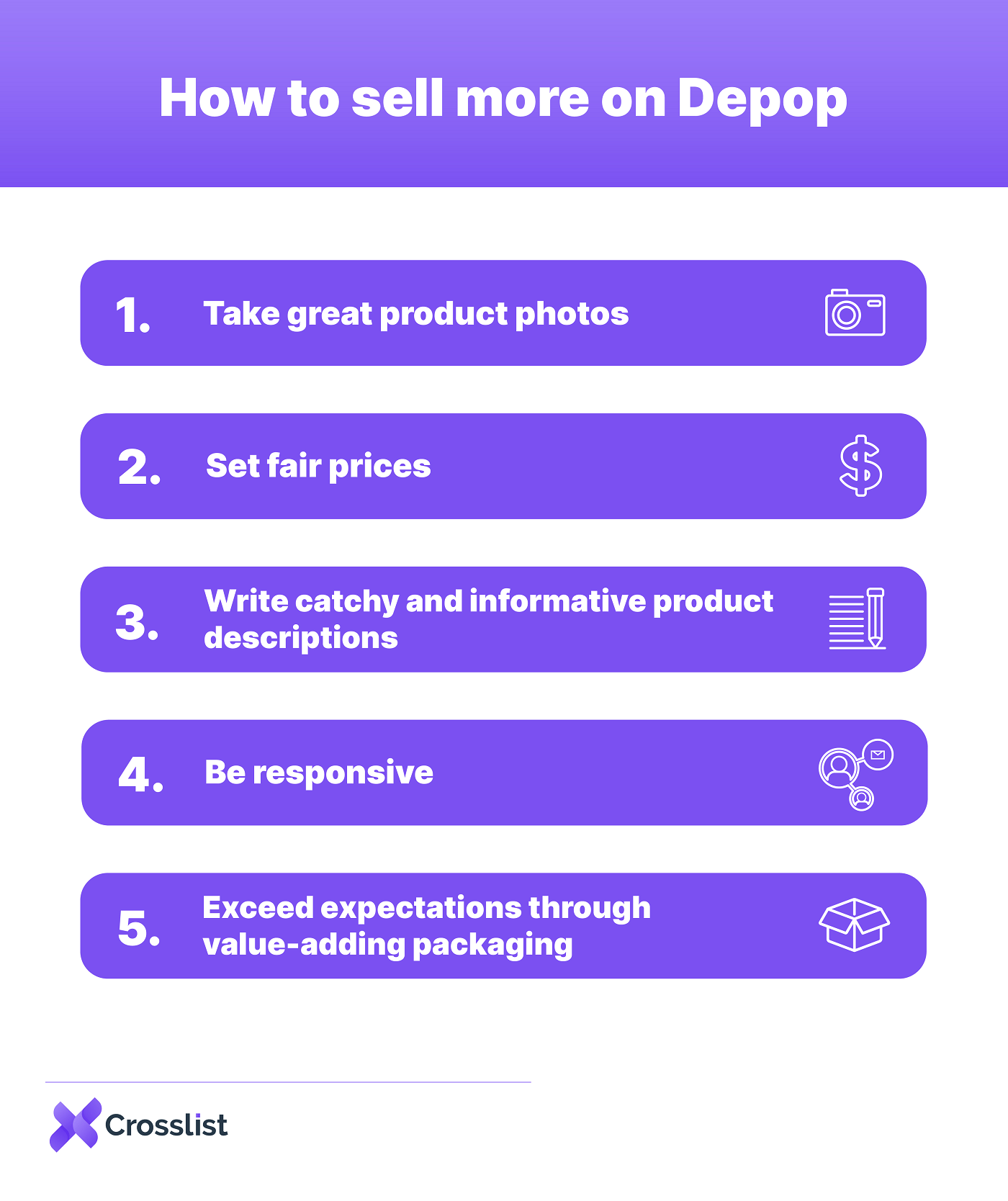 1. Take great product photos
When selling online, you should ensure that the images you utilize are attractive and clear. Make sure your clothes are presentable – spotless, clean, and ironed/steamed.
Try dressing up in the clothes, creating an ensemble, or taking a flat-lay photo. Whenever possible, try to use light or pale backdrops. Take advantage of as much natural sunlight as you can.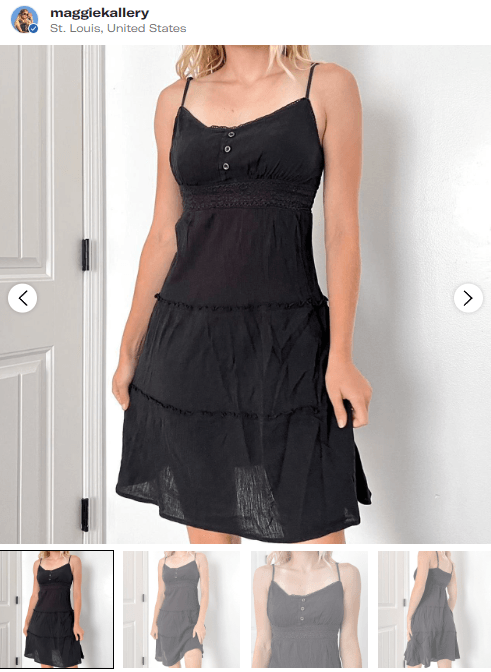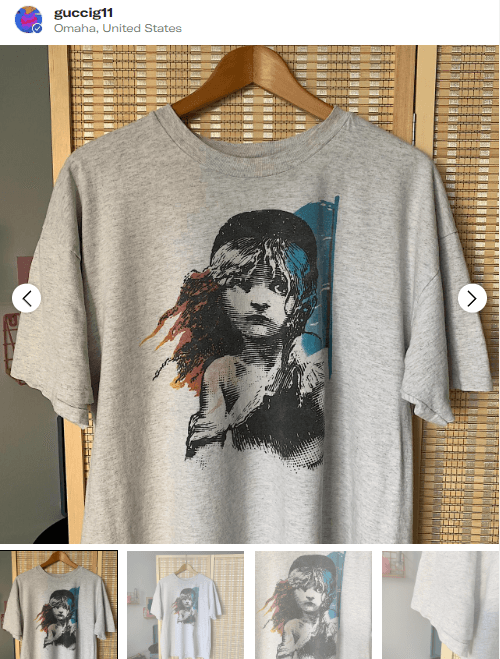 2. Set fair prices
Another critical component of selling is pricing. Calculate your item's total cost, including delivery and retail price, before setting a price.
Additionally, if a product is currently being sold by another seller on Depop, look up related listings. It will help you see how many similar products have been sold. You can use that info to price your product slightly lower than the competition.
3. Write catchy and informative product descriptions
People want to learn more about a product before making an online purchase. You will increase your chances of gaining customers' confidence by composing an honest but compelling description. You can mention things like:
the material
the condition
the silhouette
sizing details and references
shipping details
Here is a great example of how to write an engaging and useful product description.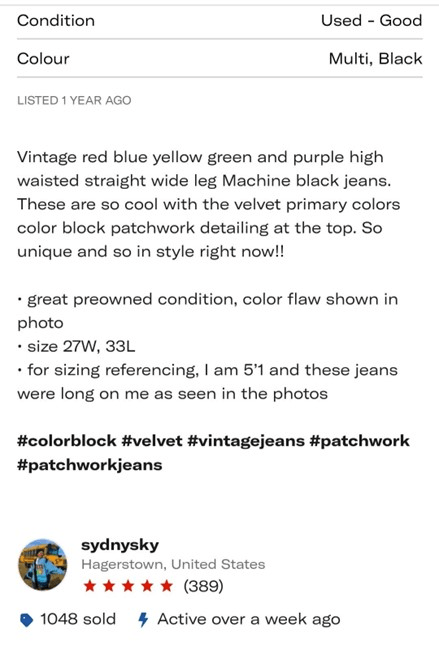 Presenting the product in the best light possible will help you sell faster. Still, staying truthful is even more important if you want to make a name for yourself and ensure long-term success.
4. Be responsive
Building killer relationships with buyers will significantly improve your chances of closing a deal. It will give your potential customers an additional sense of authenticity. Respond to messages swiftly, show appreciation, and never be afraid to ask for feedback on things you can improve.
5. Exceed expectations through value-adding packaging
The first physical interaction a customer has with your brand will be through your packaging. There are various ways in which you can use your packaging to ensure a great first impression and distinguish yourself from your competitors.
When your customer receives your product, you can impress them in the following ways:
Use quality packing. For a few extra bucks, you may get packaging bags and boxes that are more colorful, lovely, and of higher quality. If your goal is to build a brand, you might want to etch your logo or a special message into your packaging.
Stay neat. Present your item adequately folded. It will give your store a more upscale, recognizable appearance.
Include a surprise. Customers enjoy being pleasantly surprised, whether with a small bag of candy or a complimentary sticker. If you are cash-strapped, you can always write a thank-you card or a personal note. Here are some additional ideas for packaging inserts.
Ship it right away. Amazon Prime and other same-day shipping and delivery services have spoiled us. The sooner your items are in the buyer's hands, the more satisfied with their purchase they will be. Make sure the items you are selling are ready to go at any time. Additionally, offer different shipping options a buyer can choose from. It is an excellent way to manage expectations about delivery time.
Now that you have an idea of how to sell on Depop, let's discuss what has a good sell-through and can be quickly moved off your hands.
What sells fast on Depop?
There isn't a single correct response to this question as the demand is significantly influenced by the seasons and the weather. On top of that, you'll need to research what's in and out to stay up-to-date with fashion trends.
When evaluating what you can sell quickly on Depop, consider things like sneakers, streetwear, and designer labels. All of these are in high demand on Depop throughout the whole year.
If you want to optimize your approach further to sell fast on Depop, read this Depop article to learn which type of men's and women's clothing sells best during different seasons. To learn more about how to sell on other great reselling platforms, read our article with tips on how to sell on Mercari, our Poshmark tips article, and others!
Additional tips on how to sell clothes on Depop
Setting up your shop properly, being open with your consumers, and developing your brand are the keys to becoming a successful Depop vendor.
Since this is the most likely reason you (will) have a Depop profile, let's go through some additional tips on how to sell your clothes on Depop successfully.
Find good clothes to (re)sell
You can find good clothes in the following ways:
Goods from your wardrobe you do not plan to wear (a standard option for those just starting out).
Help family members and acquaintances organize their closets.
Flea markets, second-hand stores, rag homes, wholesalers, or car boots are some other places to find good second-hand items.
Use social media to promote your listings
If you are serious about reselling, you should try to grow a following on social media to boost the sales of your garments and accessories on Depop. Many top Depop sellers use social media to notify their followers about new listings.
Another thing social media is great for is networking, as that is what it was literally designed for. Follow other sellers. Talk to and listen to your community to keep them engaged. Both of these will help you develop interesting and helpful social media content.
Connecting pays off. If you have time for it, try building an Instagram account for your Depop shop. It is a great method to expand the reach of your brand.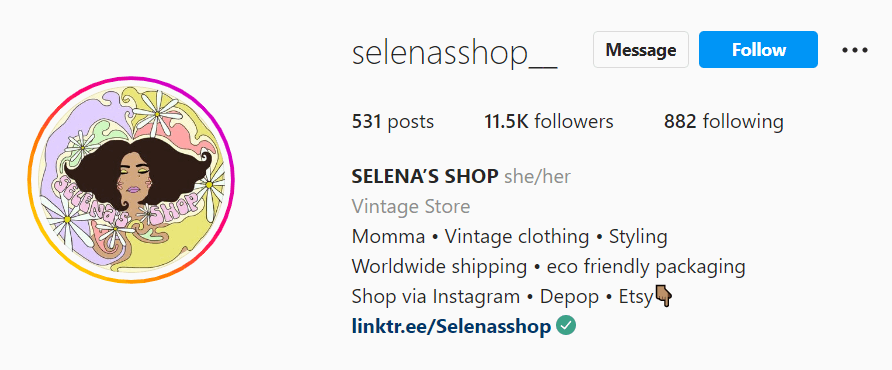 Offer discounts and free shipping
You can attract more customers and increase your brand's competitiveness by providing free delivery and timely discounts.
For example, did you know that shipping costs account for 61% of all shopping cart abandonments?
Therefore, offering free shipping will help you close more sales, even if you have to price your items a few bucks more because of that.
Determine a reasonable return policy
As a private reseller, you're generally not obligated to accept returns and issue refunds on Depop. Only in very specific situations, such as for example when the buyer did not receive the item, are you required to offer a refund.
However, setting a lenient refund policy could incite buyers to buy from you, as it increases their perceived trust in your business. By setting a reasonable refund policy, buyers feel more safe purchasing from you.
Find your audience – and cater to them
On Depop, aesthetics are a crucial selling factor. Everything has a place, from basic T-shirts to one-of-a-kind clothes. When you find something that works, stick with it. The key is consistency.
Sometimes you will find your audience, and sometimes your audience will find you. Sooki Sooki Vintage is a perfect example. She chooses the goods based on how she sees herself wearing them.
She discovered that none of the Depop accounts selling vintage clothing from the 1960s and 1970s resembled her, despite many of them catering to her niche.
As a result, she felt underrepresented on the platform and assumed other potential customers felt similarly. This is how she discovered a market gap and used that information to create her own unique niche.
Prohibited and restricted items on Depop
The list of things you can't sell on Depop is solely meant to be a reference. You are only permitted to sell things you own. You are not permitted to purchase or sell anything that is illegal where you live (even if that item is specified on the official list as being permitted).
Here are a few significant prohibitions:
adult-only material and nudity
alcohol
counterfeit currency and stamps
advertisements
counterfeit items, replicas, and unauthorized copies
animals and wildlife products
drugs and drug paraphernalia
Keep in mind that Depop continuously updates this list.
How to sell on Depop and other marketplaces with Crosslist
If you want to sell your items on more than one marketplace, you will want to use a capable cross-listing app. The higher the volume of items you sell, the more time such an app can save.
Here is how to get started with Crosslist:
Register for a Crosslist account: Crosslist is web app that is accessible on any device! Simply sign in to get started.
Create new listings: Start by selecting the marketplaces on which you want to list your products. You can even use your mobile phone to directly take pictures of your products.
Or import existing listings: Crosslist also allows you to import your existing listings from different marketplaces, saving you the time you would otherwise spend recreating those listing from scratch for every marketplace.
List on your marketplaces: Click the Post button to list your product on multiple marketplaces at once!
Besides Depop, Crosslist helps you list quickly on eight more marketplaces such as eBay, Poshmark, and Mercari!
Questions or just say hello!
Well, congratulations to you for making it this far! Here's a reward in the form of a 10% discount code on your first month of Crosslist (add during check-out). Sign up now with a 3-day money-back guarantee!
You can learn more about how Crosslist works here.
If you have further questions, feedback, bug reports, or want to know a bit more about us, why not swing by for a chat and say G'day! You can have a chat with us through Messenger.