List Perfectly vs Vendoo: Everything You Need To Know

---
In today's world of modern technology and tight time schedules, saving time is an absolute must. The way people usually do this is by trimming time off of trivial tasks that can be simplified, streamlined, and done more quickly.
If you are in the online selling business and selling different items on marketplaces such as eBay, Poshmark, and Mercari, you know how much time and effort this can take. You need to create listings, edit images, and complete fields such as category, size, and brand, often on multiple marketplaces. All of this requires a lot of time and manual work.
Cross listing apps were envisioned to step in right there. In today's deep dive, we are taking a look at the performance of Vendoo vs List Perfectly, two popular apps, comparing features, and figuring out the pros and cons. We'll also see how they stack up against Crosslist – one of the newest cross-posting apps on the market.
Vendoo vs List Perfectly vs Crosslist considerations and feature comparison
While we will strive to do an honest job showcasing the features of Vendoo and List Perfectly, bear in mind that the features change with pricing plans, and the applications themselves change from time to time.
All of these applications allow you to list your items across multiple marketplaces, manage your images, and keep track of your inventory. There are, however, differences in features and availability, which we will discuss in detail.
Disclaimer: This review is based on features available in September 2022, and the current situation may potentially change in the future.
List Perfectly review
If we look at the origins of List Perfectly vs Vendoo, it is funny how these two stories come from different backgrounds – yet aim to solve the same user pain points. Founders Amanda Morse and Clara Albornoz began their story trying to solve a problem for an online seller like themselves, and this led them to the app we are reviewing today.
Their mission statement might appeal to a wide audience, stating that the average American throws away 82 lbs. of clothing each year. However, reselling to keep those clothes out of landfills reduces each item's CO2 impact by 79% with each sale.
Design & interface
Looking at List Perfectly's design and interface, we noticed that online reviews are reporting interface glitches with List Perfectly. Even though the app is known to have easily available and nice-to-work-with customer support, List Perfectly has been reported to require some getting used to. 
The app seems to work great once you get there, but the learning process is steep. Another point: the cross listing seems to be a bit clunky sometimes, often still requiring manual inputs for supported fields.
Plans & pricing
If we look at List Perfectly vs Vendoo in terms of pricing plans, the features that get changed from one to the other are very different. For example, List Perfectly has gated access to Instagram and Shopify separately. Unlike Vendoo, List Perfectly also comes with restrictions regarding which fields of the listing form are supported.
For example, their cheapest plan only supports 4 fields: images, title, description, and price. We reckon that for many sellers this selection will be too limited, pushing them towards the higher-priced plans.
Below you can find a summary of their pricing:
Simple plan: $29 per month
Business plan: 49 per month
Pro plan: $69 per month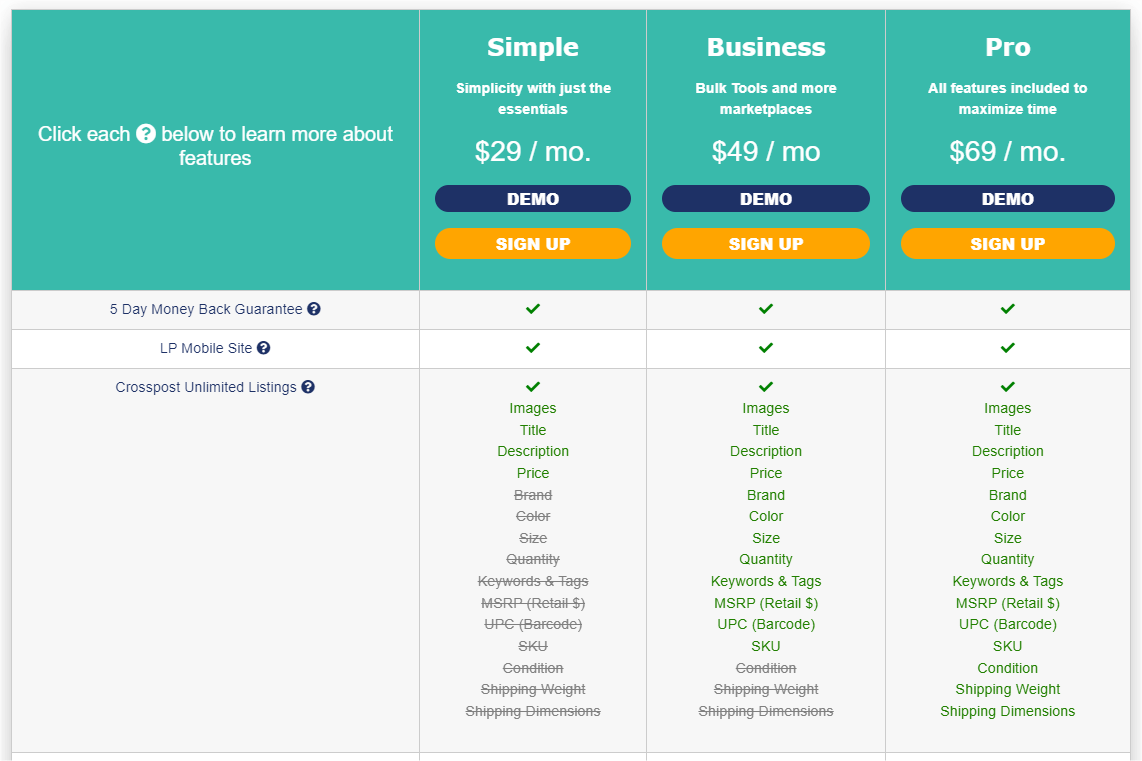 Image editor
Another point: their image editor in the most basic plan has only one option – rotating. Even the full image management feature, available with the full pricing plan, is still very basic: rotate, brightness, contrast, crop, some filters, and a background remover.
Importing
While all pricing plans support unlimited import of listings into the LP catalog of items, only the higher tier plans support bulk importing. It is important to consider that while importing is unlimited, each listing is still limited to the plan's supported fields as described above.
Vendoo review
Vendoo began its journey in 2017 when founder Thomas Rivas assembled a team and began building a product that would address a gap he saw in the market. Today Vendoo is based in the Washington, DC area, and takes pride in stating they are a minority-owned startup.
Design & interface
The Vendoo interface is intuitive, especially if you look at it from a Vendoo vs List Perfectly perspective. What happens in the app makes sense for the user, and the learning curve is neither long nor steep. However, just like with List Perfectly, people have reported glitches in online reviews, which leaves room for improvement.
In addition to that, there is no unified listing form and post button that allows you to list on all marketplaces at once. Instead, you must select each marketplace separately, complete a marketplace-specific form and then list using separate post buttons.
Plans & pricing
Vendoo's pricing starts at $8.99 for 25 inventory items and goes up to $149.99 for 4.000 items, which is less attractive for sellers with large inventories compared to List Perfectly. However, unlike the latter, they do offer a free trial, limited to just 5 items.
Moreover, Vendoo also requires you to buy specific add-ons before you get access to all features, even in the highest-priced plan. This isn't necessarily bad, as it allows for easily manageable scalability, however, we do expect that some folks may have issues with additional payments to unlock all features.
In particular, you need to purchase an add-on before you can unlock all supported marketplaces. On top of that, you will need an additional import add-on before you can get your inventory into Vendoo.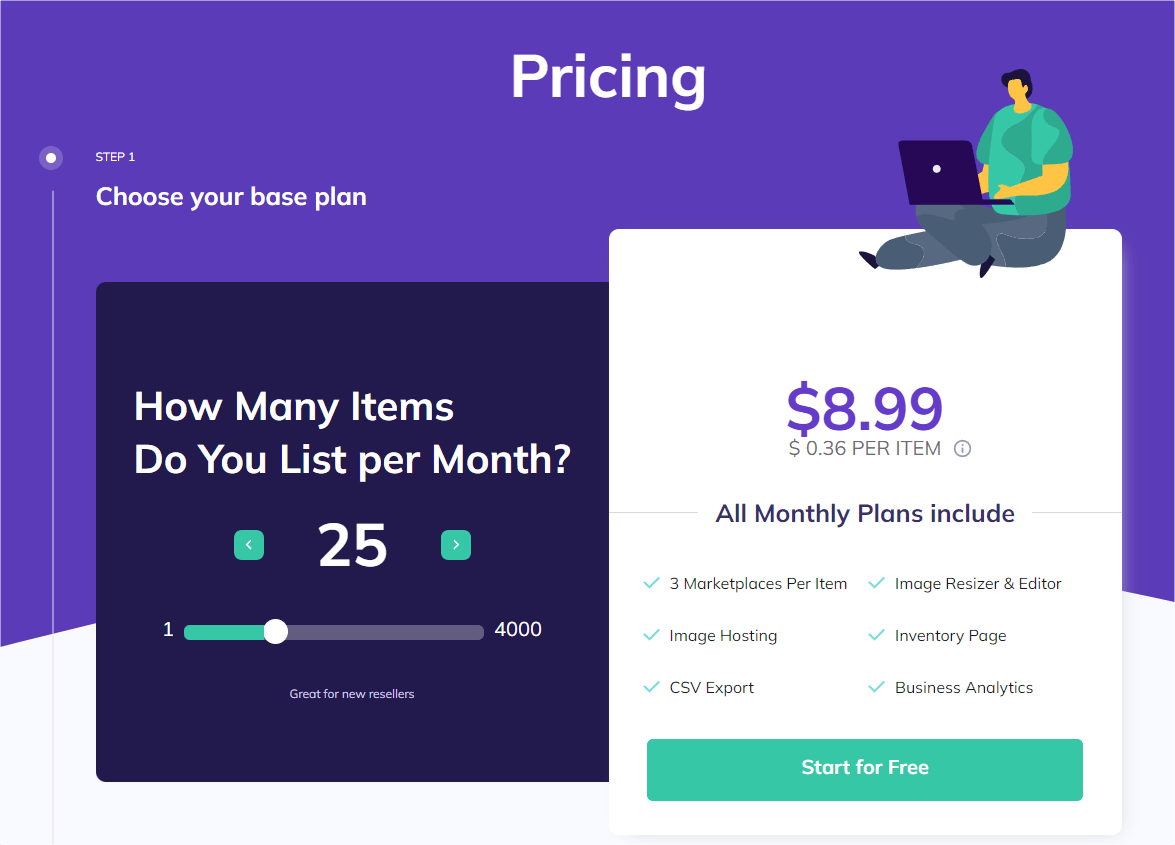 Image editor
All pricing plans include an image resizer and editor, which we thought was cool; the editing functions include zoom, rotation, contrast, brightness, and saturation – and that is it.
Mobile support
Vendoo is also primarily a computer-based app and only supports listing on eBay and Etsy from your phone. This is different from List Perfectly, which requires a computer to list on all marketplaces.
Importing
Vendoo allows you to import your listings into their application, as long as you have purchased the import add-on. After importing, you are able to list them on other marketplaces. Unlike List Perfectly, there is no option to cross post directly between two marketplaces.
Crosslist review
Looking at List Perfectly vs Vendoo, and how they match up Crosslist, we notice a number of differences. Just a quick glance shows us that Crosslist differs from the competition in a few very important ways that we will outline in more detail below.
Design & interface
Crosslist takes pride in its beautiful design and highly intuitive interface. Also, the embedded listing form features an intuitive dynamic system that only shows the fields that are relevant to the marketplaces you have selected.
For example, if you are only interested in selling on Poshmark and Depop, the application will not show fields that exist exclusively on Mercari. This way, you do not need to fill in fields that aren't relevant to the marketplaces you have selected.
Listing can be done by a simple click on the Post button, which is conveniently located at the bottom of the form.
Crosslist also puts in great effort in being as mobile-friendly as possible; not only can you create and manage your listings from your phone, you can also import from eBay. The app even allows you to take pictures directly using your phone's camera!
Based on our user's feedback, our priority has always been to allow for a large amount of image storage along with an intuitive and extensive image-editing tool.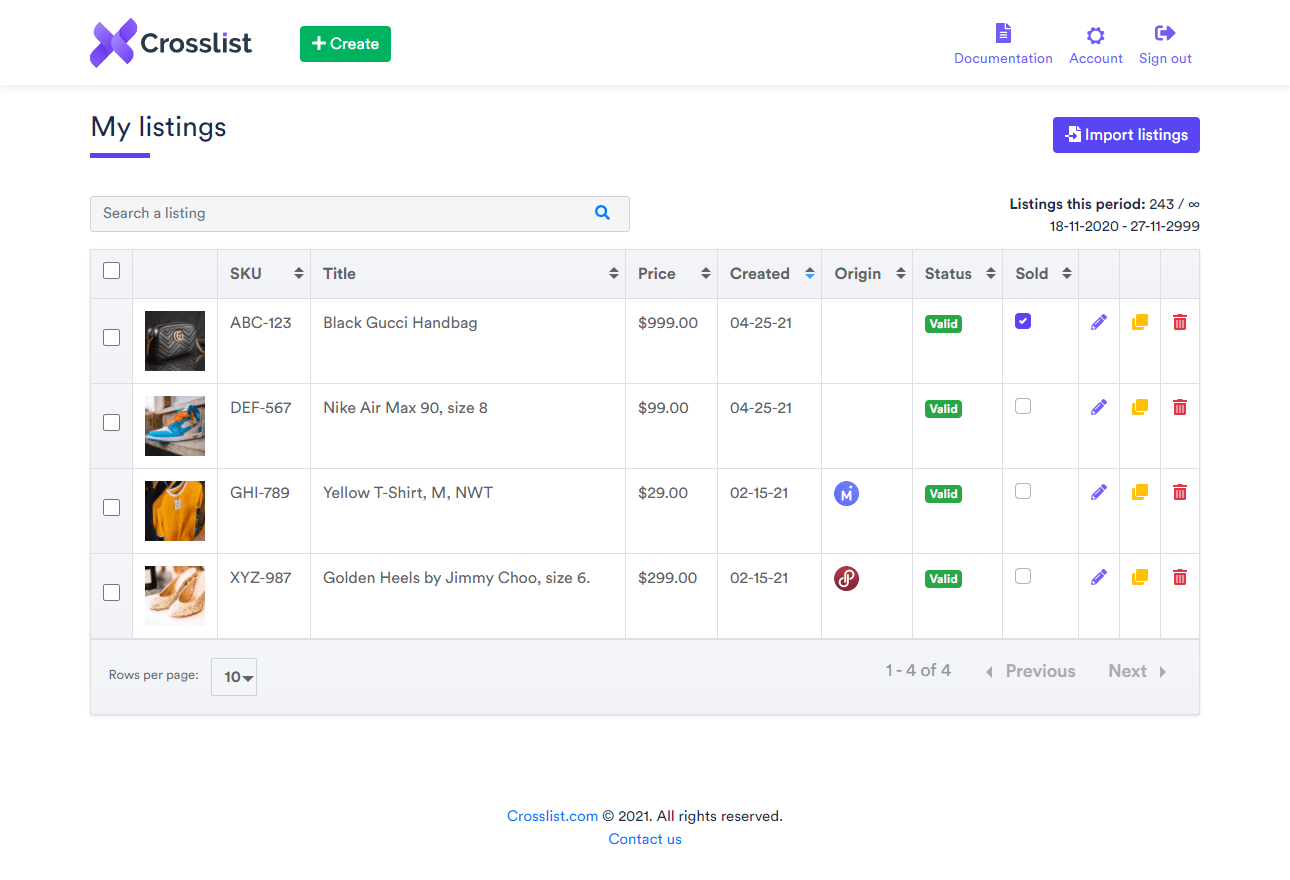 Importing
Crosslist allows you to import up to twenty listings simultaneously in a matter of seconds. Also, the application lets you import listings in bulk or one by one.
Alternatively, you can also cross list immediately from one marketplace to another. Each system serves a specific use case, depending on whether you want to make modifications before cross listing or not, such as image editing.
We can proudly state that it is by far the fastest importing tool of the three. On top of that, even the cheapest plan supports importing and cross listing.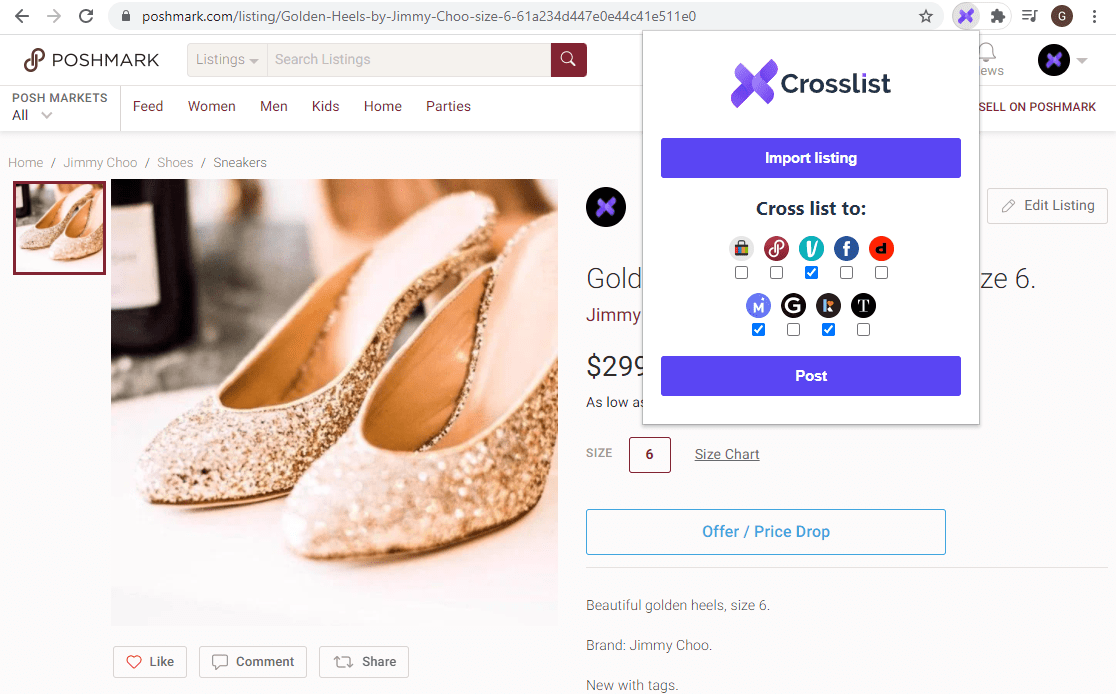 Image editor
When it comes to stand-out features, Crosslist's intuitive image-editing interface is a leading in-app feature. You can rotate, crop, zoom, use filters, add annotations and stickers, and after that, you can fine-tune by playing with the brightness, contrast, saturation, exposure, temperature, gamma, clarity, and vignette.
It is by far the most advanced of the three: doesn't lock features, supports cropping, rotating, zooming, filters, annotations advanced fine-tuning (brightness, contrast, saturation, exposure, temperature, gamma, clarity, vignette), as well as adding stickers to images. Also, it features a beautiful interface.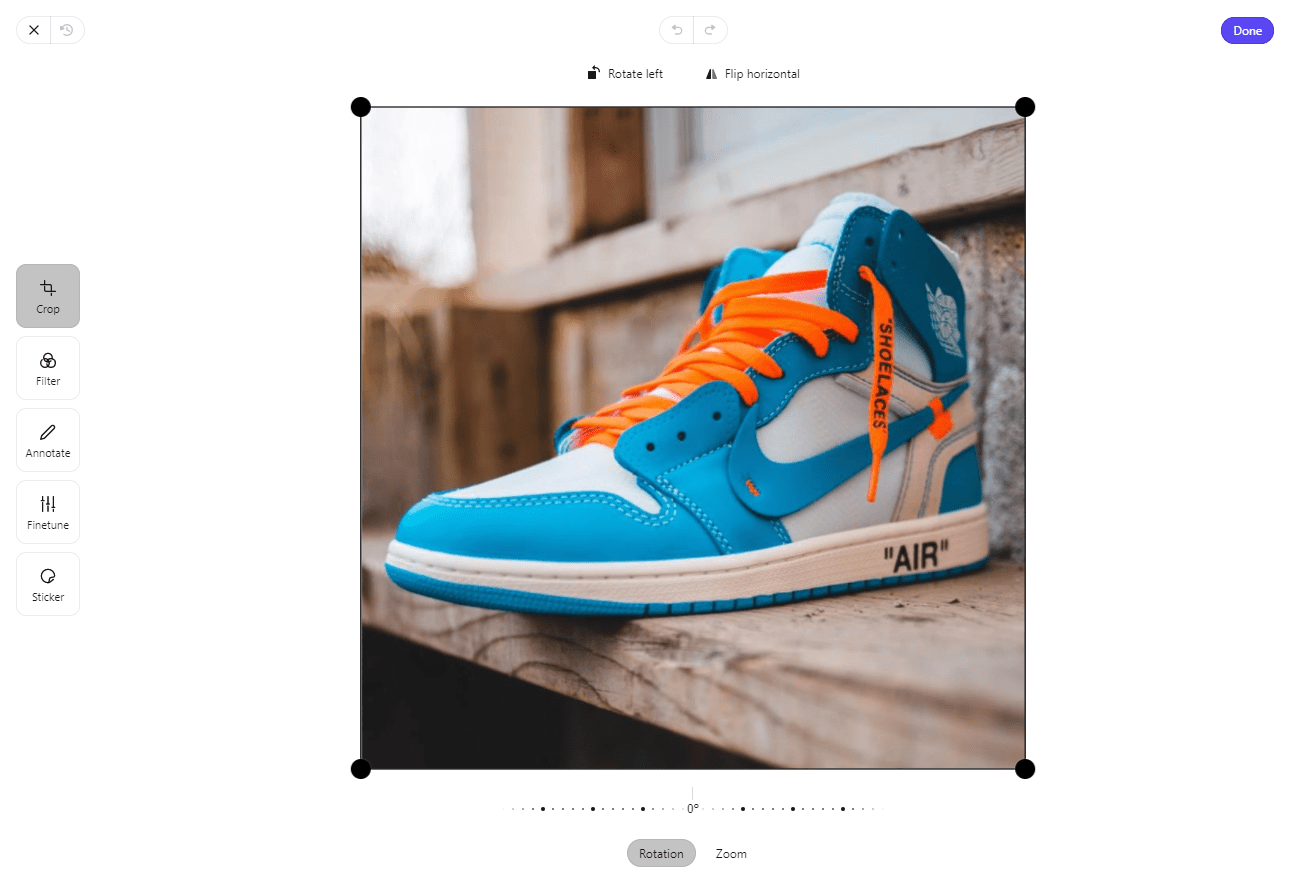 Plans & pricing
Looking at Crosslist – and how we compare in this Vendoo vs List Perfectly review – the first difference is the pricing model. From the most basic pricing plan, Crosslist includes unlimited bulk listing to all supported marketplaces, as well as direct cross-listing between them.
The differences between pricing plans are a bit more user-friendly: instead of locking features behind a pay-gate, we distinguish between pricing plans via things such as the number of images per item, some image editing features, and the number of listings you can create or import per month. Once a listing has been created or imported, it can be listed an unlimited amount of times to all supported marketplaces.
Of all applications, Crosslist has the lowest price of the three and packs the best bang for the buck, as even the cheapest plan includes all nine supported marketplaces, with more on the way. Overall, it is possible to get both unlimited posting and unlimited importing for a much lower price than the above-mentioned apps.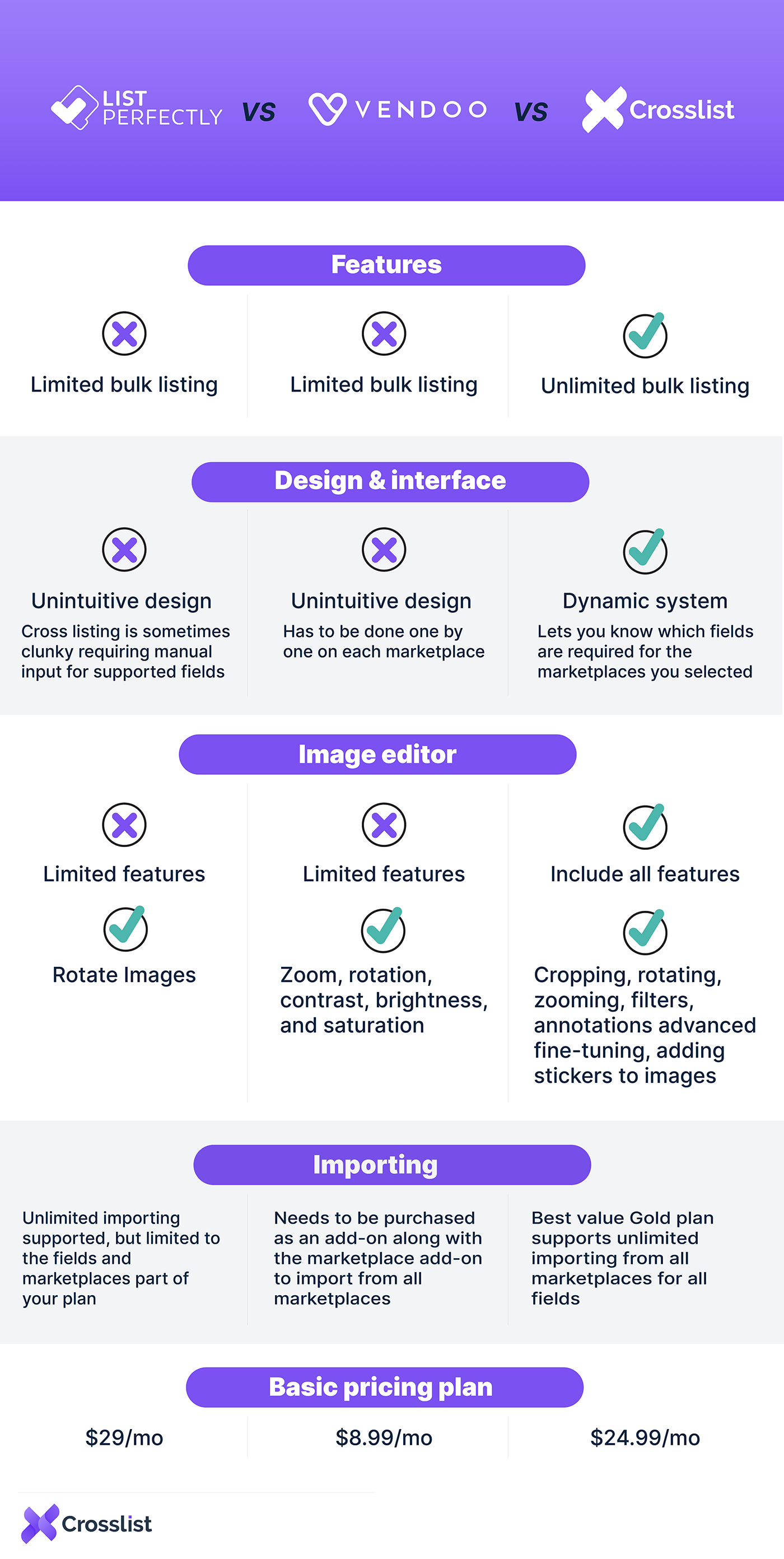 Here are the Crosslist pricing plans:
Bronze: $24.99/mo includes unlimited bulk listing to all marketplaces; direct cross listing from one marketplace to another; create and import up to 50 listings per month; mobile inventory management; upload and store up to 9 images per listing: import and cross post listings one by one from eBay, Poshmark, Mercari, Kidizen, Depop, Grailed, and Vinted.
Silver: $29.99/mo includes all Bronze features plus enhancing images with our built-in image editing tool; bulk import up to 20 listings simultaneously from eBay, Poshmark, Mercari, Kidizen, Depop, Grailed, and Vinted.
Gold: $34.99/mo includes all Silver features plus creating and importing unlimited listings; uploading and storing up to 12 images per listing.
All in all, we strongly believe that Crosslist differs from the competition in terms of design, accessibility, and speed, but also with pricing and features included.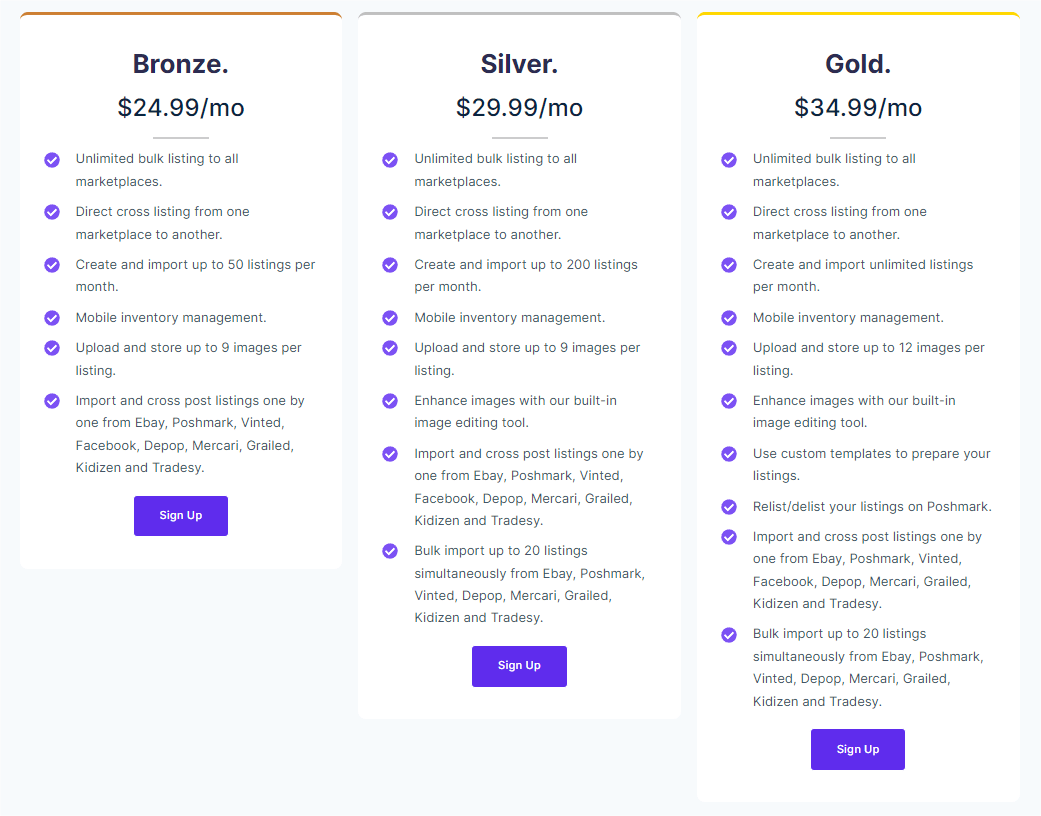 So, what is the best cross-listing app for you?
As with any type of purchase decision, choosing software to make your life easier should not be based on a hunch. Rather, you should put in the time to do good research and make an educated choice when deciding what is the best cross listing app for you.
When it comes to developing a business, the cross posting software you choose should come with a clean and intuitive interface, a level of customization you find acceptable, and customer support that is both available and communicative.
If we're talking about cross-listing apps, addressing features such as bulk listing, automatic form filling and fast importing are a must.
On top of that, being able to provide mobile support for users makes perfect sense in today's fast-paced world. In the end, our goal is to make our users' lives easier and allow more time to do what they probably like the most – shop.
Having looked into List Perfectly vs Vendoo, and how they both stack up against Crosslist, we hope this article has made your choice a bit easier.
Regardless of the stage you're at in your online seller journey, researching beyond the most widely used apps can pay off big time – and this is where Crosslist steps in! With features that surpass the older apps in many ways, We believe Crosslist is the best choice for the modern seller that's always on the go.
Questions or just say hello!
Well, congratulations to you for making it this far! Here's a reward in the form of a 10% discount code on your first month of Crosslist (add during check-out). Sign up now with a 3-day money-back guarantee!
You can learn more about how Crosslist works here.
If you have further questions, feedback, bug reports, or want to know a bit more about us, why not swing by for a chat and say G'day! You can have a chat with us through Messenger.