Depop Vs Poshmark: Which Is The Best Resale Platform?

---
Picture this: You're staring down your closet, and it's packed with the hottest styles… that just aren't your style anymore. How are you going to offload all those unique clothes and accessories?
The answer is Depop. Or maybe it's Poshmark. Both apps are among the most popular platforms for the resale market, giving you a place to list and sell your whole designer closet (or at least the pieces that need a new home). Not only that, but you can list other unique items for sale, too – everything from home goods to wall art and more.
The question is, which platform is the best place for you to give your stuff new life? Should you be selling on Depop vs Poshmark? Each app has its pros and cons, and neither is perfect – but one of them will definitely help you make some sales.
What is Depop?
Depop is a UK-based social e-commerce service where people can sell secondhand goods, or a resale app – the same kind of app as Poshmark.
The biggest difference is that Depop is mostly for buying and selling goods that are one-of-a-kind, vintage, or from independent designers. If your stuff is vintage, handmade, or from an indie designer, then you'll probably find a good audience on Depop. Basically, you need to have truly unique stuff to find success on Depop.
Is Depop a legit marketplace?
Depop is a legitimate marketplace for buying and selling used goods. That being said, Depop lacks the same buying protections that other buy-sell apps have, which makes users more vulnerable to scams.
For instance, a scammer can post an item for sale that they don't actually have or intend to sell. When a buyer purchases it, the scammer could neglect to send the item and provide a fake tracking number.
How does selling on Depop work?
It's simple to sell on Depop. First, you have to set up an account. Here's how:
Download the Depop app (from the App Store or Google Play Store).
Enter your phone number and email address.
Select a username and password.
Choose a photo to use as a profile picture.
Once you're good to go, you can post listings for your items. You just need to:
Tap Sell > List an item.
Upload photos of the item (up to four photos and one video).
Write an item description with plenty of detail.
Select the category, location, condition, and price.
Tap Post listing.
That's it! You've posted your first item for sale on Depop.
How fees work on Depop
On Depop, there's no fee to buy an item (other than the item price). Additionally, there's no charge to list an item. There are seller fees when you sell an item, though.
Those fees include:
A 10% Depop fee (based on the entire transaction amount, including shipping)
A 3.3% transaction fee plus $0.45 if the seller uses Depop Payments
OR a 3.49% transaction fee + $0.49 if the seller uses PayPal.
There's an easy way to find out what your Depop fees are going to be before you list your item. Check out our Depop Fee Calculator to find out what each listing will cost when it sells.
Sitejabber Depop reviews
Unfortunately, the review aggregate website Sitejabber doesn't have a very good opinion of Depop. Out of 222 reviews at the time of this writing (August 2023), less than 2% are positive, giving Depop a total score of 1.2 stars.
While negative reviews are obviously concerning, it's important to take the time to do research and make your own conclusion about whether Depop is worth using. While most reviews are negative, there are some positive reviews too.
For instance, here's a positive review about Depop from Sitejabber:
This user is pleased with Depop, especially the community and how many goodies she was able to score.
Here's another positive experience with Depop:
This buyer reports having a good experience buying shoes, jackets, and jumpers from Depop with no issues and recommends that buyers check out seller profiles to avoid scams.
Here's one deactivated seller's plight with Depop, according to their Sitejabber review: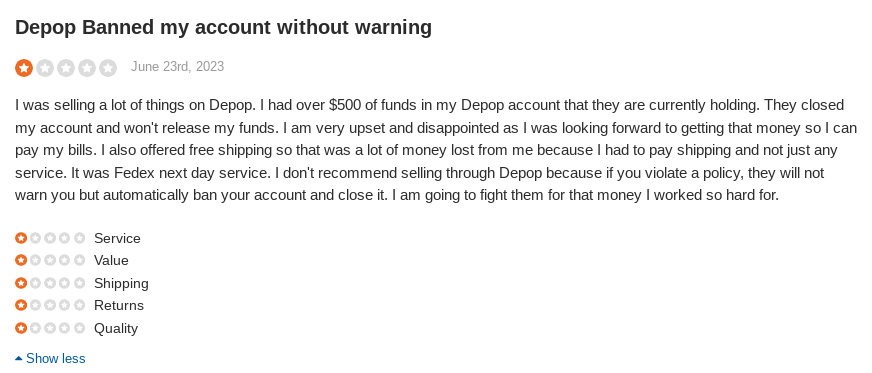 This seller lost their account unexpectedly when they had over $500 in funds tied up in their account, and they never received their money.
These are the most commonly-cited reasons to review Depop negatively:
Poor customer service.
Complete inability to reach customer service.
No buyer protection.
Deactivating accounts with no warning.
Not returning funds to sellers with deactivated accounts (this is a big one – it's mentioned very often and is a big deal to sellers who worry that they might lose their earnings).
Counterfeit items everywhere.
Trustpilot Depop reviews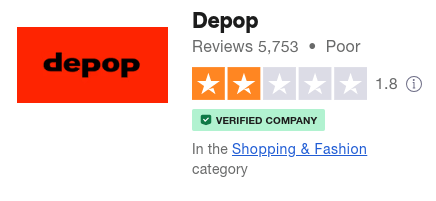 Like Sitejabber, Trustpilot paints a negative picture of Depop with a score of 2 stars out of 5,753 reviews at the time of this writing (August 2023).
Again, it's important to do your own research and come to your own conclusion about whether to use Depop based on these reviews. Many users report a negative experience, but not all of them do.
Here's an example of a positive review of Depop on Trustpilot:
While this user notes that they consider the fees to be a little steep, they've had a good experience with Depop so far.
Here's another positive Depop review on Trustpilot:
This user is a buyer and seller on Depop. They recommend it as a good place to sell clothes and make a profit, as well as find expensive items at a low price.
Some users do have negative experiences with Depop support, such as the following user:
Like many users, this user struggled to work with uncooperative Depop support and they never reached a resolution.
The users on Trustpilot list a lot of different issues with Depop that contribute to their low reviews. Some of the most common reasons to rate Depop negatively on Trustpilot include:
Lack of responsive customer service.
No payment protection for buyers or sellers.
Lots of fraudulent users and counterfeit items.
No quality control on items.
Glitchy and broken, but no responsive IT department.
Hard-to-sell items – saturated marketplace.
Only accepts PayPal, yet doesn't integrate with PayPal Business for sellers.
Pros of selling on Depop
Depop touts many features and advantages to selling there, including:
User-friendly interface: Depop is super easy to use with an interface that's reminiscent of Instagram. Since it's so visual, it's a great place to sell clothing and accessories by posting good images with captions and tags.
Global reach: This app is based in the UK, but they welcome buyers and sellers in the USA and Australia too. This means your reach as a seller is even wider, and so is your selection as a buyer.
Low fees: Depop has relatively low fees compared to other platforms (even though some users state that they consider the fees to be high). The fee at Depop is 10%, which is much less than Poshmark's 20% commission.
In-app chat: As a seller, buyers can send you chats to ask questions about your listings. This allows for transparent transactions and helps you put your buyers at ease.
Payment via PayPal: PayPal is the method of payment at Depop, making it easy to get paid whether you're in the UK, the USA, or Australia. Buyers can also use Apple Pay or credit cards.
Secure platform: Depop is a completely secure app, making it a safe place to make transactions.
Sell anything: Depop isn't limited to just clothing, even though their primary categories are men's and women's clothes. You can also sell jewelry, art, home goods, and collectibles – and that's just the tip of the iceberg. If it's not banned (e.g. drugs, medications, medical devices, weapons, or animals), you can list it.
Cons of selling on Depop
It's not all sunshine and rainbows selling on Depop. In fact, sellers report having significant problems there, including:
Activity commitment: You can't really make sales on Depop without posting new items all the time, sharing your listings, and replying to messages at lightning speed. Plus, you have to ship items fast to stay within Depop's requirements. It takes a lot of work and time to be a successful Depop seller.
Percentage-based commission: The 10% commission fee can be steep if you're selling items that already have a low-profit margin. If you sell costly items, the percentage adds up fast.
Scammers: Like other social e-commerce apps, Depop has a problem with scammers. Users report that counterfeit items are all over the place, which makes it harder for you to sell your legit items. And there's always the risk that a buyer could open a case against you stating that their item was never delivered, even if you have tracking proof.
Bad customer service: There are two problems with Depop's customer service. First, it's hard to get hold of anybody at all. Second, once you finally reach somebody, it's really unlikely that they're going to help you. Users complain about getting automated responses with no actual action to resolve their issues.
Account suspensions: This is the biggest problem reported with Depop. It's common for users to get deactivated with no warning. There's a one-strike rule at Depop, so if you break a rule by accident, you lose your account. And when you lose your account, you also lose all the money that's held in it.
The verdict about Depop
Depop is a legitimate place to buy and sell preowned items, but it has a reputation for giving users a headache. It's common for people to report problems with customer service, fraudulent buyers, or account deactivations.
That said, there are still plenty of users who turn a profit using Depop. It's a massive global marketplace where you can reach over 30 million people at a given time – you're not going to get that reach selling on your Facebook Marketplace – which typically only shows local listings.
What is Poshmark?
Poshmark has the distinction of being the first social e-commerce app to make it big. It launched in 2011 and has been a staple of the online preowned marketplace ever since. While Poshmark targets buyers who want to shop for clothes and accessories, the app also lets sellers list home goods, pet products, electronics, wellness items, and more.
Is Poshmark a legit marketplace?
Poshmark is a legitimate place to buy and sell your preowned clothes and other unique items in good condition. That said, every social e-commerce app is vulnerable to scammers – buyers and sellers alike.
Additional reading: Is Poshmark Legit? Tips For Buying And Selling On Poshmark Safely
How does selling on Poshmark work?
It's easy and straightforward to sell your items on Poshmark. Here's what you need to do:
Make an account: First, create a user account with your name, email address, and phone number. Choose a password.
Set up your payment details: Select how you want to be paid and input your details so you can get money when the time comes!
Photograph your stuff: Take clear, well-lit pictures of the items you're selling, using different angles and putting extra emphasis on showing any flaws.
Write a product description: Describe your items with a ton of detail, being honest about defects if they're present.
Price your items: When you choose your price, consider looking up other items in the same brand to see what they're selling for. Also, take note that you're going to lose 20% of the sale to Poshmark's commission fee.
Add tags: Poshmark uses style tags to make it easy to search, so make sure you use as many tags as you can so buyers can find your items.
Publish your listing: Just hit the Publish button and you're good to go! Now you can share your item on social media and wait for it to sell.
How fees work on Poshmark
Listing an item on Poshmark is always free, but there's a fee when you sell an item. The fee is 20% as long as the item you sold was at least $15. For items less than $15, there's a flat rate fee of $2.95.
There's an easy way to tell in advance what your Poshmark fees will be for any given item. Just check out our Poshmark Fee Calculator to see how much you'll have to pay when your item sells.
Sitejabber Poshmark reviews
Poshmark has a questionable reputation on Sitejabber, landing at 1.5 stars. When you land on the review page, you're greeted by a big red banner that says "Alert: This business has received a higher than average number of reviews mentioning "scams" in the past six months." Just 4% of Poshmark reviews are positive.
Do consider all the factors when deciding how much weight you give to reviews. Not every Poshmark review on Sitejabber is negative. Some users have positive experiences.
This user first had a bad experience and didn't receive their item, but Poshmark customer service made it into a good experience by providing a full refund, resolving the issue.
Another Poshmark user on Sitejabber reports that they're aware of the other negative reviews, but personally had a 5-star experience.
The most common problems for users to report on Sitejabber include problems with customer service, trouble reaching customer service, and problems with payments.
In this review, the user says that they bought a Gucci bag that was dirty and in bad condition, and completely misrepresented – and Poshmark customer service did nothing about it.
Trustpilot Poshmark reviews
Poshmark has a 1.3 stars review on Trustpilot out of 3,352 reviews at the time of this writing (August 2023). Most users who post negative reviews mention counterfeit listings, not receiving items, and having listings removed as counterfeit when they're legit.
Poshmark does have a lot of negative reviews, but there are some positive reviews too. For instance:
This user is completely pleased with their Poshmark experience, saying that the app makes shopping "effortless and exciting."
Here's another user who reports a great experience on Poshmark:
According to this user, Poshmark is a good place to find real designer apparel and accessories that they can't find elsewhere.
That said, negative reviews do exist, especially from sellers.
This user lost their listing for a Gucci purse because it was reported as counterfeit when the user says that it was not. The user is upset because they weren't asked to prove authenticity, but the listing was removed anyway.
Pros of selling on Poshmark
There are plenty of reasons you might want to sell your used goods on Poshmark. Here are some examples:
Easy to use: Poshmark, like Depop, has a very user-friendly interface. Even if you're not experienced in selling or listing items, you can list items in minutes on Poshmark.
No listing fees: Poshmark doesn't charge a listing fee for posting your items – you're only charged when you actually sell the item (20%, or $2.95 for items under $15).
New items allowed: Unlike other apps (including Depop), you can list new items for sale, not just vintage or preowned.
Free shipping labels: It's never been easier to ship your goods when they sell! Poshmark gives you a free USPS Priority Mail label so you don't have to trek to the post office. You can find more information about shipping on Poshmark here.
Buyer-friendly features: Poshmark puts a lot of effort into attracting buyers with bundles and special offers, so it's a good place to get sales.
Cons of selling on Poshmark
Like any e-commerce app, there are some downsides to selling your preowned items on Poshmark. They include:
Poor customer service: According to many Poshmark users, it's not uncommon to submit the same support ticket two or three times before somebody even responds.
Commission fees: The commission fee for Poshmark is kind of steep among e-commerce apps – it's twice as much as Depop's fee!
Delayed payments: With Poshmark, you don't receive your payment until the buyer reports that they've received your item. This restriction is meant to protect both sides from fraudulent activity, like scam refunds.
Traffic problems: The Poshmark algorithm reduces listing traffic when your listing has a lot of activity without any bites. This makes it more likely that you'll implement the price reduction tool, giving potential buyers a 10% discount.
Slow (or nonexistent) sales: It's common for items to take a long time to sell on Poshmark compared to other resale apps. There is a high volume of listings on Poshmark, so you really have to optimize your listings and make them strong in order to compete.
The verdict about Poshmark
Poshmark is a legitimate way to sell your stuff, whether you're looking to offload designer clothes from your closet or abstract art from your walls. It's a great app that's easy to use and packed full of features to make it easy to sell items, even if you've never done resale before.
Overall, Poshmark seems to have fewer issues than Depop, but the issues that it does have are all similar. Users report trouble reaching customer service, problems with counterfeit items, and running into scammers.
Depop vs Poshmark: which is the top contender?
Now that we've taken a deep dive into Poshmark, Depop, and their respective similarities and differences, it's time to see how they stack up with each other.
| | Poshmark | Depop |
| --- | --- | --- |
| User rating | 1.5 stars on Sitejabber | 1.2 stars on Sitejabber |
| Audience | Millennials | Gen Z |
| User interface | User-friendly | User-friendly |
| Customer service | Hard to reach, but helpful | Hard to reach and unlikely to help |
| Fees | 20% | 10% |
| Fraud protection | For buyers and sellers | None |
| Items sold | Designer, new or used, there's a category for nearly everything | Vintage, unique, indie, one-of-a-kind, clothing, accessories, home goods |
Both apps have a great user interface. Poshmark and Depop are both super easy to use, even if you haven't used a resale app before. The listing process is self-explanatory and fast for both marketplaces.
Unfortunately, both apps have some issues with customer service. Depop has slightly worse problems – it's hard to reach customer service and they're not that helpful if you do reach them, according to users. On Poshmark, you might end up sending a support message two or three times, but you'll eventually reach someone who wants to help with your issue.
Another similarity is that both Poshmark and Depop are rife with scams and counterfeit items. This is commonplace in resale marketplaces, unfortunately. Poshmark has some protections in place for buyers and sellers, while Depop has no protection against scams or counterfeits.
Finally, Depop vs Poshmark fees have a steep difference that might make or break your decision. Both apps have no fee to list an item, and both apps have a commission fee that's only charged once you sell the item. On Poshmark, the fee is a whopping 20%, while Depop's fee is only 10%.
The apps have similar review scores on review aggregate sites – 1.5% on Sitejabber for Poshmark and 1.2% for Depop. Take those reviews with a grain of salt and consider the positive ones along with the negative.
In the end, there's no winner between Depop vs Poshmark. Both apps are valid places to sell your used clothes and other items. In fact, why not use both?
Sell on your favorite marketplace with Crosslist
If you're like most resellers, you have a TON of listings. Are you going to manually cross-post 350 listings twice so you have them on both marketplaces? That's a lot of work. Now imagine you're cross-posting those 350 listings across four marketplaces instead of two… you get the idea.
You don't want to do that.
You do want to use a cross-listing app like Crosslist to add your items to all your favorite marketplaces and manage your listings and inventory. This is the literal game-changer that will transform your resale interest from a hobby to a legit business. With so many listings, you'll have more sales than you know what to do with!
What are you doing running a resale business without Crosslist? It's time to make the leap and save more time and energy than you even know.
Questions or just say hello!
Well, congratulations to you for making it this far! Here's a reward in the form of a 10% discount code on your first month of Crosslist (add during check-out). Sign up now with a 3-day money-back guarantee!
You can learn more about how Crosslist works here.
If you have further questions, feedback, bug reports, or want to know a bit more about us, why not swing by for a chat and say G'day! You can have a chat with us through Messenger.