How Does Poshmark Shipping Work?

---
If you've been considering stepping into the world of online clothing resale, Poshmark stands out as one of the top platforms for buying and selling fashion.
Its user-friendly interface and large community make it a go-to for many resellers. However, many newbies have a common question: "How does Poshmark shipping work?"
It's a gray area that many new sellers feel slightly intimidated by. We're clearing up any confusion with our deep dive into the nuts and bolts of Poshmark shipping to make the process as seamless as possible for you.
Why understanding Poshmark's shipping is critical
The shipping process is integral to a successful selling venture, yet it's often overlooked. Ensuring that your items reach their new owner promptly and in great condition can elevate your reputation as a seller and ultimately increase your sales.
Poshmark has implemented a unique shipping model that both sellers and buyers benefit from to give you the best chance for success.
Total novice? Head over to our comprehensive guide on selling on Poshmark to kickstart your online reselling endeavors.
Poshmark's flat-rate shipping
Simplicity at its best
Poshmark stands out from similar online selling platforms due to its straightforward shipping policy.
Once an item is sold, Poshmark provides a pre-paid, pre-addressed shipping label through United States Postal Service priority mail.
As a seller, you won't have to deal with the complexities of calculating shipping costs or sourcing labels – believe us when we say this is a major win for you!
Below is an example of a Poshmark shipping label, which you'll need to print and paste onto your package.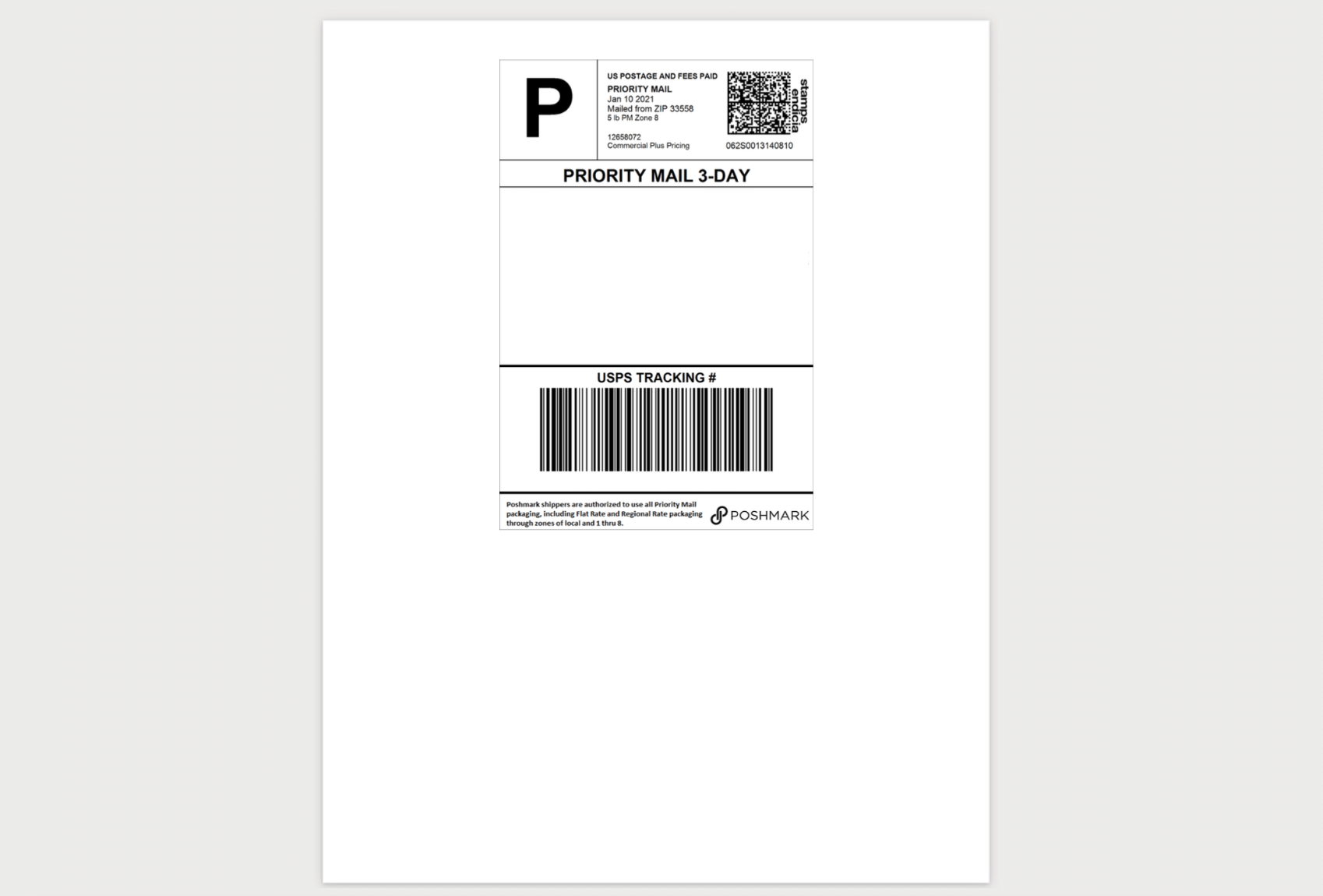 Unlike other platforms that require sellers to determine shipping costs based on weight, distance, or size, Poshmark uses a flat-rate shipping method.
This minimizes guesswork and ensures a uniform shipping cost, regardless of where your buyer resides in the country.
Costs and weight limits
Poshmark charges buyers a flat shipping rate. At the time of writing this article, the rate is $7.97 for priority shipping on all orders up to 5 lbs. Buyers usually receive their orders within 1 to 3 business days.
Should your package weigh more than the 5 lb. limit, additional costs might be incurred, but the process to cover the extra weight is relatively simple.
Sellers can upgrade the shipping label via the Poshmark app or website.
Upgrading your Poshmark shipping labels
As your Poshmark business grows, you might deal with packages exceeding the standard 5 lbs. weight limit.
Sellers with bulkier inventory like coats, jackets, and boots also often encounter this issue, especially when buyers take advantage of bundles.
Thankfully, Poshmark has made upgrading your shipping labels quite straightforward. If your package weighs more than 5 lbs., you can easily purchase an upgraded label directly through the Poshmark app or website.
Once you've weighed your package using a home or postal scale, simply navigate to the relevant sale in your 'My Sales' section, select 'Need New Shipping Label' and then 'Need heavier weight label.' Then, enter the new package weight: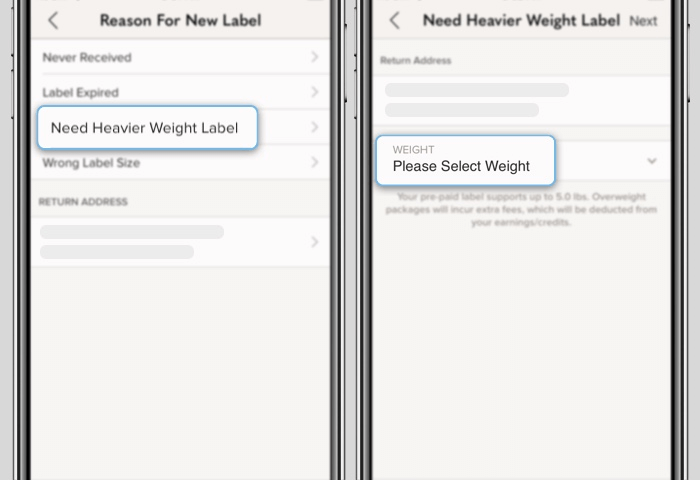 Poshmark will then provide you with the additional costs for the upgraded label. Once paid, a new shipping label will be available for download.
Remember, transparency is key in online sales – always communicate any shipping changes or delays to your buyer to maintain trust and foster positive seller-buyer relationships.
Packing your items
Choosing the right packaging
The USPS Priority Mail boxes or envelopes are ideal for most orders. They're free at your local post office or can be ordered online from the USPS website.
However, it's important to note that you shouldn't use boxes marked "Express Mail" as Poshmark's shipping label does not cover express mail but priority mail only.
You can also use previously used mail boxes but cover up any labels or incorrect details before shipping to the new address.
If you are shipping fragile items like perfume or makeup, use bubble wrap or old newspaper to provide extra padding during transit.
Presenting your item
Your packaging reflects your brand, so you must make a good impression. Including a thank-you note, wrapping items neatly, and ensuring they're clean and free from odors can make a significant difference.
Going the extra mile can lead to glowing reviews, which, in turn, can boost your sales.
Admit it…cute packaging gets you every time. You see, there's a certain magnetism when it comes to great packaging.
With some extra effort, you can elevate the unboxing experience, bringing joy to your buyer and potentially securing them as a loyal customer.
Essentials like tissue paper, ribbons, and thank-you notes can be used with unique touches like stickers, stamps, or personalized business cards to enrich your package presentation.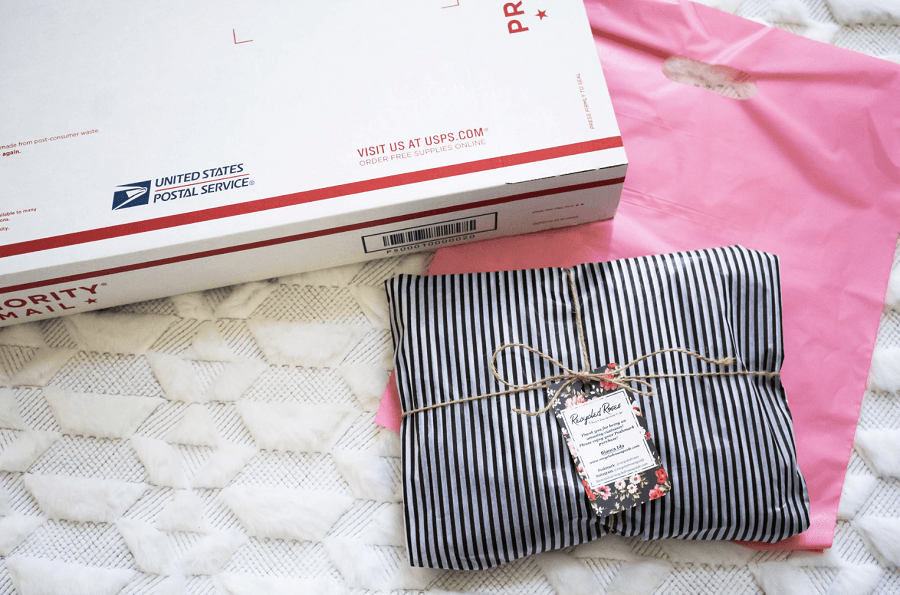 On that note, don't be shy to show off your brand identity! Effective promotion can amplify your brand's reach, so let your packaging be an extension of your branding.
Incorporate a business card or pen down your details on a thank-you note, prompting your buyer to flaunt their newest #PoshFind on social platforms and give you a shout-out.
After all, buyers are inclined to showcase their purchases, especially when they arrive in Instagram-worthy packaging.
How to efficiently ship your orders
Once you've made a sale and have your packaging ready to go, the next step is ensuring your item reaches your buyer safely and promptly.
Step 1: print your shipping label
Start by printing the shipping label Poshmark provides. Depending on your resources, you can print the label on regular paper or use adhesive label sheets.
If you're using regular paper, ensure you cut out the label neatly and attach it securely to your package using clear packing tape.
Make sure the label is entirely visible and free from creases. If you have adhesive labels, simply peel and stick them onto your package, ensuring they lay flat and smooth.
Step 2: drop off your package
With your labeled package in hand, you can drop it off at a USPS location or schedule a USPS pickup from your location, making the shipping process as seamless as possible.
Always remember: the sooner you send out the item, the quicker the buyer receives it, enhancing their shopping experience and boosting your reputation.
Step 3: communicate with your buyer
Keeping an open line of communication with your buyers can make a huge difference. Inform your buyer when you've shipped the item and provide any additional information they might find useful.
Shipping timeframes and tracking
How soon do you have to ship?
Poshmark recommends shipping items within two days of purchase. However, you have up to 7 days to send out the item.
Faster shipping can enhance your reputation as a seller, leading to positive reviews and potential repeat customers.
Keeping an eye on your package
Once you've shipped your item, both you and the buyer can track the package through the Poshmark app.
The integrated tracking system ensures transparency and reassures your buyer about the status of their purchase.
Returns and shipping
On Poshmark, all sales are final, which is a plus for sellers. However, there are cases where returns are allowed, like if the item was not as described or if there's a problem not disclosed by the seller.
If a return is approved, Poshmark handles the return shipping process, ensuring sellers won't have to grapple with return shipping fees.
Tips for a smooth Poshmark shipping experience
Stay updated: Poshmark occasionally updates its shipping rates and policies. It's crucial to keep an eye on any changes to avoid surprises.
Stock up on supplies: A stash of packaging materials, like bubble wrap, tissue paper, and thank-you cards, can streamline your shipping process.
Regularly check your listings: Ensure that your item descriptions are accurate and detailed to reduce the chances of returns.
Dealing with shipping challenges
While Poshmark makes shipping straightforward, you might encounter challenges along the way. Here's how to keep your cool and cope with them head-on:
Address issues
Occasionally, Poshmark might notify you of an invalid address. In these instances, it's crucial to communicate with the buyer, verify the correct address, and update it on Poshmark before shipping.
Delayed or lost packages
Delays happen. If a package takes longer than expected, assure your buyer that you're monitoring the situation. If a package is lost, work with Poshmark and USPS to address the issue.
Leveraging Poshmark's shipping for business growth
Understanding Poshmark's shipping isn't just about getting items to buyers. It's a tool for business growth.
1. Offer shipping discounts
Poshmark allows sellers to offer discounted or even free shipping as an incentive. This can be a game-changer during promotions or when trying to make a quick sale.
2. Bundle deals
Encourage buyers to purchase more by offering bundle deals. While this might increase the package's weight, the combined sale often justifies the slightly higher shipping cost.
Not sure what bundles are? Then check out our comprehensive guide to bundling on Poshmark.
Wrapping up
Shipping on Poshmark has been designed with simplicity, making it easier for new and experienced sellers to navigate the process.
By understanding the ins and outs of Poshmark's shipping policies and presenting your items professionally, you can enhance your reputation and grow your resale business into your own online empire!
Whether you're adding Poshmark to your sales channels or just getting started, it's essential to be efficient from the beginning.
As soon as you level up to selling on multiple platforms, it's time to bring in the pros to handle cross-listing your inventory!
That's where a tool like Crosslist comes into play – allowing you to seamlessly upload your listings across multiple platforms without manually entering all the details one by one. Talk about a time saver!
Questions or just say hello!
Well, congratulations to you for making it this far! Here's a reward in the form of a 10% discount code on your first month of Crosslist (add during check-out). Sign up now with a 3-day money-back guarantee!
You can learn more about how Crosslist works here.
If you have further questions, feedback, bug reports, or want to know a bit more about us, why not swing by for a chat and say G'day! You can have a chat with us through Messenger.