Is Poshmark Legit? Tips For Buying & Selling On Poshmark Safely

---
Have you ever asked yourself the question, "Is Poshmark legit?", perhaps, after hearing yet another story from friends who got duped into buying fake designer items?
The peer-to-peer fashion marketplace has become increasingly popular over the past few years, but with its growing visibility comes a certain degree of skepticism. Is Poshmark safe to use, or does it pose risks to buyers and sellers?
With all the online marketplaces cropping up nowadays and the many scam artists waiting in the wings for an opportunity to make a quick buck, it can be hard to tell which platforms are legit and which you should avoid. However, with some research, common sense, and tips to buy and sell safely, we'll help you discover why Poshmark is a legit marketplace.
What is Poshmark?
Poshmark is a social commerce platform for buying and selling fashion, home decor, electronics, pet products, and beauty products. It was founded back in 2011 and is headquartered in Redwood City, California.
Through its website and mobile app, the company enables users to buy and sell clothing, shoes, and accessories for men, women, and children (and fur kids!). As of November 2022, Poshmark saw a record-high of 8.2 million active buyers on its platform, a 13% increase from the previous year. So, it's pretty safe to say Poshmark is continuing to grow in popularity!
Poshmark offers people a convenient way to shop for stylish clothes, shoes, and accessories for the whole family without leaving the comfort of their homes. And if you've got a cluttered wardrobe, Poshmark is the perfect place to sell fashion, beauty, and homeware items you no longer use.
The platform also has more of a "social" operating model than the likes of eBay and Amazon, allowing you to connect with other fashion-savvy people from around the world. This is frequently mentioned on their website, such as the below example.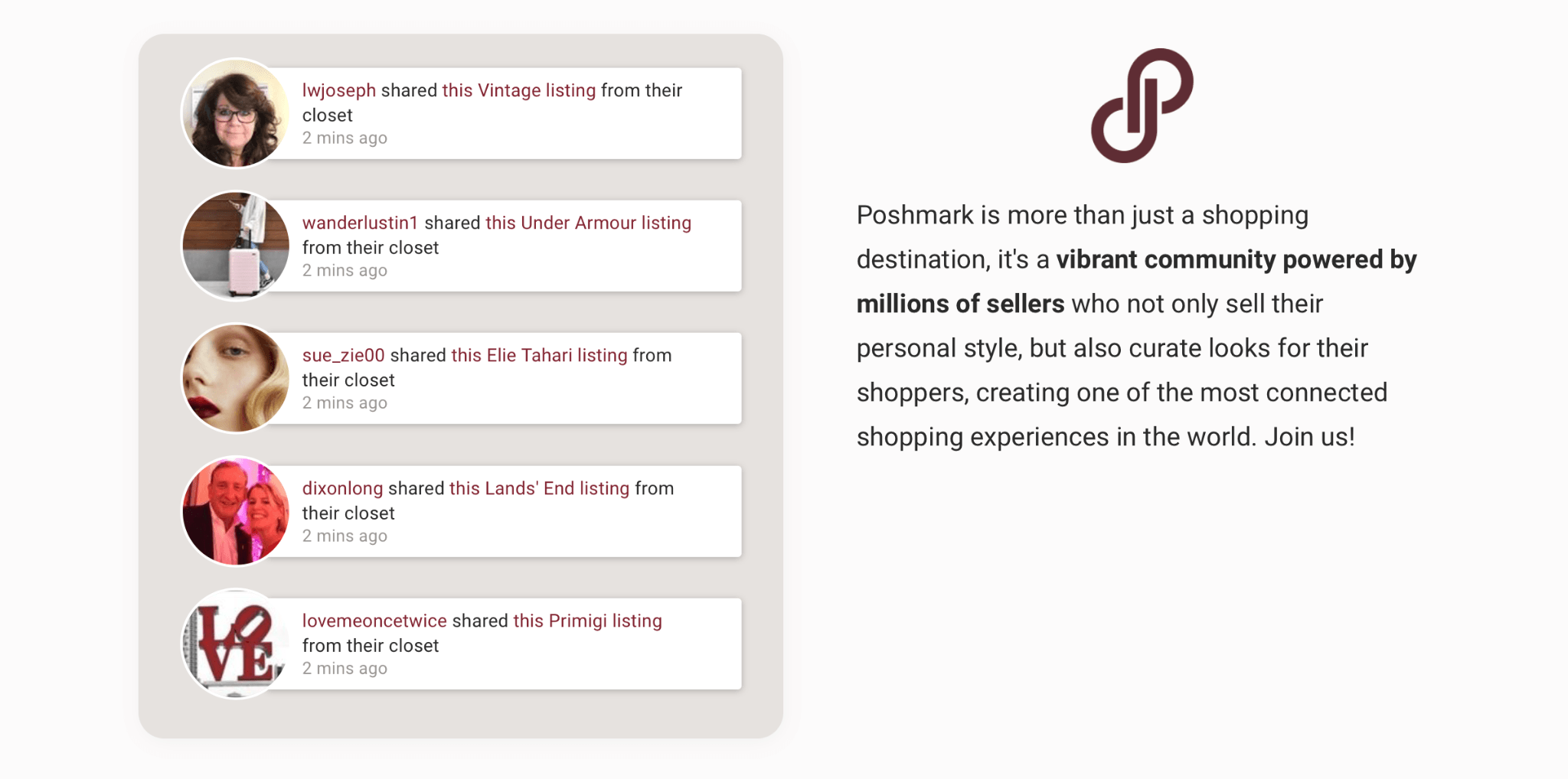 You can follow your favorite sellers to get updates on new arrivals and sales or host Posh Parties to improve your shop's visibility. Plus, you can use the #PoshStyle hashtag to share your fashion tips and build a loyal following. Poshmark is the true definition of social commerce.
Is Poshmark legit?
Yes, Poshmark is a legitimate online marketplace. As we already mentioned, Poshmark has been in business for over 12 years and has become one of the top-rated e-commerce sites for buying and selling fashion items. In fact, the reputable website, The Spruce recently ranked Poshmark as the best online consignment store overall.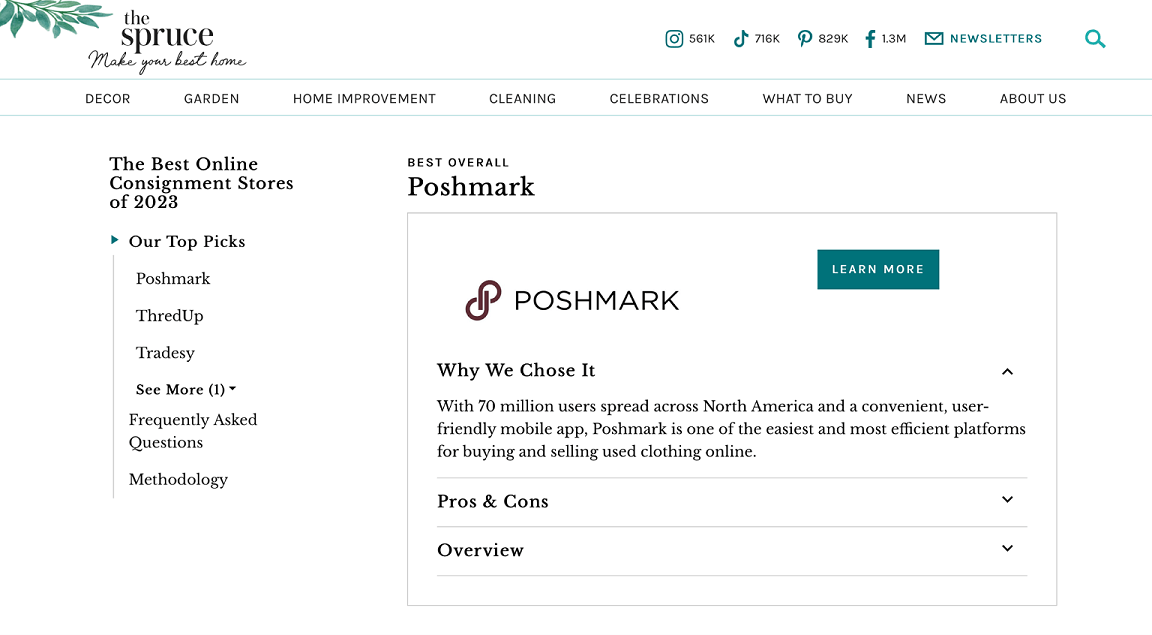 So, it is evident that Poshmark has built a strong brand reputation and made a name for itself as a trailblazer in this space.
Here are some systems Poshmark has put in place that make it so many sellers and buyers' number 1 online marketplace.
Posh Protect
As a well-established platform, it offers buyers and sellers a safe place to trade goods, with buyer protection policies to guard against fraud or other issues when purchasing goods online.
Their buyer protection policy, Posh Protect, enables buyers to request a full refund if the item is never shipped or if the item shipped is not as described. Additionally, the policy extends to damaged goods, incorrect orders, partially shipped orders, and fakes. Buyers cannot apply for a refund if they simply change their mind or order the wrong size.
User verification
Poshmark operates as an intermediary between buyers and sellers to ensure that each transaction is secure. When creating an account on the site, users must provide personal information such as their name, address, phone number, email address, and a verified payment method before making any purchases or sales.
This allows the company to track all activity on the website so they can swiftly investigate any reported fraudulent activities if necessary.
Security measures
So, is Poshmark safe for buyers and sellers? Yes! Poshmark employs several security measures to keep your payment information safe. It uses encryption technology during checkout processes, so customer data remains secure even after payment.
Furthermore, all transactions are processed through a reputable third-party payment processor instead of directly from buyer accounts which adds another layer of protection for buyers. If anything goes wrong during a transaction, Poshmark can resolve any disputes without exposing customers' banking information.
Posh authenticate
For high-value designer goods over $500, Poshmark has a policy called Posh Authenticate. All items must be sent to the Poshmark HQ for inspection and authentication before being shipped to the customer.
This ensures customers paying hundreds or thousands of dollars for designer goods get authentic items and guards against fraud. Buyers will receive an authenticity certificate from Poshmark to verify they have purchased a legitimate designer piece. Below is an example of a Posh Authenticate certificate: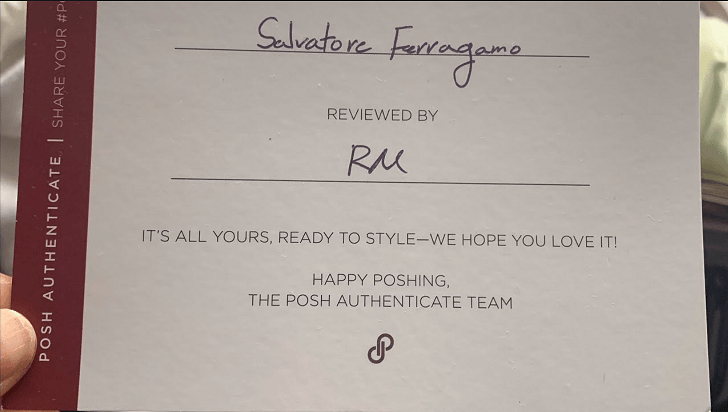 All these features demonstrate how legitimate Poshmark is. And as an added bonus, it is a very user-friendly platform for buyers and sellers.
The website interface makes browsing products in each category simple while providing helpful search filters like size/style/price range etc., along with reviews from other customers who have purchased from the same sellers in the past. The well-designed mobile app makes it incredibly convenient for sellers to post listings on the go in minutes and manage their orders from anywhere.
All these factors combined have turned Poshmark into one of the most popular online fashion destinations, giving both buyers & sellers confidence that their transactions will be quick and hassle-free every time they use Poshmark.
Wait…how does Poshmark pay you?
Many new sellers worry about whether they will get their money from an online selling platform. So if you're wondering how you get paid on Poshmark, you can rest assured that you will get your money out.
When a buyer receives the item, your payment will be released by Poshmark within three days. You can select exactly how you would like to receive the payment, whether via PayPal, Venmo, or directly into your bank account. Here is an overview of your payout options: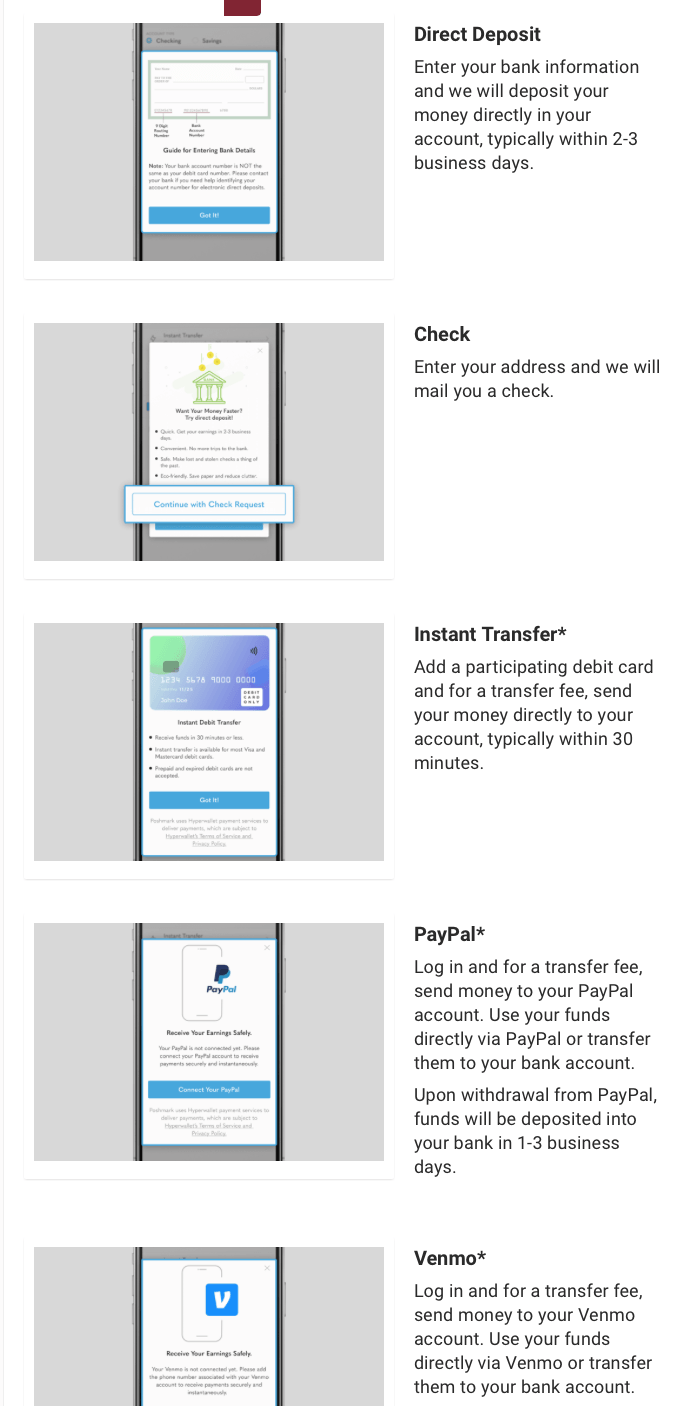 To see how much money is due to be paid to you, you can follow these easy steps:
Navigate to the "My Accounts" page on your dashboard
Tap the "Redeemable" field and select to redeem your funds
You can then select a transfer method to receive your funds
Keep in mind that Poshmark does deduct various fees from each successful order, so the amount you receive will be less than these fees. For sales less than $15 in value, you are charged a flat fee of $2.95. For sales that exceed $15, Poshmark takes a 20% commission.
Poshmark scams: Can a seller get scammed on Poshmark?
Sadly the world is full of opportunists, especially when it comes to online marketplaces, so there is always the potential for scams when selling online. Poshmark is no exception, although it is not common for sellers to get scammed. Poshmark has several safety measures to protect buyers and sellers from scams.
They require all payments to be processed through their secure payment processor, which helps protect against fraudulent transactions. Additionally, they have systems that allow users to flag suspicious activity and report any potential issues or concerns with orders or listings to customer service.
Despite having these measures in place, it's essential to be aware of the potential for scams when using the platform.
If you think you fell victim to a scam, you can always check whether you can still cancel your Poshmark order.
Common Poshmark scams
The payment scam
One of the most common scams on Poshmark is when a buyer uses fraudulent checks to make their purchases, so as soon as the seller tries to withdraw payment, it bounces, and the seller is left without their item or any cash to show for it.
Similarly, buyers may try to take payments offline, such as promising to do an instant transfer or to pay via PayPal or Venmo off the platform. If the payment is reversed or bounces, Poshmark can't investigate the incident any further as payment did not take place through the platform. This can be avoided by only paying through Poshmark's payment system.
The phishing scam
This is where a scammer will try to get your personal information (like your credit card number or social security number) by pretending to be from Poshmark or another legitimate company. Poshmark will never ask you for your personal information via email or text, so always follow the golden rule and never click any unsolicited links or give out your personal information over email/text.
Here's an example of a phishing scam-type message that may appear legit but is a trick to get your personal information to hack your account. Do not reply to these kinds of messages: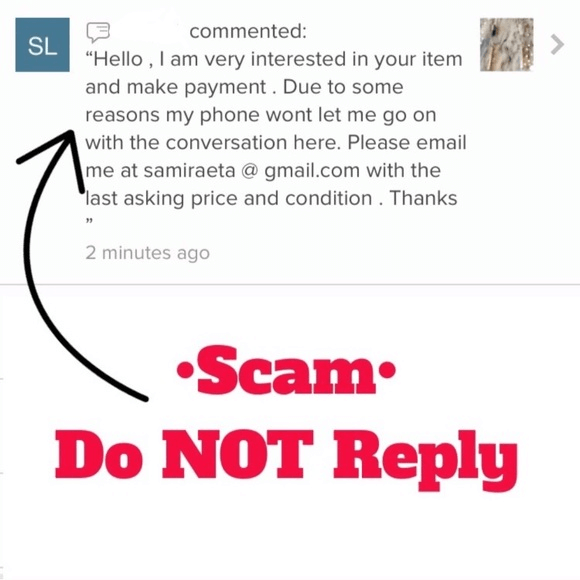 The bait and switch scam
This is a common scam where a seller advertises a sought-after item (e.g., Lululemon leggings), but upon receipt, the buyer cries foul and requests a refund for damaged goods or one of the other legitimate reasons covered in the buyer protection policy. Instead of returning the item they purchased, they will return a damaged version or replica and keep the original, all while receiving a refund for the goods.
Unfortunately, it seems many sellers feel like Poshmark doesn't offer enough support for these types of cases, but without photographic or video evidence of the item's condition before shipping, Poshmark has to uphold their buyer protection policy – a real catch-22.
Below is an example of a seller who fell victim to the "bait and switch" scam and unfortunately lost their item and money.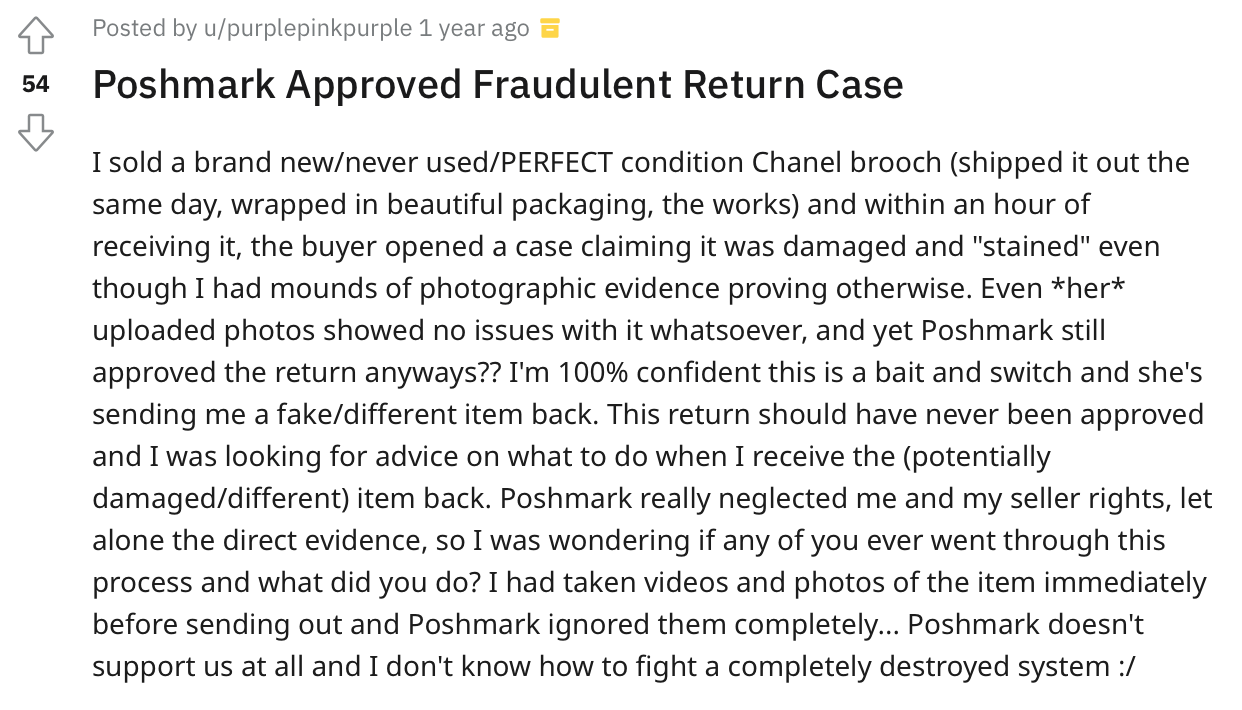 Best way to detect and avoid scammers on Poshmark
There are a few things to remember when trying to detect and avoid scammers on Poshmark. Now that you're aware of the potential scams, here are our top tips to avoid them:
1. Be cautious when dealing with buyers with little or no feedback
Always check a buyer's feedback before selling an item. If they have few or no reviews, be wary of their intentions and consider taking extra precautions such as photographing or videoing the item being packed and dropped off with your delivery company. Many sellers also now choose to avoid selling to new accounts entirely, so if you'd like to cut back on risky sales entirely, you are within your rights to do so.
2. Limit communication to the platform
If a buyer asks for your telephone number or email, you are within your rights to keep all communications within the Poshmark app.
You usually don't need to share personal contact information with buyers. Keeping it within the platform also provides a traceable digital trail should something go wrong. Poshmark has put measures in place to keep buyers and sellers safe, so communicating off the platform can aid fraudulent buyers/sellers in circumventing the system and getting away with their scams.
3. Do not accept payments outside of Poshmark
As mentioned, scammers often try to get sellers to accept payments outside of the platform so they can try to swindle you, which means there is no protection if anything goes wrong with the transaction or if you never receive payment at all. It is best practice to only use the payment options provided by Poshmark to keep both parties safe throughout the process.
4. Read user reviews carefully
Before sending out items, read reviews left by previous users about their experience dealing with this particular buyer.
This will give you better insight into what kind of person/buyer they might turn out to be. By reading these reviews, you might also discover any past instances where this user has claimed to have been scammed or left scathing reviews for other sellers. If they're consistently negative, it's a red flag to avoid selling to them because even if they're not a scammer, they're simply going to make your life more difficult than it needs to be. And no sale is worth that!
Common Poshmark scams for buyers
Poshmark scams are unfortunately common when it comes to buyers. Here are some of the more common ones to look out for:
Fake items
Some sellers may try to pass off counterfeit or low-quality items as genuine designer products. If you're buying something that looks too good to be true, double-check its authenticity before purchasing and read reviews from other buyers who have purchased from the seller in question. Poshmark offers an authentication service on luxury items, so keep this in mind when purchasing designer goods.
Hidden shipping fees
You should always ensure that all shipping costs are included in the purchase price of an item or clearly stated at the checkout, so you don't get hit with hidden fees later on down the road.
Many scammers will add additional charges after getting your money, so get a shipping fee in writing from the seller before you purchase.
Learn more about shipping on Poshmark in this article: How Does Shipping On Poshmark Work?
Unsatisfactory customer service
A reputable Poshmark seller should provide prompt customer service and address issues quickly and efficiently. If they don't meet these standards, buyers beware!
It's essential to pay attention to how quickly a seller responds to messages and inquiries – if there is no response at all, this could be a sign of fraudulence or poor customer service practices on their part.
Misleading photos/descriptions
When shopping online, it's essential that sellers accurately describe their product (including size measurements) as well as use clear and honest photographs, not stock images or heavily edited pictures designed solely for marketing purposes.
Be sure you know exactly what you're paying for before clicking "purchase" otherwise, there may be surprises waiting once your package arrives in the mail.
Delayed Shipping Times
Make sure you check reviews about how long it takes for orders placed through particular sellers on Poshmark to ship. If you notice a trend of users reporting slow shipping times from certain sellers, see this as a red flag. It can lead to receiving your item much later than expected (if at all), so if you need a dress in time for a function, you'll want to stick to reputable sellers who can guarantee their shipping timelines.
How to avoid Poshmark scams as a buyer
While most sellers on Poshmark are honest and trustworthy, there are always a few bad apples that can ruin the experience for everyone else. Here are some tips to avoid being scammed on Poshmark as a buyer:
Only buy from sellers who have a good track record. Check their feedback score and read through their reviews before making a purchase. Sellers with no feedback who raise any of the below red flags should be avoided.
Ask the seller questions about the item before buying. Ensure you're clear on the item's condition, shipping costs, and any other pertinent details. Don't be shy to request detailed photos of the item to ensure it is in the condition portrayed by the seller and matches the description provided on the listing page. If they can't give you answers or ignore your messages, move on.
Don't release payment until you've received the item and inspected it. If something doesn't seem right, don't hesitate to contact customer service for a refund or to lodge a dispute.
Only pay using Poshmark's secure payment methods, such as PayPal or a credit card protected by encryption.
If a designer item is priced well below the average and sounds too good to be true, it probably is. You may get a brand-new "Louis Vuitton" handbag, but it'll probably be a cheap knock-off, so don't waste your money on scammers.
If a seller tags a listing under multiple brands, the image doesn't match the brand that's been tagged, or the price is ridiculously low, it's a big red flag, and you should steer clear.
Some other basic security measures you can take when shopping online include the following: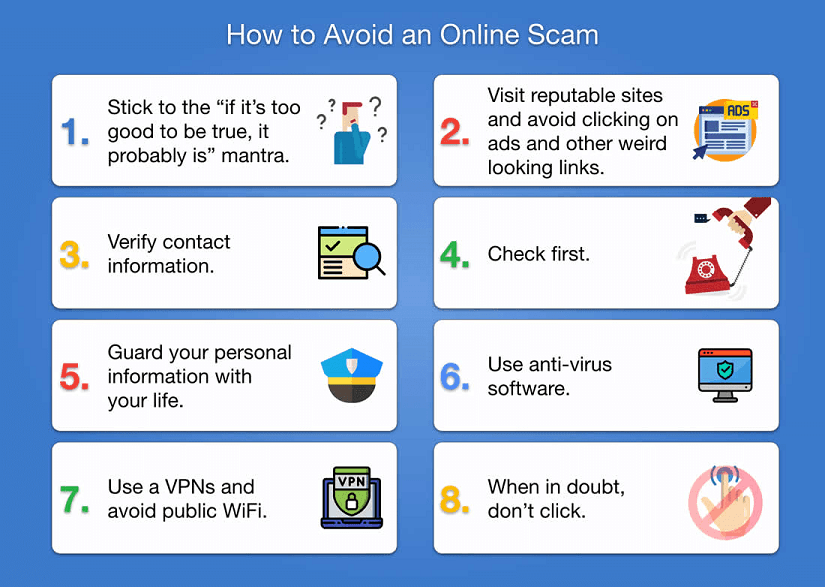 Quick tip: How to identify a fake
A legitimate designer item is priced at a premium due to the expert craftsmanship and high-quality materials that bring the design to life. A counterfeit will miss certain details, and ultimately, the workmanship is cheap and sloppy compared to the real deal. You'll often find cheap metallic gold zippers, skew seams, and incorrect/missing details.
Following these simple tips can help ensure a safe and positive experience when buying on Poshmark.
Are you looking to sell on Poshmark competitor sites? Wondering, for example, Is Mercari Legit? Check out our previous blog posts for reviews on Mercari, Depop, and Kidizen for the scoop on some of today's most popular online selling platforms.
Why you need a cross listing app to list on multiple marketplaces
We hope we have brought you some peace of mind regarding Poshmark and that you now have a definitive answer to, "Is Poshmark Legit?"
If you feel more confident about starting your online selling ventures on Poshmark, or you're already selling but want to expand your customer base, you need to sell on multiple channels! There are many benefits to selling on more than one marketplace, including:
Not relying on one platform to generate an income
Wider reach and increased visibility of products
Untapped audiences
Increased revenue
Many sellers spend hours manually cross-posting their listings, or they waste money hiring a freelancer to do it for them. However, a cross listing app like Crosslist can be a real game changer in saving time and money.
Rather than creating separate listings for each marketplace, you can create one listing per platform, import it into Crosslist and publish it to all your chosen marketplaces.
In addition to saving time, a cross listing app lets you keep track of your listings in one place. This can be a huge time-saver and help you avoid mistakes that could cost you sales.
A cross listing app also helps you ensure your listings are consistent across all your online selling sites. You don't want potential customers to see different prices or descriptions depending on which platform they visit. That doesn't send a good message and makes you appear shady. Using a cross listing app ensures that all pertinent listing information is the same regardless of where it appears.
So whether you're a Poshmark newbie or a seasoned seller, be sure to give Crosslist a shot…it may just transform how you run your business!
Final thoughts
As you can see, there are many reasons to believe that Poshmark is a legitimate company. However, like with any online marketplace, some risks are involved in using it due to scammers. But by following the tips outlined above, you can minimize those risks and have a safe and enjoyable experience buying and selling on Poshmark.
Questions or just say hello!
Well, congratulations to you for making it this far! Here's a reward in the form of a 10% discount code on your first month of Crosslist (add during check-out). Sign up now with a 3-day money-back guarantee!
You can learn more about how Crosslist works here.
If you have further questions, feedback, bug reports, or want to know a bit more about us, why not swing by for a chat and say G'day! You can have a chat with us through Messenger.