Is Mercari Legit? 15 Tips for Sellers to Avoid Mercari Scams

---
If you're an online seller, you may be wondering if using Mercari is a good idea. After all, it can be a great way to make some extra money selling items that you don't need anymore. But before you jump in, it's important to understand the risks and protect yourself from scammers.
Many sellers wonder, "Is Mercari legit?", "Is there any risk of being scammed or having your items stolen?" We hope to be able to answer those questions and provide some useful tips to ensure you avoid those pesky scammers.
From understanding the platform to knowing what to look out for, these tips can help keep you safe and make sure you have a successful selling experience on this popular marketplace.
Is Mercari a Legit Site to Sell Online? 5 Reasons it is…
If you're new to selling online, it can be daunting to select which platforms you'd like to sell on.
While Mercari is certainly not a new platform or an unknown one at that, it is less well-known than the likes of Poshmark and eBay. Of course, anything unknown prompts us to tread lightly.
So if you find yourself wondering whether Mercari is a trustworthy platform for selling your items, here are five reasons why we believe it is:
1. Mercari has been in business since 2014 and is headquartered in Tokyo, Japan. It was originally founded by Tokyo businessman and serial entrepreneur, Shintaru Yamada, who remains at the helm of this global operation.
2. It is also available in the US and UK, so it has done well enough to be able to expand its footprint into new territories.
3. Mercari is backed by major investors and has received funding from some of the world's most respected venture capital firms, including World Innovation Lab (WIL), Global Brain Corporation, and Itochu Technology Ventures. This financial backing provides a level of legitimacy and stability that other platforms may not be able to match.
4. The online shopping platform has over 20 million active monthly users as of December 2022 and processed over $6.7 billion in transactions last year alone. Their app has been recorded as being downloaded over 100 million times.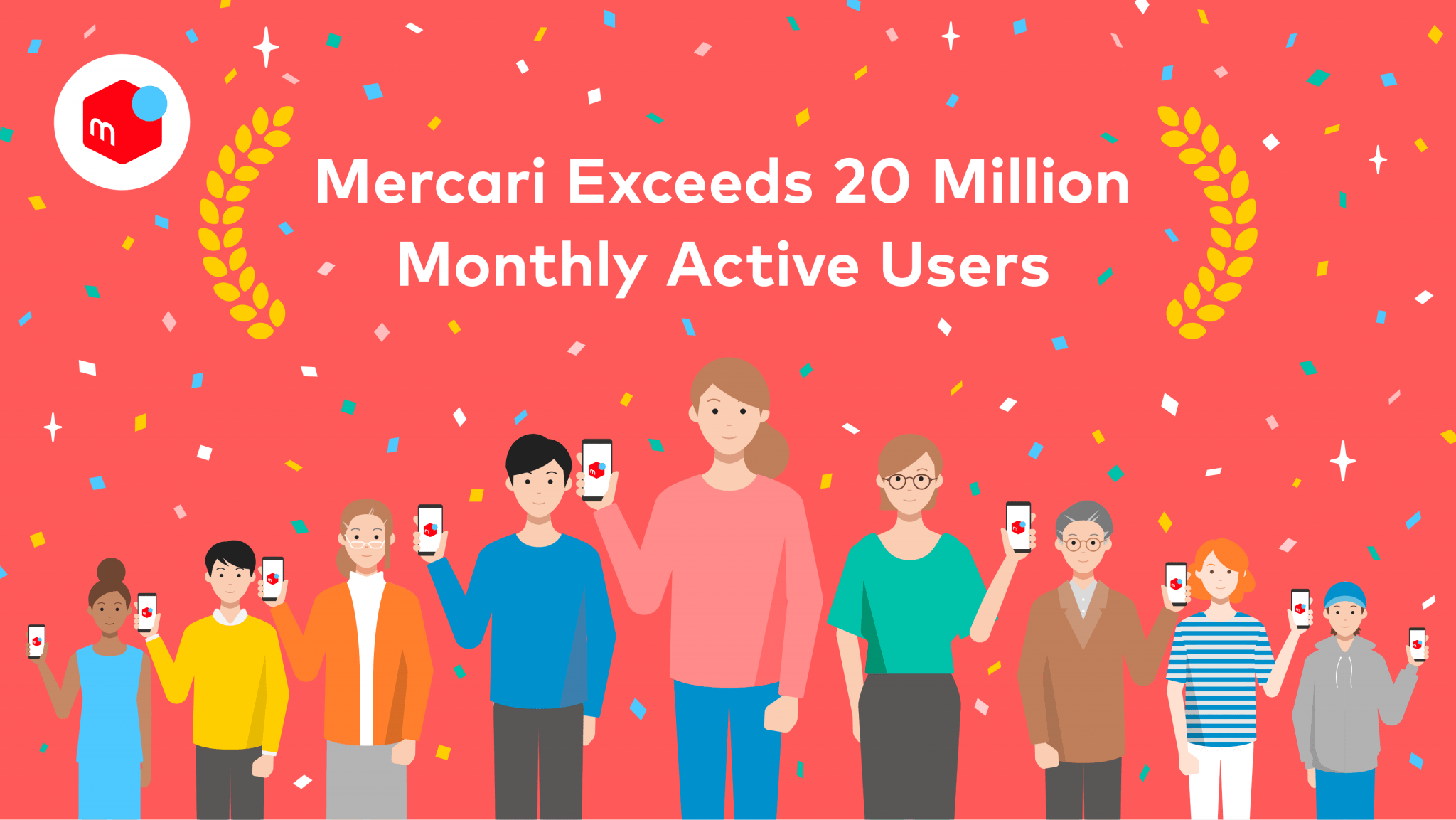 5. Mercari is known for having a reputable customer service team. With thousands of transactions being processed daily across all its territories, having reliable customer support staff around 24/7 helps ensure that each transaction goes smoothly without any hiccups along the way. Should there ever be any issues during your selling experience at least you know help is always nearby if needed.
So, what can we deduce from the above information to help us answer the question, Is Mercari Legit?
It is highly unlikely a scam business would have over 100 million app downloads, be available in multiple territories, be backed by investors and have undergone 7 successful funding rounds, or be operating transparently for over 9 years if they were scam artists.
So, we can confidently say that Mercari is most definitely a legit site. We recently did an in-depth Mercari review which you can check out for further reading and examples of real seller reviews.
Is Mercari Safe For Buying and Selling?
Mercari is safe for buying and selling as long as you take a few precautions to avoid scams. Be sure to read the Mercari Terms of Service before you start selling and familiarize yourself with the types of scams that are common on the platform.
If you're communicating with a buyer, be sure to use the Mercari messaging system so that your conversations are protected and you have receipts if anything goes wrong.
As with any platform, some of the most common Mercari scams include:
1. Fake Profiles
Some buyers create fake profiles and use them to purchase items on Mercari with stolen credit cards or other illegal methods. That's why you should only work with verified buyers.
2. Phishing Emails
Buyers may contact sellers through phishing emails, asking for payment information such as bank account numbers, PayPal accounts, or Social Security numbers in order to complete a purchase.
3. Lowballing Offers
Buyers may attempt to negotiate prices far below the listed price in an effort to get a great deal from unsuspecting sellers only to abandon the transaction and waste your time.
4. Unpaid Items
In some cases, buyers will accept item deliveries but fail to make payments after receiving the goods.
5. False Returns
Buyers have been known to try to get refunds for defective goods and end up getting their refund from Mercari while never returning the item to the seller. A similar tactic is when a seller has a similar item in worse condition so poses as a buyer to purchase your good quality item only to lodge a return with their own damaged item. They then sell your item for a higher price.
If you're interested in finding out how Mercari stacks up against the competition, read our post on Mercari vs Poshmark.
Is Mercari a Scam? How To Protect Yourself As a Seller
As a seller on Mercari, it is important to be aware of the potential scams that can occur on the platform. Here are some tips to help you protect yourself:
1. Detailed Description & Photos
Detailed descriptions and clear photos help foster trust between sellers and buyers by providing greater transparency around products being sold on Mercari. This ultimately leads to more satisfied customers who return for repeat purchases in the future.
Using detailed descriptions can give buyers a better idea of the condition of the item than simply looking at pictures.
For example, if there is any damage or missing parts that cannot be seen in the photo, mentioning this in your description can help avoid problems with returns later on. Below is an example of a clear listing description that includes all relevant information a buyer may want to know.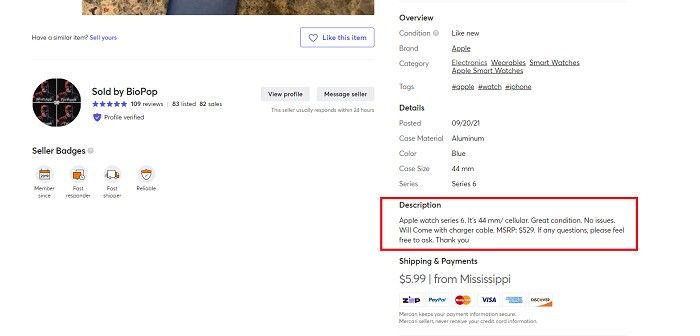 It also provides more information for prospective buyers who may want to know additional details such as measurements, materials used, or other features about the product before making a purchase decision. Providing accurate and complete information will create trust between you and potential customers since they will not have to pester you with questions.
Clear photos of your items should also accompany your listings so that shoppers know exactly what they're getting when they decide to buy something from you. Taking clear photos against a well-lit, neutral background can ensure that all relevant details related to your item are visible so potential buyers don't miss out on anything when looking at it online.
You could even take multiple shots showing different angles or close-ups – this is especially helpful for items like clothing and accessories where certain detailing might be difficult to pick up at a distance.
2. Use Mercari's Prepaid Label or Purchase Insurance
If you're selling on Mercari, you have the option to use their prepaid label or purchase insurance. We recommend using their prepaid label, as it's the easiest way to ship your items and you're guaranteed to get paid if your item is lost or damaged in transit. If you choose to purchase insurance, you'll need to file a claim with Mercari if your item is lost or damaged, however, you are covered to the value of $200.
3. Build A Good Seller Reputation
If you're selling on Mercari, it's important to build up a good seller reputation. This will help you attract buyers and also ward off scammers – they tend to target new and unknowing sellers. Here are some tips for building a good seller reputation on Mercari:
Offer quality items at fair prices.
Ship items promptly after they're sold.
Be responsive to buyer questions and concerns.
Leave positive feedback for buyers who purchase from you.
4. Never List Items Prohibited By Mercari
When selling on Mercari, it is important to only list items that are allowed by the platform. Listing items that are prohibited will not only get your listing removed, but could also lead to your account being suspended.
Some of the items that are prohibited from being listed on Mercari include:
Alcohol
Tobacco
Weapons
Ammunition
Illegal drugs and paraphernalia
Hazardous materials
Recalled items
Medical devices
Mercari has a reporting function so that sellers and buyers can report suspicious activity such as the sale of banned items, counterfeit goods, inappropriate conversations, and so forth. Below is a list of the various infringements sellers and buyers can be reported on.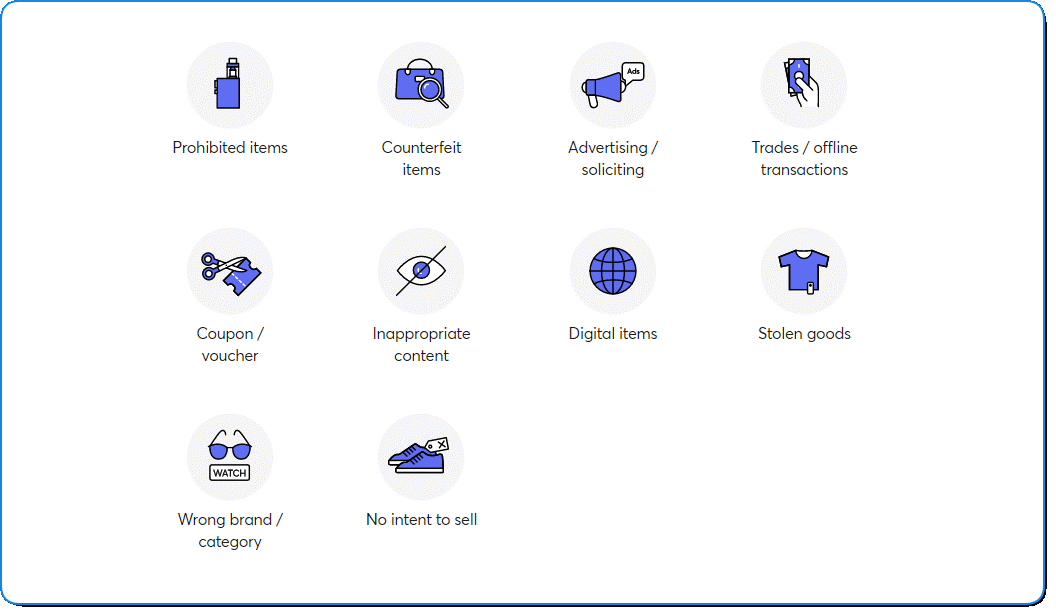 5. Request a Signature Upon Receipt
If you're selling an item on Mercari, it's important to be aware of the potential for scams. Buyers can try to claim they never received their items and try to score a refund if you cannot prove the package was successfully delivered. One way to protect yourself is to request a signature upon receipt from the buyer.
This ensures that the buyer has received the item and can't later claim they never received it.
6. Take a Video of Yourself Packaging and Shipping the Product
When you're selling on Mercari, it's important to take precautions to avoid scams. One way to do this is to take a video of yourself packaging and shipping the product. This will serve as proof that you shipped the item and that it was in the condition that you described.
It's also a good idea to take pictures of the product before you ship it so that you have evidence of the item's condition prior to shipping if there are any problems with the delivery. Evidence that holds up even better is CCTV footage as it cannot be edited in any way so if you make a point of boxing up your item in full view of the cameras at your postal office, this is concrete evidence you did indeed ship the correct items.
7. Document Serial Numbers or Small Markings
One way to avoid false return scams is by documenting the serial numbers or small markings of the items you're selling. This will help you prove ownership of the item if there's ever any dispute. Below is an example of serial numbers on a Gucci bag.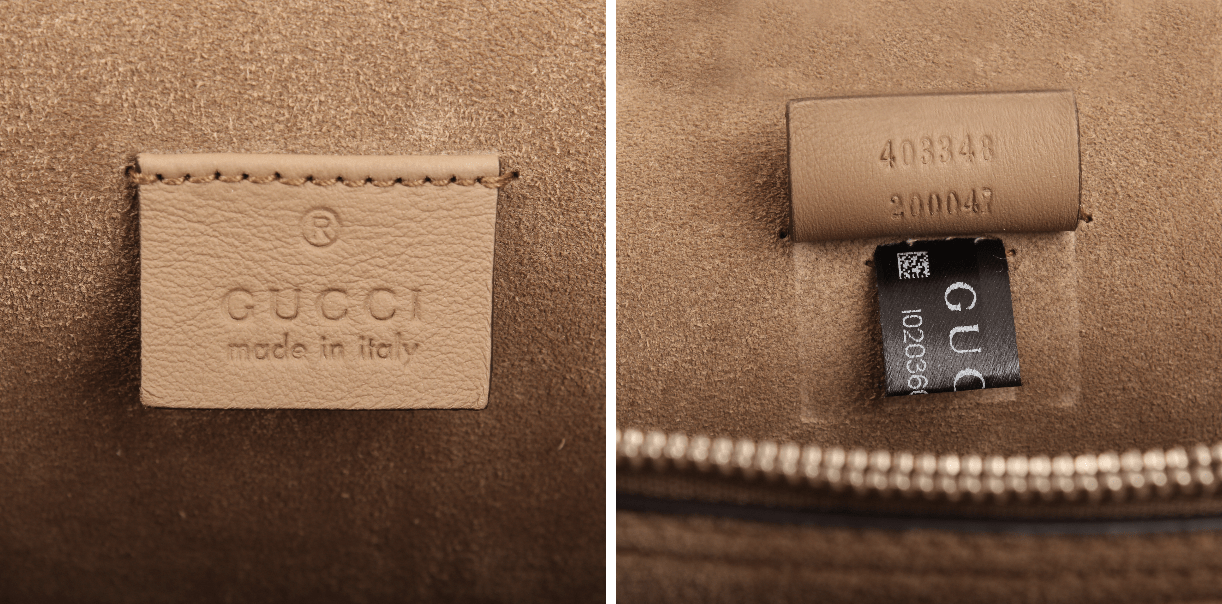 For example, let's say you're selling a handbag and it is in mint condition. You've listed it at a fair price and a sly seller comes across your listing realizing they have the same bag. Their bag is in worse condition, perhaps it has some tears or broken zips. They can't believe how low your price is! So they purchase your bag only to lodge a complaint and request a refund.
You oblige but when you receive your item back, you know immediately that this is not the same bag you sent. They go on to sell your bag for a higher price and you lose with the defective version.
If you had photographic evidence to prove this is the incorrect bag that has been returned, Mercari could have declined the refund. So, the more you cover yourself, especially with pricey items, the better chance you have of coming out the winner in an unfortunate situation like this.
8. Only Sell to Verified Buyers
If buyers are brand new to the platform and purchasing a high-ticket item or have received poor reviews from previous sellers, you are within your rights to cancel the transaction.
Mercari will check every account holder's ID and payment information before verifying their account, so remember you are taking a big risk selling to an unverified buyer.
There is no way of knowing they are who they say they are. In order to earn a verification badge, users must submit their cellphone number, email address, and a copy of their ID so for peace of mind, be sure your buyer has a verification badge like the below profile.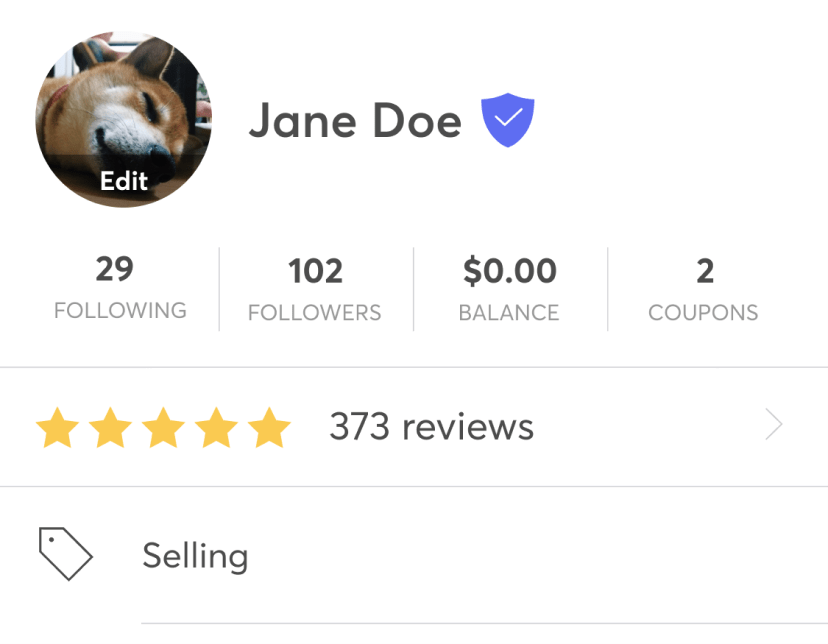 9. Know What You're Selling
Before listing an item for sale, make sure that it is in working condition and has all the necessary parts included with it. Make sure that any warranties or guarantees associated with the product are clearly stated in your listing so buyers know exactly what they're buying from you.
Don't assume you remember the accessories that came with that Apple watch you haven't used in two years. You'll end up advertising it comes with two watch straps when it only comes with one and then wonder why you have an angry buyer on your hands. Check before you list!
10. Prioritize Transparent Communication
When communicating with buyers, be honest about the item's condition and include detailed information about any flaws or defects to avoid confusion or misunderstandings down the line.
Be sure to respond promptly when buyers contact you as well; this will help build trust between buyer and seller before any transactions occur.
If you take too long to respond, buyers may think you're hiding something or get impatient and may not follow through with the sale.
11. Get Payment Upfront
To protect yourself against fraud or non-payment, always request payment before shipping out items sold on Mercari (or through any other online selling platform).
Buyers may try to convince you to agree to a pay-on-delivery basis but this is an easy way to scam someone by making off with the goods without forking out the payment.
By insisting on upfront payments, you can avoid buyers looking for a quick and easy scam.
12. Ensure Payment Has Cleared Before Shipping
Before sending out goods being sold via Mercari, verify that the buyer's chosen payment method is secure by checking its status online (for example PayPal payments should show "Completed/Verified" after processing).
You should also watch out for red flags such as requests from buyers wanting to pay using gift cards or other methods that may open up opportunities for fraudulent activity later on down the road – if anything looks suspicious then don't accept the order.
13. Package Orders Carefully
Securely package all items sold through Mercari using bubble wrap or newspaper around fragile items (such as glassware) along with ample amounts of packing tape around boxes so nothing gets damaged during transit time – this will save both parties hassle later if something goes wrong during delivery too.
Additionally, make sure each box includes tracking information printed visibly on top for added peace of mind in case something happens while en route. Plus nobody wants to receive a scrappy-looking package, so try to be neat from the get-go.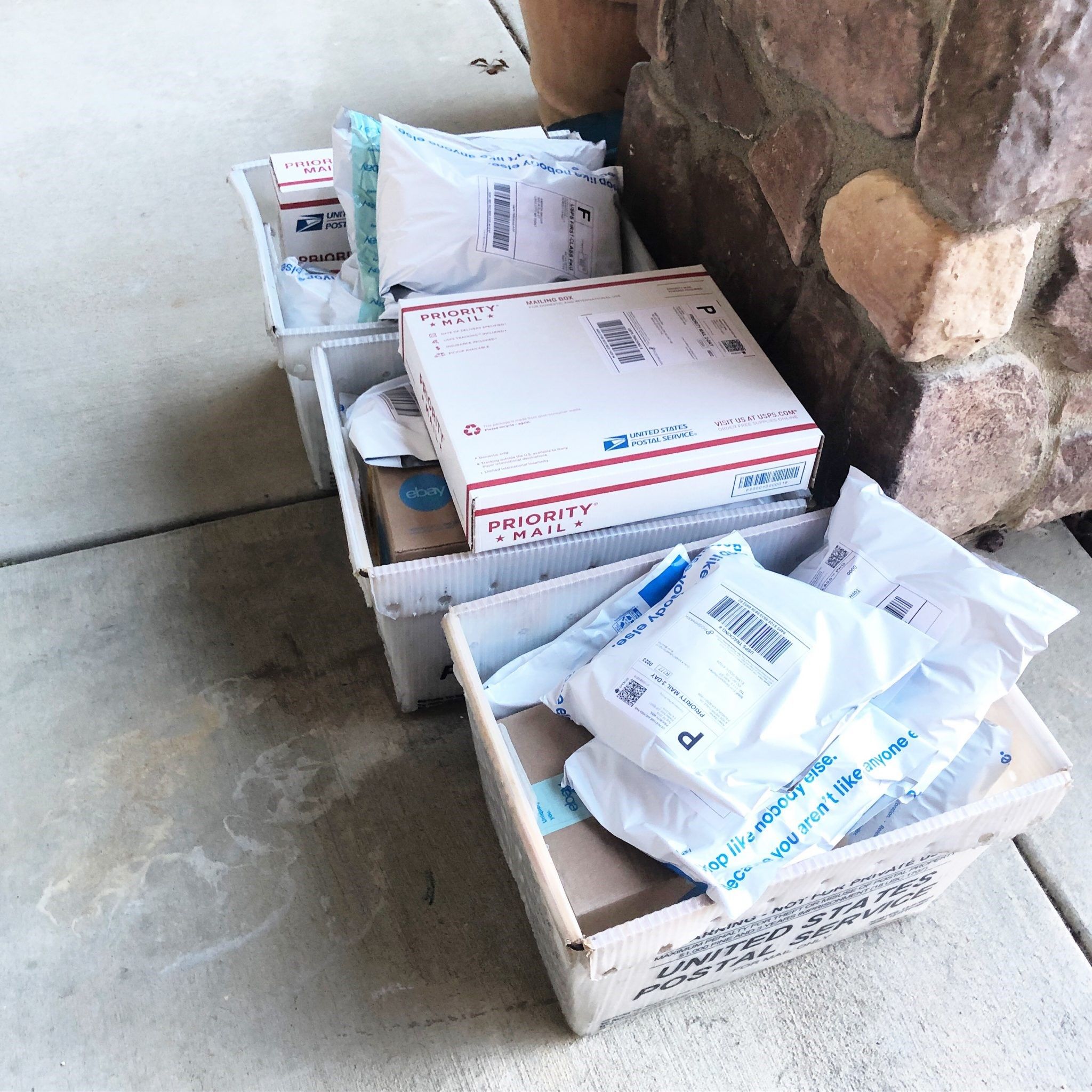 14. Communicate via the Internal Messaging System
Communicate with buyers through the Mercari messaging system to avoid giving out personal contact information such as phone numbers or email addresses.
This helps protect both parties from potential fraud or identity theft. Additionally, all conversations are monitored by Mercari's support team, so they can assist if any issues arise during the transaction.
15. Keep Receipts
Keep track of your transactions and keep all documentation in case you need to dispute an issue with Mercari.
By taking these precautions, you can help ensure a smooth and safe transaction on Mercari. If you're warming up to the idea of this platform, be sure to check out our blog for a comprehensive guide on how to sell on Mercari.
Things to Keep in Mind Once You Sell and After Shipping
If you are serious about selling on Mercari and building a reputation as a top seller, your job doesn't end after shipping.
Providing good after-sales service on Mercari is crucial to building trust with customers, maintaining customer loyalty, and increasing your sales with repeat business and glowing reviews. Here are some tips for providing great after-sales service on Mercari:
1. Respond Quickly
Customers want quick responses when they have an issue or a question about their purchase. Make sure to respond as soon as possible so the customer doesn't feel like they're being ignored.
2. Be Proactive
Reach out to buyers once their item has been delivered and check in with them to make sure that everything went smoothly during delivery and that they're satisfied with their purchase.
3. Offer Free Returns/Exchanges
Offering free returns/exchanges gives customers peace of mind when making purchases from you because it shows them that you value customer satisfaction more than anything else.
4. Address Issues Promptly
If a buyer raises an issue, address it promptly by apologizing and offering a solution such as a refund or replacement product if applicable. This will show buyers that you take their concerns seriously and care about making things right for them.
5. Provide Helpful Information
Provide buyers with useful information such as product maintenance tips or other ways they can use the product effectively which could help build trust between both parties in the long term too.
6. Reward Loyalty & Promote Reviews
It's important to reward loyal customers who come back time and again; offer discounts or special deals only available for returning shoppers.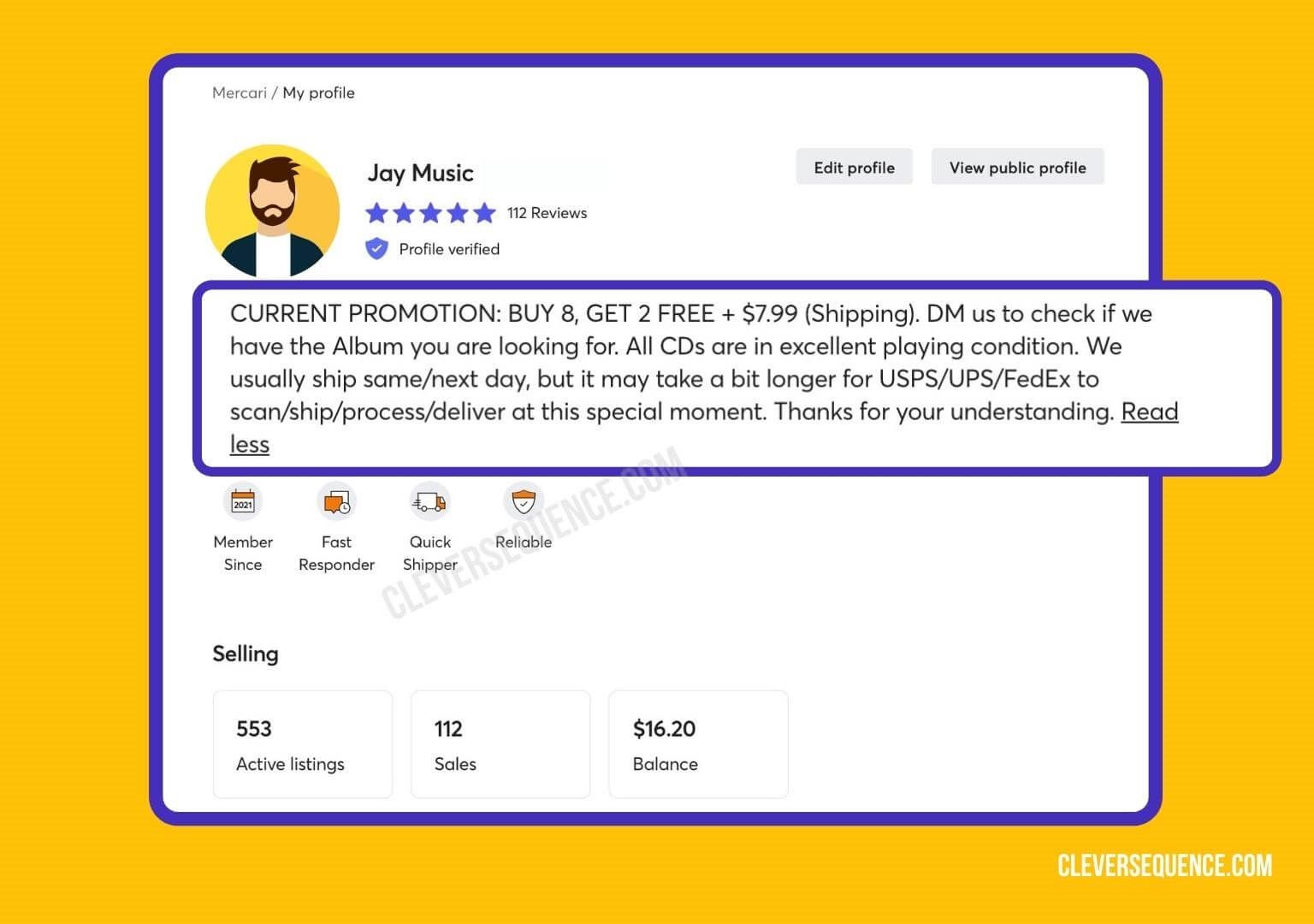 This kind of incentive can be extremely effective in encouraging repeat business over time. Also, don't forget to promote reviews from happy customers, this helps showcase positive experiences people may have had with your company.
Once you are up and running on Mercari, another consideration is cross listing to other online marketplaces.
The primary benefit of listing products on multiple marketplaces is increased visibility, reach, and sales. Having a presence on different platforms means more potential customers will see your products, resulting in higher chances of conversions.
Additionally, each marketplace comes with its own unique set of features that can provide additional benefits such as lower commission fees or access to new customer segments. Having a presence across multiple marketplaces helps build trust by giving customers more options when it comes to purchasing from you.
Instead of trying to manually cross list your products to the likes of Facebook Marketplace, eBay, and Poshmark, you can automate the process with an intuitive cross listing app like Crosslist. Simply import your listings into the app and then publish them to your chosen marketplaces with the click of a button. It really is that easy!
Conclusion
We hope this has answered the question of "Is Mercari legit?" Mercari is an excellent place for buyers and sellers to come together, but sellers need to be aware of the risks that can come with selling online.
By following our tips, you will be able to protect yourself from any potential scams or fraudulent activities that could occur while selling on Mercari. Additionally, they will also help ensure your items are safe and secure every step of the way.
So if you're looking to sell some of your unwanted items on Mercari, now you know how to ensure you'll have a successful experience!
Questions or just say hello!
Well, congratulations to you for making it this far! Here's a reward in the form of a 10% discount code on your first month of Crosslist (add during check-out). Sign up now with a 3-day money-back guarantee!
You can learn more about how Crosslist works here.
If you have further questions, feedback, bug reports, or want to know a bit more about us, why not swing by for a chat and say G'day! You can have a chat with us through Messenger.