Poshmark vs Mercari: Which Is The Best Platform In 2023?

---
Do you love the thrill of shopping, browsing through shelves, and finding hidden treasures?
Who doesn't?
By running a simple clothes reselling business, you can combine your intrigue for shopping with work and do what you love while making a boatload of $$$.
Now, if you're scratching your head and saying to yourself: "AHHH that sounds complicated"
Don't worry, we know it sounds like that but it's actually quite simple.
An apparel reselling business is an ideal opportunity for people who love fashion, thrift stores, or vintage clothing. You can gather these clothes which can then be sold on different online marketplaces such as Poshmark, Mercari or Depop.
Because of the increase in demand for second hand clothing, vintage shops, and similar outlets, the prospects for running a reselling gig have never been more favorable!
Now that we've set the scene, let's have a look at two of the most popular marketplaces out there: Poshmark and Mercari!
Both are peer-to-peer fashion marketplaces where users can sell new and used clothing, shoes, accessories, and other similar products. Together with eBay, they dominate the market for selling second hand clothing.
However, both platforms come with distinct differences in terms of audience, usability and fees. Read on to find out which platform is right for you!
Some background information…
Poshmark
Poshmark, doesn't tread far from its name and focuses on "posh" fashion and jewelry items. The marketplace was founded in 2011 to replace eBay in the high-end clothing (think GUCCI, Louis Vuitton) department at reasonable prices.
Feeling buyers remorse after getting an expensive handbag or not liking the design of the dress your friend gifted you and now you're too embarrassed to ask for the receipt to return it?
List the items quietly on Poshmark and get the best prices possible for them!
Emitting that air of exclusivity and elegance, this fine platform kinda reminds us of the finer things club from the office.
While high-end items do dominate the marketplace, mid-range brands also do well on Poshmark.
Poshmark also has a unique social media aspect to it. Unlike Mercari, which is a simple marketplace like eBay, Poshmark incorporates social dynamics for business.
Confused?
Imagine Instagram and eBay fell in love and had a child; yep, that's Poshmark in a nutshell for you. You can comment, like, and even share different listings and support each other.
Wait, that's not all. Poshmark even allows sellers to host live virtual parties to increase product exposure and sales. They regularly bring new features to the marketplace to help their sellers sell more.
You can read up more awesome tips to make a killer income on Poshmark here.
So basically, Poshmark found its place at the top due to its ease of use, social features, and convenient services.
The platform caters to savvy fashionistas to find great pricing and customers.
In addition to that, they also IPO'ed in 2021, making it the first social marketplace to go public.
Mercari
Mercari, on the other hand, can be compared more to a flea market that has anything and everything available for sale. Founded in 2013 in Japan, they quickly expanded to the United States just a year later.
Now, they are one of the most succesful Japanese startups to enter the global market. Pretty much any item can be sold on Mercari as long as it can be shipped and is not on their prohibited item list.
Mercari boasts a vast user base of 20 million+ monthly users on the platform and also caters to an international audience in over a whopping 100 countries, so you can be certain your business will never suffer from a lack of reach.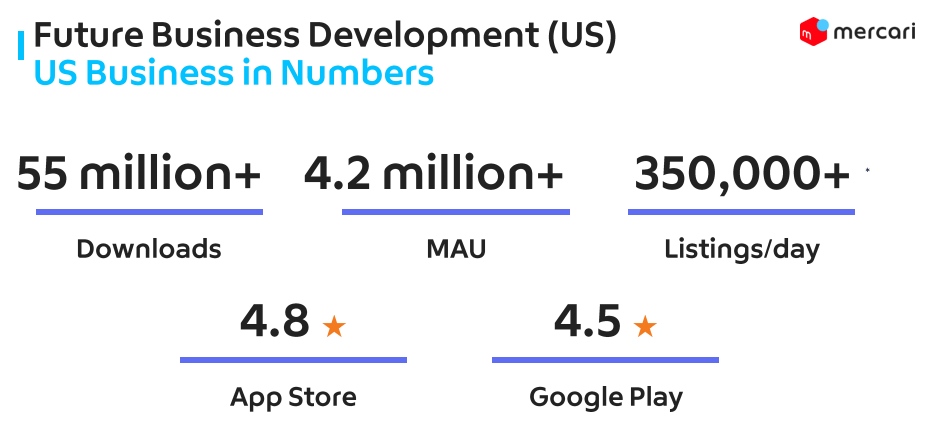 How does Poshmark differ from Mercari?
Both these marketplaces are phenomenal for your reselling business. Still, there are a few differences between the two you should know before jumping in. Let's have a look at how both marketplaces fare against each other.
1. Community
Poshmark has really built a strong community around its marketplace, using Poshmark Ambassadors to spread their message. The focus is really about a journey of selling together rather than just merely flipping stuff.
Mercari on the other hand is more of a bland marketplace like eBay where people get together and sell, but do not really interact with each other. You'll find it easier to sell an iPhone on Mercari than some niche dress you found in a thrift store, as the community isn't that fashion inspired like on Poshmark.
Our verdict
Poshmark is the clear winner here with its thriving community of resellers that are very well connected to each other. Their virtual parties and the ability to add in Instagram reels are phenomenal for all fashionistas out there regardless of whether they're selling or buying on the platform.
2. Prohibited items
Buyers love online marketplaces because they offer various products and low prices. As incredible as these marketplaces are for your side biz, you can't just sell anything.
Poshmark and Mercari need to maintain a certain standard of quality to attract and retain customers. They do this by setting guidelines for sellers on their platforms. While it might seem arbitrary, there are logical reasons why certain products are not permitted.
After all, you wouldn't want just anyone selling anything without any restrictions.
Let's take a look at the guidelines each marketplace has in place!
Poshmark
It's safe to assume that whatever Mercari has banned isn't allowed on Poshmark either. Still, they have some additional product rules since they're more niche and exclusive than Mercari. Let's jump through the rules quickly. The following items and activities are strictly prohibited on Poshmark:
Pre-owned items can be listed, but they must be in good condition if you want to sell them.
All liquid products must be in sealed packaging and clearly and accurately represented.
All illegal items, including replicas and fakes of originals including products derived from threatened animal species. Listing such things can lead to you getting permanently suspended on the platform.
Violating trademark laws or implying a product is made after or inspired by a brand.
Taking parts of branded items and using them to make a new product, e.g., taking a button from a brand clothing and turning it into jewelry, is prohibited.
Dealing with the following specific items is not allowed either:

Furniture.
Appliances.
Used makeup/personal care products.
Used underwear.
Used health and wellness products like breast pumps, protein powder, diet supplements and, body wrap.
Current airline and airport uniforms.
Mercari
As a good rule of thumb, avoid trying to place anything shady or illegal on the internet, let alone on a marketplace with your contact and location on it.
With that out of the way, the following activities and items are banned on Mercari:
Selling drugs or associated components, including prescription or homemade medicines.
Selling an item that has been reported as "Stolen," which can result in confiscation of the item.
Any firearm regardless of its legality in your local area.
The platform has a firm policy against selling counterfeit goods and requires serial numbers or receipts when selling brand-name products.
Any military-grade products, including explosives.
All tobacco products are banned from the platform. This includes vapes, cigarettes, e-hookahs, and any product associated with nicotine usage.
Any sort of account credentials or login information that can contribute to identity theft.
Intangible products, i.e., products that can't be shipped, are not allowed on the platform. These include ebooks, software, games, etc.
Items you don't own when you list them. This includes dropshipping products or selling coupons.
All items prohibited by mailing companies are not allowed on the platform. However, you can send flammable products using the "ship on your own" option.
Any products that infringe copyrights or are designed to circumvent them including chips that allow unlicensed software to be used in computers.
Regulated financial products like crypto, bonds, currency exchange, etc., cannot be traded.
Live animals, including taxidermy, are prohibited; however, animal parts from non-protected species are allowed.
Pornographic or sexually explicit products.
Offensive listings that promote hatred or violence.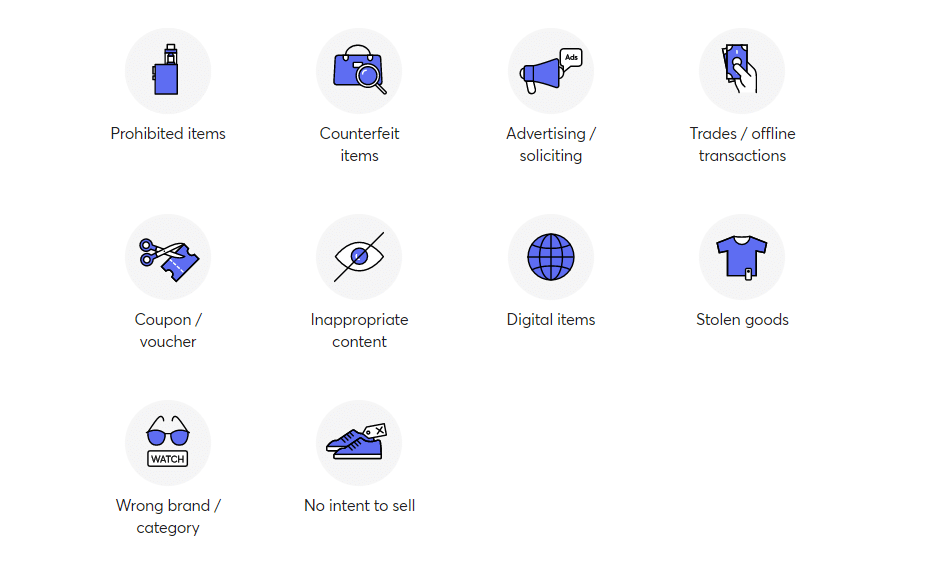 Our verdict
Mercari beats out Poshmark in this area as it has fewer restrictions on the type of products you can sell there marketplace. Admittedly, this does lower the feel of exclusivity and branding around Mercari. In particular, Mercari is really good if you're not selling fashion items in the first place.
3. Fees
While there is serious money to be made selling online, as the old saying goes, nothing good in life comes easy…or free! The same can be said for selling on Poshmark or Mercari.
In order to keep their platforms running and employ a team of customer service experts, these marketplaces must charge fees.
Before you start selling, it is important to have a thorough understanding of each marketplace's fee structure so you're not taken by surprise when fees are deducted from your account.
While we believe the fees and commissions charged are fair considering the service and platform being made available to you, they can add up quickly, particularly for new sellers.
Poshmark seller fees
Poshmark's fees for sellers are pretty straightforward. To list your item is completely free, the commission comes into play when your item sells. On items under $15, a small fee of $2.95 is deducted.
For the sale of items over $15, there is a 20% commission fee automatically deducted by Poshmark. If you look at it logically, it doesn't really make sense to sell an item that costs less than $5 because you'll be left with very little profit after all is said and done.
Take a look at the below table for a visual representation of how the supposedly nominal $2.95 can really hurt smaller sellers.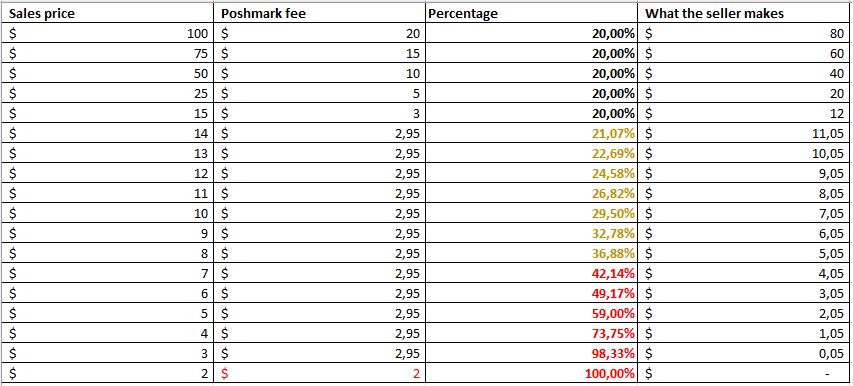 Shipping is pretty simple too with a flat rate of $7.67 being charge to buyers for all orders under 5lbs.
However, we think it's pretty worthwhile the fees because you get:
A free pre-paid shipping label.
Credit card transactions are processed for free.
Automatic calculation and collection of sales tax.
A huge, active marketplace of motivated buyers to sell to.
Mercari seller fees
Mercari charges a 10% selling fee on all sales regardless of the product price, along with a 2.9%+ $0.50 for transaction costs and payment processing.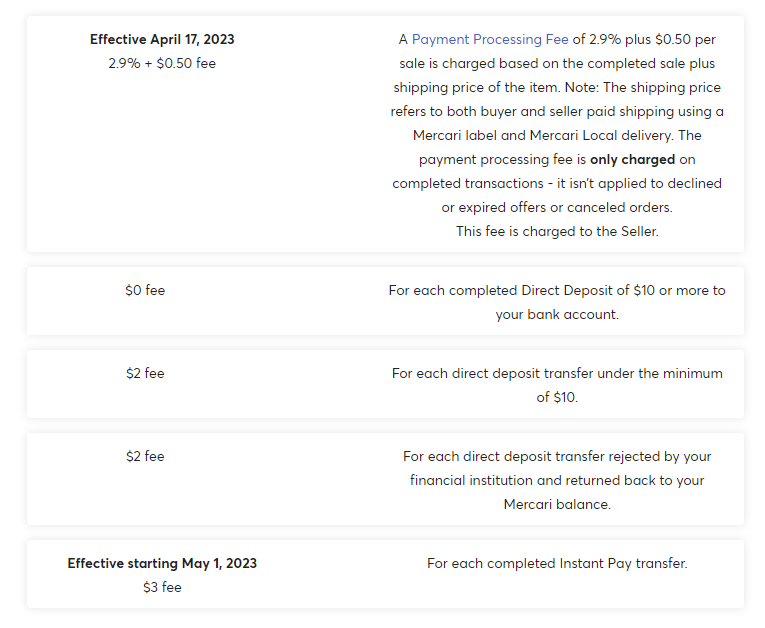 Mercari has fixed shipping rates with different shipping agencies. They also have a weight limit of shippable products at 150lbs, products above the weight limit won't be shipped by Mercari, and you'll have to dispatch them on your own.
Here's a chart from the Mercari website giving a reasonable estimate of shipping rates: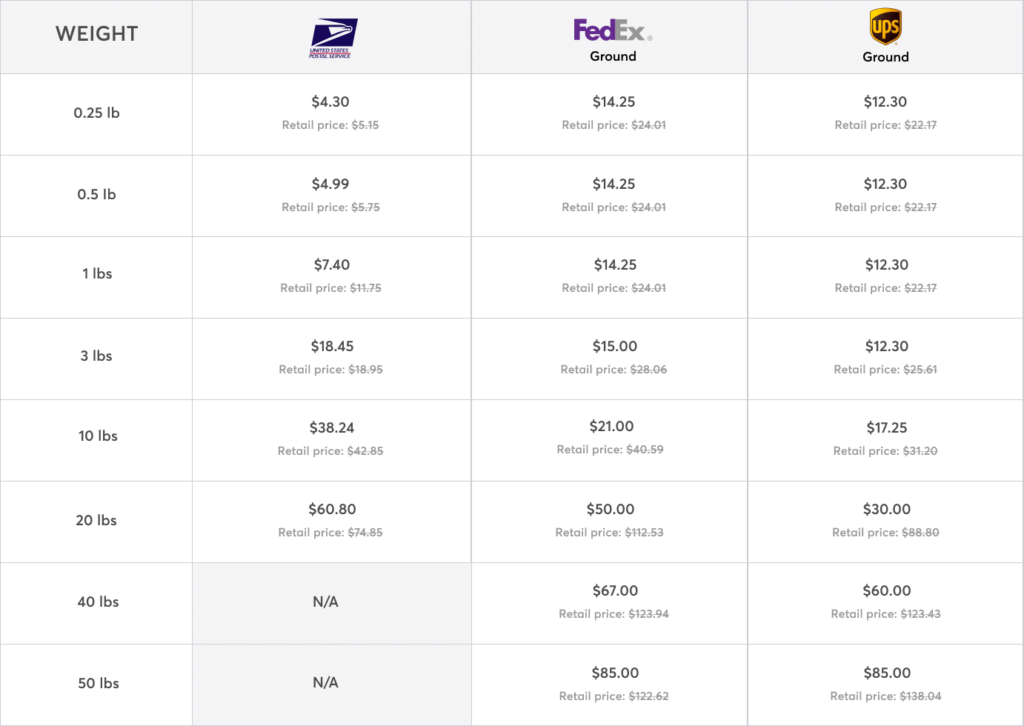 Our verdict
Mercari once again comes out on top as their commission rates are VERY competitive and favorable for small businesses.
However, this doesn't mean that Poshmark is ripping anyone off as they also offer good rates but Mercari edges them out here.
If you want to compare your profit and margin between Poshmark and Mercari, then you can use the free seller fee calculators below:
4. Payment methods
Let's be honest, everyone hates payment delays and processing issues. Your buyers' products get delayed and you end up spending precious time dealing with these problems
So Poshmark and Mercari have included top-notch integrations on their sites with popular payment processors for accessible business and smooth transactions.
Paying on Poshmark
Poshmark also allows all major credit cards. These cards include MasterCard, Visa, Discover, JCB, and American Express. You can also use Venmo, Paypal, Affirm, Google Pay, or Apple Pay to pay for products on Poshmark.
Paying on Mercari
Mercari accepts major credit cards like VISA, Mastercard, American Express, and Discover.
You can also use PayPal, zip, or apple pay to pay for products on Mercari.
Our verdict
This is a really close one as both the platforms have awesome integrations and payment processes available. Both platforms are excellent here and we're at a stalemate, so we'll have to call in this one as a draw.
The final verdict
Overall we have to call this bout a draw.
Both platforms are absolutely phenomenal at what they do and are toe to toe in market competition.
Mercari nails it in the variety and quantity department while Poshmark makes a killing in the branded-clothing branch.
Both platforms are amazing resources and can be extremely beneficial for your business and the best strategy is to simultaneously work on both platforms side by side so you can get the best of both worlds!
Now that we're clear about how each platform runs, there are a few brilliant strategies and methods that you can use to maximize your hustle and make some good dough for your bank accounts.
Why not.. list on both?
So now that you've read the pros and cons of Poshmark and Mercari, you're probably wondering which one to go for. What if we told you that you could easily list on both with the same amount of effort?
Enter Crosslist, the best cross listing app of 2023. Instead of listing your inventory on one marketplace, use a tool like Crosslist to easily list on multiple platforms while still only completing one listing form!
Cross listing is a strategy employed by tons of resellers online looking to gain more exposure to their products and attract more buyers by differentiating across platforms.
It's an effective way to increase brand awareness and drive sales by reaching new audiences with different preferences.
Cross listing is a must for any serious eCommerce business. By cross listing, you can skip filling endless listing forms, managing different inventories, and uploading data repeatedly. Instead, you can use your time to focus on the things that matter more.
Cross listing consistently gives businesses thousands of potential new customers and tons in revenue.
Why Crosslist?
At Crosslist, we provide highly optimized software that you can use to maximize profits and take your business to the next level.
So whether you're confused and taking off fresh for the first time or you already have inventory on one or both of these platforms and don't want to go through the trouble of spending endless hours managing individual platforms and inventory, this software is for you.
1. Design
Gone are the days of ugly design and cluttery UI. Our software allows you to use unique listing features customized for your requirements.
For example, suppose you want to sell on Depop and Mercari. Our system will generate custom forms for you that combine elements only from those two marketplaces and keep out all information that could be exclusively needed by other platforms like Poshmark or eBay.
Quit worrying about carrying your heavy baggage and laptop everywhere. Crosslist also provides a simple, mobile-friendly app that you can conveniently use to create listings on the go. Do note that you will need a computer to import and post listings.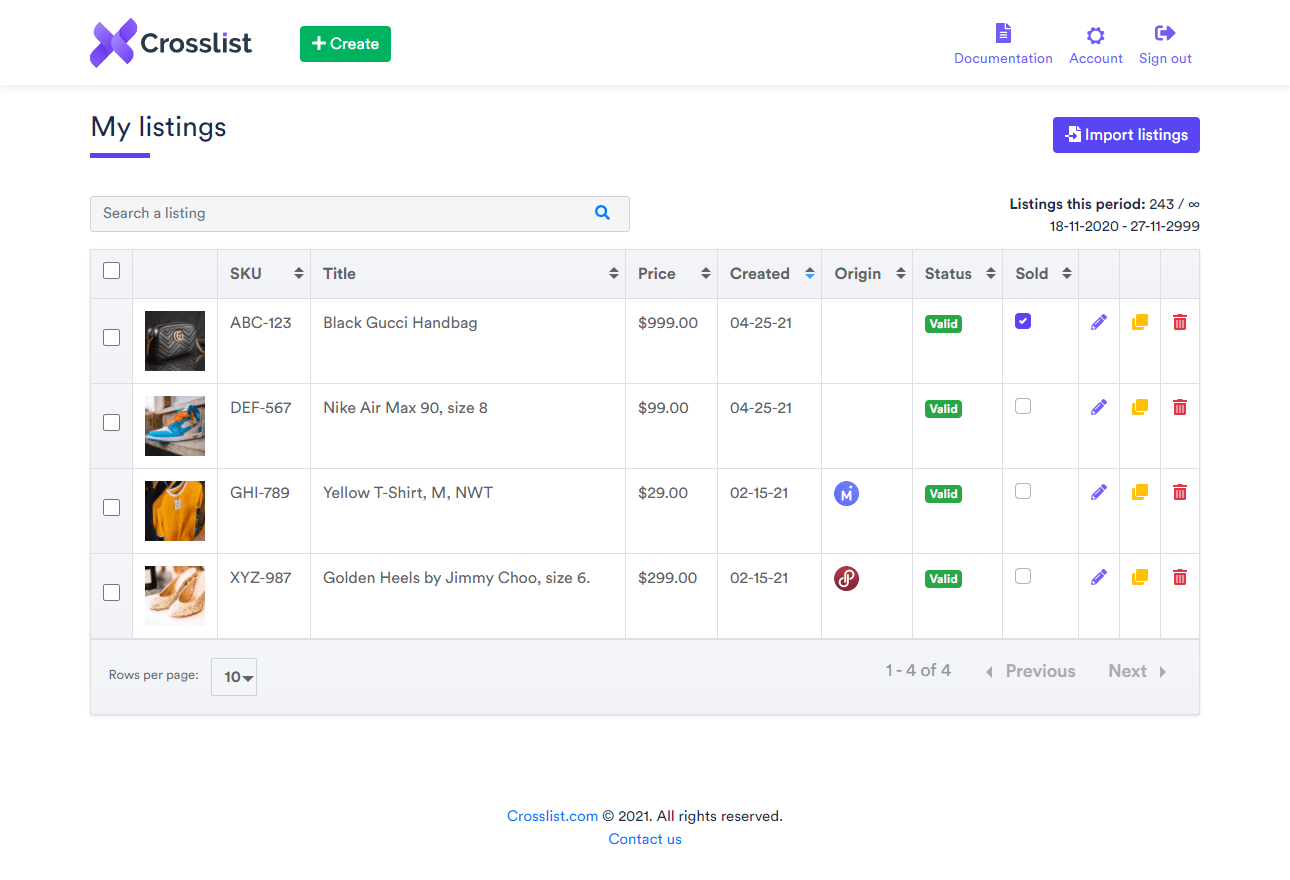 2. Multiple ways of cross listing
At Crosslist, we allow our users to cross list the way they want. Want to quickly move inventory directly from one marketplace to another? Just go straight to your listing inventory on your source website, select your listings, and cross list them with one click to other marketplaces.
But what I want to make some changes beforehand, such as adding some images or changing the description? In that case, use our bulk import tool to import the products into Crosslist, after which you can make your modifications in Crosslist's listing form. When you're done, simply post your listing on your desired marketplaces!
Pro tip: Have a look at this in-depth article that goes over the act of cross listing from Poshmark to Mercair and vice versa!
3. Built-in image editor
Crosslist's in-app image editor is the market leader for top-notch in-app image editing. Using our editor, you can:
Rotate
Crop
Zoom
Use filters
Add annotations and stickers, e.g. hide your face when you're posing in your dress!
Fine-tune by playing with the brightness, contrast, saturation, exposure, temperature, gamma, clarity, and vignette.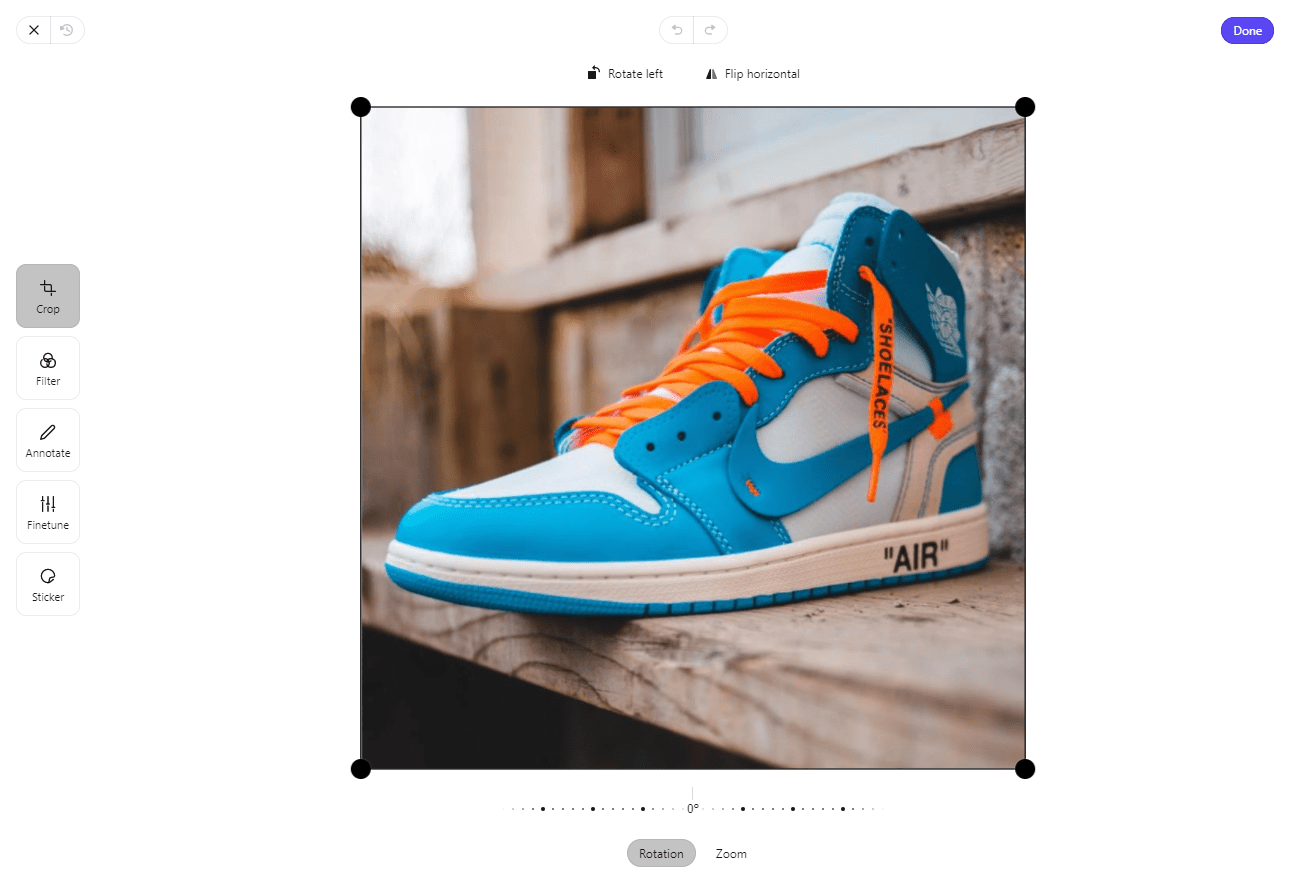 Our new-gen tech, lets you sit back and relax because your business is in expert hands.
4. Pricing
Perhaps the most remarkable feature of Crosslist is its fantastic price plans for small businesses.
For starters, you will never have to worry about running out of marketplaces to list because even our cheapest package allows users to list all 9 available marketplaces.
In addition to that, with the Gold plan, which comes at just $34.99, you can already create and cross list an unlimited amount of products between marketplaces; which is a lot cheaper than the closest competitors.
Providing unparalleled services at low prices, Crosslist doesn't disappoint its name and delivers for its users.
Questions or just say hello!
Well, congratulations to you for making it this far! Here's a reward in the form of a 10% discount code on your first month of Crosslist (add during check-out). Sign up now with a 3-day money-back guarantee!
You can learn more about how Crosslist works here.
If you have further questions, feedback, bug reports, or want to know a bit more about us, why not swing by for a chat and say G'day! You can have a chat with us through Messenger.