How To Cross List From Poshmark To Facebook Marketplace And Vice Versa

---
Welcome to the Crosslist Explainer series! This article is part of an explainer series that covers all aspects of Crosslist, a productivity tool designed for multichannel retailers and resellers.
In this article, we'll run through all the details on how to grow your business by cross listing your Poshmark inventory on Facebook Marketplace and vice versa. We previously covered how to cross list from eBay to Poshmark, which you can find here.
Poshmark is an online social marketplace that connects shoppers with stylish sellers, essentially giving shoppers an opportunity to shop sellers' wardrobes and boutiques from the comfort of their couches.
Poshmark sellers sell clothing, home decor, and beauty items, often below retail prices, so buyers can find branded and designer items for less. If you want to know how to get started selling on Poshmark, then check out our in-depth guide here.
Poshmark currently has over 80 million registered users across the USA, Canada and Australia. In the first quarter of 2022, Poshmark recorded a 13% increase in revenue compared to the same period in 2021.
Revenue increased from $441 million to $493.4 million, demonstrating the platform's popularity has continued to grow.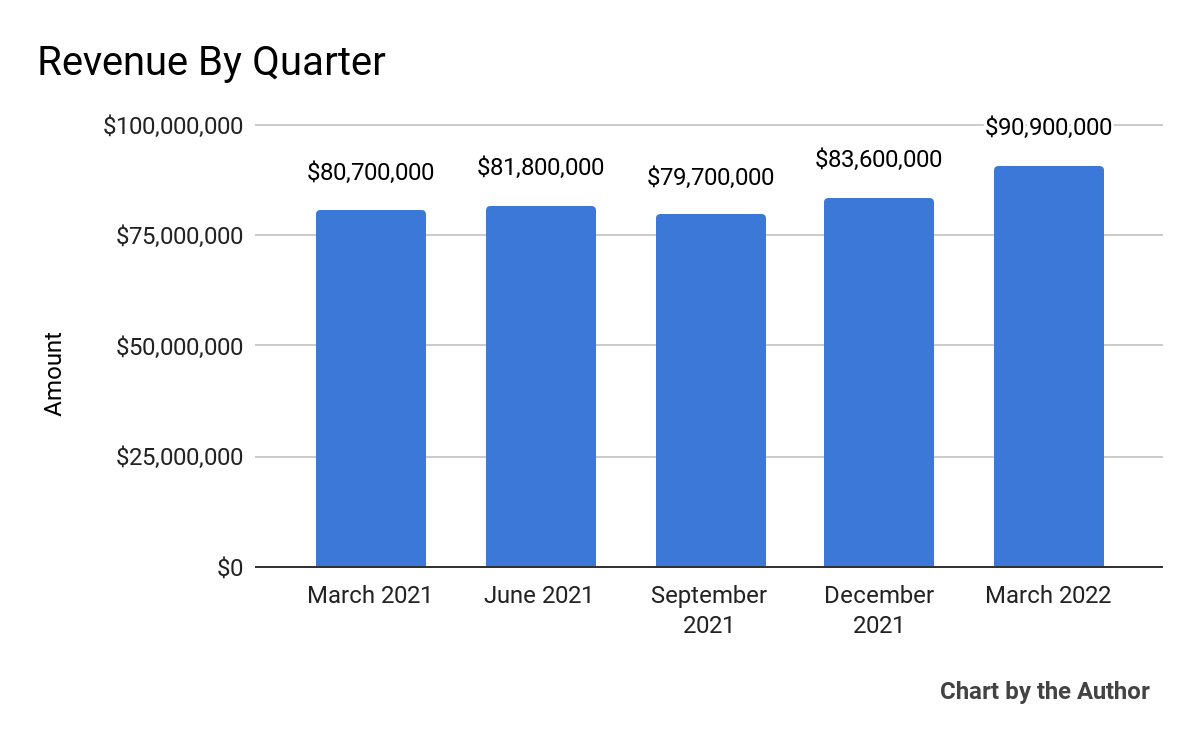 Facebook Marketplace is the classified advertising section offered by the social networking platform, Facebook. Facebook Marketplace was designed to assist individuals and businesses to sell both new and used items locally.
It helps connect buyers and sellers in close proximity, providing a convenient platform to search for items such as used baby goods, furniture and such. It serves both those looking to declutter and get rid of used items as well as businesses advertising their products.
Facebook estimates that 77% of internet users spend time on at least one of their platforms, so it comes as no surprise that Facebook Marketplace recorded a gross revenue of $26 billion in 2021 – a 48% increase from 2020.
This serves to reinforce what a fantastic sales platform Facebook Marketplace has become.
Great, how do I start?
To get started, you'll need to sign up for Crosslist. Even though we're pretty confident you'll love Crosslist, we do offer a 3-day money-back guarantee in case you are not satisfied. You can sign up here.
Next, in order to cross list from Poshmark to Facebook Marketplace, you'll need to decide the approach you want to take when cross listing.
Crosslist offers three approaches to cross list a listing from one marketplace to another:
Direct cross listing
Import in bulk
Import one by one
Direct cross listing allows you to initiate cross listing from Poshmark to Facebook Marketplace in one click. All you need to do is navigate to the listing details page in Poshmark and you'll be able to direct Crosslist listings to other marketplaces, like Facebook Marketplace.
The direct cross listing approach is best suited to users looking to cross list a few listings in a quick and efficient way and when the listing information doesn't need to be edited.
The second approach to cross listing your inventory from one marketplace to another is by first importing multiple listings into Crosslist at once. The bulk upload approach is suitable for users who need to edit the listing details of a lot of listings before cross listing them. This could be adding new images (or using our image editor to make modifications), updating tags or amending prices.
The third and final approach is importing listings one at a time. If you have a large inventory that is difficult to track and you only need to cross list a couple of listings, this is a good option for you. Instead of using the bulk import tool, you can navigate directly to the details page for each listing. This allows you to use the built-in search function of the marketplace you're importing from.
This is also a better approach if you need to make changes to your listing before cross listing. Remember the direct cross listing approach does not allow you to make any modifications to your listings so you would need to make those changes only after cross listing.
Now that you have an overview of the different cross listing approaches, we can start. For the sake of this tutorial, we're going to import our listings using the bulk import tool.
To begin, open the Crosslist application and select the Import listings button at the top right of your screen. Next, choose the marketplace you will be importing your listings from. In this case, we are importing from Poshmark. Here's what it looks like: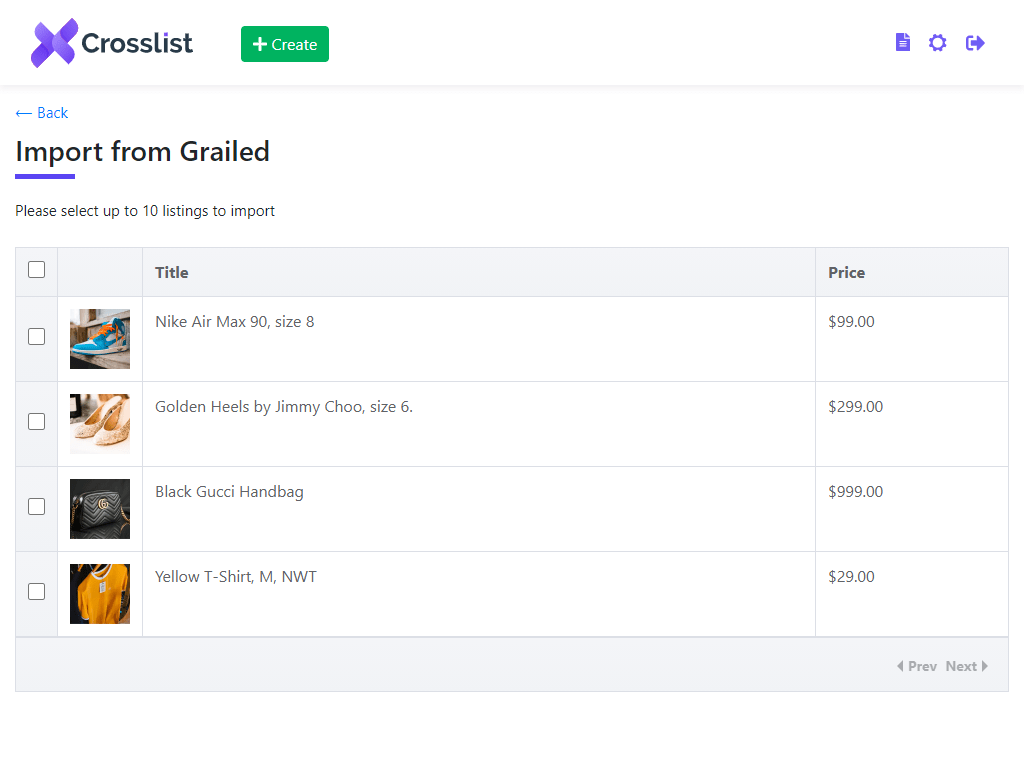 Within seconds, Crosslist will show you an overview of your active listings. Use the pagination arrows at the bottom right of the screen to scroll through your listings. Crosslist allows you to import up to 10 listings at a time from Poshmark. In addition, you can select listings across multiple pages, another time-saving bonus.
Once you have selected your listings, click the Import listings button to import the chosen listings into Crosslist. This process should only take a few seconds until a pop-up let you know the import was successful. That's all there is to it! You have successfully imported your Poshmark listings into Crosslist.
Here's a short, animated GIF showcasing the entire process: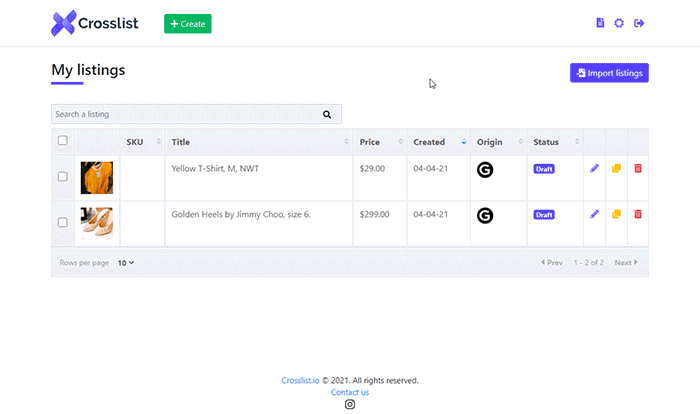 Note that we used our bulk import tool for this tutorial. If you would prefer to learn how to import listings one by one, you can take a look at our documentation here.
Optimizing your imported listing
When you have successfully imported your listings from Poshmark, you can proceed by by selecting Facebook Marketplace on the left-hand side of your screen. This tells Crosslist that you intend to post the listing on Facebook Marketplace.
Keep in mind that marketplaces generally have different listing fields and information. Some have more, and some have less. So when you select a marketplace, Crosslist will automatically generate product information required by your chosen marketplace.
In the case of our tutorial, Crosslist will only display fields required by Facebook Marketplace. This removes any confusion that leaving behind Poshmark-specific fields would create. Cool, right?
Before cross listing from Poshmark to Facebook Marketplace, you should verify whether you can add some Facebook-specific information to your listings (that doesn't exist on Poshmark). By adding the relevant information, you improve your chances of your listing being seen by the right buyers.
In most cases, all the relevant fields on Facebook Marketplace also exist on Poshmark, but there are two exceptions.
In particular, Facebook Marketplace allows you to add tags to your product which are more generic than Poshmark's style tags. Second, Facebook Marketplace also requires you to confirm your location as they aim to connect you with buyers located close to you for easier transactions.
After reviewing these fields, you can now post your imported listings on Facebook Marketplace. You can do this by clicking the Post button at the bottom-right of your screen.
Crosslist will then automatically open a new tab, where the listing form will be autocompleted. If you were to navigate to the tab before the listing form is autocompleted, you will notice a spinner accompagnied by the Crosslist logo, indicating that the form filling is in progress.
Depending on your internet speed, the process should only take a few seconds. Once you fill out your listing form, the spinner will disappear. Give your listing one final check, and then you can click the Publish button on Facebook Marketplace.
And that's it! We have performed a cross list from Poshmark to Facebook Marketplace using Crosslist. That was pretty simple, right? Now, give it a try with your listings and get ready for more sales than ever before!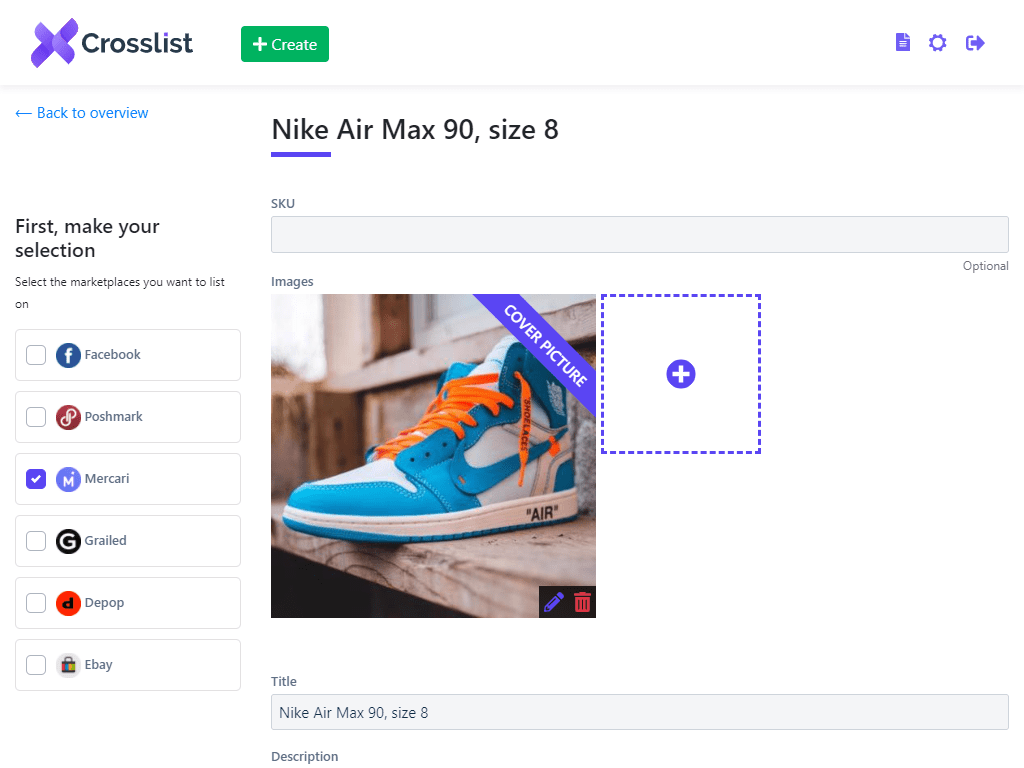 But what if I want to cross list from Facebook Marketplace to Poshmark?
No problem! The importing and cross listing process in the opposite direction works exactly the same as the above example.
The only difference lies in some specific fields that Poshmark requires you to complete, that Facebook Marketplace doesn't. In particular, they are:
Product availability (for sale, not for sale, drops)
Original retail price
Style tags
Whether the item is unopened/still has a tag on it
Poshmark also has three product availability options. These are:
For sale
Not for sale
Drops
The For Sale option is most common which means an item is available for buyers to purchase. As a result, this is the default setting when Crosslist imports listings from other marketplaces.
If a buyer has reserved an item and the sale is pending, you would select the Not for sale option.
Drops are useful if you want to list items before they're available. When selecting drops, you will need to provide a date that the listing will become available to purchase.
Another Poshmark-specific field is disclosing the original retail price. Adding the original price to a listing can demonstrate buyers are getting a good deal. If you're selling designer boots for $250, but they originally cost you $400, that's a big saving for a buyer.
It is not advisable to list your item close to or above the original price because this no longer appears to be an excellent deal to potential buyers. However, if you do not remember the actual price or do not want to disclose it, you can set the value to 0.
Poshmark also has an optional field that lets you advise whether your items still have the original price tags. When items are unused, they tend to fetch higher prices, so this is a field worth including when cross listing from Facebook Marketplace to Poshmark.
Lastly, Poshmark includes a field called style tags, a predetermined list of tags describing your listings to potential buyers. These can boost your shop's SEO by making it easier for buyers to find your listings. For example, you can add cruelty-free, minimalist, and vintage tags. A buyer searching for vintage jackets is more likely to find your listing if you add the vintage tag.
Note that Crosslist will not transfer the tags from Facebook Marketplace to Poshmark given that the tags on Facebook Marketplace have a much broader meaning.
Once you have reviewed the listing fields, you can follow the same steps as we did when importing from Poshmark to Facebook Marketplace. That's all it takes to cross list from Poshmark to Facebook Marketplace and vice versa!
More, more!
That's it for now. If you're interested in the nitty-gritty details of Crosslist, please have a look at our full documentation here.
Questions or just say hello!
Well, congratulations to you for making it this far! Here's a reward in the form of a 10% discount code on your first month of Crosslist (add during check-out). Sign up now with a 3-day money-back guarantee!
You can learn more about how Crosslist works here.
If you have further questions, feedback, bug reports, or want to know a bit more about us, why not swing by for a chat and say G'day! You can have a chat with us through Messenger.