How To Sell On Mercari: A 9-Step Guide For Effective Moneymaking

---
There are many online marketplaces available that allow you to sell (and buy) anything – from clothing and accessories to tech and used books, and at times it can be difficult to choose the one(s) you want to work with.
One of the marketplaces that you may be looking at is Mercari. If you're wondering how to sell on Mercari, you have come to the right place.
In this article, we will compile a list of useful and actionable tips on how Mercari works, what you can sell on Mercari, what the Mercari seller fees and shipping options are, and how to sell on Mercari and other marketplaces fast and effectively – by using Crosslist.
But first, let's focus on how to use the Mercari app.
How does Mercari work?
If you want to use the Mercari app, you'll have to download it from an App Store or Google Play, and of course, set up an account. The app is easy to use and once you have everything set up – you are ready to start selling.
One thing to keep in mind is that Mercari has a list of prohibited items. If a seller lists a prohibited item, this is a violation of terms of service that can lead to suspension or termination of the account.
The list of prohibited items on Mercari includes alcohol, tobacco, but also non-brand, non-genuine, imitation, fake, or replica goods, food, and any kind of weapons.
Also, it's good to know that Mercari invests a lot in the safety of buyers and sellers.
Eager to learn what other sellers are saying about Mercari? Then check out our in-depth Mercari review article!
Safety first: for buyers and sellers on Mercari
The app caters to both buyers and sellers and has made the process very simple for both parties. All of the payments are protected by Mercari, so you don't have to worry about losing any money.
Mercari also vouches that any seller will get paid. They guarantee that with two important features:
Shipping Protection: If the seller's item is damaged or lost in transit, a seller is covered with up to $200 for Mercari prepaid labels.
Issues with returned items: If a seller didn't receive their item back after an approved return, the seller may be eligible for reimbursement.
The brand's policy prohibits in-person meetups, and all sellers are required to ship each item (either on their own or with one of the app's partners).
There is also an identification verification process to further protect all users, as well as a review system that lets each participant in the shopping experience rate the other party.
So, to the question "is Mercari legit?", the answer is definitely yes.
What are Mercari seller fees?
There is a 10% selling fee for each item on Mercari. This fee is charged based on the item price for a completed sale and is applied to all forms of payment received from the buyer. In addition to the seller fee, there is also a payment processing fee, which is $0.50 plus 2.9% of the sale.
You can calculate your total fees, profit and margin using Crosslist's free Mercari fee calculator.
Do note that there is an additional $2 fee for direct deposits to your bank account under $10, which means it's best to hold on until your balance exceeds $10 before cashing out! You'll also incur this fee for each direct deposit transfer rejected by your financial institution and when using Instant Pay as a transfer method.
What can you sell on Mercari?
Mercari is passionate about sustainability. Mercari's reuse report revealed that: Americans are projected to spend $160.1 billion on secondhand Items in 2021.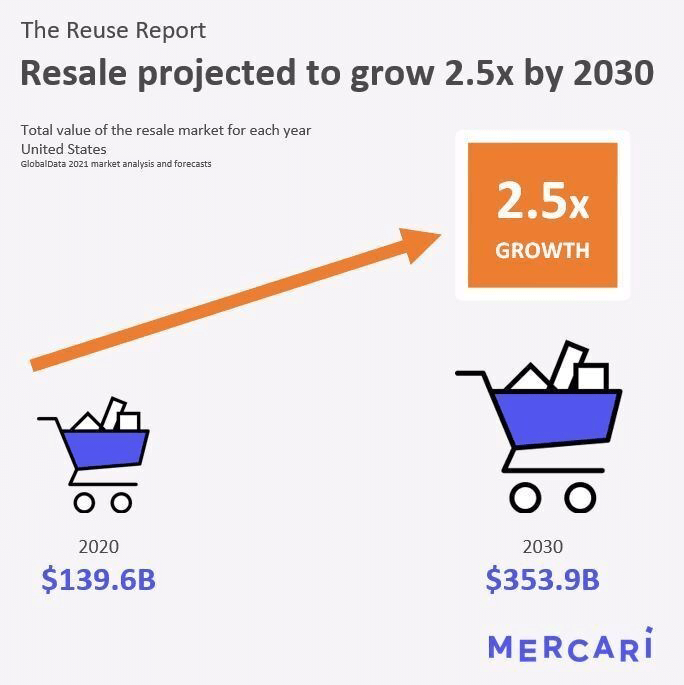 Their philosophy is simple: if you no longer need an item, rather than throwing it away, list it through their app, and make sure it finds a new home, while earning money in the process.
Reselling and rehoming unused items both help you declutter your own home, and reduce the amount of waste the planet is choked by.
As mentioned, Mercari allows you to sell practically anything that you are able to ship: electronics, clothing, household goods, and so on.
Here is a list of some of the most popularly-bought categories on the app:
Small electronic items: cameras, phones, headphones, and speakers are very sought-after.
Videogames or video gaming systems: Playstations, XBoxes, or Nintendo Switches. Old PC and console games are also popular.
Clothing: both men's and women's clothing is very popular – designer items can be sold very fast.
Fitness apparel and accessories: from outfits to small weights and other equipment.
Shoes: popular brands and vintage items tend to be sold pretty fast.
Bags and purses: yet again, designer items are the easiest to sell.
Jewelry: bracelets, necklaces, rings, nose rings, toe rings…
Garden & Outdoor: garden decor, protective equipment, patio furniture, live plants…
Toys: action figures & accessories, dolls & accessories, collectibles & hobbies, building toys, electronics for kids, games & puzzles, vintage toys
Kitchen goods and dinnerware: vintage items are especially popular.
Handmade: housewares, art, woodworking, ceramics and pottery, glass, candles…
Decorative items: the seasonal decor is very popular: Christmas, Easter, Halloween, and fall items all see numerous sales.
Pet supplies: aquariums & fish Supplies, bird supplies, cat supplies, dog supplies, reptile supplies
Other: books, magazines, musical instruments…
A 9-step guide on how to sell on Mercari
One of the best things about Mercari is that this is the selling app that allows you to sell items you don't need – directly from your smartphone.
You can use the web app also, but selling from the phone is so much easier – don't you agree? Find a 9-step-by-step simple guide on how to sell on Mercari below.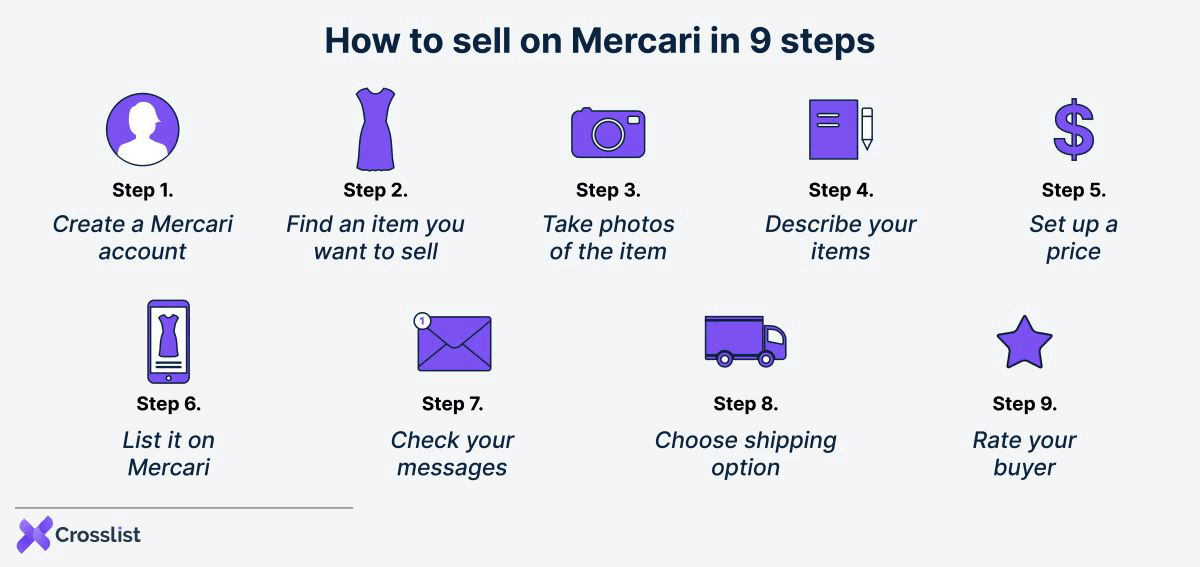 1. Create a Mercari account
Navigate to the Mercari website and click on the Sign-up button. You will need to enter your email and name and come up with a password. To keep the marketplace safe all sellers need to verify their identity. If you want to use the app you must be ready to share your:
Name
Address
Date of birth
Social Security Number or Tax Identification Number
Some form of government-issued identification
Note that Mercari is currently only available in the United States, the United Kingdom and Japan.
2. Find an item you want to sell
Have a look at the items in your home you are not using. Pay special attention to your closet and that one drawer in every home that stores all the things you never even think about or remember you own.
You can of course flip items too: buy something online you will later sell for a higher price.
3. Take photos of the items
Before creating your listing, take as many photos of your items as possible, showing every angle – but keep in mind you can only add up to 12 photos to your listing.
Start with a wide shot, and then get closer to show your potential buyer the details of the item. Try to use as much natural light as you can, and a neutral background.
You can also use the magic wand feature available in the application which will enhance your photos, and make them even more appealing.
Lastly, make sure that your feature photo stands out to shoppers navigating through the Mercari website.
4. Describe your items
Describe the items you are selling in detail. Add a story to your listing to make it appealing and interesting. For example, if you are selling a wedding dress, explain to the Mercari shoppers what a magical wedding that was.
Add your suggestions on how the items can be used or reused. Be creative but don't give false promises. In the long run that can ruin shoppers' confidence in your listing.
Measure your clothing item. If you provide the exact measurements of an item, buyers will feel much more comfortable making a purchase. You can also throw in a photo of yourself wearing it, and list your own measurements too.
Note that you can use Crosslist to hide your face with an emoji using the built-in image editor while still showcasing yourself wearing the item.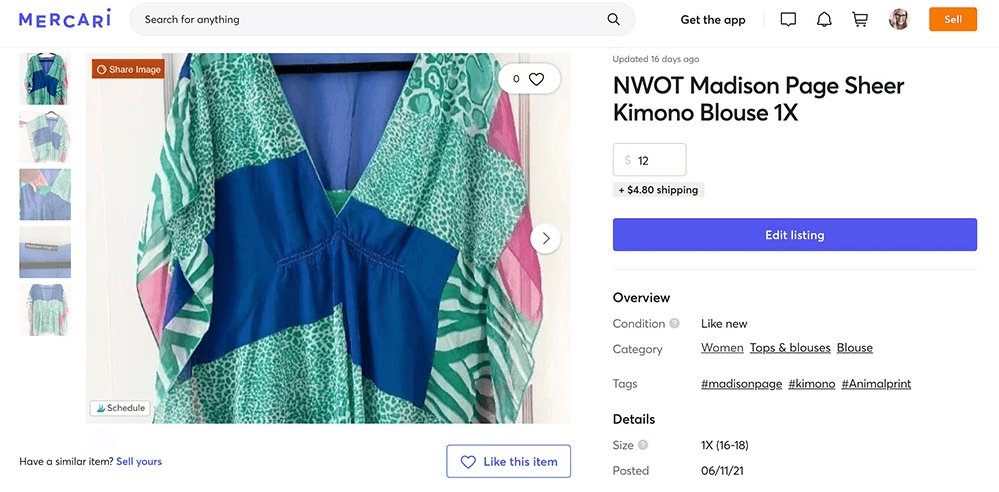 The better a description is, the higher the chance that your item will sell faster. Be as detailed and as honest as you can. If an item is damaged, disclose this very early on. You can also throw in some personal anecdotes or explain why you loved the item.
Make a note in your description on bundles: if a buyer purchases more than one item from you, you can ship them all together, and save them the cost of added shipping.
5. Decide on a fair price
Before you tap "List" you have to decide on the price you wish to sell the item for. Look at other listings to get an idea of how much a particular item sells in the market, but be careful not to sell your item too cheaply.
The possible price range available on Mercari is between $1 and $2,000. However, if you are selling designer items, you can be authorized by Mercari to list them for up to $5000. Do note that this means you will need to provide additional identity verification.
Mercari is also offering a Smart Pricing option, where all you have to do is set your listing's price and a floor price. Smart Pricing will adjust the price based on market demand, but it will never go lower than your floor. This is a great option if you have a lot of items and you don't have time for thinking about the price of each of them.
6. List it on Mercari
Once you've followed all of these steps you can add your listing to Mercari through the app or on the website. You can access your listings at any time by going to your profile then go to Selling and finally to Listings. Also, you can always Edit it or reactivate it, add or change photos, or the shipping method.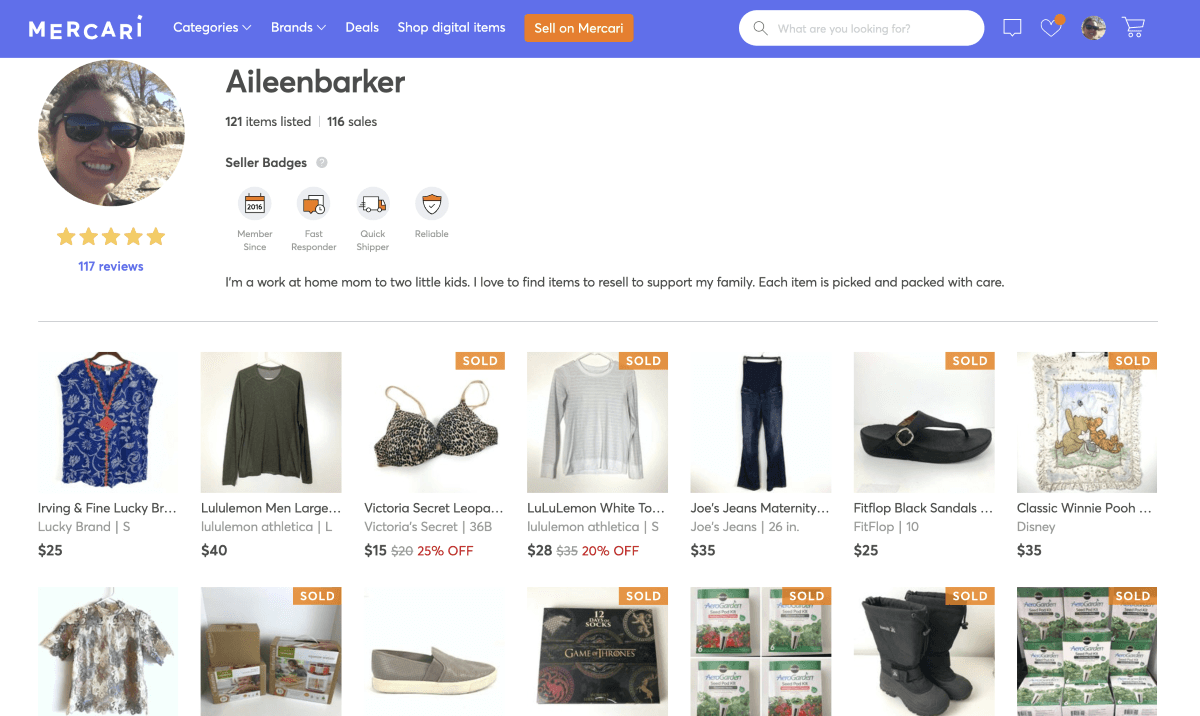 7. Check your messages
Once the item is listed, make sure to check your messages regularly: some potential buyers may have further questions and would like to know more before they buy. Good customer service also leads to quicker sales.
In addition to that, Mercari will give you a badge of "Fast responder" if you chat with your shoppers within 24 hours of getting a message; which further makes you stand out as a seller.
Some shoppers might be looking to bargain, so be prepared to negotiate. Always determine what your lowest price is for an item, and don't budge from that, but leave yourself some bargaining room, by setting the initial price a bit higher.
8. Choose shipping option
Once an order is placed, make sure to ship the item as soon as possible. By adding a personalized thank you note and ensuring the packaging is neat, tidy, and super protective, you can also ensure a great review.
Of course, there are multiple shipping options and you have to choose whether you want to cover the shipping yourself, purchase a prepaid shipping label or have Mercari and your local UPS store take care of the entire process for you.
Don't forget to think about shipping weight and packing also! For more info take a look at Mercari packing guidelines.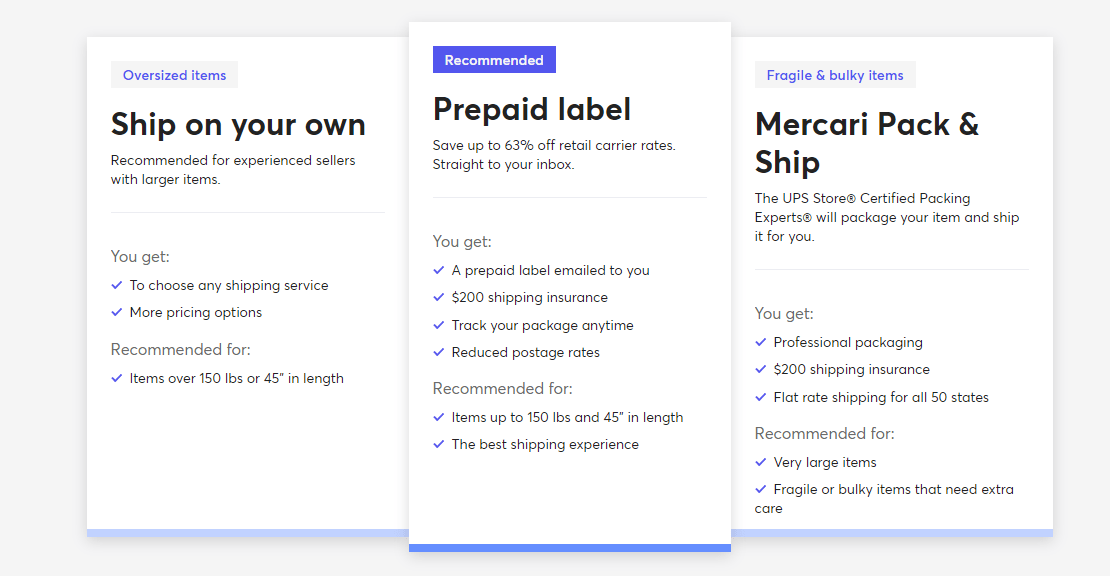 9. Rate your buyer
Mercari is asking buyers to rate a seller within three days of the item's confirmed delivery date. After that, sellers can rate the buyers. If you as a seller skip this step, Mercari will automatically rate the transaction with five stars.
If you had some problems with the buyer – be honest: your experience can help another seller decide if they want to work with that person.
How to sell online on Mercari and other marketplaces with Crosslist
One of the go-to pieces of advice if you are in the reselling business is that you start using a cross-listing app that can help you advertise your items on the different marketplaces, saving you the time you would otherwise need to create different listings.
This is how it works on Crosslist:
Register a Crosslist account: Crosslist is an app that is on hand from any device! Simply sign in to get started.
Create new listings: Start from scratch by selecting the marketplaces on which you want to list your product. You can even use your mobile phone to take pictures of your products directly.
Import or cross list existing listings: Crosslist allows you to import existing listings from multiple marketplaces. This way, you may fast crosspost your stock to different marketplaces. Alternatively, you can also direct cross list between marketplaces!
List on your marketplaces: Click the Post button to list your product on multiple marketplaces at once!
Also, the good news is that by using Crosslist you can crosspost from Mercari to Poshmark and vice versa.
Questions or just say hello!
Well, congratulations to you for making it this far! Here's a reward in the form of a 10% discount code on your first month of Crosslist (add during check-out). Sign up now with a 3-day money-back guarantee!
You can learn more about how Crosslist works here.
If you have further questions, feedback, bug reports, or want to know a bit more about us, why not swing by for a chat and say G'day! You can have a chat with us through Messenger.