Mercari Review: Is Mercari Legitimate And Actually Worth Your Time?

---
Are you looking for a suitable platform to sell new and second-hand items? In the world of peer-to-peer ecommerce, you already have eBay, Poshmark, Vinted, Grailed, and Tradesy – just to name a few.
Today, we take a closer look at Mercari, a platform that connects millions of people across the U.S. and Japan to shop and sell almost anything.
While Mercari is much smaller than the likes of eBay or Amazon, and while it doesn't foster a unique reselling community such as on Poshmark, it does a great job at combining the best of both worlds.
Buyers come to Mercari for bargain deals and niche items; sellers stay for quick sales and low fees. There are more than 350K new listings on Mercari every day.
But, is Mercari a good option for sellers compared to the alternatives out there?
We've spent quite some time studying the platform and reading user testimonies to find the answer. In this Mercari review, you'll find everything you need to know about being a seller on Mercari.
What is Mercari?
Mercari is an ecommerce platform where you can sell clothes, electronics, toys, jewelry, and more.
Think of selling on Mercari as a virtual garage sale and a marketplace where you can build a solid career as an online reseller. Check out our how to sell on Mercari guide to learn how.
Mercari was founded in 2013 in Japan before it expanded to the US a year later. Since then, the Mercari app has been downloaded more than 50 million times in the US. It receives many positive reviews for being simple to use and fast to sell.

Is Mercari legit?
Mercari is a 100% legitimate online marketplace. It employs over 200 staff members and has almost 20 million active monthly users.
The overall Mercari experience gets a straight A+ from the Better Business Bureau and an almost incredible 4-star rating on Trustpilot.
A frequently cited problem with Mercari is its lack of customer service. Most complaints are regarding the platform's unreliable dispute resolution program, but to be fair, this is an industry-wide challenge.
If you need assistance with your account, orders, or payments, you can reach Mercari's customer service via email ([email protected]) or phone ((415) 800-1078), which seems to be a Monday to Friday service only. According to their site, you can reach them from 8 to 6.
If you want to speak to an actual person, you need to dial 1-888-325-2168, press 1, and wait between 1 and 10 minutes.
Though there isn't live chat support, Mercari's customer service is also available on their social media pages. Find them on Facebook, Twitter, Instagram, and LinkedIn.
Mercari seller reviews
If you're interested in earning money with Mercari, here's what other sellers are saying about it:
Trustpilot Mercari review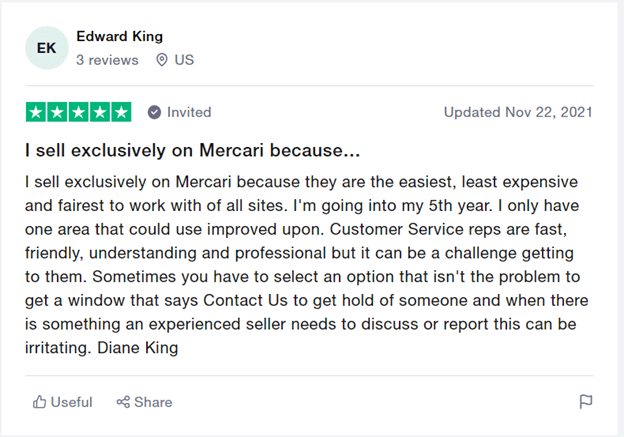 Mercari's average score on TrustPilot is 3.3, based on reviews from 18,000+ users. Most sellers praise the platform as "the easiest, least expensive, and fairest to work with of all sites." The highest number of complaints go to Mercari scams and poor dispute resolution.
Sitejabber Mercari review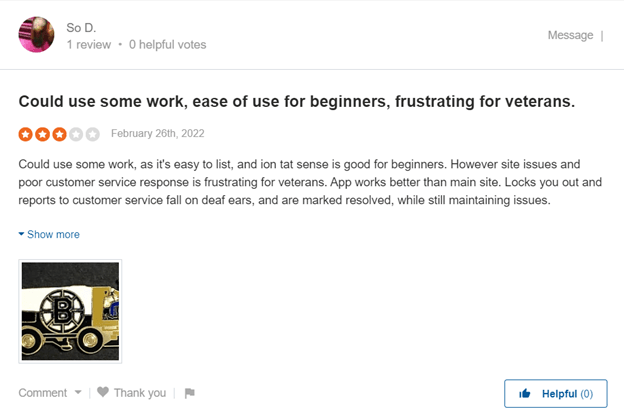 Reviewers on Sitejabber are less fond of Mercari. Over there, the low consumer rating of 1.37 stars from 1,768 reviews points to general dissatisfaction. In the last 12 months, only 1.9% of Mercari reviews were positive. What's a common sticking point? Again, customer service.
Influenster Mercari review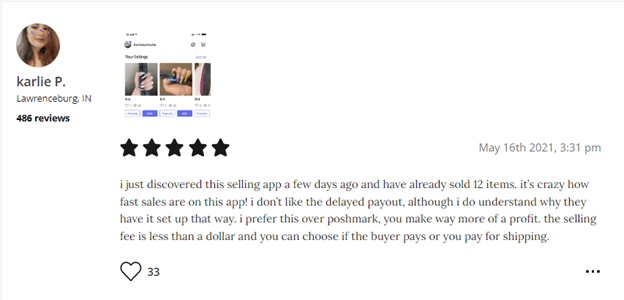 There are only 85 reviews of Mercari on Influenster, where the platform scores 4.5 out of 5 stars. The main problem for the reviewers are fees and customer service. However, most reviews are positive and cite ease of use and the possibility to buy items with balance as the thing they like the most.
Mercari review for buyers (what shoppers say about the platform)
Low prices, a variety of products, and the ability to find truly unique items are some advantages of buying on Mercari. As a buyer, you can also negotiate prices and make lower offers.
You can contact the seller to review your shipping and payment options, create bundles, and if you're interested in learning how to bundle on Mercari, the platform provides a simple way to select multiple items from a seller's listing and send an offer for a discounted bundle price.
For all these reasons and more, buyer reviews are generally positive.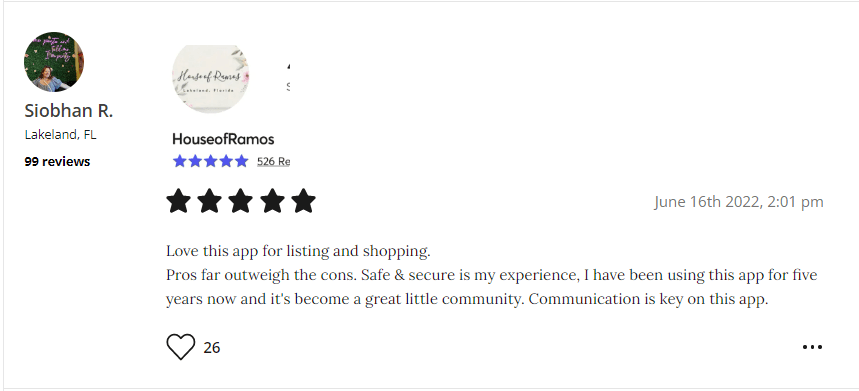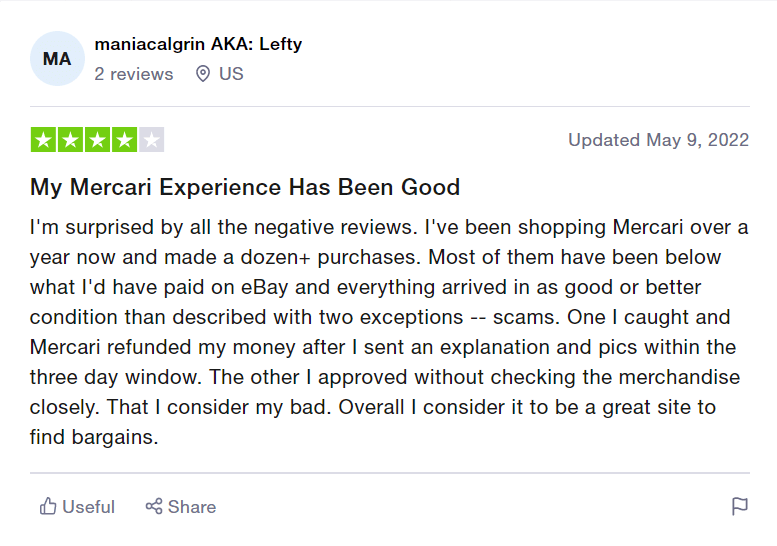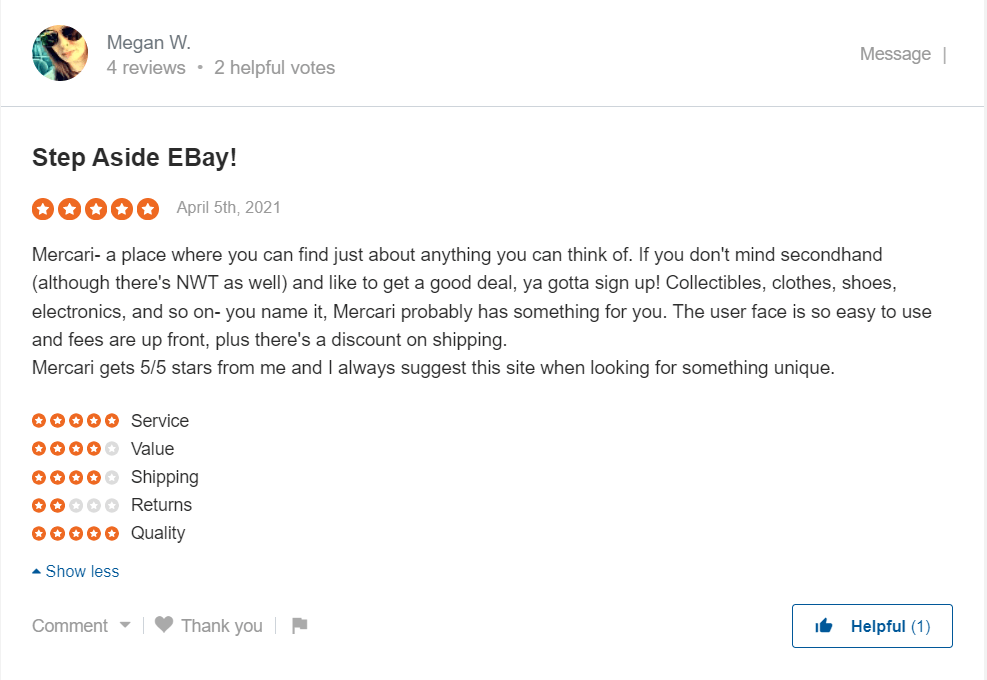 How does Mercari work?
Selling on Mercari is straightforward. All you need is a phone or tablet with the Mercari app installed. Here's how it works:
You download the Mercari app on your phone from the App Store or Google Play Store.
You create an account and start listing items for sale. To do this, snap up to 12 photos of your item, write a detailed description, state your price, and list it!
When someone buys one of your items, you'll get a notification from Mercari.
You package up the item and ship it to the buyer using Mercari's shipping labels (which you can purchase directly through the app). Tape it to your package and drop it off at the Post office, FedEx or UPS.
Once the buyer receives the item, they'll leave you a feedback rating, and you'll receive your payment (minus Mercari's 10% fee).
This is what the listing screen will look like: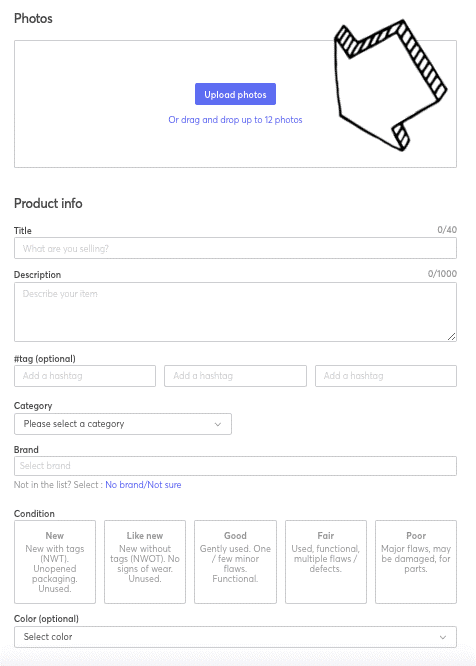 Benefits of selling on Mercari
Mercari is a well-designed and easy-to-use app, even if you're not tech-savvy. Some of the major benefits sellers rave about include:
Easy to list
Sellers repeatedly praise Mercari for having the simplest listing process compared to similar reseller sites.
Lower selling fees than on similar platforms
Mercari takes 10% from each purchase, but it doesn't charge listing fees. That being said, there is a payment fee incurred by the seller of $0.50 plus 2.9% of the sale. For comparison, eBay takes up to 15%, depending on the category, and Poshmark takes 20% on all orders over $15 ($2.95 under 15$!), which eats into your profits.
Calculate your own profit and margin using our Mercari fee calculator.
Better "Promote" features than on other apps
Mercari allows you to boost your listings if you drop the price by 5% or more. It's easy to do and costs nothing (save for the price reduction). On eBay, you must pay a fee to promote an item.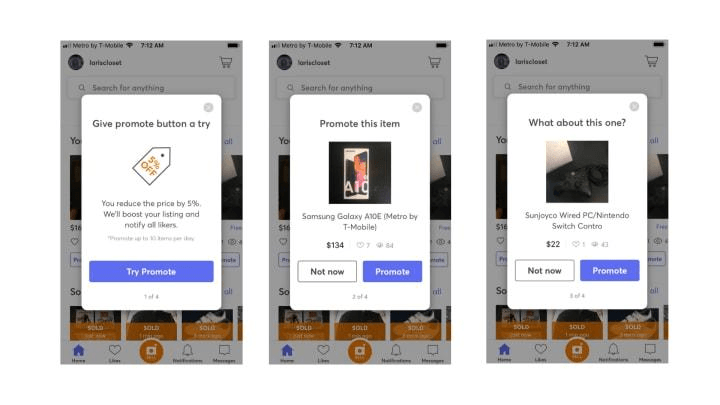 "Smart Pricing" automatically drops your prices
The feature helps you sell unwanted items faster by using an algorithm to make your prices more competitive. Plus, the listing gets a boost every time the price drops.
Less crowded than eBay and other competitors
Less is more when you are an ecommerce seller. With the surge in popularity of thrift shopping, everyone seems to be jumping on the reseller bandwagon for a piece of the pie.
On Mercari, you can set up a niche shop and get comfortable in categories with virtually no competition.
Reduced competition means much faster sales. That item that's been gathering virtual dust and cobwebs in your eBay store? It could sell in less than a day on Mercari!
Multiple low-cost shipping options
As a Mercari seller, you get to decide who covers shipping for every item – you or the buyer. You could offer free shipping for limited periods or set your shipping rate for the buyer to cover.
As a Mercari seller, you get to decide who covers shipping for every item – you or the buyer. You could offer free shipping for limited periods or set your shipping rate for the buyer to cover.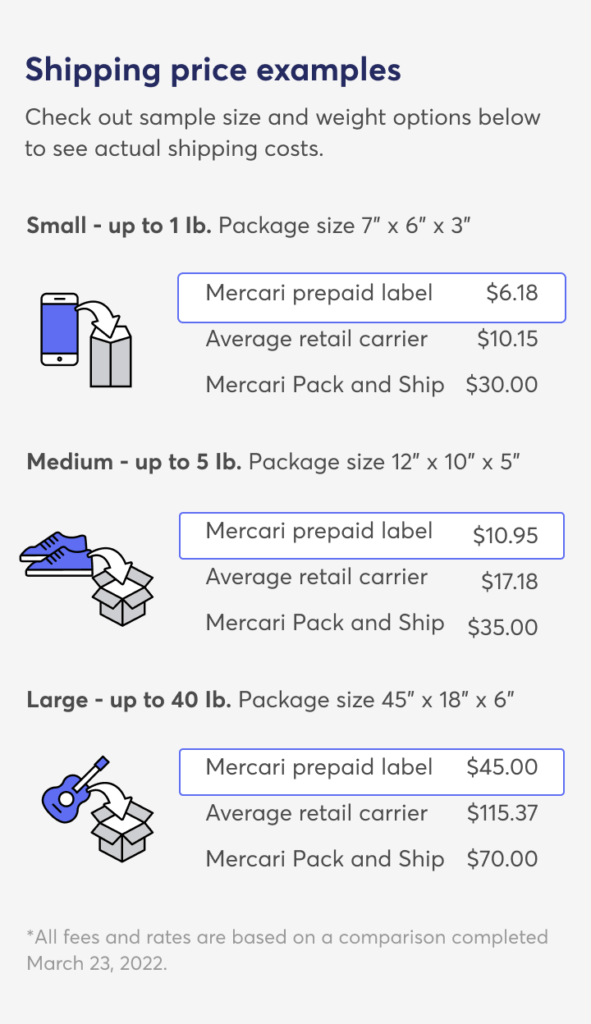 Mercari actively encourages reviews and ratings
The Mercari Return Policy requires buyers to rate sellers, which helps build a healthy eCommerce environment. Not to mention, it also raises your credibility as a seller.
Mercari Balance
Mercari offers buyers the option of using their Mercari Balance to make purchases. Psychologically, people feel like they're not spending their own money when it comes from a virtual wallet instead of their bank account.
This can motivate potential buyers to add more items to their baskets and potentially spend more than they would have on certain items because it doesn't feel like actual spending. They can also hide purchases from nosey spouses or partners!
New customers
Every shopper has their preferred marketplace they like to do their shopping on. Some shoppers may only shop on Mercari and would otherwise never have seen your items listed on Poshmark, eBay, etc.
Freedom to sell what you want
Many online marketplaces have introduced restrictions on what you can and cannot sell. For example, you can only sell second-hand goods on certain marketplaces and can't, for example, set up a dropshipping business.
Mercari is pretty flexible regarding what can be sold, as long as it is not an illegal item like firearms, of course.
Common complaints about Mercari
As with almost any marketplace, risks and potential downsides are involved. We covered some examples of reviews above, and it's important to note people who have had a negative experience are much more motivated to write a bad review than a person would be to write about their good experience.
But it can't be glossed over that there are some negatives, so let's take a look at what they are:
Bad customer service
This one comes up a lot, not only for Mercari but for other marketplaces too. Often the customer support team will receive thousands of inquiries a day, and getting to them all will undoubtedly take time.
People have commented that Mercari offers very slow customer service, and when they do eventually reply, they're not exactly friendly and helpful. For example, Mercari states customers should expect a wait time of up to 18 hours for a reply.
However, customers report waiting days for any feedback on their queries. Understandably, this is frustrating, especially if there is money at stake. Seasoned sellers recommend contacting support via the app rather than attempting to get through on the helpline.
Fees
Some sellers are unhappy with the 10% commission fee on each sale; however, the platform has to make money somehow. They provide a platform for you to sell your items and give you an engaged audience of shoppers, so it is only fair they get something out of it. 10% is a very reasonable and low fee for the service.
If you want your payment instantly, Mercari does charge a small bank transfer fee. However, this can be avoided by cashing out weekly or monthly rather than instantly.
There is also an additional $2 fee for direct deposits to your bank account under $10, which means it's best to hold on until your balance exceeds $10 before cashing out. You'll also incur this fee for each direct deposit transfer rejected by your financial institution and when using Instant Pay as a transfer method.
Bad quality items
While the overwhelming majority of online sellers are decent, hard-working, and honest people, you do get the odd bad apple. These dodgy sellers may try to sell items that are damaged, smelly, dirty, or fake…and sadly, they can ruin a platform for other honest sellers.
Check out our section below on how to spot a scam to avoid dodgy sellers.
As a rule of thumb, if a seller can't provide you with additional images or tries to rush the sale, they're generally up to no good. It is best to avoid buying and selling high-priced luxury items on Mercari because of scams from buyers and sellers alike.
Return policy
The return policy, as it stands, causes headaches for both buyers and sellers. Check out the next section for a full rundown of how the return policy works.
Mercari return policy
As a seller on Mercari, you only get paid after the buyer receives the item and leaves the rating. Until then, the money is in escrow. Buyers get a 10-day return policy, provided that they report the problem to Mercari's customer service within the first three days after receiving the item.
As for things buyers can and can't return, Mercari's customer service typically doesn't accept returns on items that don't fit. For example, if you've sold a piece of clothing that the buyer wants to return, Mercari will resolve this in your favor even if you haven't disclosed measurements on the listing.
However, if the item is incorrect, damaged, or not as described, Mercari will accept it back. The same goes for items with undisclosed damages.
3 common Mercari scams to avoid
There isn't such a thing as a fraud-free marketplace. Every eCommerce platform has its fair share of scams, and Mercari is no exception. If you do your due diligence and use common sense, you'll find that Mercari is a safe environment for selling and buying.
1. The Switcheroo
The switcheroo is when the buyer keeps your item and sends back a different one under false pretenses that you've shipped a damaged or counterfeit item. There's an easy way to prevent this – take photos or videos of items as you're packing them for shipping. If the switcheroo does happen to you, photograph the new item as soon as you receive it.
2. False claims
Mercari has a straightforward return policy that protects both the seller and the buyer. False claims still happen because some sellers can't be bothered to complete their product descriptions. As long as you describe your items in detail and have focused, well-lit photographs from multiple angles, false claims will bounce off you as bullets bounce off Wonder Woman.
3. Doing transactions outside of the platform
Resist the temptation to complete the purchase outside the platform. Mercari won't be able to take the commission, but it won't be able to protect you either. Going rogue might end badly for you – you might lose your stuff and your money. Even worse, your credit card info might get stolen. Be very careful with offline transactions.
Getting the most out of Mercari: lesser known tricks
Many sellers who take to the internet to complain about selling on Mercari are not putting in the effort required to make the most of the Mercari platform.
Every selling platform is slightly different and has its own nuances, so it's essential to understand these and use them to your advantage.
Here is a quick overview of getting the most out of your Mercari store:
Relist items that aren't selling: Most items will sell within a few days of being listed on Mercari, so if you've got a listing that just isn't selling, it may be that it's fallen under the radar of the Mercari algorithm. To improve its visibility, end the listing and then relist the item.
Use the algorithm to your advantage: Mercari has a very simple algorithm that shows buyers listings based on when they were loaded, like how Instagram worked when it was first launched. Use this to your advantage by posting at a time you know people are going to be shopping – lunchtime, the mid-afternoon slump, and in the evenings.
Let buyers know if you smoke or have pets: This is just common courtesy but is often overlooked. Getting a sweater full of cat hair is gross, but it could be very dangerous for someone with a severe allergy. The same goes for if you smoke in the house, non-smokers will be very sensitive to the smell of smoke on items they have purchased from you.
Looking for a full run-down on how to sell on Mercari? Then check out our in-depth 9 step-guide:
How to sell On Mercari: The 9-Step Guide
Mercari vs Poshmark
Unlike Poshmark, Mercari sells more than just fashion accessories. It's generally simpler to list products on Mercari than on Poshmark. Mercari has a lower commission as well, but Poshmark sellers have lower shipping costs. There is never an absolute winner when comparing these marketplaces. This is why many sellers use Crosslist to streamline cross listing between Poshmark and Mercari.
Want to learn more about how Mercari stacks up versus Poshmark? Then check out our Poshmark vs Mercari comparison article that goes into the nitty-gritty of these two marketplaces!
Mercari vs eBay
Mercari has a cheaper and less complicated shipping process than eBay because it doesn't ship items globally. While eBay is available worldwide, Mercari is only for the US and Japanese audiences. Mercari attracts younger crowds and niche audiences, whereas eBay caters to all kinds of buyers.
If you're a rookie seller, it's probably better to start with Mercari, where the listing process and shipping are less complicated. However, you should know that buyers have specific expectations from each platform – Mercari remains a low-cost marketplace with many second-hand items.
Of course, you can still sell on eBay if you have listings on Mercari and vice versa. Using more than one platform will undoubtedly help you sell more. Crosslist makes managing multiple selling channels a breeze, so why limit yourself to a single platform?
Sell on Mercari and other marketplaces with Crosslist
One of the go-to pieces of advice if you are in the reselling business is to start using a cross listing app. It will help you cross post your items on different marketplaces, saving you the time you would otherwise need to recreate multiple listings.
This is how it works on Crosslist:
Register a Crosslist account: Crosslist can be used on any device! Simply sign in to get started.
Create new listings: Start from scratch by selecting the marketplaces on which you want to list your products. You can use your mobile phone to take and upload pictures of your products.
Import or cross-list existing listings: Crosslist allows you to import existing listings from other marketplaces. This way, you can quickly crosspost your stock between two or more marketplaces
Give your listings the once over: Scan through your listings and make sure all the necessary information is there. While Crosslist's intuitive system pre-populates listing fields for you based on imported data, it is good practice to check them before publishing.
List on your marketplaces: Click the Post button to list your product on multiple marketplaces at once!
With Crosslist, besides Mercari, you can list quickly on eight more marketplaces (eBay, Poshmark, Depop, Vinted, Facebook, Kidizen, Tradesy, and Grailed).
Questions or just say hello!
Well, congratulations to you for making it this far! Here's a reward in the form of a 10% discount code on your first month of Crosslist (add during check-out). Sign up now with a 3-day money-back guarantee!
You can learn more about how Crosslist works here.
If you have further questions, feedback, bug reports, or want to know a bit more about us, why not swing by for a chat and say G'day! You can have a chat with us through Messenger.